I feel like people fall into two camps when it comes to journaling: you do it and love it or you don't! But I'm also case-in-point that people can change – as someone who never really saw the benefit in journaling, I'm now love daily journal prompts and my journaling practice. As I kid I loved occasionally writing in my diary but never really committed fully to it. Then I got older and found myself struggling with anxiety and depression and a therapist suggested I turn to journalling as one of the many tools in my toolkit to help me get through the challenging times.
I tend to have a lot of thoughts (I'm guessing I'm not alone in this) and journaling allowed me to get all of those swirling thoughts out of my brain so I didn't have to carry them around with me. I was truly blown away when I discovered how cathartic journaling could be, even if I was just writing to myself. You can say that I've seen the light!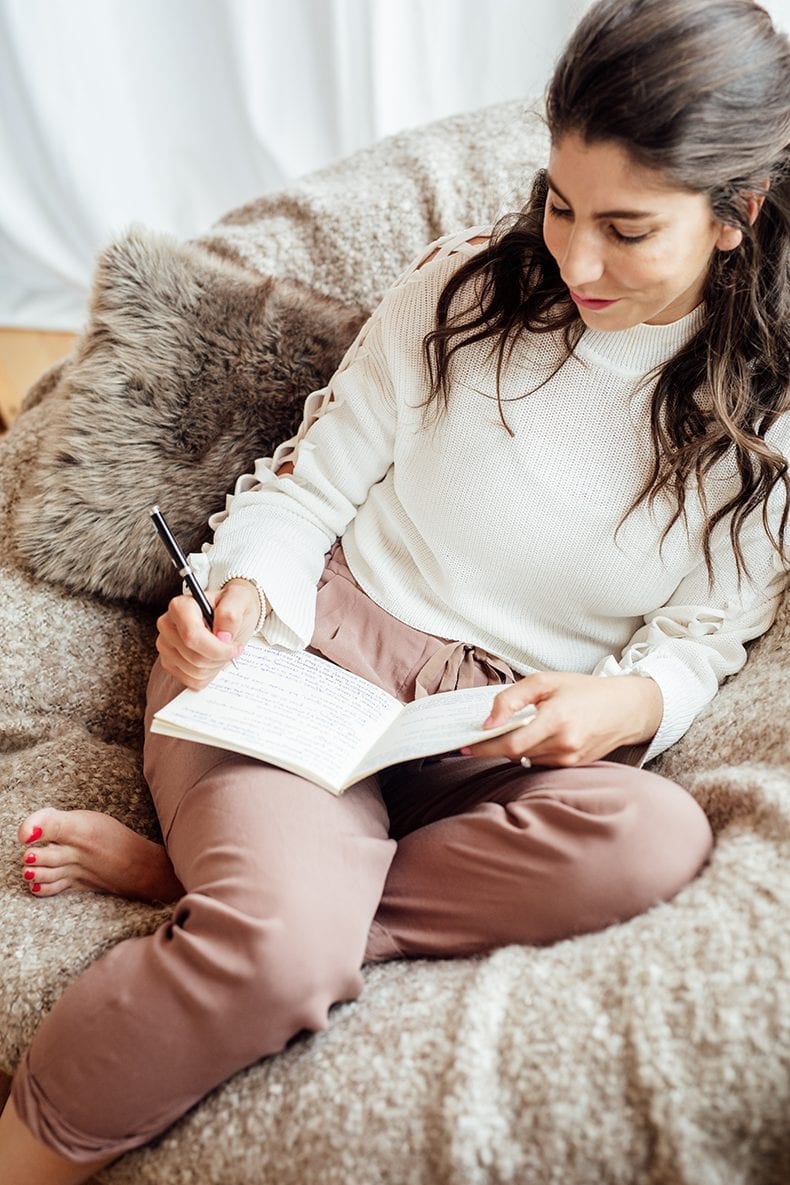 So…What should I write about in a journal?
I preach the gospel of journaling to pretty much everyone I meet. From the students in my yoga classes, to the campers at Camp Wellness, if I have an opportunity to talk journaling and support people trying it out, I will do it! What I've discovered is that a lot of people get held up about what they are supposed to write in their journal. My advice? Take the pressure off yourself. You don't need to post a trendy pic of you journaling in fact you don't need to share your words with anyone, this exercise is for you! Have repeated thoughts swirling in your brain? Anxious about something? Excited about something? Pour it all out on paper. Let your mind (and heart!) go. I know, easier said than done, which is why I'm going to give you journal prompts to get you started.
There are tons of different journals out there. You can grab yourself a 5 minute journal as a place to start but eventually you may feel restricted with only a few lines to write. I could give you a whole slew of different brand names but truth-be-told a plain old Moleskine usually does the trick for me.
This journal writing prompt series is something I've been wanting to start for a while and if you used to follow my affirmation emails (should I bring those back?!) you'll know how much I love journaling and providing weekly and daily journaling prompts for all of you. So each month I'll be sharing 10 journaling prompts to inspire you to get out of your own head and back into your body. Let's get started.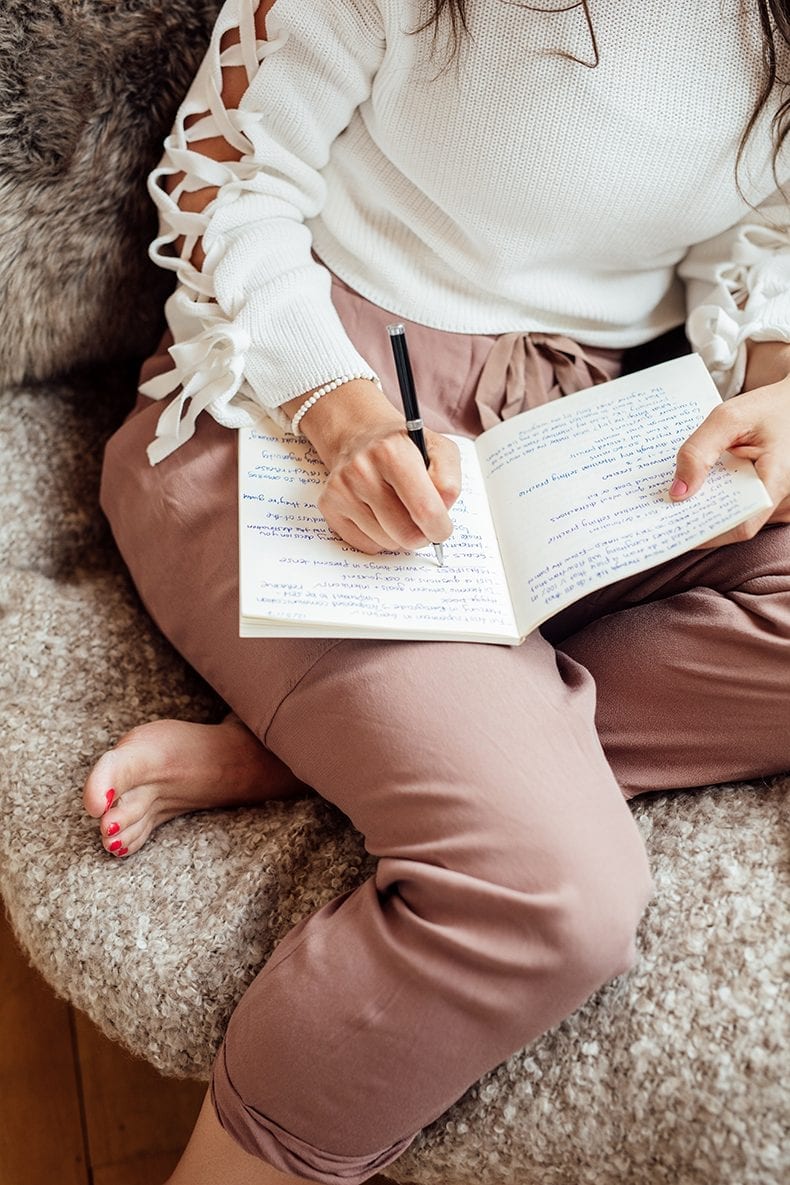 10 Journal Prompts for October
Whether you're a journaling pro or have never journaled a day in your life, I wanted to give you 10 journal prompts to kick off your journaling habit in October. Check in with this blog post to get your daily writing prompt and have fun with this!
1. If I could live anywhere where would it be? What do I see, what does home feels like, what do I smell, what do I do, etc.
2. Write a letter to my future self. Where do I want to be, what do I want to have learned?
3. What lies am I currently leaning into? Counter each lie with a truth.
4. Write about a time when you felt so aligned in who you are.
5. When I visualize my life one year from today I am…
6. What am I grateful for right now?
7. What are my priorities in life right now? Do these need to shift in any way?
8. What is sucking my energy right now?
9. What brings me joy? How can I have more of that in my life?
10. What one thing would I change in my life right now?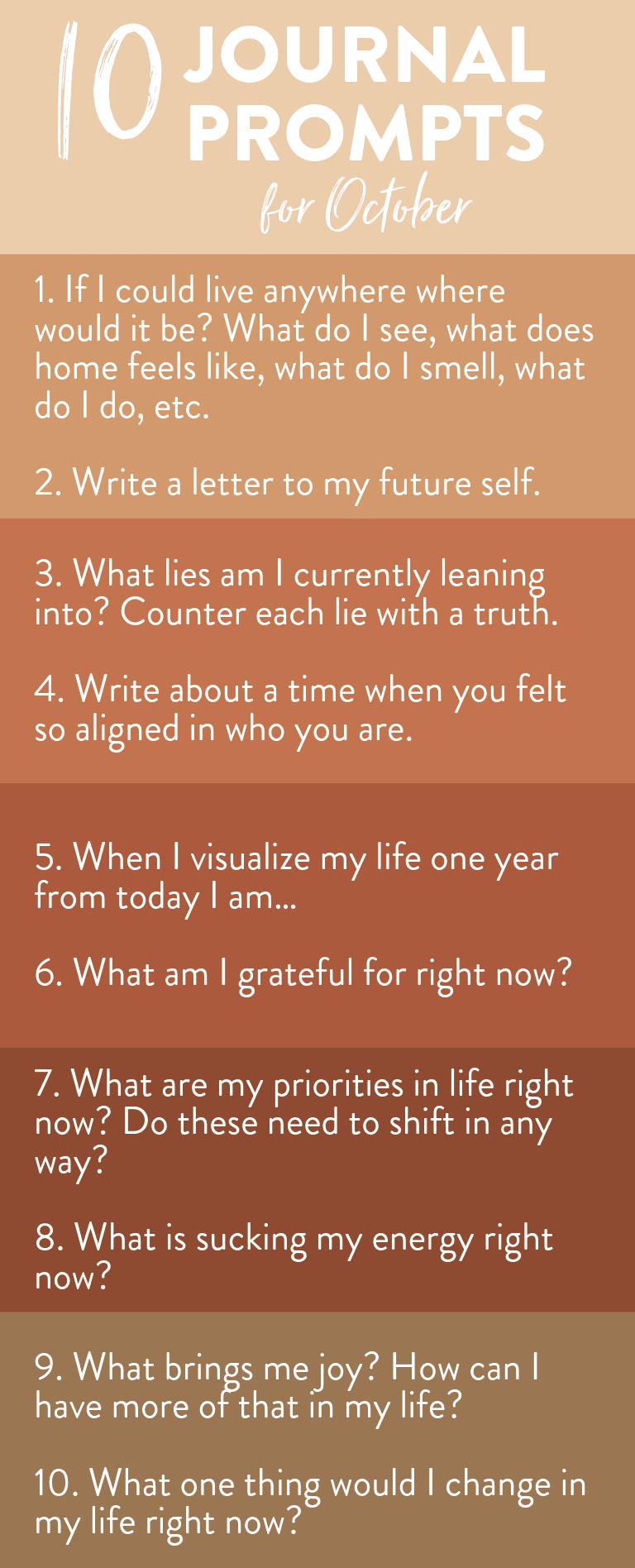 * * * * *
So there you have it! 10 Journal Writing Prompts to keep you inspired this month. Are you feeling ready to start writing? Which one resonates most with you?
JOIN THE THM NEWSLETTER
Join 20,000+ members of the THM Community to get access to exclusive recipes, healthy lifestyle tips and behind-the-scenes news from our team!