I cheat. A lot. It's not my most admirable quality, but it's the truth. In high school this meant reading the sparknotes version instead of the actual book. In university, I cheated the Ontario licensing system to get out of taking my drivers test but still got a full-class licence (yes, I am a hazard on the road) . And for this recipe I used pre-chopped butternut squash. Sue me.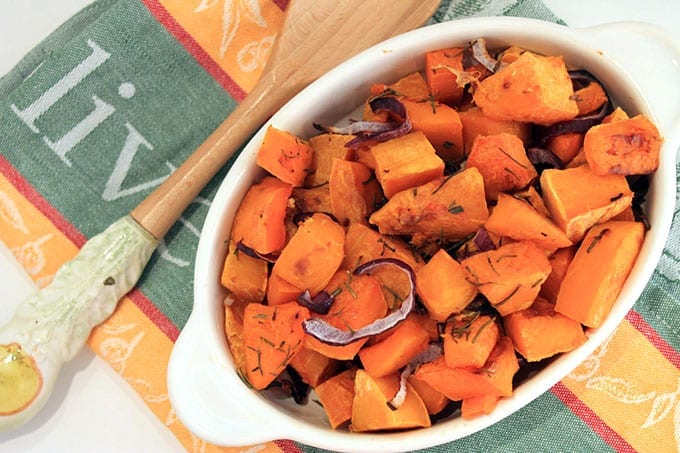 I'd like to believe that my cheating is relatively harmless and that few people are harmed in the process. Plus my sins are washed away on Yom Kippur right? We'll ignore the fact that I don't fast or go to synagogue… On the flip side, I think more people actually benefit from my cheating than are hurt. For example, I gladly shared this butternut squash with my family!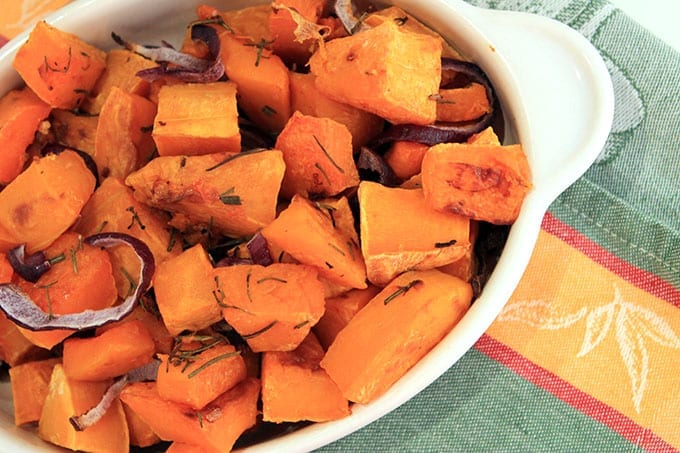 In my defence I was short on time when making this recipe. And by short on time I mean I have zero patience for peeling and chopping a butternut squash. Until I get my hands on a chainsaw this likely will remain the case. In addition, I am taking a break from high-intensity exercise, and we all know that squash cutting is equivalent to a Crossfit WOD.
So there you have it, my Roasted Rosemary Butternut Squash tainted with my sins. I still think you should consider eating them.
SAVE
print
Roasted Rosemary Butternut Squash
Ingredients
2

lbs butternut squash, peeled and chopped (pre-chopped if you're like me)

1/2

large red onion, sliced

1

tsp olive oil (may be slightly more or less, as I use olive oil spray)

2

T fresh rosemary, chopped

1/2

tsp sea salt
Instructions
Preheat oven to 400 degrees F.
In a large bowl combine butternut squash and onions.
Add or spray with olive oil. Toss with hands.
Sprinkle with rosemary and give one more toss.
On a baking sheet lined with parchment paper or a silicone-mat spread out butternut squash mix.
Sprinkle with sea salt.
Roast for 20 mins. Remove from oven and flip.
Roast for another 20 mins.
Remove from oven and let cool slightly before serving. Roast for an additional 5 mins if you like them very crisp (but remove onions if possible to avoid burning).
Store in refrigerator for several days.
Be honest, have you ever cheated?
Any tips or tricks for squash cutting?
JOIN THE THM NEWSLETTER
Join 5000+ members of the THM Community to get access to exclusive recipes, healthy lifestyle tips and behind-the-scenes news from our team!