Get in your greens with this Healthy Asian Snap Pea Salad. It's super simple to make and coated with a light sesame-ginger dressing. You'll definitely be going back for seconds!
I don't know about you guys, but Spring barely happened around here. It was an never-ending winter and then suddenly the temperature shot up to 25 degrees C (77F) and I found myself sweating in my short-shorts. Kidding…I definitely don't wear short-shorts…anymore.
I am certainly not complaining about this warm weather. Sunshine and heat are my best friends and warmer weather means it's time for me to hit the grill!
Yes, I am the grill-master in this household. While I am told by C that he makes a mean grilled fillet mignon, I have yet to see it. I can 100% guarantee that I am going to get sass for that comment.
When it comes to BBQs, I find that the meat is the easy part. Pretty much any kind of meat that is grilled tastes amazing. It's gathering up the sides that can be tricky.
Lucky for you, the blogging ladies are back with 5 Healthy BBQ side dishes to help you feed yourself and your grill party, all summer long.
All of the recipes are gluten-free and dairy-free and most are paleo except for my Healthy Asian Snap Pea Salad since apparently snap peas aren't paleo…lame. Apparently because they're a hybrid of peas they're considered a legume. I consider them a vegetable…and I am always right.
Let's get to it!
Brittany is definitely invited to my next BBQ with this Paleo Roasted Sweet Potato Salad. Coconut oil roasted sweet potatoes are tossed with chopped spinach, creamy avocado chunks, red onion and dried cranberries to make a healthy, easy and delicious salad!
Get the recipe –> HERE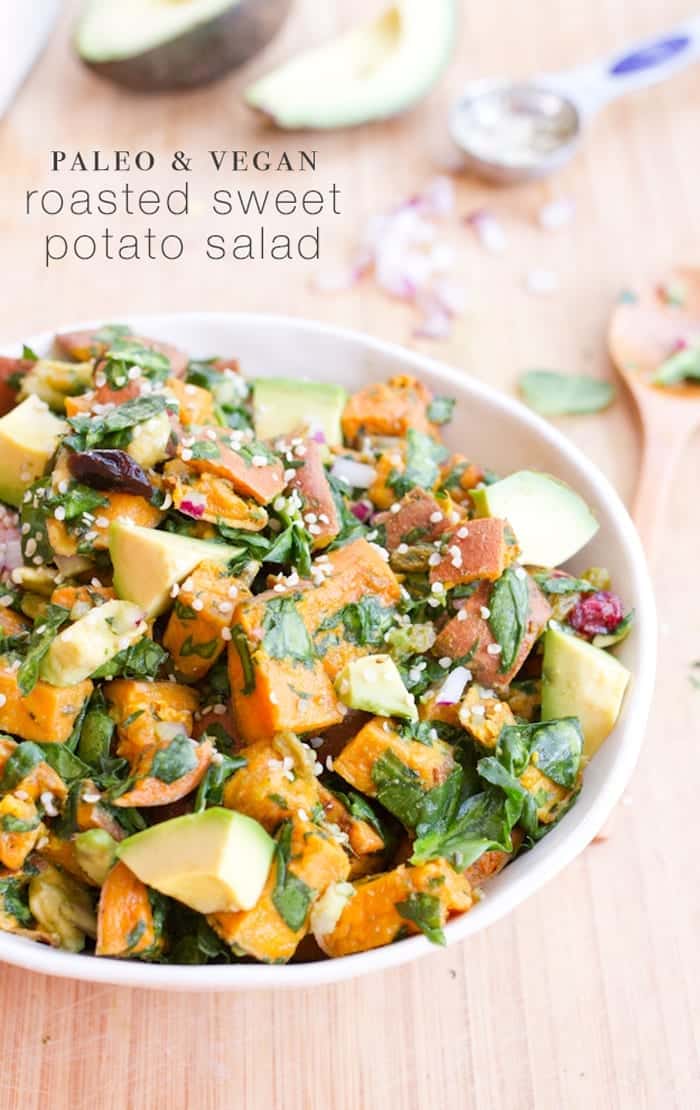 Lee is taking BBQs to the next level with this Paleo Pineapple Coleslaw! It's made with homemade mayo, a mixture of delicious and colorful vegetables and a pop of pineapple for sweetness!
Get the recipe –> HERE
Lexi is thinking outside the BBQ box with this Watermelon Salad with Basil Ginger Dressing. Sweet watermelon drizzled with delicious olive oil, garnished with toasted almonds, mint, sliced red onion, and a sweet Basil Ginger Dressing, this will be a BBQ hit all summer long!
Get the recipe –> HERE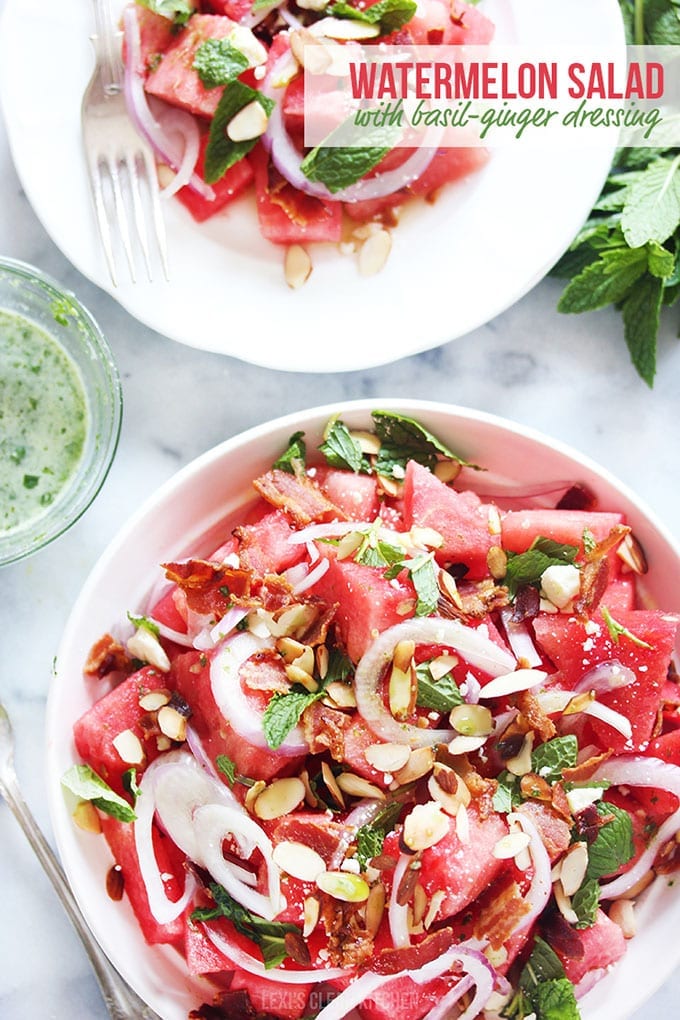 Taylor knows that you can never get enough potato salad! This paleo sweet potato salad is mixed with creamy, basil avocado pesto, bacon and eggs for a healthy side dish that is so easy and always a crowd pleaser!
Get the recipe –> HERE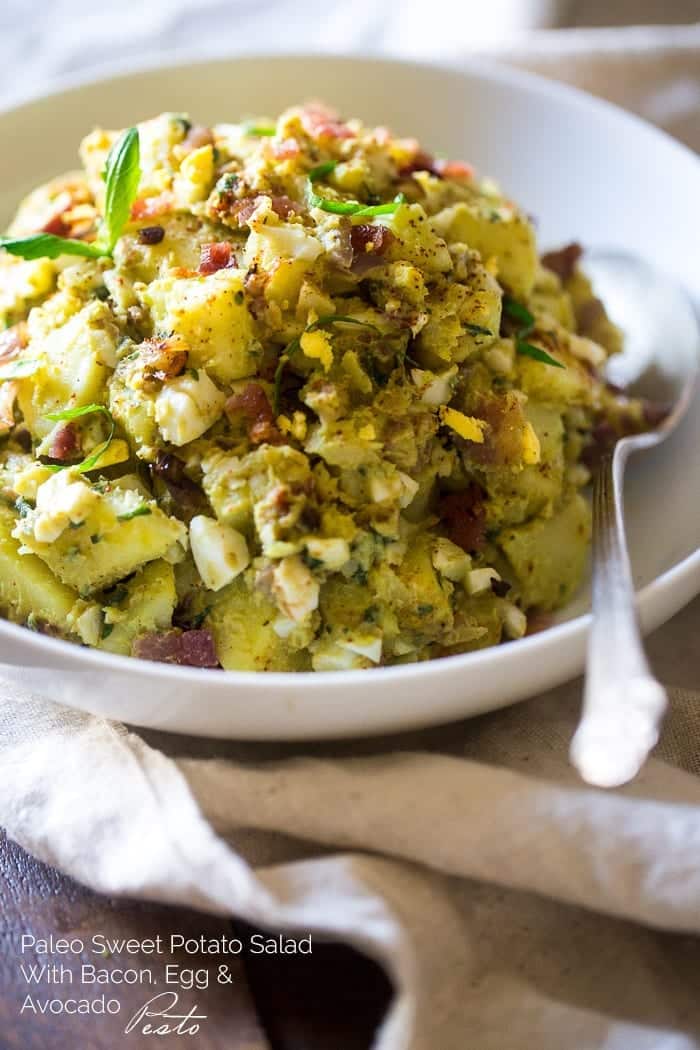 While all of the above look AMAZING, I'm thinking that we're missing a little green. Not to worry, since I'm bringing this Healthy Asian Snap Pea Salad to the healthy BBQ side dish potluck!
Snap peas are proof that I am totally and completely strange. I HATE peas, but I absolutely love snap peas. I could eat them for days and when snap pea season rolls around in Ontario, you better bet that I'll be munching on them exclusively.
This Healthy Asian Snap Pea Salad is ridiculously easy to make with just a light cook in olive oil and left to marinate in a sesame-ginger dressing. The longer you let it sit, the better it gets. That is if you have the will-power. FYI: I have none.
My favourite part about this dish is that you can make it and forget about it. This allows you to focus on your meat grillin' and perfecting the art of the grill mark, a skill I intend to master by the end of the summer.
But if snap peas ain't yo thang (I'm judging you…) you've got 4 other options to turn your indulgent summer BBQs into healthy meals! Now who's inviting me to their next BBQ? I'll bring snap peas.
Ingredients
6

cups snap peas

1

T olive oil

1 1/2

tsp freshly grated ginger

2

scallions, whites and light green only, chopped

2

T coconut aminos (or gluten-free tamari or soy sauce if not GF)

1 1/2

T rice wine vinegar

1

tsp sesame oil

optional: 1/2-1 tsp sriracha for added spice

1

T sesame seeds
Instructions
Add olive oil to a large pan and heat over medium heat.
Add in snap peas and sauté in oil for about 5 mins or until snap peas are cooked to your preference.
In a large bowl combine ginger, scallions, coconut aminos, rice wine vinegar, sesame oil and sriracha (if using).
Add snap peas to mixture and coat to combine.
Let marinate for 1 hour.
Sprinkle with sesame seeds just before serving.
What's your go-to summer BBQ side dish? Are snap peas paleo? Say yes.
JOIN THE THM NEWSLETTER
Join 5000+ members of the THM Community to get access to exclusive recipes, healthy lifestyle tips and behind-the-scenes news from our team!