Like any business, blogging requires you to invest some to get some. Even if you aren't running your blog as a business, I still believe it's important for you to put a little time and money into it. You want it to be the best representation of you otherwise you might as well just keep it private (or write in a diary?!).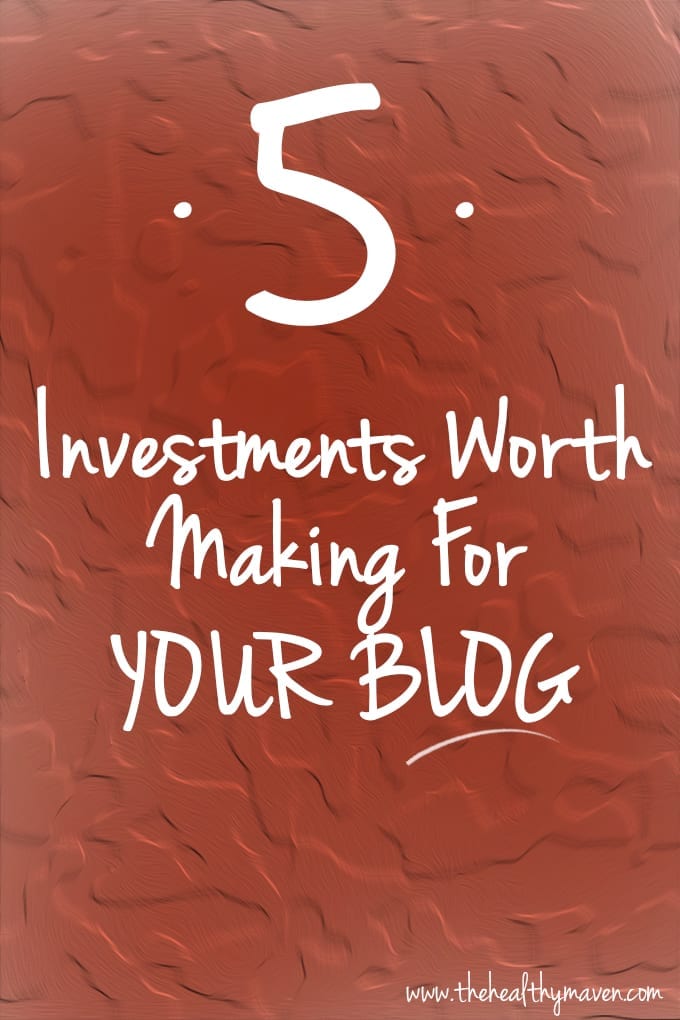 Truth-be-told, the start-up costs for a blog are nothing compared to most businesses or even standard websites. In fact, you can fairly quickly earn back the money spent.
I've narrowed my list of investments down to 5 that I believe should be a priority when looking to decide where to spend your blogging funds. They are not necessities in order to blog, but they certainly help in expanding your readership beyond your Mom. So without further ado, here are 5 investments worth making for your blog.

What does this mean? Instead of thehealthymaven.wordpress.com or thehealthymaven.blogspot.com, I OWN the url thehealthymaven.com. I bought my domain for two years for $12.99 through GoDaddy. Yes, it is that cheap. So pay up and buy your domain name.

I initially started blogging on Blogger but had I known THM would eventually become my job, I would have definitely started it on WordPress.org and self-hosted right off the bat.
-pause-
What the heck is self-hosting? The #1 question I get, so let's break it down.
Self-hosting: using an external host or server to run your blog. This is confusing because people think that self-hosting means that you are personally hosting your blog, but in fact it is referred to as self-hosting because you are NOT using free websites to host your blog for you. You are seeking out someone else to do it.
Did I just suggest not using the free option? Yes.
How come? Because using the free hosting available on sites like Blogger or WordPress.com (not to be confused with WordPress.ORG which requires you to self host) limits you in a lot of ways. Mainly, you can only use the basic frameworks available to design your site (not a whole lot of individualization), limits the amount of storage space you have and prevents you from maximizing your ability to monetize.
Self-hosting on the other hand allows unlimited storage space, all sorts of individualization, and the option to earn revenue from your blog.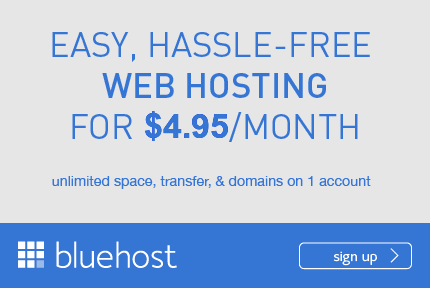 I use Bluehost for self-hosting THM and I love it. Their website is easy to navigate, their customer service is always available and they are very affordable. They cost between $4.95-$6.95 a month depending on how long you sign up for hosting. They also throw in your domain name for free if you haven't purchased it already!
I HIGHLY recommend self-hosting with Bluehost and using WordPress.org as your blogging platform right off the bat if you're just starting a blog. I've written a post on How To Start a Successful Food Blog Today which walks you through the best moves for getting your food blog up and running. But if you already have a blog, there are tons of tutorials out there on how to make the switch. DO IT.

Okay so you've actually listened to me and you've purchased your domain and hosting for your new WordPress.org blog. Now you want to make it beautiful. Unless you are a genius or amazing with code, I suggest you take the easy way out and buy a theme. Themes determine the layout of your blog. While WordPress does come with some basic themes, I really do recommend investing in one you like. Why? So your blog doesn't look like every other blog out there. Many people stick to the basic WordPress themes and while they may do the trick, nothing about them tells me who you are as a blogger.
Before purchasing as theme, find out how difficult it is the make basic changes to it, like font and colours and adding in your own header. If you're looking for something very specific, then you may want to contact a web designer. Otherwise, finding a theme that suits you and only needs a few tweaks is probably your best bet.
*I use the Foodie Theme which is a child theme of the Genesis Framework. You need to purchase both Foodie and Genesis for Foodie to work. They can be purchased as part of a package on the Foodie Theme website.

Remember when I posted this video on the importance of growing your email subscription list? (p.s. remember when I didn't post part #2…working on that!). Well I wasn't kidding. If you haven't started focusing some of your attention on growing your email subscribers, start now. One way for you to do this is to upgrade from the standard Feedburner or WordPress email service to a more professional-looking service like MailChimp.

There are many email subscription services out there, but I like MailChimp because it was SO basic to set up, they have tutorials on everything and it is super reliable. Better yet, the first 2000 subscribers are free. After this number the prices jump depending on how many subscribers you have. It starts at $15.99 per month which isn't cheap but the quality of the email is worth it for my subscribers.

I've said it before, and I'll say it again. If you're looking to up your blogging game then you must focus on improving your photography. Food or not, people eat with their eyes. As much as I wish I could tell you that you can take great pictures with your phone, I would be lying. Maybe you're an iPhone prodigy, but I know I could never get the pictures I shoot without my DSLR.
This is the camera gear I use:
Now I don't believe that an editing software like photoshop can make your bad pictures look good, but if you've got the camera but say, your lighting wasn't great during the shoot, having an editing software absolutely makes a difference.
I know what you're thinking, "but I can edit my pictures on PicMonkey or iPhoto". Yes, you can but it is not the same. Imagine being able to edit minute details of a picture and make changes like highlighting objects in the foreground without touching the background. It's pretty sweet.
I use Adobe Photoshop CS6 to edit my pictures and I highly recommend investing in the Adobe Creative Cloud. You can purchase it for a monthly fee of $9.99.

This is by no means something you have to do, but if you're looking for a very specific design for your blog then sometimes it is necessary to outsource. For me, the time and energy it would have taken me to figure out how to code and design certain elements of my blog wasn't worth it.
I highly recommend my web designer, Julie from Deluxe Designs who did a fabulous job with THM.
*This post contains affiliate links from which I could receive a small commission if you sign-up. Regardless, I stand behind all of these products and services and truly believe they are essential in helping to build The Healthy Maven. Thank you for supporting me in THM as a business!
Like this post? Check out some of my other posts on blogging as a business!
Do you agree that you need to invest some to get some? Have you ever invested in a business, blogging or not?
JOIN THE THM NEWSLETTER
Join 10,000+ members of the THM Community to get access to exclusive recipes, healthy lifestyle tips and behind-the-scenes news from our team!