It's been almost 3 years since my last Day in the Life post. September 17, 2014. Where does time go? At the time I was living in Toronto and still in the beginning stages of getting THM off the ground. I feel like a different woman, business-person and all-around human is writing this post now. It's crazy how much can change in a few short years.
But even though I may have changed, I still find these types of posts super creatively inspiring and just all-around fun to share. It feels like OG Healthy Maven when I used to share my weekend recaps. Remember those? Those were the days…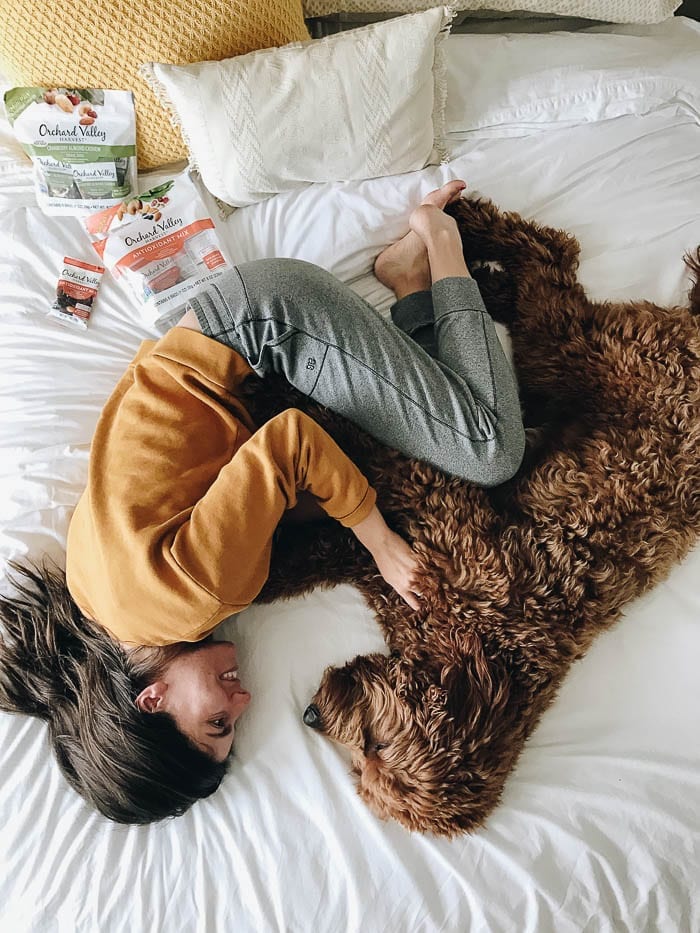 It's due time for an update Day in the Life post though. For one, a lot of you guys have questions about what I actually do on a daily basis and two, I have a whole different approach towards working, self-care and wellness than I did then. In 2014 I was really into the hustle culture. I felt like I had to do EVERYTHING and while I was producing a lot of work, I was also wasting a lot of time, all while stressing out my body.
I have a much more relaxed approach toward work and definitely prioritize slowing down and taking care of my body ahead of my work. In the process, I've become far more productive and subsequently more successful at my job. It's been crazy to see the results of working smarter and not harder. I should also note that I get a lot more help now than I used to. Cassie manages my social media and podcast details and C does all business development and accounting so not having that on my plate has freed up a lot of time for me to focus on the creative stuff that I love.
And if I'm being totally honest, I was major PMSing on this day. I know my body pretty well and if I'm anywhere near that time of the month, I need to move extra-slowly, not overdo my schedule and really, really take care of my body. I think this day is a pretty good reflection of this. Alright, let's jump in…
8:00 AM: Wake-up! My alarm went off at 7:30 but I didn't get out of bed until after 8:00. Sometimes I just need the extra sleep. Bodhi and C snuggles are always the best way to start the day.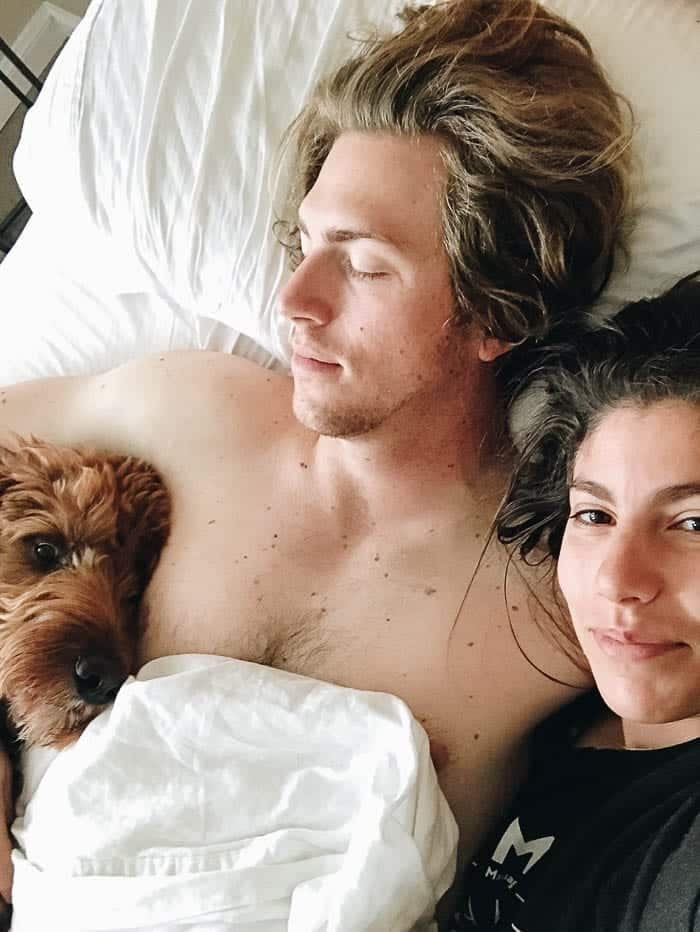 9:00 AM: Breakfast. After a quick meditation and shower, I got started on breakfast. My usual green smoothie. This one had blueberries, 1/2 banana, protein powder, 2 cups spinach and topped with granola and blackberries. That's also a matcha latte since I recently quit coffee (OMG!). More on this in another post.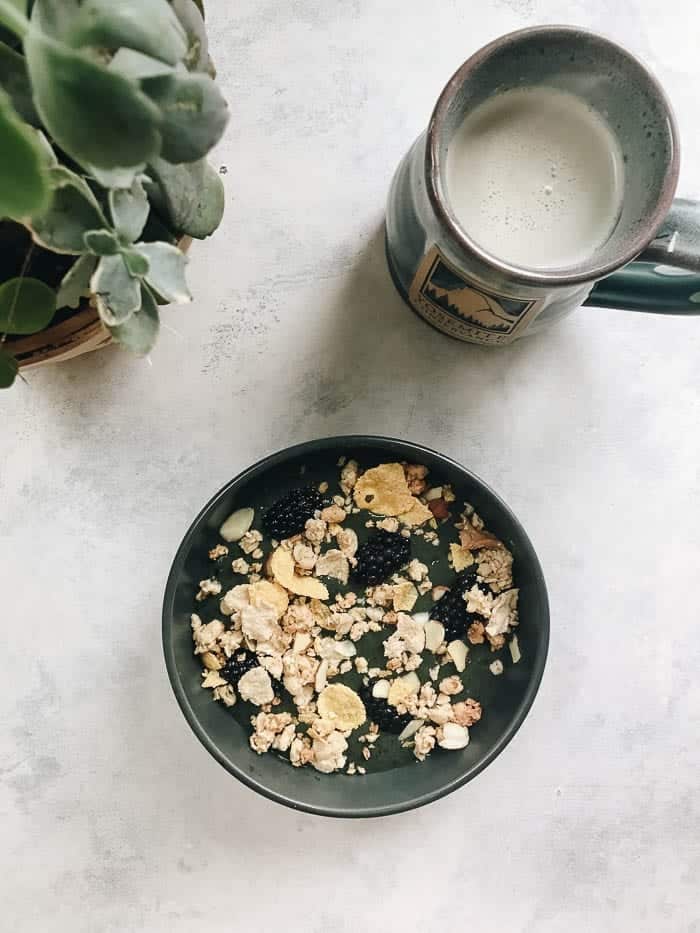 9:15 AM: Emails. I ate my breakfast while clearing my inbox. I took a long weekend because of C's birthday the previous day so things had gotten a bit backed up.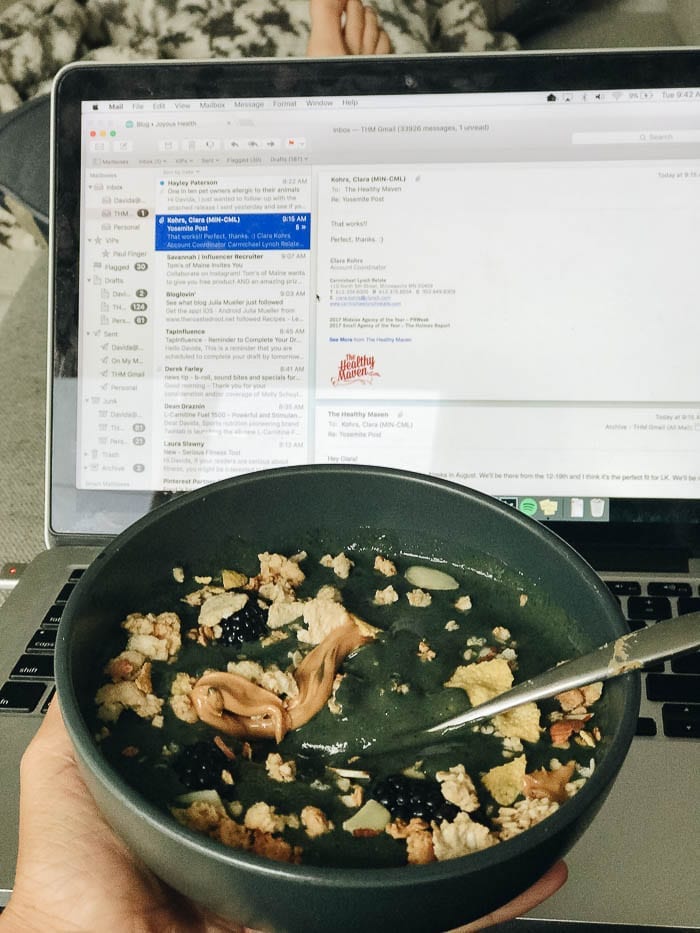 10:00 AM: My CSA arrives! I love Tuesdays for this reason…Learn more about my CSA Here. After unpacking it, I spent the next hour preparing for my podcast interview.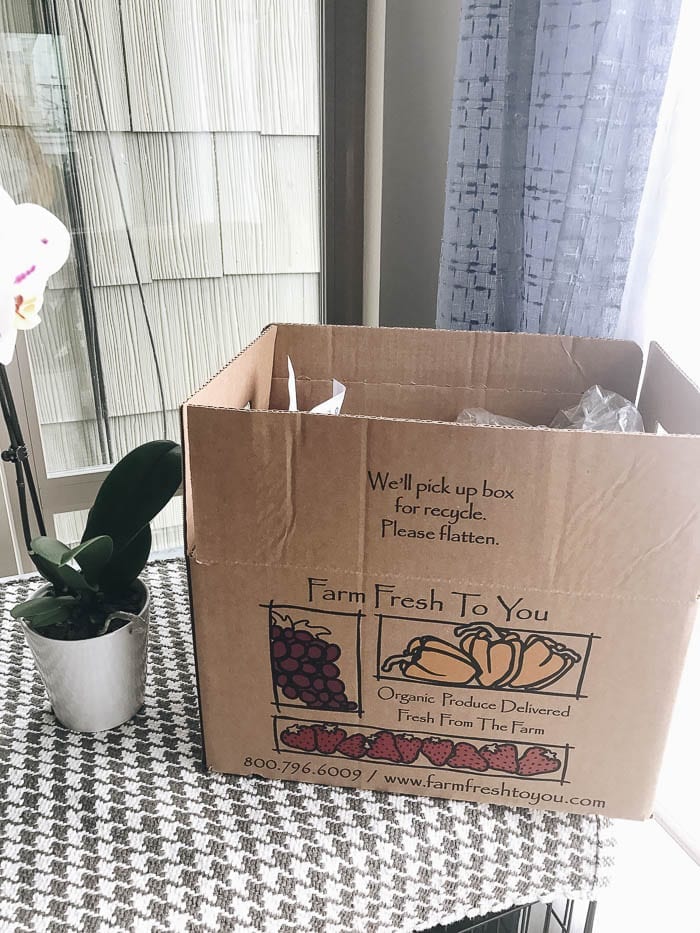 11:00 AM: Podcast Recording with Joy McCarthy. Stay tuned for next week's episode with Joy! Yes, that's a blanket. I was freezing in the office.
12:00 PM: Recording intro and outro to this week's podcast episode with Erin's Inside Job. I generally am working a week out but recorded this one the day before. These are surprisingly challenging to record. I got this one in the first take though!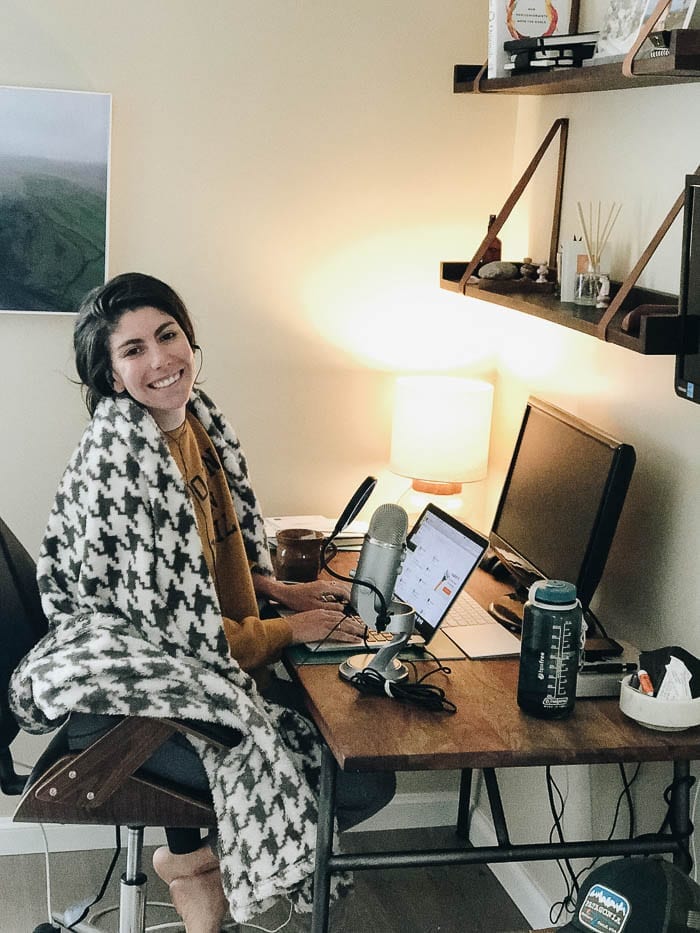 12:30 PM: Snack. I was starving at this point so I grabbed a packet of my favorite trail mix, Orchard Valley Harvest's Antioxidant Mix. C and I decided to go out to lunch so it was the perfect snack for on-the-go eating. I also try to get in a lot of healthy fats when it's around that time of the month and Vitamin E (found in the Antioxidant Mix from the cashews and pepitas) has been shown to help with menstrual cramps.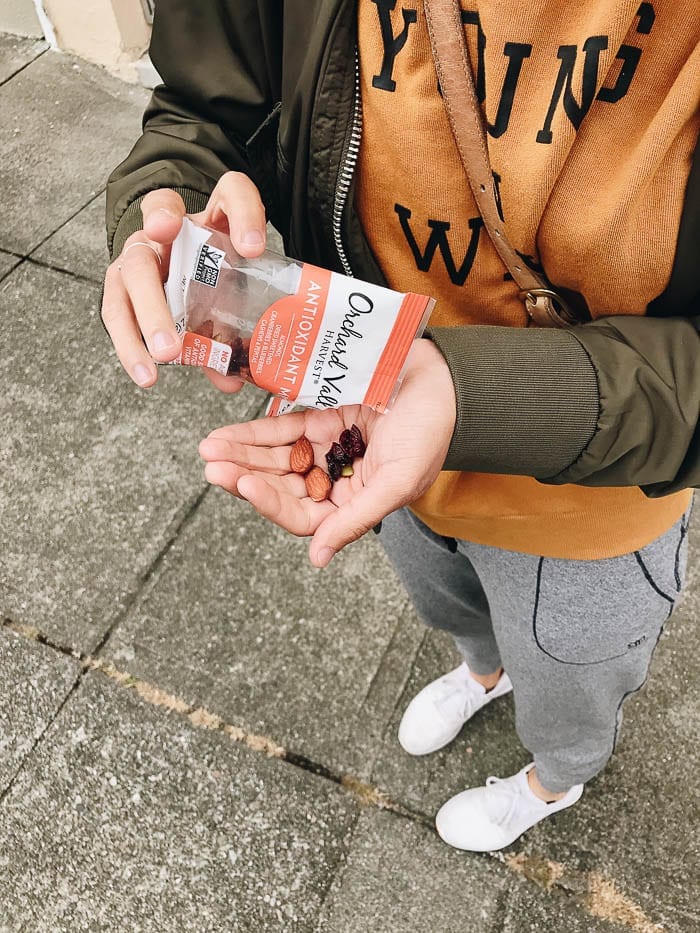 Also Bodhi was VERY into these. Check out these pics…he kills me!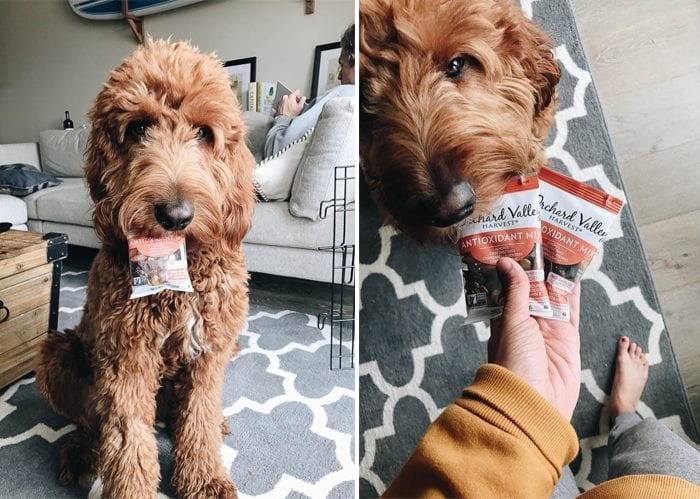 1:00 PM: Lunch. C and I walked to a nearby Mexican spot to grab lunch. I got a deconstructed veggie burrito bowl. Wasn't my favorite meal but did the trick! From there we walked Bodhi around the neighborhood before heading home. After sitting all morning I needed to stretch my legs.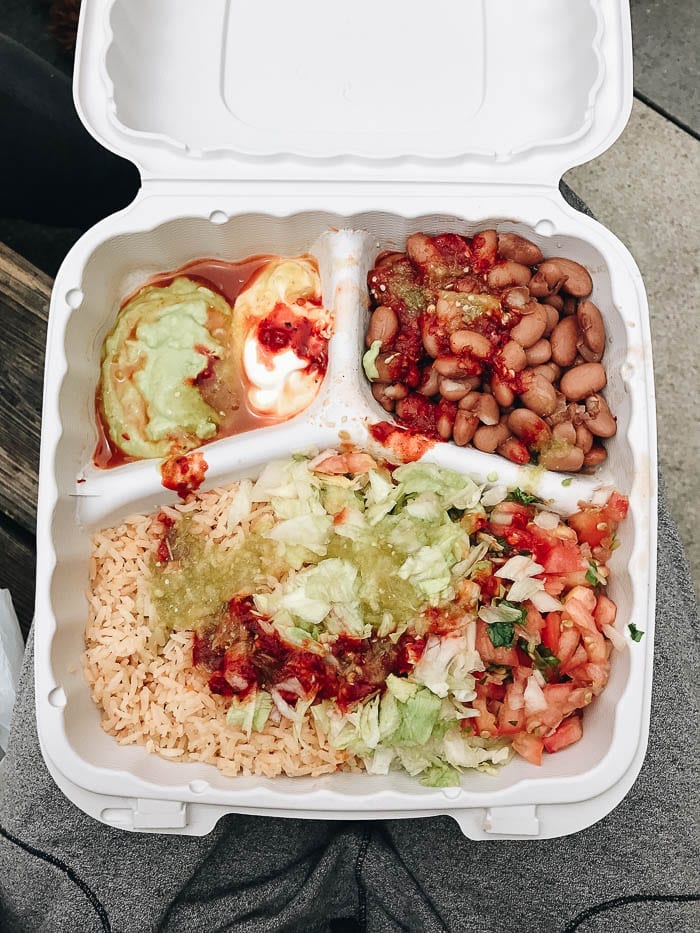 2:00 PM: Blog writing and comment responding. I had a few hours of post writing and also got around to responding to comments on the blog. I don't know if people realize this, but I read every comment that people leave on the blog, on YouTube, on Instagram and elsewhere. I try my best to respond to every single one. Except when people are intentionally very mean…that's no fun.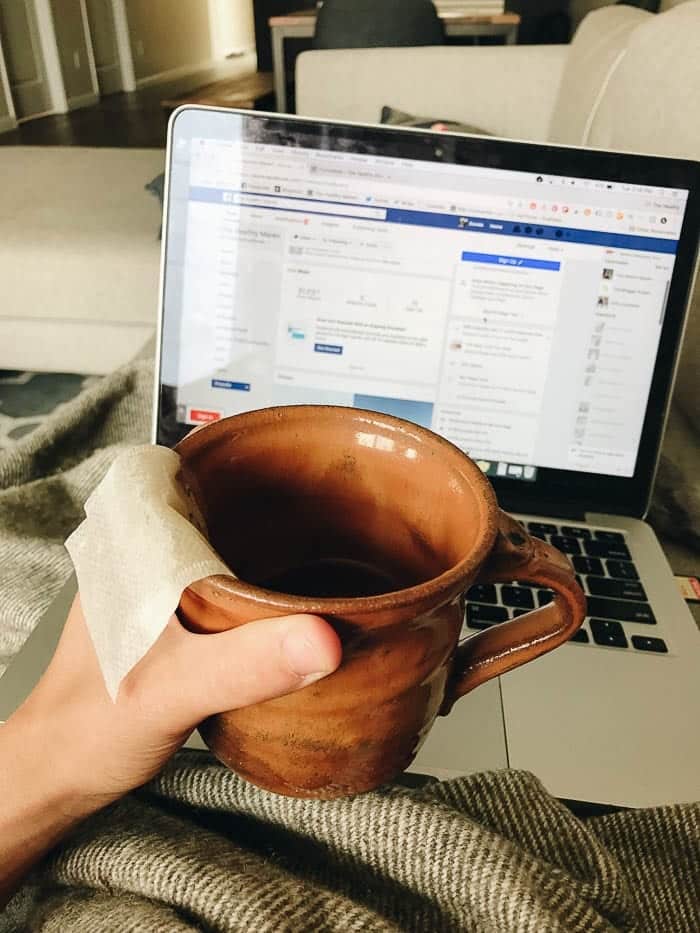 4:00 PM: Snack. I picked up some peaches at the market in Pt. Reyes station and always like to pair my fruit with nuts for easier absorption. I find that my blood sugar spikes if I eat fruit alone so I pair it with a nut mix like the Orchard Valley Harvest Omega-3 Mix that has Alpha Lipoic Acid (ALA) Omega-3 with 55% of the 1.6 Daily Value of ALA from the almonds, pistachios and walnuts.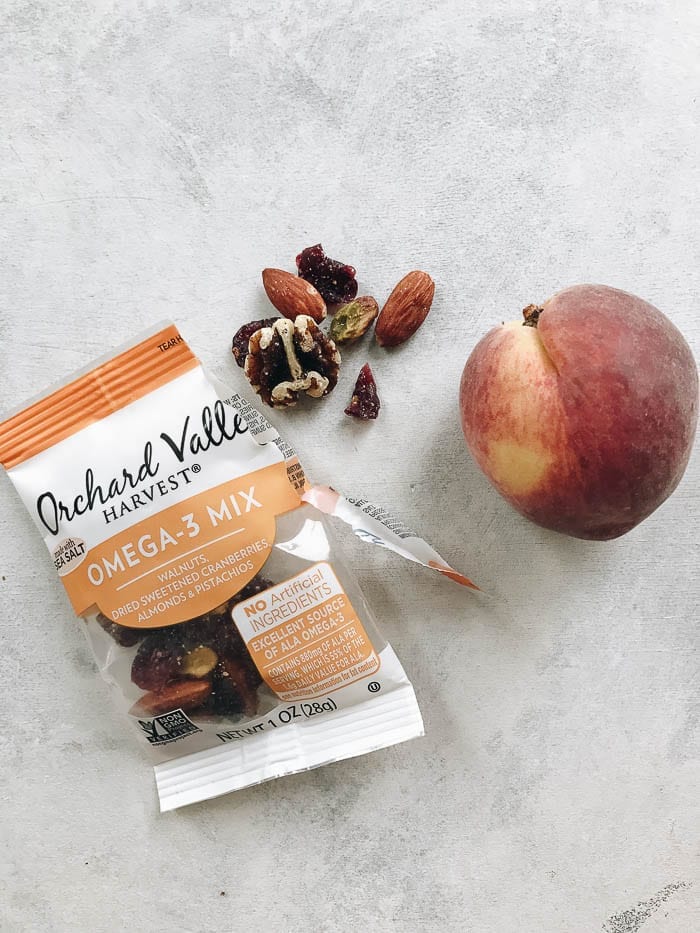 4:30 PM: Yoga. Again, after a few hours of sitting I needed a break and ending the day with a yoga session is one of my favorites. I switch off between yoga and at-home barre classes, but today I did a video from one of my favorite YouTube yoga channels. Let me know if you guys want to see a post on my favorite YouTube fitness channels!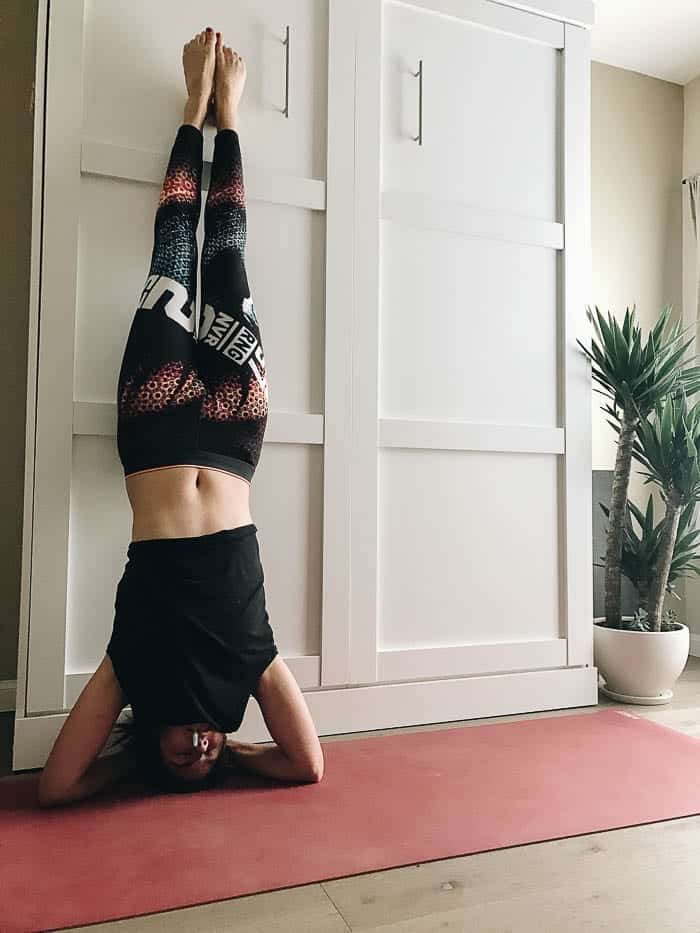 6:00 PM : Dinner. After yoga I got started on dinner since it took an hour or so to cook. We had a turmeric soup/stew that was so cozy and warming.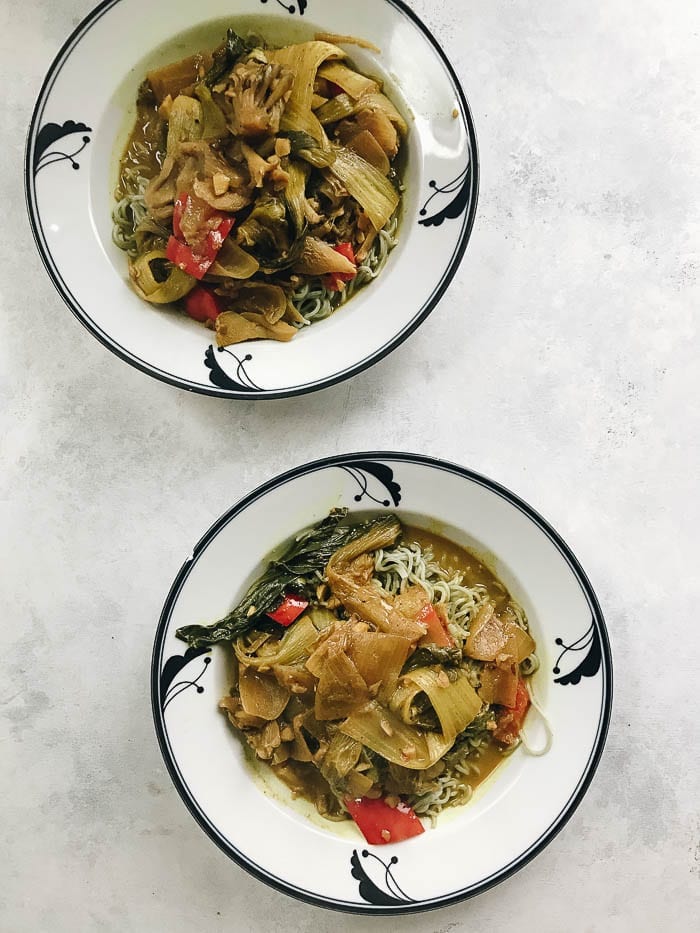 7:00 PM: My Evening Routine. I pretty much do that same evening routine every night and lots of you guys have been asking that I film it so I finally did! To see the last part of my day/night watch the video below. Hint: it involves lots of diffusing, face masks and chocolate!
Giveaway time! Once again, Orchard Valley has been super generous and is giving away a prize pack of Orchard Valley Harvest and a $50 Visa Gift Card! All you need to do to enter is follow both The Healthy Maven and Orchard Valley Harvest on Instagram and then comment below with your handle. The winner will be selected on Wednesday May 31st at 12:00AM. Open to US residents. Good Luck!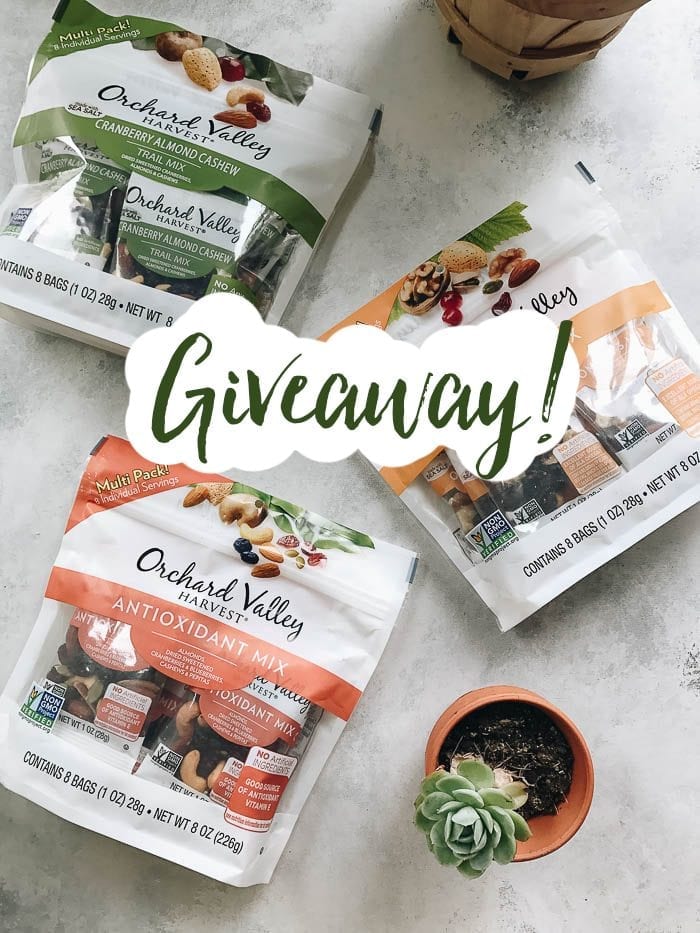 This is a sponsored conversation written by me on behalf of OVH. The opinions and text are all mine.
DON'T WANT TO MISS A LIFE UPDATE? Join the THM Community!
Join 10,000+ members of the THM Community to stay up to date on the latest life happenings and behind-the-scenes of The Healthy Maven!