Last Sunday I had the privilege of hosting a brunch for Bonne Maman Jams at The Tempered Room catered by Chef Bertrand Alepee in Toronto. The brunch not only was a fantastic opportunity to learn more about the jams and try out their assortment of flavours, but also to mix and mingle with some fantastic Toronto bloggers.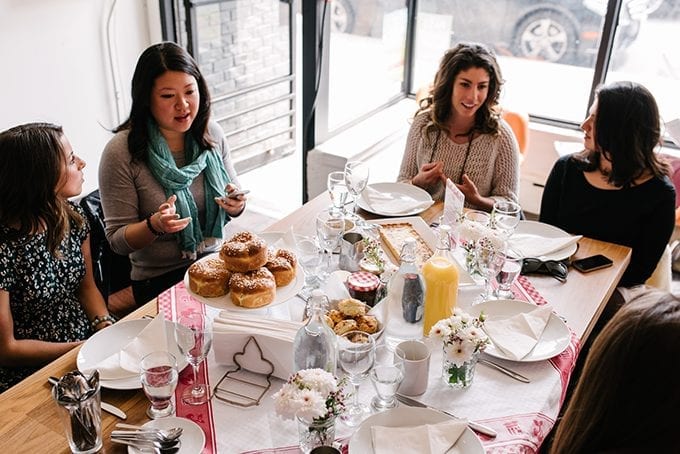 Sometimes I take for granted how lucky I am to be surrounded by such an awesome network of health-focused bloggers and online influencers. I realize that many bloggers do not have easy access to meet other bloggers of their niche so the fact that I can name at least 10 of them and call them all my friends is truly a privilege.
With all of our crazy schedules and plans to make our beautiful city a little healthier, it isn't always easy for us to be in the same room. So when Bonne Maman reached out asking if I'd like to invite some of my fellow bloggers to a showcase for their jams and a lovely Sunday brunch, I jumped at the opportunity.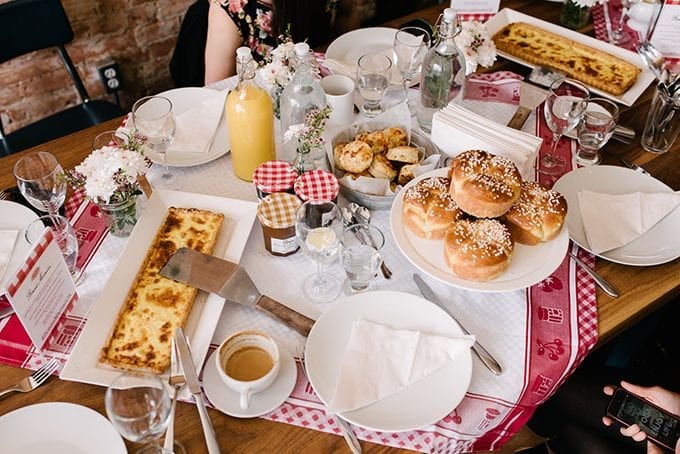 We also had the privilege of mingling with Chef Christine Tizzard who shared with us her story of growing up in Newfoundland and her memories of Bonne Maman jam. I could so relate to her point that up here in Canada, our access to fresh fruits and veggies is limited so we depend on products like Bonne Maman jams that have been picked at optimal times from France and are packaged without added preservatives. Her stories about frozen berries from last summer's pickings being rationed out through the winter at family brunches so resonated with me.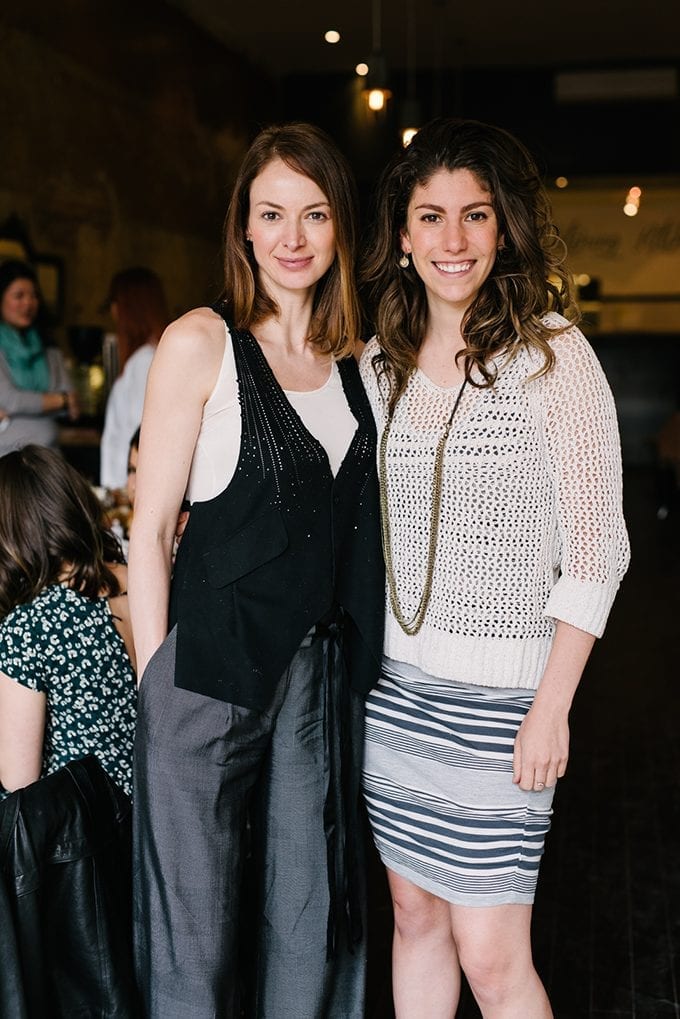 Besides being able to try out the jams, fill up on a yummy (albeit indulgent…YOLO) brunch, it was so lovely to catch up with my fellow bloggies. I seriously love every single one of these ladies and am in awe at the amazing paths they are pursuing. I wanted to take a second to highlight each of them and encourage you to check them out. They're all fantastic!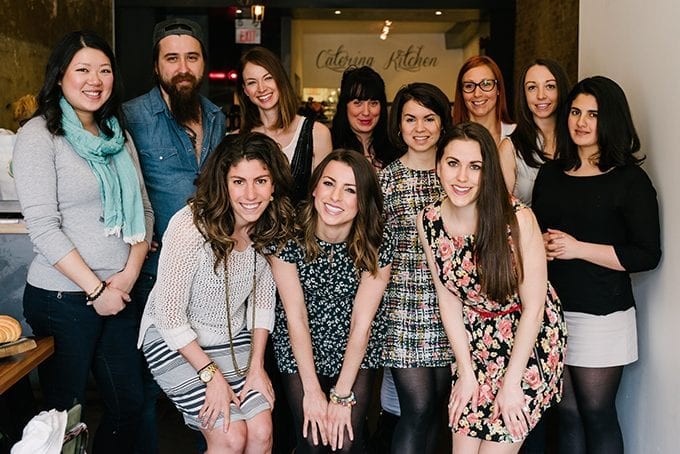 Nikki from Health Nut Nutrition – This girl is phenomenal. Not only is she building a YouTube empire (seriously check her out!) but she's also so down-to-earth and real. Her approach to health and nutrition is on point. Also she shares my passion for avocados…it's a thing.
Sahar from Confessions of a Quirky Princess – This girl literally glows inside and out. She is so full of passion and wisdom that a part of me just wants to move into her brain and camp out for a while. I love her take on health both inside and outside of the kitchen.
Melissa from UpBeet Nutrition – I don't know why but when I met Melissa for the first time I instantly felt like we'd known each other forever. She's brilliant (she's probably the most educated RD on the planet) and shares all of this knowledge as well as delicious recipes over on her blog. Plus she appreciates a good SCOBY…
Sarah from Sarahbellum – My productivity level pales in comparison to this girl's. She runs a successful nutrition practice while also running workshops and shape-up programs for BarreWorks. If you're looking for a nutritionist in the Toronto area, Sarah will not only help you get your diet on track but live a sustainable healthy lifestyle.
Jaclyn from Holistic Foodie – Jaclyn runs an amazing Instagram account and will soon be launching her blog! She's almost finished her courses at IHN to become a certified nutritionist and then I'm sure will take over the world, one client at a time. I also love seeing her in my morning Barre classes 🙂
Annie from Chu On This – I actually met Annie at the event for the first time, which is funny because I'm pretty sure we should have crossed paths years ago. I'm super excited to dig deeper into her blog and am fascinated by her Living Below the Line Experiment and hear her final thoughts on it.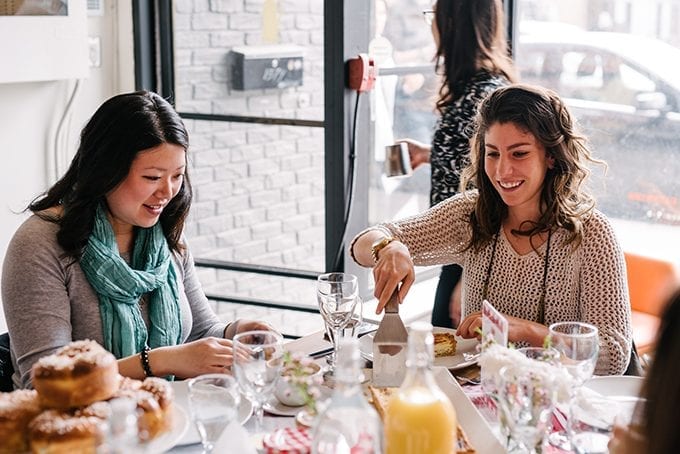 Unfortunately a couple of bloggers couldn't make it to the event but I still wanted to give them shout-outs!
Lynsey from Lynsey Loves Food – This lady just had to jet off to the Bahamas for a week, missing the event of the century (kidding…I would take the Bahamas any day!). Not only is Lynsey an insanely talented photographer but I appreciate that she preaches a BALANCED diet full of healthy food and cocktails. Also she's my full-time blogger in crime who I can vent to when the going gets tough!
Michelle from Michelle Nutrition and Glow Bride – Michelle injured herself just before the event and couldn't end up making it 🙁 I was sad that the group missed out on hearing about all of the cool projects she has going on and being inspired by her entrepreneurial spirit. I especially love the concept of Glow Bride which offers bridal nutrition coaching with a holistic approach. Brides out there, be sure to check it out!
Chelsea from Chelsea's Healthy Kitchen – If you read my blog, you probably read Chelsea's. Chels is amazing. She is full of spunk and sass and isn't afraid to share her opinions of fads in the nutrition world that should probably not exist. Also her recipes and photography are beautiful.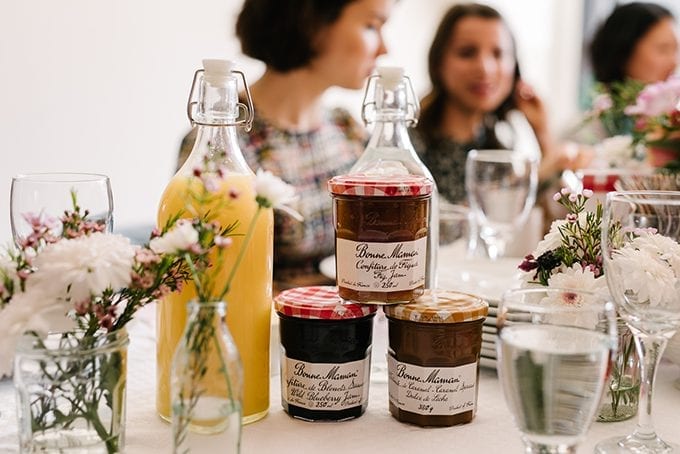 Thank you to Bonne Maman jams and Chef Tizzard for hosting a fabulous brunch!
Disclosure: This post was sponsored by Bonne Maman Jams.
Photos by Jeffrey Chan
Who are some of your favourite local bloggers? Did I miss any Toronto bloggers?
JOIN THE THM NEWSLETTER
Join 10,000+ members of the THM Community to get access to exclusive recipes, healthy lifestyle tips and behind-the-scenes news from our team!