Sometimes I have a clear vision for what I want to talk about during a post. Other times I have severe writer's block and on occasion I have so much to say that I don't even know where to begin. Today I am the latter.
I'm overwhelmed with how much I want to share about this arugula salad, what inspired it and what inspirations came from it that choosing what to talk about is almost impossible. Instead of picking one topic I'm instead going to deviate entirely and discuss how I structure my posts. My recipe posts that is.
I wouldn't say there is necessarily a science to blog writing, but with time I have figured out what works for me and what you guys seem to enjoy. My posts always include 4 pictures (sometimes more if I had luck on my side during a shoot) and are between 400-500 words. Rarely do I spend a post describing the recipe but instead talk about an experience that inspired the recipe or something the recipe made me think about. Sometimes what I talk about during a recipe post has nothing to do with the recipe at all aka today.
Another "rule" which I stick to (minus last week's birthday post) is to limit myself to only one topic per post. I won't do a survey and a recipe or a workout and a recap in the same post. If I'm being honest, it's kind of a pet-peeve of mine when people do that. This likely is because I have the attention span of a two year old and trying to get me to focus on more than one topic is virtually impossible. This is especially true if I am reading your post first thing in the morning, pre-coffee…
I find it somewhat laughable when people tell me they don't want THM to exclusively become a recipe blog because they like reading my voice. First off, it still baffles me why anyone would EVER want to listen to me and secondly, if you just read between the pictures you would know that my voice is very present in my recipe posts. Even if it is slightly mean and outrageously sarcastic 90% of the time.
I understand why food bloggers spend a lot of time talking about their recipes, since filling your posts with keywords is one of the best things you can do for SEO, but that's just not me. Alternatively I'm just incredibly narcissistic and prefer talking about myself rather than the recipe.
And now here I am 5 minutes later with a complete post. I'll take the next two minutes to proof-read, miss at least 2 spelling mistakes and then schedule my post to publish at 5:00am tomorrow morning. This my friends is how the magic happens…
Print
Arugula Salad with Balsamic Pesto Dressing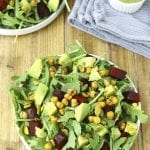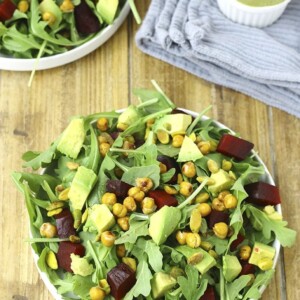 For the Salad:
6 cups

baby arugula

1

medium roasted beet (roasting instructions below)

1/2

large avocado, cubed

1/2 cup

crispy roasted chickpeas (I used my Crispy Sriracha Lime Chickpeas OR

1/2 cup

cooked chickpeas

2

T shelled pistachios
For the Balsamic Pesto Dressing:
1/2 cup

fresh basil

1

T olive oil

1

T chopped walnuts

1

T nutritional yeast (or parmesan cheese if dairy is acceptable)

1

garlic clove, minced

1

T balsamic vinegar

1

T water

1/8 tsp

sea salt
Instructions
For the beet:
Preheat oven to 400 degrees F.
Wash a medium sized beet in cold water and dry thoroughly.
Wrap in tin foil and bake in oven for 1 hour.
Remove from oven and let cool before peeling skin with hands.
Chop into bite-sized pieces.
For the Balsamic Pesto Dressing:
Combine all ingredients in a blender or food processor. Blend until smooth.
Set aside until ready to dress salads.
To Assemble Salad:
Combine arugula, beet, avocado, chickpeas and pistachios in a large bowl.
Top with balsamic pesto dressing.
Bloggers, do you follow any kind of "rules" with post-writing? What kind of posts do you like reading?
JOIN THE THM NEWSLETTER
Join 20,000+ members of the THM Community to get access to exclusive recipes, healthy lifestyle tips and behind-the-scenes news from our team!