Can I be honest with you guys? This is the first time, in a long time that I've sat down, written a post and hit publish right away. It's not that I don't love this space (trust me, I do!), it's just that life has been so busy that it's required a lot more forethought and planning when it comes to blogging. I know, I know, busy – don't we all hate that word?
We're all busy. We all lead crazy, chaotic lives. And when we aren't, we're probably supporting someone else who is. And that's okay! I'm learning to accept that I'm not superhuman, suck way more at multitasking than I thought and to just maybe be a little more compassionate with myself.
But I do sometimes miss the good old days of blogging when I could sit down, share my thoughts and hit publish. These days everything is so curated and so much of the in-the-moment stuff has been replaced by social media. And I get it. I want this space to be valuable for you. To be a resource for all things health, but sometimes I just want to chat, even if it isn't the most inspiring or motivating post.
But before I share what's been going on, I'm just giving you a heads up that there's a new favorites video on my YouTube channel! I'm also doing a huge giveaway just to say thank you to all of you who have supported me!
Okay, so what's been going on?
1. This space obviously got a makeover! If you haven't checked out the big reveal post, you can read it HERE. But basically, it was a long time coming, a lot of work and made me grateful to have the best team ever supporting me.
2. Wedding! Honestly, guys I've made absolutely no headway on the wedding. It requires so much time and energy and truthfully it's just not on my list of priorities. I know I need to make it more of a priority, but I just have to get through a few things first. Also if anyone is itching to plan a wedding and wants to plan mine, please come help me!
3. Travel! And lots of it. I'm off to wine country this weekend with two of our best friends who are in town and I cannot wait to take the weekend off and soak in the heat…and wine. But other than that, I have a trip planned to Expo East in Baltimore (let me know if you'll be there!), a visit to NYC to see my besties, and two hot destinations that are being finalized. One will be for TWO weeks. More to come 🙂
4. The Alaska recap. I know a lot of you have been asking for the Alaska recap so I just wanted you to know that it's coming. I've finished the blog posts but am finalizing the video so stay tuned for those in the next week or two.
5. More recipes! I feel like I get a really intense spurt of creativity whenever the seasons change because I get a new round of fruits and veggies to play with. That's probably why recipes around here come in waves. I love late-summer, early fall fruits and veggies so prepare for lots of peaches, apples and zucchinis!
6. New videos. I filmed three this week! So those will be edited and released in the next week or two. What I Eat In a Day videos, favorites, recipes and so much more. I've definitely been on a video bender!
7. The return of the podcast. There's been no date set yet, but I'm thinking early October I'll be back with season 3. I'm in the process of organizing the amazing guests for the show, but if you have any suggestions be sure to join the THM Tribe so I can hear about them.
8. The newsletter. The THM newsletter is getting revamped thanks to THM's newest team member, Tanya! Super excited to be able to connect with you over there so be sure to subscribe HERE.
9. My Birthday. For the first year ever, I didn't blog about my birthday. I honestly just didn't have anything revelatory to say and just wanted the day off to hang with my boys. But I did have an incredible dinner with C (the night before my birthday) where we took a few minutes to talk about the past year and what I've learned. The biggest thing I realized was that this past year has really been about getting to know myself. The good, the bad and the ugly.
It's been about blocking out what other people are doing or saying and really focusing on my needs. Maybe it's selfish, but I honestly think I've become a better human by giving myself more time to be me. It's made me a lot more "flowy", meaning I have an easier time just going with the flow and not putting up so much damn resistance against everything. It's made me less tolerant of bullshit and more accepting of when I mess up (which I do a lot of). And what I've also discovered, is that when you don't try to hard to be something you're not, things just generally flow better.
For example, we had booked a fancy dinner on Saturday night for my birthday because I felt like we should do something fancy. But an hour before, Bodhi would not stop barking and we were worried about leaving him at the hotel. So we cancelled our dinner, threw on a sweater and went to one of our favorite casual patios in Mendocino. We ended up eating under the moonlight with the stars all above us and had a delicious meal. It wasn't fancy, it wasn't birthday epic but it was so perfect in every way. In the past I would have forced myself to go to the fancy dinner because I "should". I would have forced myself to write a blog post about my birthday because I "should". But instead I have a beautiful birthday memory and I showed up for this post today. So yeah…so far so good on 28!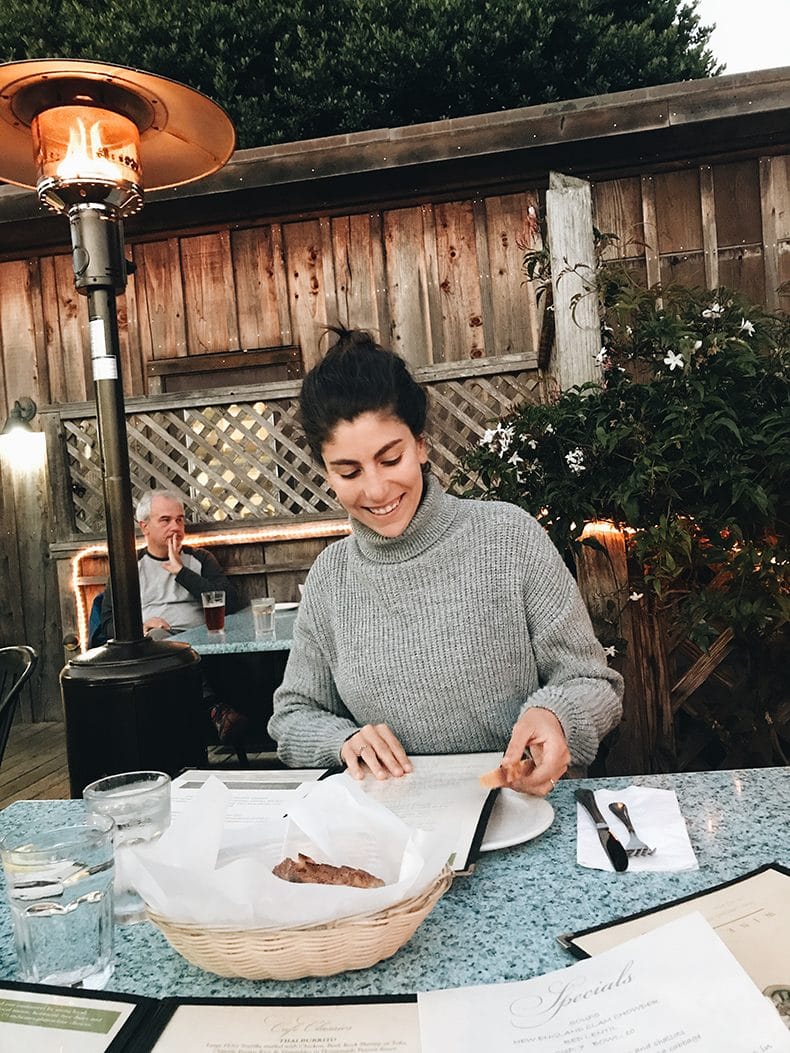 Links I'm Loving
I shared some of my favorites products in my August Favorites video, but I wanted to share some links I'm loving here
Even I struggle with accepting myself. Can't wait for this program to start.
You mean I don't have to deal with PMS?
This Spicy Veggie Noodle Bowl is getting added to the menu.
Do you know your Dosha? I'm apparently a Pitta. How about you?
The wellness world lost a visionary. You will be missed Louise Hay.
So what's been going on in your life? Any plans for the weekend?
DON'T WANT TO MISS A LIFE UPDATE? Join the THM Community!
Join 10,000+ members of the THM Community to stay up to date on the latest life happenings and behind-the-scenes of The Healthy Maven!