Hello THM friends! Do I have a post (ahem novel) for you today.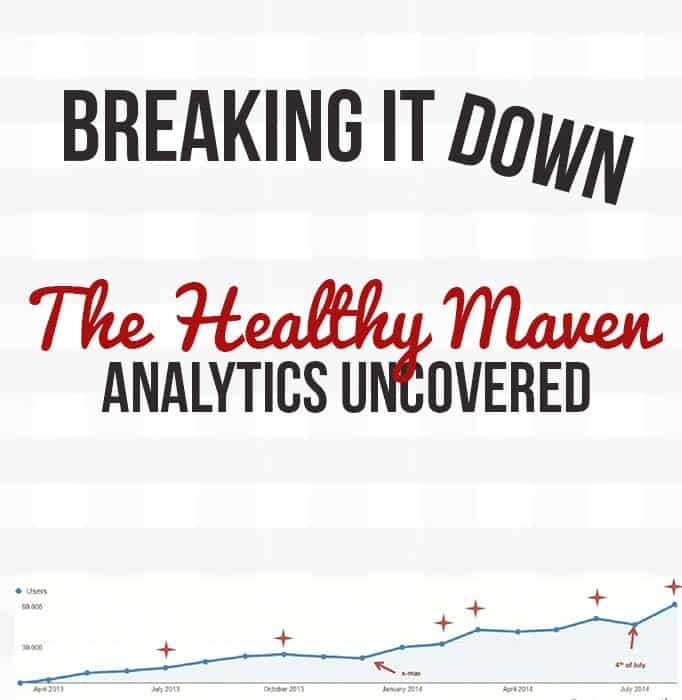 Over the past few months I have started to take an interest in how I can better tailor the user experience of THM to my lovely readers. I want to get a better sense of what you guys want to see. No matter how many times I ask you on social media or on the blog, it will not be an accurate assessment as 90% of you won't answer. I don't want to let a small subset of readers dictate what the sum of you want to see. Sorry my background in research is to blame for this…
The problem is that I am not good with numbers. I still count on my fingers, whip out my phone calculator to figure out tips and just barely passed grade 12 calc. I needed someone who could objectively assess THM's analytics who also knows how to count. Luckily I live with a guy like this!
I haven't talked much about this on here but over the past few months, C (my wonderful Minnesotan boyfriend and roommate) has taken on a larger role with THM. He's now running the behind-the-scenes business operations and is reviewing and assessing the analytics. This allows me to focus more on the parts that I love most about blogging, content creation and engaging with you guys!
A few weeks ago C gave an amazing presentation he had been working on which broke down THM's analytics. I learned so much from it and wanted to share it with you guys in the hopes that it may help you get a better understanding of your blog/business' analytics.
For those of you who come for the food, feel free to skip over this post (unless you want to hear about THM's journey!) and for those of you who want to learn more about blogging and how you can make the most of your audience, read on.
I realize and respect that most of you are not interested in all this blogging stuff, so I am trying to keep it to a minimum on this space. Instead, I am planning to move all of that content over to an email list where I will share blogging tips, things I'm learning and effective techniques, exclusively with its members. You are all welcome to join, so be sure to click "blogging tips & tricks" below and then sign up!


Email Address

*
Now I'll let C take it away…
_ _ _ _ _ _ _ _ _ _ _ _ _ _ _ _ _ _ _ _ _ _ _ _ _ _ _ _ _ _ _ _ _ _ _ _ _ _ _ _
At last! The long awaited debut post of C. For those of you who are not regulars (well, you should be) of The Healthy Maven, allow me to introduce myself…I'm the man behind the woman behind the blog.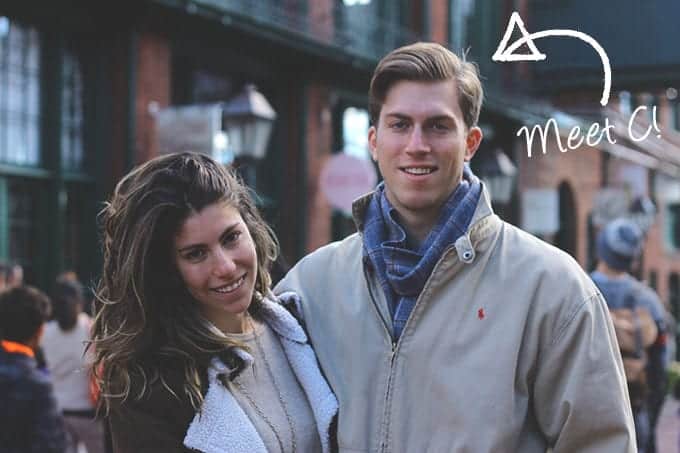 Since our early days in New York when I was at a structural design engineering firm and Davida was in research at Columbia, she and I have been dreaming and scheming of building our empire. We were both on steady and respectable paths, yet neither of us has ever envisioned ourselves following any sort of typical course.  Regardless of the caliber of her growing credentials, she had no passion/drive/nor interest for her day to day. She wanted to bake, to be her own boss, to mid-day yoga, to manage her own time, to blog, and let' be real – finally be famous 😉 (editor's note: NOT TRUE…okay kind of true).  Davida has always given me unwavering support so when she told me she wanted to quit her job and focus more time on THM, I was happy to give the support right back.
Under a year later, we've already seen incredible results. THM has grown tremendously and her successes continue to manifest: a self-published e-cookbook, over a million page views reaching over half a million people, thousands of comments from readers, and most importantly (!) endless deliciousness for yours truly. Her growth was rooted in constant generation of new content, never ending learning in photography and editing, and a fundamental connection with the community of bloggers and foodies that she loves so dearly.
As THM grows, it has become clear that there is more work than one person can handle so we recently began talking about how my analytical & business oriented self could help take THM to the next level.  She wanted to learn how to intentionally drive growth and engage her loyal readers in the best ways, while I viewed it as a case study to evaluate the analytics of a start-up website and a means to support her as best I could.
Et voilà! Mission accomplished for round one and it's time to talk about it.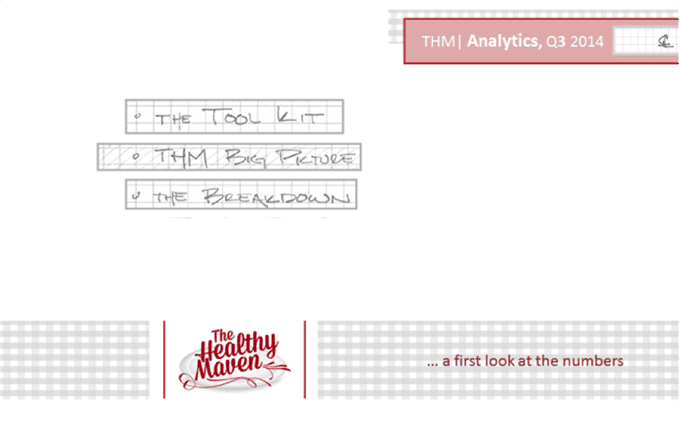 Here's the game plan – I'll go through how I see it, what I used to actually look at the numbers, things to look for if you're analyzing a site, as well as some of the findings for THM. Hope you enjoy! I promise delicious food posts will be back soon…


To get a first look at a website's analytics you really only need three things:
The site under investigation (THM in da house)
The data on the site (Google Analytics aka "GA" is the most widely used)
If you have a website/blog I highly recommend you sign up for GA. Here's the link to sign-up.
And lastly, a few basic parameters used to understand the madness:
Users

:  the number of individuals visiting the site across all platforms in a given timeframe

Sessions

: the number of visits to the site – it is defined by Google help as "the container for the actions a user takes on the site"

Page views

: the total number of pages viewed, including repeats

Bounce rate

: the percentage of single interactions (or page views) followed by an exit (closing the page)
Channel:  the online path by which users arrived at the site, typically broken into the following sub-categories:

Direct: straight to the site (www.thehealthymaven.com )
Social: via redirection from social media platforms (pinterest, facebook, twitter…)
Referral: via links opened from other sites (foodgawker, huff post, blog networks)
Organic: via search platforms (Google)


As this was the first look at THM's numbers, step one for us was to gain a general understanding of the site traffic thus far. Two of the first things I looked at were (i) how many users, and (ii) from where users were coming. The results are pretty interesting…
Keep in mind the above data points are the number of monthly users. Each point does not represent the cumulative number of people having visited THM (which is much higher), but rather a recap on the month in question. When plotted consecutively, the graph gives a good indication on how things are going, month-to-month. Up is good. The Healthy Maven has been gaining an average of 20,000 monthly users (unique visitors) every 5 months. Around 75% of each month's users are first timers, which translates to 15,000 new users over that time.
If a standard downtown skyscraper can hold about 150 people per floor (not unreasonable), that's the equivalent of a 20-storey building full of new users every month!
That's the 'how many', next up is the 'from where'.
Because we're in Canada (whatUP, eh?) it actually does impact the reach of The Healthy Maven. The US is still the clear heavy weight for visitors (thanks mostly to Google and Pinterest) however being outside the States seemingly does open The Healthy Maven's reach to an international scene that it may not have had otherwise. Observe…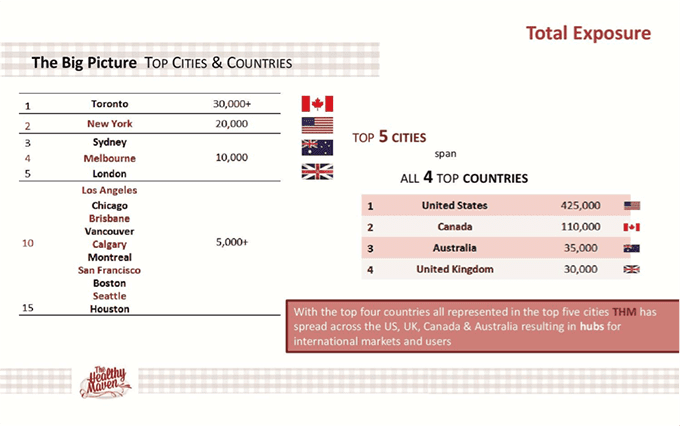 An interesting point for me on these numbers is that all 4 top countries are represented in the top 5 cities. As opposed to having the 10 best cities in the US, then trailing cities elsewhere in the world, The Healthy Maven has strong hubs across these international markets. The UK and Australia together are nearly 60% of the Canadian reach, and together those three are nearly half the number of users in the States – these aren't insignificant numbers.
While the US is certainly the target for growth (and potential brands to work with), who knows!  Perhaps you'll see us touring the UK and Australia soon under the pretext of a bui'ness trip for THM. Not sayin', just sayin'…


While it's fun (and cool) to know the big impressive numbers, see the big picture graph and look at how many people in different countries are following along, the motivation behind looking at analytics is to understand things one layer deeper. Even looking at best days ever and the posts from those days can be extremely misleading.
Did you know that on average, the daily post of The Healthy Maven typically drives less than 5% of users for that day? That's unexpected, right? Well, maybe not. Past blog posts are not replaced with the new, but rather one piece of a growing collection of content that lives on. Each post is effectively an asset with its own media exposure and will all continue to drive traffic, users, and engagement. These existing assets, or posts, will fluctuate in their popularity depending on features from other sites, seasonal tastes, a visit from the Pinterest fairy, etc…
When looking at the analytics, this is why it's important to go a step beyond seeing what days did best, and what was posted that day. Instead of looking at these factors, the landing page (the site that users went to directly) will give the greatest insight as to what content resonates most with THM readers. If the landing page shows the top posts, referral source will show how they got there. Together these will give insight into what content users are most interested in and how they discovered said content. Looking at that information will reveal lessons learned for how to drive things forward.
However long winded, this was actually only a portion of the report I put together for The Healthy Maven. To keep things brief (ha!) we've put together the complete presentation which you will receive directly to your inbox TODAY if you sign-up for THM's blogging tips & tricks subscription list (be sure to click that box). Here's a sense of what else is covered: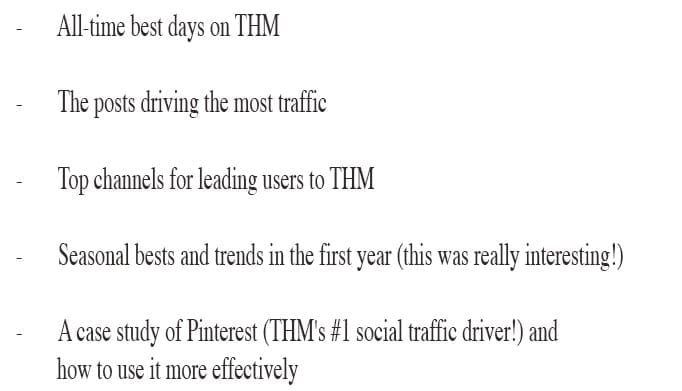 Email Address

*
I'll be back to your regular programming on Friday.
p.s. C come home! Enough of this travelling, I miss you. I've got cookies 🙂
Are you interested in the analytics behind the blog? Did anything about this post surprise you?
JOIN THE THM NEWSLETTER
Join 20,000+ members of the THM Community to get access to exclusive recipes, healthy lifestyle tips and behind-the-scenes news from our team!