Disclaimer: This post was sponsored and written on behalf of Nature's Palate. I was compensated for my time but as always, all opinions are my own. This is a product I would 100% use in my own home. Thank you for helping support my dream of running THM as a business.
This is my third instalment of my series with an awesome local Toronto company called "Nature's Palate". In case you missed them, I made a Honey Mustard Veggie Frittata with their Honey Mustard Glaze for a quick and easy breakfast and a Bacon and Brussels Sprout Caesar Slaw with their Bacon Caesar Dressing for a hearty and basic lunch.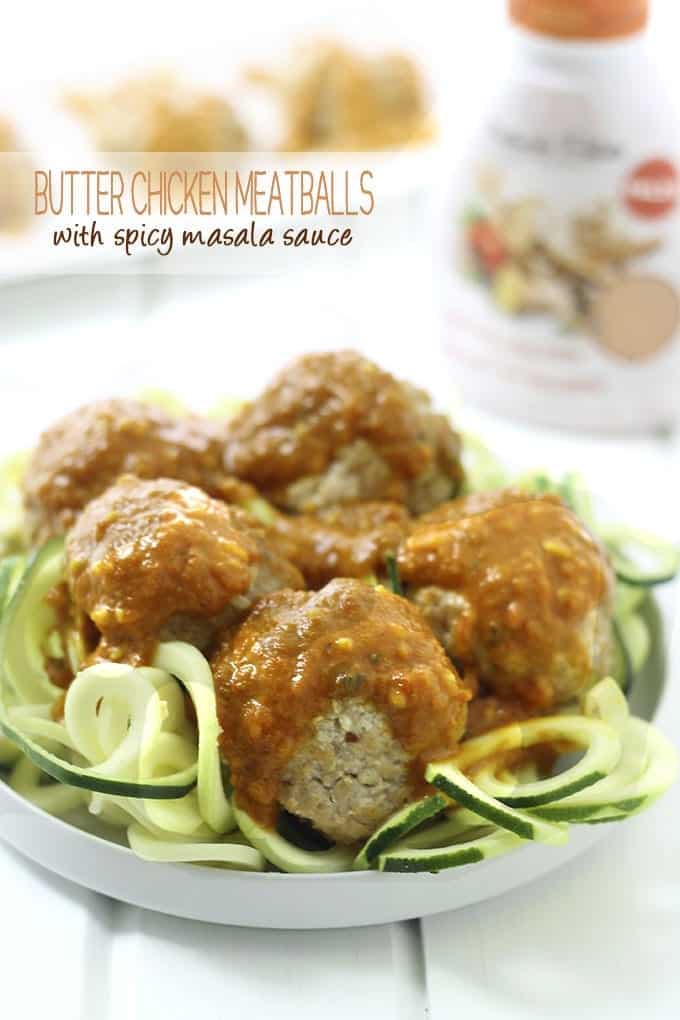 The premise of this partnership was simple, create delicious meals filled with whole foods that won't break the bank or take hours to make. Each recipe I have developed can be made in under 30 minutes and without a ton of ingredients. These Butter Chicken Meatballs with Spicy Masala Sauce are the final piece to the full-day of meals trifecta.
Admittedly, it's a bit tough to make an Indian flavoured meal with as few ingredients as possible. It's the spices that will get you! Luckily, NP took out half the work by creating the most delicious Butter Chicken Sauce that is free of any kind of preservatives or artificial ingredients. Then I pulled a couple tricks from up my sleeve and used a Garam Masala spice blend (so you don't have to buy 10 spices!) and pre-made no-sugar added tomato sauce.
I think people believe that because I preach eating a diet made from real, clean food that I don't eat any pre-made stuff. This just isn't true. If all I had in front of me was shelves or 100 calorie packs and other sorts of Frakenfoods, why yes I would go running straight for the produce and never look back. But the food industry is changing. Awesome companies like NP are getting back to the roots of what food is supposed to be all about, nutritious.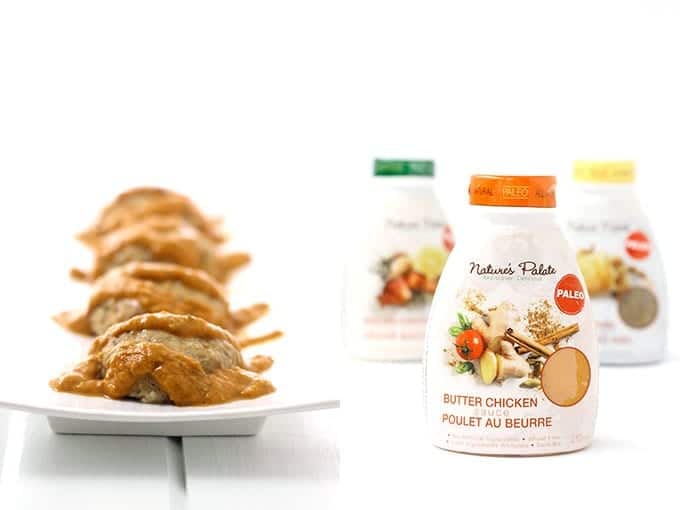 Let's have a look at what's in NP's Butter Chicken Sauce:
Water, Grass Fed Butter, Onion, Pure Tomato Paste, Ginger, Garlic, Pure Lemon Juice Concentrate, Spices, Sea Salt, Cilantro
Do you see anything you've never heard of or cannot pronounce in this list? Finally there are companies emerging that are catering to the needs of people who want REAL food but may not have endless hours to spend in the kitchen making it.
I love that I've been able to work with a company that is helping to spread a message that I am also working hard to promote. I love that they are making your lives easier and I love that you can enjoy a delicious Indian-inspired meal and know exactly what you are eating.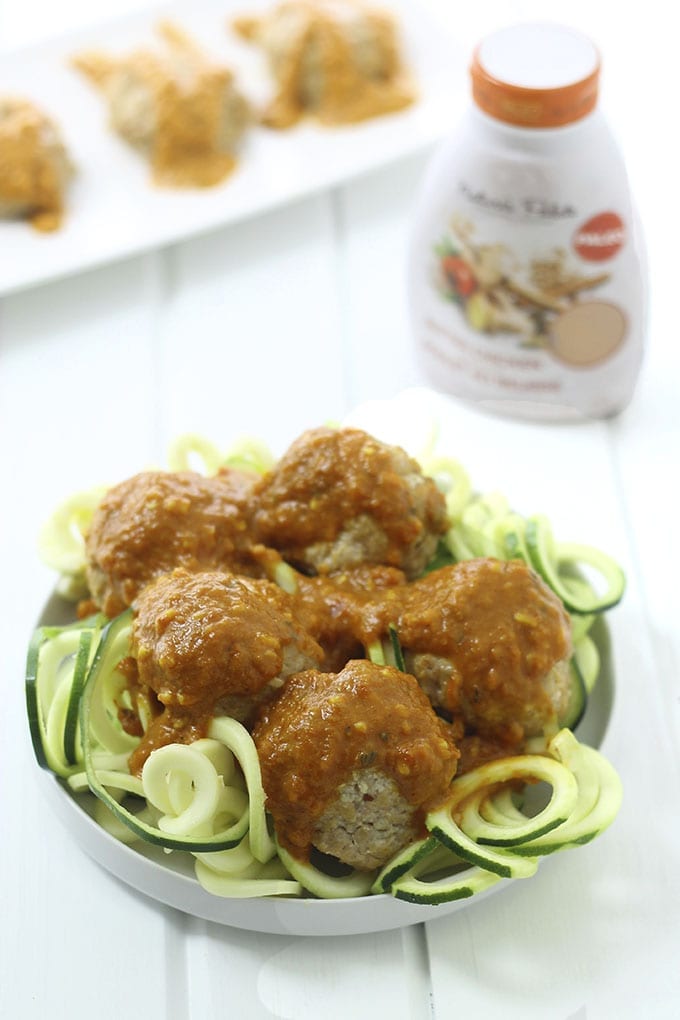 If companies like NP keep popping up than I think I can start having faith that the foods that my children and my children's children will be exposed to will be just this, food. If you're in Toronto, do me favour and go pick up a bottle of Nature's Palate dressings or sauces. And if not, go buy a product from a company that is local to you and is trying to change the game in a food industry just like NP is.
As cliche as this may be, you have the power to change the world. And sometimes all it takes is one meal.
Print
Butter Chicken Meatballs with a Spicy Masala Sauce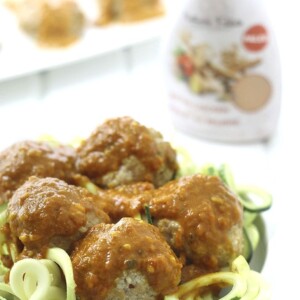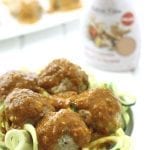 Scale
Ingredients
For the Butter Chicken Meatballs:
1

lb organic ground chicken

1

egg

1/2

medium onion, chopped finely

1/4 cup

almond meal

1/4 cup

Nature's Palate Butter Chicken Sauce
salt and pepper
For the Spicy Masala Sauce:
1

T butter

2

garlic cloves, minced

1 tsp

grated ginger

1/2

medium onion, diced

1 cup

no sugar-added tomato sauce

1 tsp

cumin

1 tsp

cayenne pepper (or less for less spicy)

1 tsp

garam masala
salt and pepper, to taste

1/2 cup

lite coconut milk

1 tsp

honey
Optional: Serve on a bed of zoodles (I use this spiralizer), rice or base of choice.
Instructions
For the Butter Chicken Meatballs:
Preheat oven to 400 degrees F.
In a large bowl combine all meatball ingredients.
Roll into 12 large or 24 small-sized meatballs.
Place on a baking sheet and bake for 15 mins.
For the Spicy Masala Sauce:
Melt butter over medium-high heat in a large pot and sauté garlic, ginger and onions for 3 minutes.
Add in tomato sauce, coconut milk and spices and bring to a boil.
Add honey, and simmer uncovered for 10 mins.
Plate meatballs onto base of choice and top with sauce.
Want to try Nature's Palate? Check out where you can find their products at a store near you:
Store Locator         Nature's Palate on Facebook           Nature's Palate on Instagram
Shop this post!

Thoughts on pre-made products? What are some awesome REAL FOOD companies that you love?
JOIN THE THM NEWSLETTER
Join 20,000+ members of the THM Community to get access to exclusive recipes, healthy lifestyle tips and behind-the-scenes news from our team!