I never used to understand the concept of a "workaholic". It actually baffled me how anyone could care enough about their job to let it take over their life.
I remember linking up to Spill-It-Sundays where they asked "What is your #1 thing you want to accomplish in your lifetime?
Here is my response: "I'd like to love my job. I want to wake up each day and feel like I have a purpose and something to contribute to the world."
I wrote those words on December 1st, 2013. That day feels like a millennium ago. I could NEVER have imagined that a short 5 months later I would officially be a member of WA (workaholics anonymous). I love my job so much that I legit cannot stop working. So much so that C has banned computers after 9:00 PM so that he can actually spend time with me.
I spent all day yesterday demoing for Kewaza and as exhausting as it may be to be on your feet and on your game all day I genuinely loved every second of it. I came home and spent another 2 hours editing photos before prepping this recipe for a shoot the next day. Later that night C proposed going for a walk. The weather is finally nice enough for us to walk around our new neighborhood.
Something must have come over me because I decided to leave my phone at home, which I NEVER do. I have a fear of being disconnected. Despite this, spending that hour walking around with him, talking about our days made me realize how much my life has changed.
I realized that my life changed because I wanted it to change. I used to be too tired for walks and even if we went I spent the whole time complaining about how much I hated my job. Thankfully, those moments feel like a lifetime ago.
Clearly this post has nothing to do with granola bars, but it's just what's been on my mind lately. I suppose I'm writing this while eating one so that's got to count…
What I'm trying to say here is that I've never been more excited to call myself a workaholic. I never thought this day would come!
Print
Chewy Chocolate Strawberry Granola Bars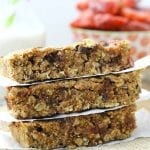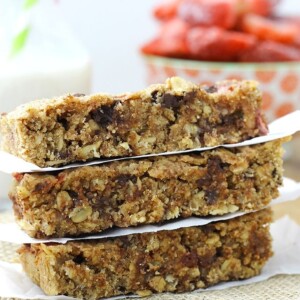 Prep Time:

10 minutes

Cook Time:

20 minutes

Total Time:

30 minutes

Yield:

10

bars

1

x
Scale
Ingredients
1 1/2 cups

oat flour (ground rolled oats)*

1 cup

rolled oats*

1/2 tsp

sea salt

1/4 cup

unsweetened almond butter**

1/4 cup

unsweetened applesauce

1/3 cup

maple syrup

2

flax eggs (2T ground flaxseed mixed with 6T of warm water)

½ cup

chocolate chips***

1 cup

strawberries (fresh or frozen), chopped bite-sized
Instructions
Preheat oven to 350 degrees F.
Make flax eggs and set aside for at least 5 minutes.
In a large bowl combine oat flour, rolled oats, and salt.
In a separate bowl combine almond butter, applesauce, maple syrup and flax eggs.
Add wet ingredients to dry and stir to combine.
Stir in chocolate chips and strawberries.
Grease an 8 x 8 inch square baking pan with coconut oil or non-stick spray.
Add batter to pan and spread out evenly.
Bake for 20 minutes.
Remove from oven and let cool for at least 20-30 minutes before cutting into bars and removing from pan.
Let cool completely on a wire rack.
Store in an airtight container for up to 5 days.
Notes
*Gluten-Free if necessary.
**Any nut butter will work.
***I used Enjoy Life dairy-free chocolate chips.
Would you consider yourself a workaholic? Do you have issues "disconnecting"?
JOIN THE THM NEWSLETTER
Join 20,000+ members of the THM Community to get access to exclusive recipes, healthy lifestyle tips and behind-the-scenes news from our team!