Get ready to detox winter with this Healthy Cucumber Noodle Salad with Avocado Dill Dressing. With spiralized cucumber and a creamy avocado-based dressing, you'll be begging for this salad side recipe all spring and summer long!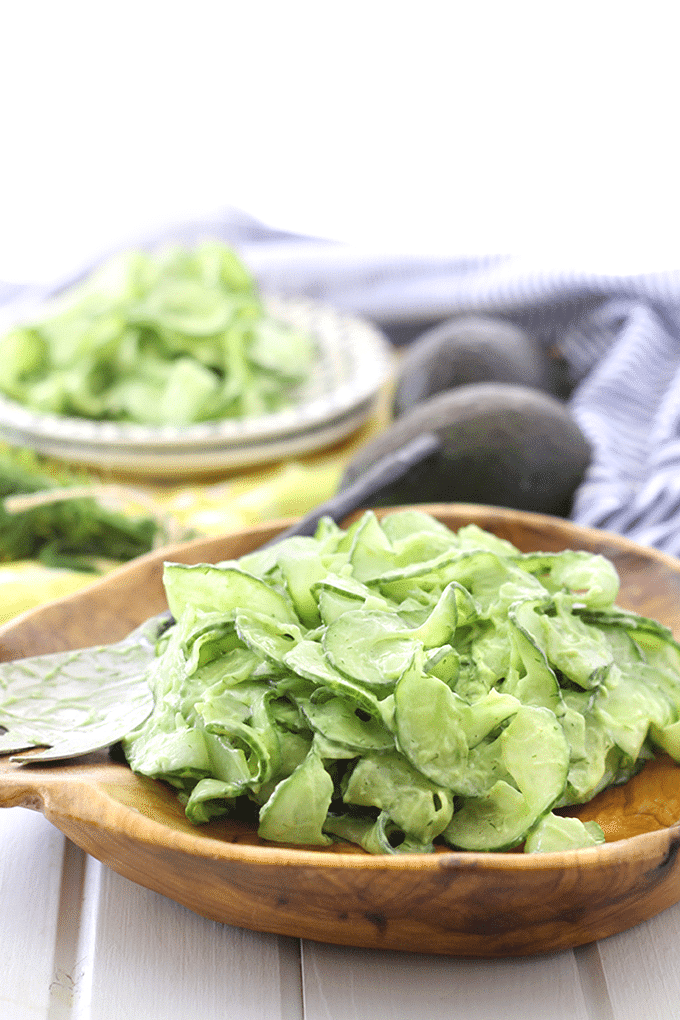 First off, thank you all for your amazing support for my new venture with Lee. We were so excited to share The Blogger Project with all of you and after 10 months of work it was such a relief to reveal the surprise! If you missed that post check it out here or visit The Blogger Project to learn more.
Speaking of excitement. I cannot even begin to tell you how excited I am for this post. First off, I found a new vegetable to obsess over spiralizing AND secondly I get to share my latest partnership with y'all. Side note- when did I start saying y'all? It just felt right.
Despite owning a spiralizer for an entire year, my spiralizing recipes on THM range from curly fries to chicken pho soup with absolutely nothing in between. This is entirely due to the fact that when I discovered I could make curly fries with my spiralizer, I had absolutely no desire to expand my recipes beyond this. I mean CURLY FRIES PEOPLE!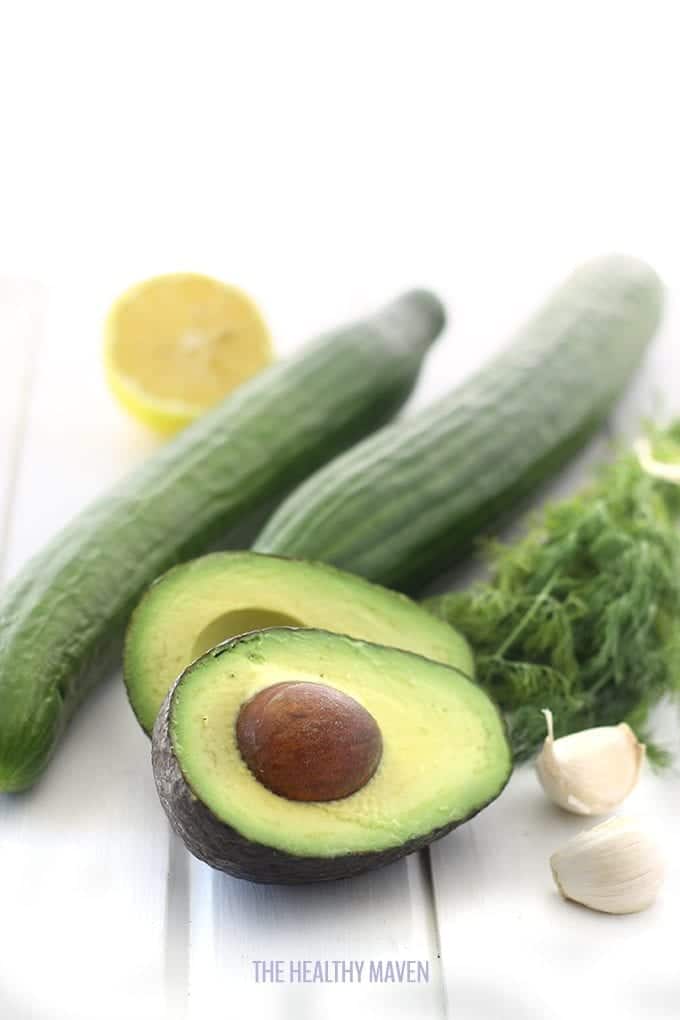 But spring and summer are upon us and vegetables have been calling my name so I thought I might branch out beyond the heavy winter root vegetable family expand my horizons.
Spiralizer meet cucumber.
But let's not forget that some vegetables don't have to be eaten seasonally. They can be enjoyed fresh and in season year round. I'm looking at you dear avocado…
You might think I'm suggesting that you all move to Mexico to have fresh avocados year round (wouldn't that would be nice…), but last I heard there was an invention called the "airplane" that can literally bring those avocados from a farm in Mexico straight to your doorstep in the great white north in a matter of days. MIND-BLOWING.
I know, I know, all of this transport makes avocados a wee bit pricey but I have good news! Did you know you don't have to buy avocados organic? Farmers almost never use pesticides and the outer skin means that the actual fruit inside isn't affected by pesticides anyway. And yes, avocado is a fruit. Non-organic = $$$ in yo pocket.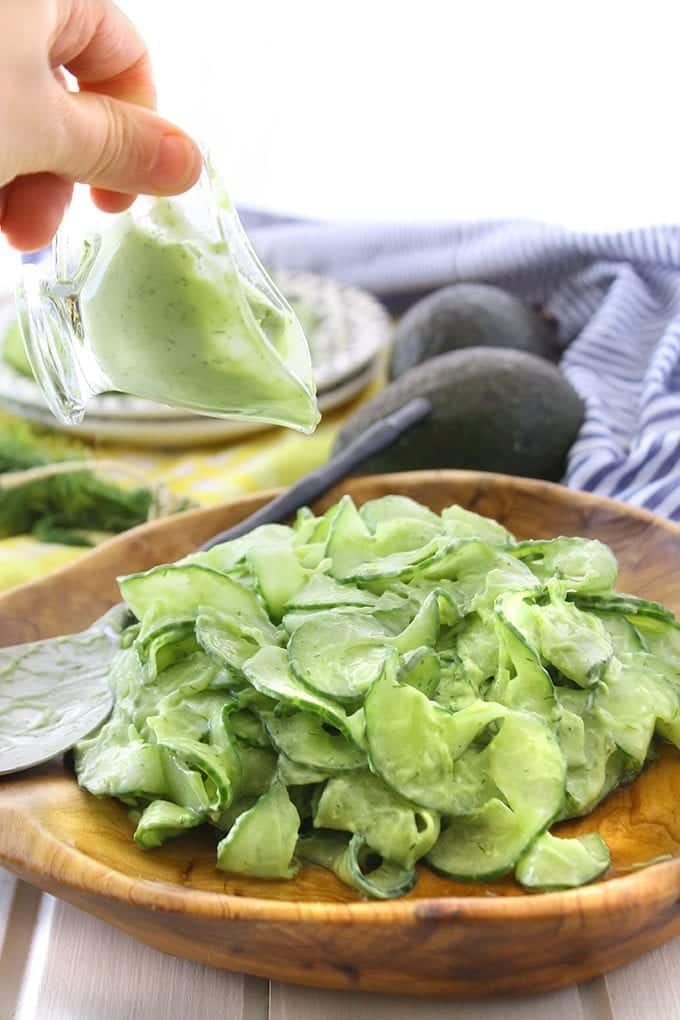 I am clearly well-read on my avocado knowledge. Unlike my spiralizer recipes, I would go as far as to say that at least 25% of recipes on THM have some form of avocado in them. Oh but it doesn't stop there. I literally douse my body in avocado. It makes the best skin moisturizer for FACEMASK FRIDAY and you don't know soft and silky hair until you've made yourself an avocado hairmask. I quite obviously have a real passion for avocados.
So you can imagine my excitement when I was asked to rep Avocados from Mexico as one of their Ontario Ambassadors. I'll admit I was shocked they asked me, especially after last year's incident of feeling up all of the avocados in the grocery store, but as someone who basically majored in avocado this partnership couldn't be a better match.
Get ready for even more avocado goodness, discovering new ways to use avocados (oooooh the possibilities!!!) and giveaways galore!
Remember that time Avocados from Mexico sponsored a Superbowl commercial? Well this collaboration is my version of winning the Superbowl. Touchdown!
Print
Cucumber Noodle Salad with Avocado Dill Dressing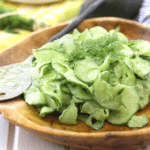 Get ready to detox winter with this Healthy Cucumber Noodle Salad with Avocado Dill Dressing. With spiralized cucumber and a creamy avocado-based dressing, you'll be begging for this salad side recipe all spring and summer long!
3

med-large English cucumbers

1

medium, ripe avocado from Mexico
juice from

1/2

lemon

1

garlic clove, minced

1/2 cup

fresh dill, chopped

3/4 tsp

sea salt + more for sprinkling

1/4 tsp

black pepper
Instructions
Spiralize cucumbers on the straight-blade to create ribbon like strands.*
Place cucumber in a colander and sprinkle with sea salt. Allow to strain water for 30 minutes and then pat dry.
In a blender combine avocado, lemon juice, garlic clove, dill and salt and pepper. Blend and if necessary add in 1-2 tablespoons of water to get mixture moving.
Top cucumber noodles with dressing and serve cold.
*I recommend this spiralizer. HOWEVER you can also make cucumber noodles using a vegetable peeler if you don't have a spiralizer!

*I use THIS SPIRALIZER to make my Crispy Baked Curly Fries. It is an affiliate link but I truly stand by this product and would recommend it to anyone!
Disclosure: This is a sponsored post written by me on behalf of Avocados from Mexico Canada. All content and creative direction are entirely my own.
What's your favourite way to eat avocados? Anyone else into using avocados in their beauty products?
JOIN THE THM NEWSLETTER
Join 20,000+ members of the THM Community to get access to exclusive recipes, healthy lifestyle tips and behind-the-scenes news from our team!