On the heels of last week's conversation with Alexis from Hummusapien, I felt it was necessary that we jump more into this idea that perhaps the "wellness industry" is doing more harm than good. I know, this is perhaps somewhat surprising coming from someone who in pretty much every way contributes to this industry.
I live and breathe wellness, but I also can recognize that perhaps sometimes I'm too "in it" to really have any perspective on the impact of my own business, both good and bad.
So I invited someone hugely inspiring to me, who is leading the charge of this wellness conversation onto the show to discuss this very topic. I'm honored and excited that Megan Bruneau agreed to join me for Episode #12!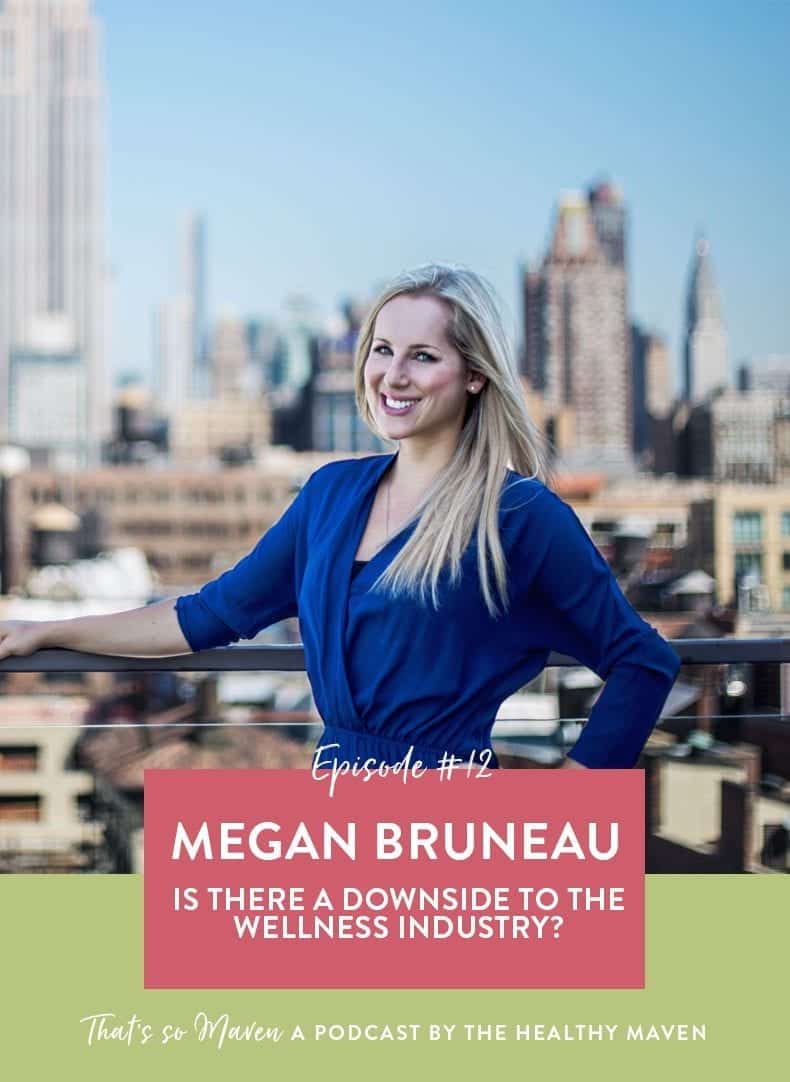 In early January, just as everyone was declaring this health and wellness resolutions to the world, I found myself doing a purge of my social media channels for just this very reason. I respect whatever choices you make for your health, but anyone declaring they're doing Whole30 for the 7th time or eliminating sugar because it's the devil is too triggering for me. I may be in a great place with my health and with my body, but I'm not immune to questioning my own habits. For this reason, it was important that for me that I surround myself with images and people that support my beliefs, and don't cause me to put them into question.
So I purged and at the advice of my friend, Katie Dalebout, I filled my feed with people and messages that lifted me up. And somewhere along the way I discovered Megan. I appreciated that Megan was having conversations about health, wellness and happiness that no one else was having. She forced me to question my own behaviors in a positive way. She made me more aware and added this much needed perspective that I'd lost in getting so wrapped up in this industry.
This is why Megan is on the show today.
Here are some topics we tap into in today's episode:
Megan's own history with eating disorders and body image
The negative implications of the wellness industry on young men and women
Social media and advice for influencers and consumers on how to be a more critical voice
Privilege in the wellness industry and why we need to be acknowledging it
Health at every size and what that actually looks like
Where the wellness industry is going
LISTEN HERE:  iTunes | Stitcher | Google Play | Player.FM | Podbean
If you want to ask questions to future guests, make sure you join the 
THM Tribe
 to find out who's coming on the show before I interview them and get regular updates on the podcast.
And if you're enjoying the podcast, or have feedback for me be sure to leave a review on iTunes. It's much appreciated!
What questions do you have for Megan? I highly recommend you check out this article that Megan wrote to educate yourself more about this subject.
JOIN THE THM NEWSLETTER
Join 20,000+ members of the THM Community to get access to exclusive recipes, healthy lifestyle tips and behind-the-scenes news from our team!