I'm pretty notorious amongst my friends for being a "carb monster". While I certainly get in my fair dose of other macronutrients, I definitely love and need my carbs in my life. Also, I'm 100% my father's daughter based solely on the fact that we would both agree that a loaf of fresh bread is by far the most delicious food on the planet.
But whether you're a carb lover or carb indifferent, I think we can all agree that carb overdosing is a very real thing. You know the feeling, when you've just eaten a couple sweet treats or a bag of chips and suddenly you get hit by ravenous hunger and cravings for more. Our blood sugar doesn't always communicate with our hunger signals and even though we may have just eaten a ton, our blood sugar has not gotten the memo.
Here's the thing though, as someone who has restricted their diet and seen the days of binging, I know that when this feeling hits, my body doesn't actually need more carbs. What it really needs is a balance of fats and protein to satiate it. It certainly doesn't stop me from reaching for a donut or that loaf of bread, but years of practice have taught me how to balance it out so I don't just eat my entire kitchen. It has, as many of you know, become an intuitive process for me.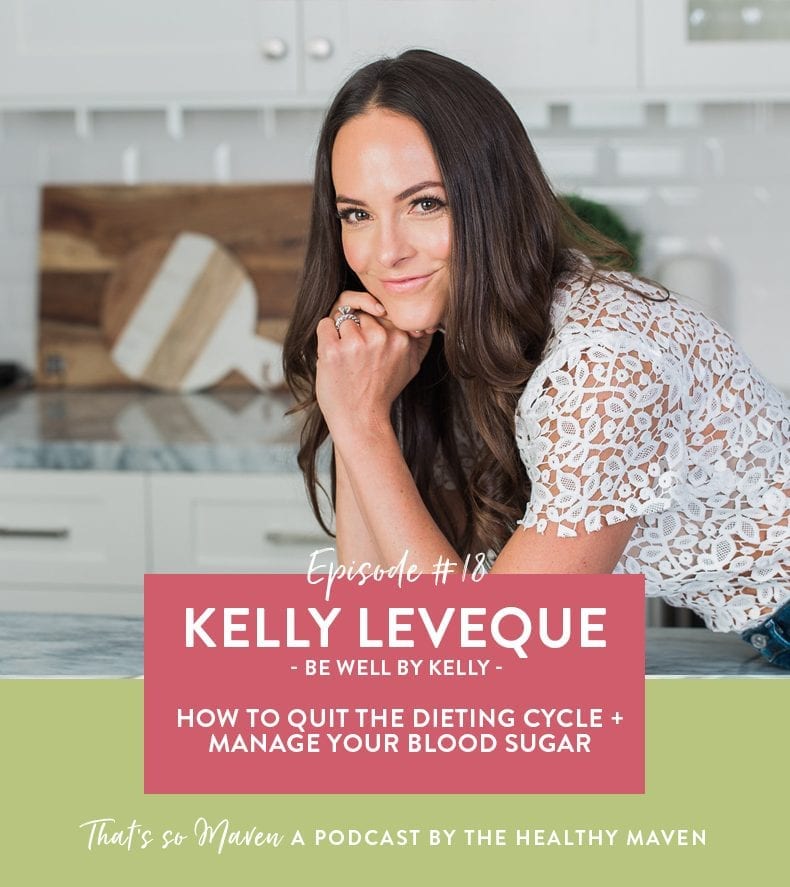 But not everyone has gone through this journey or understands our bodies reaction to carbs and how to regulate our blood sugar. Instead they start restricting their calories, eliminating whole macronutrients or other dangerous decisions that loop them into the diet-binge cycle that I can assure you will never end.
And I get it, the science behind it all is confusing and overwhelming, which is why I invited today's guest on the podcast, Kelly LeVeque from Be Well By Kelly to break it all down for you. She's a nutritionist, whose understanding of food and our bodies reaction to it is approachable and demystifying. She uses plenty of analogies and examples to help her clients (and now you guys!) understand the science behind nutrition so that eventually these decisions can be intuitive for you too!
Here are some topics we discussed in today's episode
Kelly's own journey and her unconventional route to a career in nutrition
The science behind the different foods we nourish our bodies with
Carbs, sugar and what can we ADD to our plates to stabilize our blood sugar
How does insulin work and why it's important to understand it
How to get over food anxiety and food guilt and find more balance in your meals
Why calorie counting is archaic and not an effective weight-loss practice
Ketones and why using fat as an energy source is beneficial for our bodies
Kelly's holy-grail foods
LISTEN HERE:  iTunes | Stitcher | Google Play | Player.FM | Podbean
If you want to ask questions to future guests, make sure you join the THM Tribe to find out who's coming on the show before I interview them and get regular updates on the podcast.
And if you're enjoying the podcast, or have feedback for me be sure to leave a review on iTunes. It's much appreciated!
If you're interested in learning more about Kelly, check out her website or her brand new book, Body Love!
What questions do you have Kelly? Are you conscious of your body's insulin reaction?
WANT MORE HEALTHY LIVING TIPS? Join the THM Community!
Join 10,000+ members of the THM Community to get access to exclusive info about healthy living, products I'm loving and tips and tricks on making a healthy lifestyle easier and sustainable.