*Editor's note: We recorded this the day before C proposed so it's kind of hilarious to listen to our conversations about weddings. I just wanted to add this in in case you're confused when I mention that I'm not getting married!
When I asked you guys at the end of season #1 for feedback on the show and future guests, there was an overwhelming amount of comments asking to bring Robyn from The Real Life RD onto the show. Coincidentally, she's also someone who I've been wanting to interview (or more accurately – pick her brain!) and fortunately scheduling worked out and I'm super excited about what we're sharing today.
If you're unfamiliar with Robyn, she's an RD and recent NP and has a thriving nutrition practice over at Nutshell Nutrition and her incredibly successful blog, The Real Life RD. She shares aspects of her life, nutrition advice and is just overall a voice of reason in a community that can fall on both extremes. She is also someone who I deeply admire and look up to.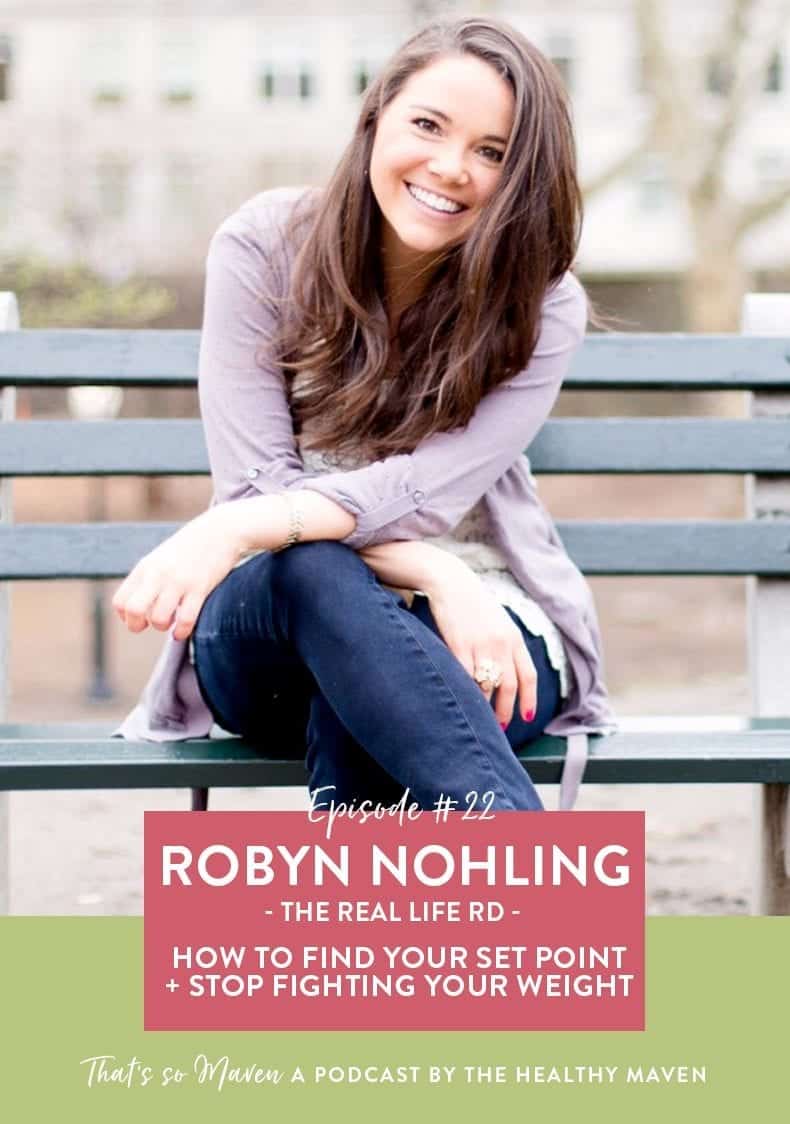 She recently wrote a blog post on finding your set-point and I knew this was something I wanted to jump into on the show. Robyn is the perfect guest to explain this, both from her extensive experience working with clients, but also her clinical background, which allows her to explain the scientific side of how our bodies find their set-point.
I geeked out so hard on this episode I actually listened to it twice. In addition to also hearing it the first time we recorded!
On today's episode we discuss:
Robyn's story and how she became both an RD and NP
How she manages her nursing career, her blog and her nutrition practice
What it means to find your "set-point" and how to finally accept it
Signs that your body may not be at its set-point
Amenorrhea and what to do if you aren't getting your period
Stress and the impact it has on our weight and hormones
What it really means to be an "intuitive eater"
Tips for brides who feel they need to lose weight for their wedding
The one health-habit she can't live without
LISTEN HERE:  iTunes | Stitcher | Google Play | Player.FM | Podbean
If you want to ask questions to future guests, make sure you join the THM Tribe to find out who's coming on the show before I interview them and get regular updates on the podcast.
Enjoying the podcast? Don't forget to review on iTunes!
What questions do you have for Robyn? Are you struggling with finding your set-point?
JOIN THE THM NEWSLETTER
Join 20,000+ members of the THM Community to get access to exclusive recipes, healthy lifestyle tips and behind-the-scenes news from our team!