Confession time…I look like a sloth right now. I've been wearing the same clothing for well over 24 hours and I cannot remember the last time I showered. Sorry if that was TMI, but I suppose this is just a reality of giving myself less than 2 weeks to design and publish an ecookbook.
I put off the design of the book until after the recipes were finished because I am not comfortable nor do I enjoy any kind of design. I appreciate the result, but the amount of time that goes into choosing a font, background, appropriate text etc…is enough to make your head spin. I have gone through at least 5 different design and cover attempts and I still don't know if I'm happy with this one. If you're interested in some of my draft covers, check out my Facebook Page. P.S. to everyone yesterday who gave me such helpful feedback, THANK YOU.
Speaking of Facebook thanks, you guys were the inspiration behind these scones. I was drawing a major scone blank so I asked you what you wanted to see, and Orange Cranberry Scones were the clear winner. Someone mentioned white chocolate too (you are awesome!) which we all know isn't healthy but I felt a compulsive need to break the rules. If you don't feel that need, feel free to omit.
Now that we've discussed the scones, I want to share a bit about my experience so far with building the ecookbook. As I mentioned last week, more concrete details on how to do everything will come AFTER it is published so for now you get my emotional musings.
Let's start with the good. One of the biggest pros in writing the ecookbook is that I have become far more proficient in my food photography. When you have 10+ recipes to shoot in a week, you have to be on point. I have a couple pictures in there that I don't LOVE but for the most part I'm proud of the work I produced. I have a much better understanding of light, props and colour palettes. Practice doesn't make perfect but it certainly brings you closer!
Despite my dislike of book design, I have gotten MUCH better at it. InDesign (the adobe program I am using) is not the most intuitive but now that I've got the hang of it, it is much easier. A part of me wonders how the book would turn out if I had opened InDesign more than a month ago, but I guess I'll never know…YOLO.
Out of necessity, I developed a gluten-free flour blend which has literally become a godsend.
Lastly, I haven't had to worry about what I was going to eat for breakfast for the last two months.
Okay, let's discuss the cons. I'm finding it hard to limit my words. There's so much I want to say about each recipe, and while I plan to include some text, the point it that it's a cookbook so the recipes need to take precedence.
In addition, blogging and Kewaza have had to be put on the back burner. Along with my social life. I've tried to manage some sort of balance, but the truth is that the cookbook has very much taken over my life. If only you could all see what I look like right now…snapchat friends, I apologize.
Figuring out things like ecommerce and taxes has been one steep learning curve and while I wish my hour long conversation with CRA could have been avoided, I'm happy to say I am slightly smarter as a result.
And lastly, I am SO over breakfast food. Breakfast for dinner is no longer a novelty. I honestly don't want to look at another egg…
Lucky for you, that means you get scones today! I'm patting myself on the back for that horrific segue. Alright, its time to shower.
Print
Gluten-Free Orange Cranberry Scones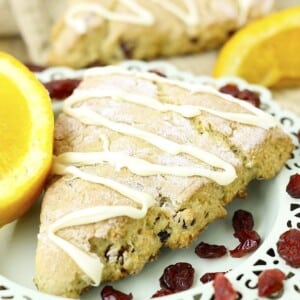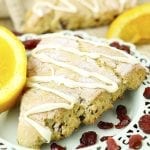 Prep Time:

20 minutes

Total Time:

40 minutes

Yield:

8

scones

1

x
1 3/4 cups

gluten-free flour +

¼

more for sprinkling*

1/4 cup

coconut palm sugar

2 tsp

baking powder
zest from

1

orange

1/2 tsp

salt

1/4 cup

cold butter, cubed

1/4 cup

cold 0% fat greek yogurt

2

large eggs

1/4 cup

orange juice

1 tsp

vanilla extract

1/2 cup

dried cranberries (unsweetened preferred)
Optional: 1/3 cup white chocolate chips, melted-for glaze**
Instructions
Preheat oven to 400 degrees F.
In a large bowl combine 1 3/4 cup gluten-free flour, coconut palm sugar, baking powder, orange zest and salt.
Add in cubed butter and greek yogurt and either using a pastry cutter or your hands (get in there!) combine butter and yogurt with flour mixture until crumbly texture is reached. Should have the consistency of small peas.
In a separate bowl combine eggs, orange juice and vanilla extract.
Add wet ingredients to dry until combined.
Stir in dried cranberries.
Shape dough into a ball and drop onto a lightly floured surface. Add more flour to top of ball and additional flour underneath if sticking.
Roll out dough into a large circle that is 1 inch thick. Dough is a bit tricky to work with but have patience. Add additional flour if still really sticky.
Cut into quarters and then cut quarters in half to make 8 scones. If they lose shape, just re-shape with hands.
Place scones on a parchment or silicone lined baking sheet and bake for 15-20 minutes (mine took 17).
Let cool completely if icing with white chocolate or serve warm.
Notes
*My own gluten-free flour blend will be included in the ecookbook. Otherwise use any GF flour blend that includes xanthan gum and if not, add 1 tsp. OR use whole-wheat flour instead.
**For white chocolate glaze, melt white chocolate and add to a ziploc bag. Cut a small whole on the corner of the ziploc bag and squeeze out in a zigzag pattern across each scone.

JOIN THE THM NEWSLETTER
Join 20,000+ members of the THM Community to get access to exclusive recipes, healthy lifestyle tips and behind-the-scenes news from our team!