Alternate name: The Little Recipe That Could.
I seriously did not think this recipe was going to happen. Everything leading up to and during its creation did not give me much faith that I could pull it off, but somehow this little recipe pulled through. Let's recap the events that occurred in the creation of this side-dish from hell…
You know those days when your to-do list is 20 tasks long and yet with each thing you cross-off you seem to add 4 more? This was one of those days. It also happened to be a Friday which meant I was in a crunch to get things done before the weekend (I've been trying to not work on the weekends). Before I knew it it was 4:00 PM and I was left with one last thing on my list, "make and shoot bok choy".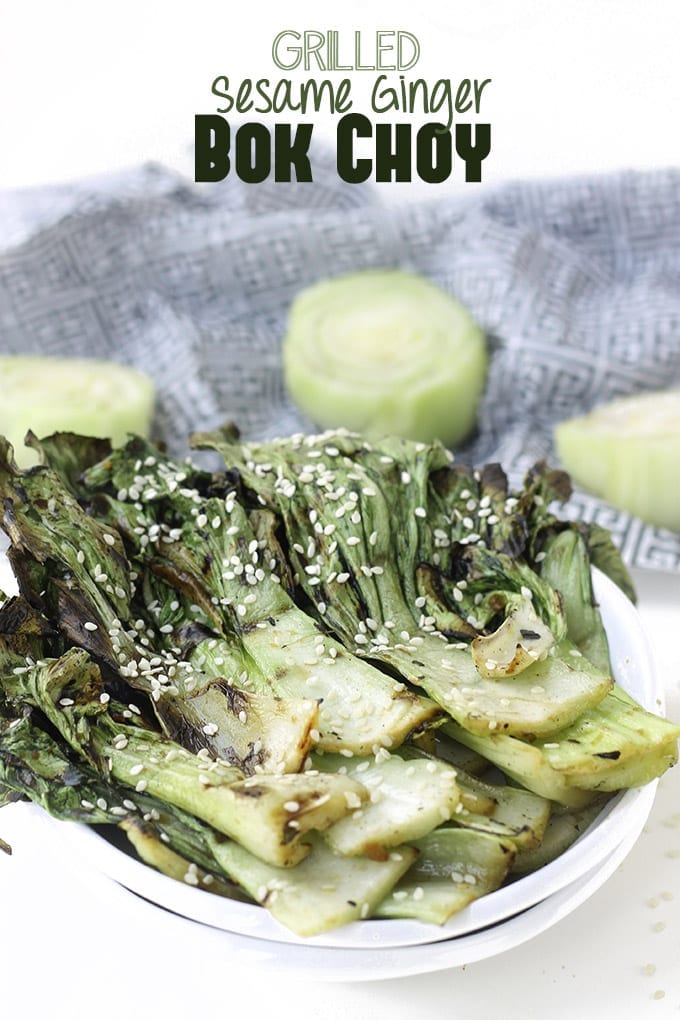 Now anyone who has experience with food photography knows that it's a major pain in the butt to shoot at certain hours of the day depending on what way your windows are facing. For me, shooting at 4:00 PM is not ideal. I'm not gonna be a baby about it, but I'd rather not have to set a custom white balance #foodbloggerprobs. I thought things might still be okay since this recipe is so fool-proof you can basically make it with your eyes closed, but because life is one sick joke it obviously didn't play out that way.
Here's where things got bad. I grabbed my bok choy, waited 10 mins for the elevator (WTF?) to take me up to the roof to do some grilling. Despite remembering to turn the gas on this time, the BBQs still wouldn't work. So I called the concierge and insisted they bring up new propane tanks ASAP. You would think they hate me, but they've eaten enough THM goodies that it all cancels out.
Once the propane tanks were set-up, I got the grill going and threw on my lovely bok choy. Halfway through cooking I decided I wanted to get creative and take some outdoor shots so I sprinted to the elevator in hopes of running down to get my camera. The elevator never came. As it turns out, only one elevator for the whole building was running because the rest were being serviced for MOVING DAY. This meant running up and down 10 flights of stairs to grab my camera before the bok choy had cooked. Needless-to-say I didn't get there before it cooked but instead found a BBQ full of blackened bok choy. whomp whomp. Luckily, I had only put half the batch on so it wasn't entirely ruined.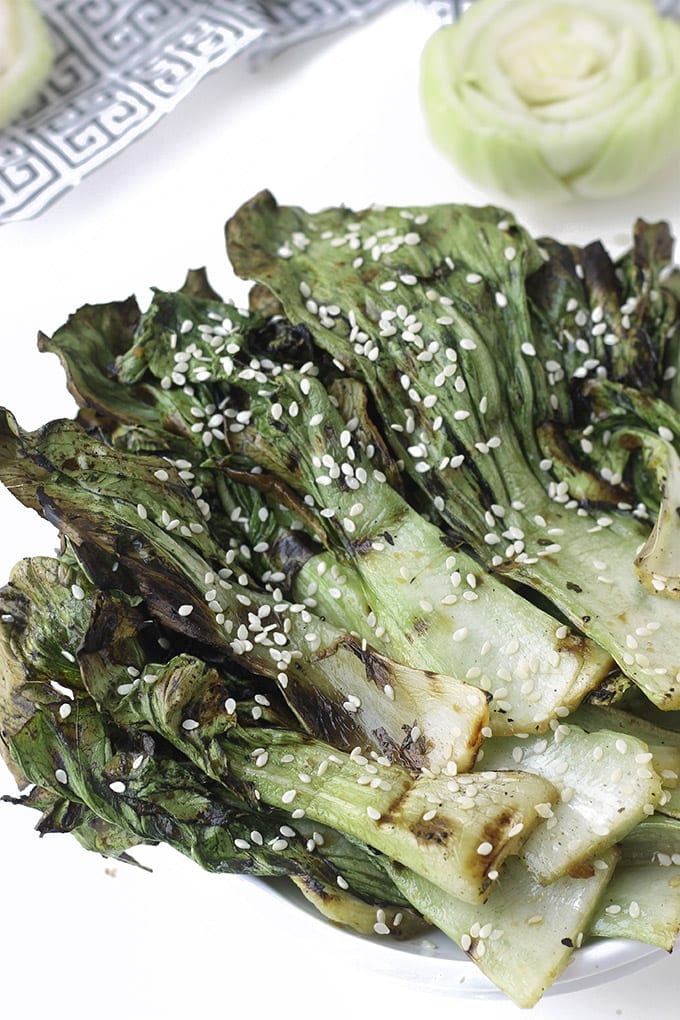 Eventually I made my way back downstairs (via stairs ugh) and started setting up the shoot. Even though I was STARVED I sucked it up and decided I would get it done quickly and then reward myself with cookies and wine. But because it was one-of-those-days this also didn't happen. Instead I was surprised with a spontaneous visit from my bestie and a 4-month old puppy. Clearly this was not the part that sucked. All I wanted to do was play with them outside but instead I was stuck hanging out with my bok choy. So I said goodbye to the puppy and sulked my sorrows in greens.
Ironically I am actually really happy with how the pictures turned out which makes me wonder if maybe all it takes is a Hangry Davs and a puppy to churn out a good shoot. What I do know is that that eventually the day came to an end and we enjoyed some Grilled Sesame Ginger Bok Choy with my Maple Pistachio Scallops and a tall glass of wine. All was good in the world again.
Print
Grilled Sesame Ginger Bok Choy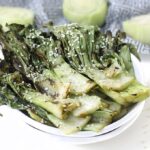 Author: Davida Lederle
Prep Time:

5 minutes

Cook Time:

15 minutes

Total Time:

20 minutes

Yield:

4

servings

1

x
1 tbsp

sesame oil

1 tbsp

tamari

1 1/2 tsp

fresh ginger, minced

1 tsp

honey

7

heads bok choy

1/2 tsp

sea salt

2 tsp

sesame seeds
Instructions
Combine all ingredients except bok choy, salt and sesame seeds in a large bowl.
Chop off ends of bok choy and add to sesame ginger mixture in bowl. Make sure all of bok choy is well coated.
Coat with salt.
Let sit for at least 10 mins.
Heat up grill to medium heat and lay out bok choy directly onto grill. Do not crowd.
Grill for 1-2 minutes on each side, making sure they do not burn.
Remove from grill and top with sesame seeds.
Serve warm.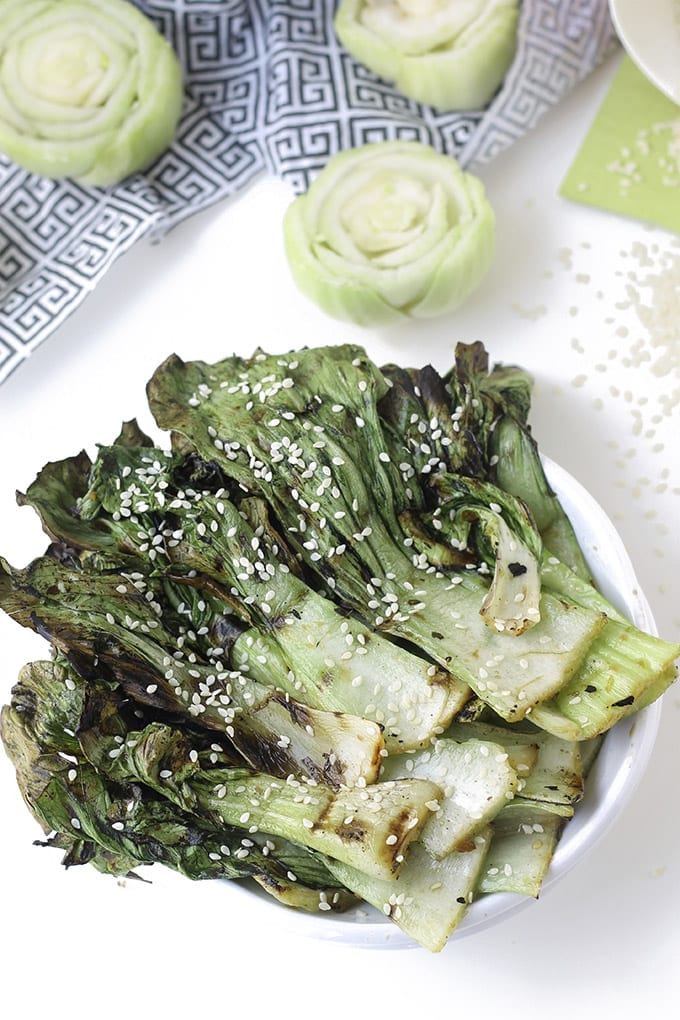 Do you ever have "one of those days?" Have you ever grilled bok choy?
JOIN THE THM NEWSLETTER
Join 20,000+ members of the THM Community to get access to exclusive recipes, healthy lifestyle tips and behind-the-scenes news from our team!