Today's post was supposed to be a recipe for dark chocolate sea salt almond butter. It should be filled with pretty pictures of drippy, perfect almond butter that I spent 10 minutes plating, photographed with my DSLR, edited the heck out of and filled the space in between to constitute a blog post. Images will be plastered all over social media in the hopes of it going viral. Hey Buzzfeed! Can you hear me?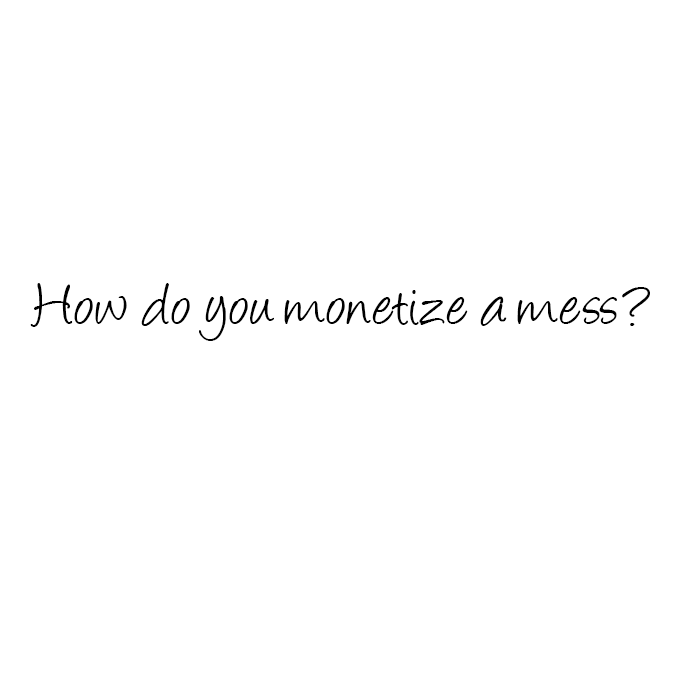 My income depends on this.
It depends on virality; that the content I produce will resonate with my audience. Hopefully it resonates with brands too. I'm banking on my blog to pay my bills, and this changes the game. A lot.
All of these crazy-emotional thoughts were sparked by this article in NYMag last week. The article is a great read, but in case you don't have time to read it, here's the executive summary: Dooce aka Heather Armstrong is an OG Mommy Blogger and a few weeks ago she came out and announced she was pulling back on blogging and revealed a massive truth about blogging that I don't think enough bloggers are talking about.
On some level, blogging has stopped being about blogging.
I think Heather put it perfectly when she said this:
"Now, a lot of mommy blogs are about documenting instead of storytelling. It's a photo essay of their kid sitting on the countertop in perfectly clean clothes licking the cake spoon. It's so curated. In the beginning, it was all mess. People were craving honest stories about parenting. I think people are craving that again now, but bloggers are afraid to be that honest. Since blogging is so flush with money, the immediate thought is, is there going to be money in that? How do you monetize a mess?"
How do you monetize a mess?
It's a question I've been asking myself a lot lately.
Even though the article was referencing Mommy Blogs, I think it really touches on aspects of all blogs, and especially those of us doing it for a living.
My life is a mess. Those perfectly curated images on this blog and across social media are all part of my brand, but it isn't my life. It is a small snapshot into what my life looks like everyday; If everyday had an Instagram filter.
It's the sad truth in what has happened with blogging. Somewhere along the way we became inspired by perfection rather than reality. I admit to having bought into it as both a reader and a blogger.
I struggle immensely with finding the balance between authenticity and being paid to do what I love. It comes with the expectation that everything I produce be in perfect harmony because that is what we think and we've told you, you want to see. But this symmetry doesn't always exist in reality. It is a small glimpse through a window of a very large house.
It doesn't show the spills and the crumbs (unartistic crumbs of course!) and the lack of grip I can have on emotions, as is happening right now. But those moments are my reality. They are my truths that I rarely have the courage to share, because my mess doesn't pay my bills.
My issues with anxiety and depression doesn't pay my rent. My lack of balance between work and life doesn't buy my food. The not-so-healthy maven isn't what allowed me to quit my secure 9-to-5 job to do what I love for a living. But I also feel tremendous guilt in only letting you into a minute slice of my world and leaving you out of the uncurated moments.
At least I do when I label myself a blogger.
My goal with The Healthy Maven is to inspire you. Whether it be in the kitchen, on a run or in whatever small way I can motivate you to be a little bit healthier, it is my hope that this blog can do that. But don't fail to confuse the content that I create with my day-to-day life.
I hope that I will soon find the courage to share that day-to-day life with you; that this little space of mine will get back to being a blog or at least find a better balance of the two.
Don't get me wrong, I love every piece of content I have ever produced, every recipe I've cooked, every picture I've taken, but I just hope you remember as you read that there was in fact a production involved. I hope you remember this with every blogger. Because we at times can be selective about the story we tell. Does that mean it's all a lie? Absolutely not. But it certainly isn't the whole truth. We're here to inspire, but not to create a comparison trap that makes your life seem anything less than ours.
Maybe this means I'm no longer a blogger? Maybe I'm a brand? Maybe once again I will be brave enough to be as candidly honest as I want to be? Maybe blogging is dead and we should just accept our new reality as content creators?
I don't have the answers to any of these questions. Just like how I don't have the gorgeous ribbon to wrap up this post on a high note, like I normally do.
Sometimes life is just messy; It's heavy on words and feelings and low on picture-perfect memories. It's emotional and tumultuous and goes far beyond what can be captured in 140 characters or a square picture box. But it's real. Take comfort in the fact that we're all in it together, myself included, even if those aren't the moments we're sharing on the internet.
So how do you monetize a mess? Here's the whole-truth, I have no idea.
No questions. Just your thoughts.
JOIN THE THM NEWSLETTER
Join 20,000+ members of the THM Community to get access to exclusive recipes, healthy lifestyle tips and behind-the-scenes news from our team!