It took quite a bit of thought to come up with the content of my very first post (well food post that is). I wanted it to be something outstanding, truly mouth-watering and that's how I landed on nut-butters. Outstanding nut-butters? Indeed. Truth is, sometimes recipes with the fewest ingredients and the least number of steps end up being the most delicious.
You see, I eat some form of nut or seed butter multiple times per day. 1 scoop with breakfast, 1 scoop with my mid-morning and afternoon snack and usually some drizzled on some veggies for lunch and dinner. The selection is amazing and the flavors so versatile that they make a lead appearance in most of my meals.  So I thought I might sample a few of my favorites and throw in a recipe or two.
Almond butter – a classic. My top choices for pre-made are Trader Joe's Almond Butter with Sea Salt and Justin's Vanilla Almond-Butter. However when I have some time on my hands I am always partial to homemade.
Making homemade almond butter is quite simply the easiest recipe! Just roast 2 cups of almonds in a 350 degree oven for 10-12 minutes. Let them cool for 20 minutes and then throw them into the food processor with a pinch of sea salt. Let them process for about 10 minutes until smooth and creamy, stopping every few minutes to scrape down the sides. Voila! Almond-butter au natural.
Now for a fancy almond-butter recipe…
Print
Almond Cashew Coconut Butter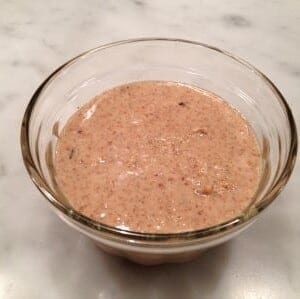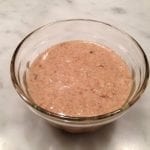 Total Time:

20 minutes

Yield:

2 cup

s

1

x
Scale
Ingredients
1 cup

of cashews (roasted, unsalted)

1 cup

of coconut (unsweetened)

2 cup

s of almonds

1

vanilla bean
pinch of sea salt
Instructions
Preheat oven to 350 degrees
Roast almonds in oven for 10-12 minutes. Let cool for 20 minutes.
While almonds are cooling place coconut in food processor. Process for 5 minutes until smooth. Add cashews and process for 1 minute until broken down.
Once almonds have cooled add them to the food processor. Scrape seeds from vanilla bean and add them along with the salt.
Process until everything is smooth (about 10 minutes) scraping down the sides as needed.
Pistachio Butter — coming in a close second behind almond butter. Believe it or not, it tastes delicious mixed with some chopped banana or stirred into oatmeal. Since I am lazy I usually buy shelled pistachios rather than shelling them myself. This makes them quite pricey, but trust me it's worth it.
Another simple recipe. Take 2 cups of shelled pistachios and roast them in a 350 degree oven for 8-10 minutes (watch them closely so they do not burn). Let them cool for 20 minutes before putting them in the food processor. Process for 10-15 minutes or until pistachios are smooth. Yields about 1.5 cups.
Pumpkin Seed Butter
– Not everyone is partial to PSB but for those allergic to nuts, this is a very tasty option. Pumpkin Seeds are also very high in iron, magnesium and zinc as well as a good source of protein. Unlike some of the other nut/seed butters I find I do need to add a few things to the blend in order to make it more flavourful. Two recipes for PSB to come in later posts!
Peanut Butter – I do love PB but I tend to choose some of the options above before reaching for this golden stuff. Generally if I do choose to eat PB I will go for an all-natural version or PB2. In case you've never heard of it, PB2 is ground, de-fattened peanut powder. You just add 1 T of water to 2 T of PB2 and you have a low-calorie, low-fat peanut butter! Definitely a good option if you're watching your weight.
Some of my other nut butter staples include sesame seed butter (Tahini paste), Coconut Butter and Cashew Butter. Stay tuned for more recipes featuring all of these ingredients.
I hope you enjoyed my first post! Now go make some nut butter!
a9c13899d89810a873f01b2513545e7b05b3a09baaea71f64a
JOIN THE THM NEWSLETTER
Join 10,000+ members of the THM Community to get access to exclusive recipes, healthy lifestyle tips and behind-the-scenes news from our team!