Do you ever find yourself scrolling through pictures on your iPhone trying desperately to relive memories? I often think about how insane it is that our lives can basically be summarized within a 1/4lb rectangle. Oh and that my google search history is far too vulnerable to discovery…
It's kind of crazy the story our iPhones can tell.
Currently my iPhone, by way of Snapchat would tell you that I'M ON MY WAY TO ICELAND. This place has been on our bucket list for years so C and I are kind of freaking out that we're going to be there in a few short hours. Nuts nuts nuts.
But as you guys already know, the last few weeks have been a non-stop series of adventures that my trusty old iPhone (seriously – I'm like the only blogger still using her 5s haha) has fortunately captured.
I'm the girl taking pictures of everything. I love it. I especially love being able to look back on everything and relive these moments. And not every moment is Instagram-worthy or a snapchat sensation, but it's important to ME.
So today I'm taking you on a walk down memory lane…as told by my iPhone.
The whole 7-week travel extravaganza started with a last-minute trip to Minneapolis. It was a bit chilly when we were there but the sun was out so we did a walking tour of downtown. I feel like Minneapolis is the hidden gem of the US. I'm kind of biased because all my favorite people are from there, but I think it's an incredible city with so much history and culture.
Of course it wouldn't be a trip to Minn without time spent with Team Fit Foodie. We actually got inspired to step up our SHE game and created these two posts for SHEuncovered. Be sure to check out these Floral Ice Cubes and this DIY Vanilla Lavender Sugar Scrub.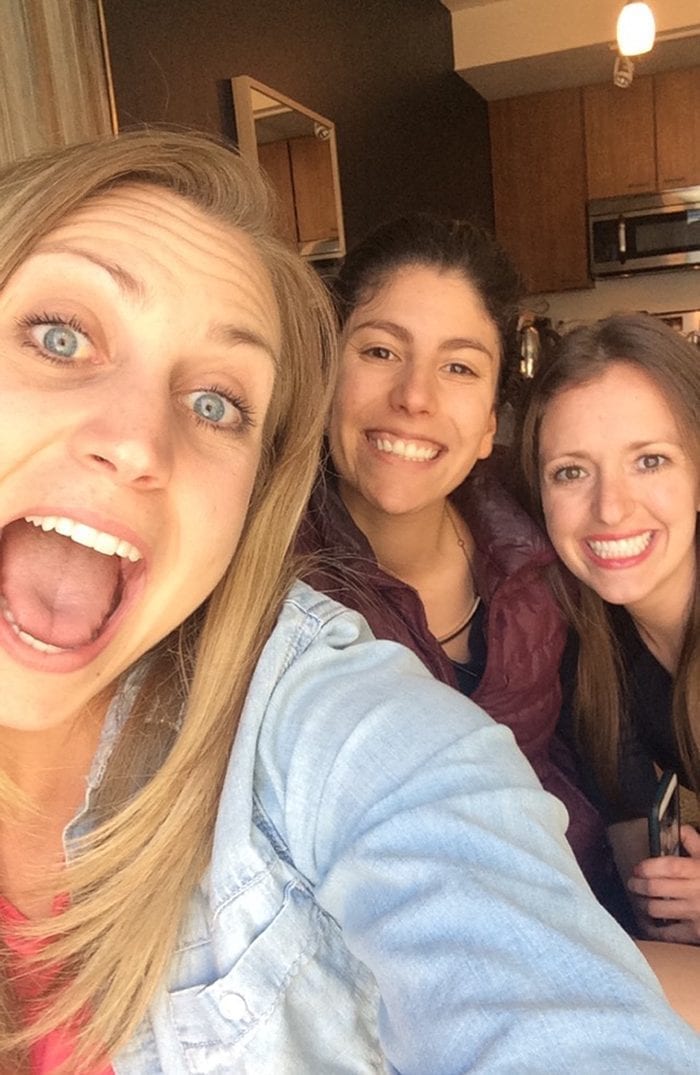 But don't worry, even when I'm not with them, they still manage to entertain me. Lee and Linley are the most hilarious people I have ever met. They've made me pee myself on more than one occasion. Did I just say that on the internet?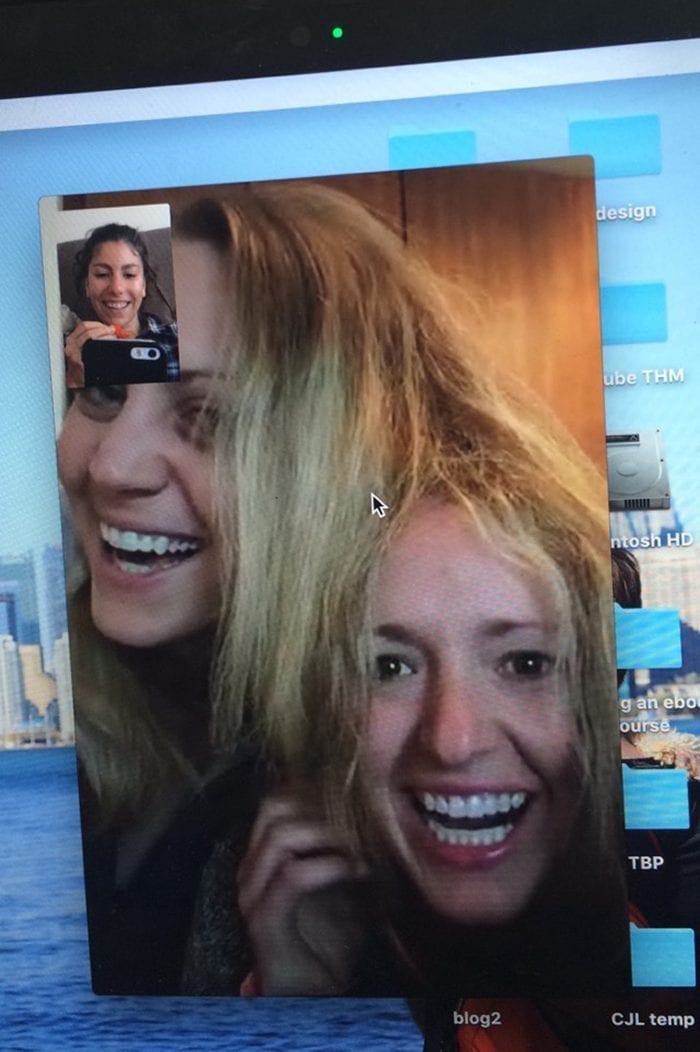 I can't believe I've yet to share with you that my ultimate dream came true a few weeks ago! Sahar took me to see Justin Bieber and it was the best 2 hours of my life. I'm a HUGE Belieber. So much so that "Baby" was the most played song on my iTunes for years, I saw "Never Say Never" in THEATERS 3 times and even stuck with him through the rebellious phase. I may have been the oldest person at the party (drinking red wine probably didn't help my cause) but I loved every second of the concert.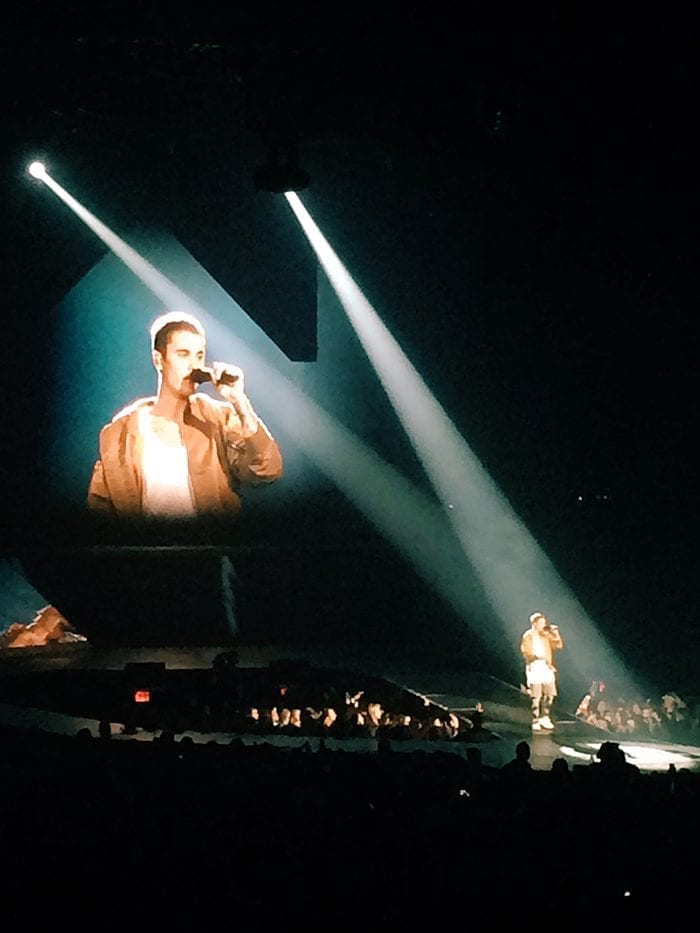 Here is what actually went down trying to nail this picture. Yes, that would be Rhett eating my french toast. The things we do to get the shot…I mean whaaaaaat? It was a totally natural occurring scene in which my dog is perfectly posed next to a delicious looking breakfast tray. Don't you start everyday this way?…not.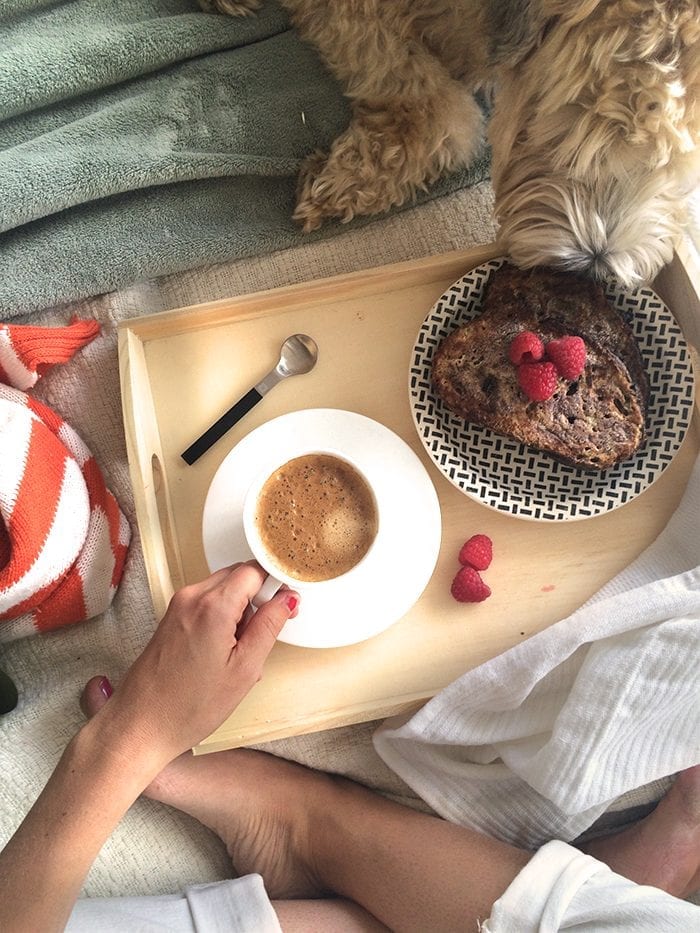 The moment you and your boyfriend figure out how to use a selfie-stick. It took an engineer and a professional selfie-taker a solid hour to figure it out. PRESS THE BUTTON PEOPLE. But then we got it and captured our first glorious picture with the selfie-stick. Game-changer.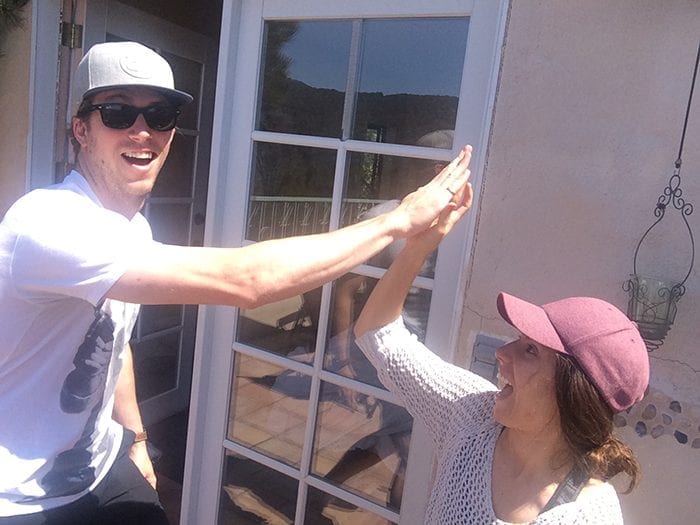 ….and then this happened. Note to self: Don't drink and selfie-stick. This is from C's sister's wedding where I danced my ass off for 3.5 hours straight and apparently selfie-sticked (it's a verb okay) the whole experience. For those of you who had to relive it on snapchat, so sorry.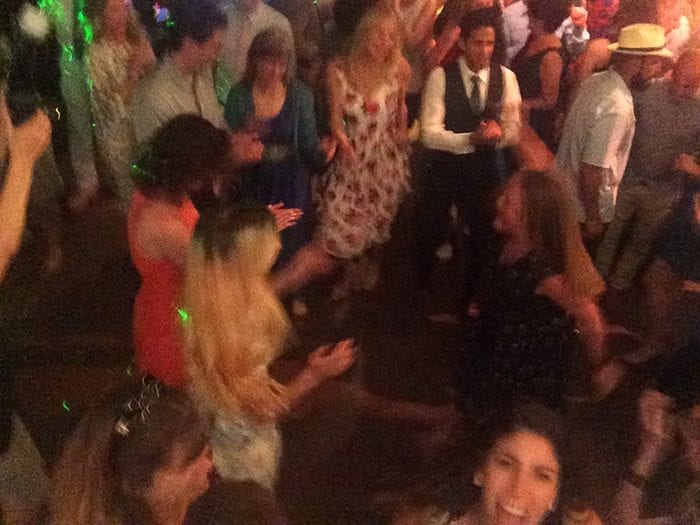 How about a nice one from the wedding instead? One of my favorite pictures ever. Such a special day that I'm still so honoured to have been a part of!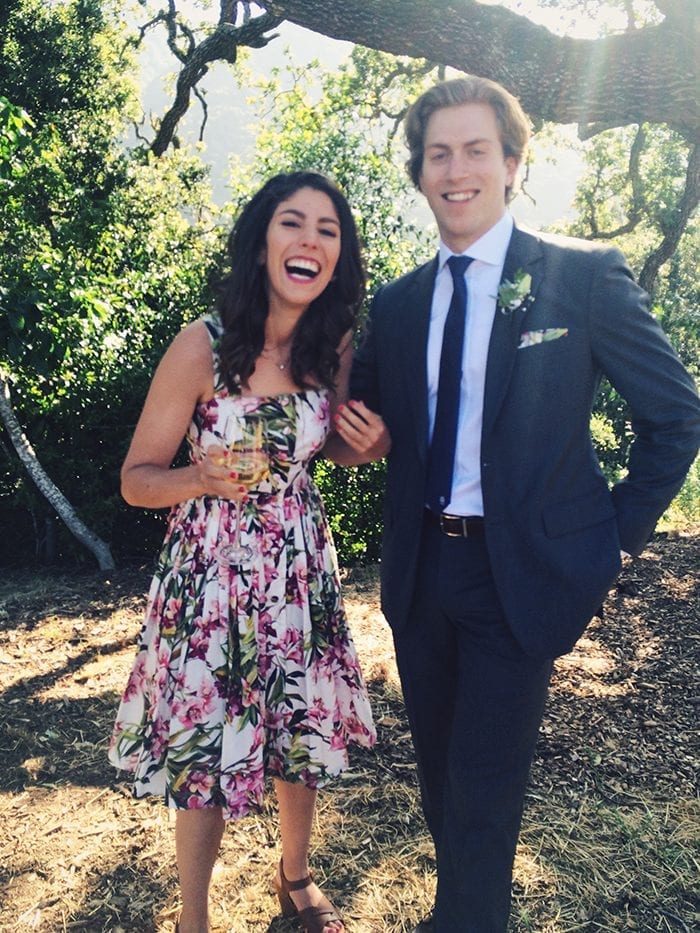 After the wedding, we spent about a week hanging around San Francisco with friends and family. The Bay Area is my favorite place in the world. I really do feel like I leave a part of my heart there every time I leave. This picture only affirms this. I mean heart-shaped petals, people? Come onnnnnnn.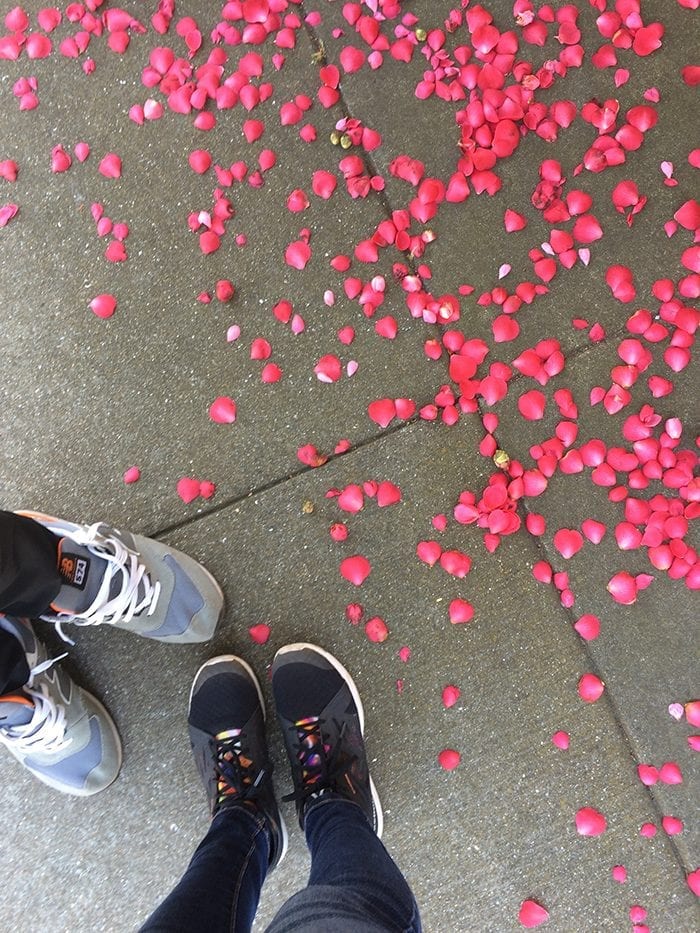 The nice part about actually being home is getting to go to some cool events happening around T.O. Tropicana hosted an awesome event at the Shameful Tiki Lounge with Roger Mooking. Naturally our selfie game was strong. Did you know it takes two to selfie in the dark? One to shine their phone flashlight, and one to take the shot. You're welcome.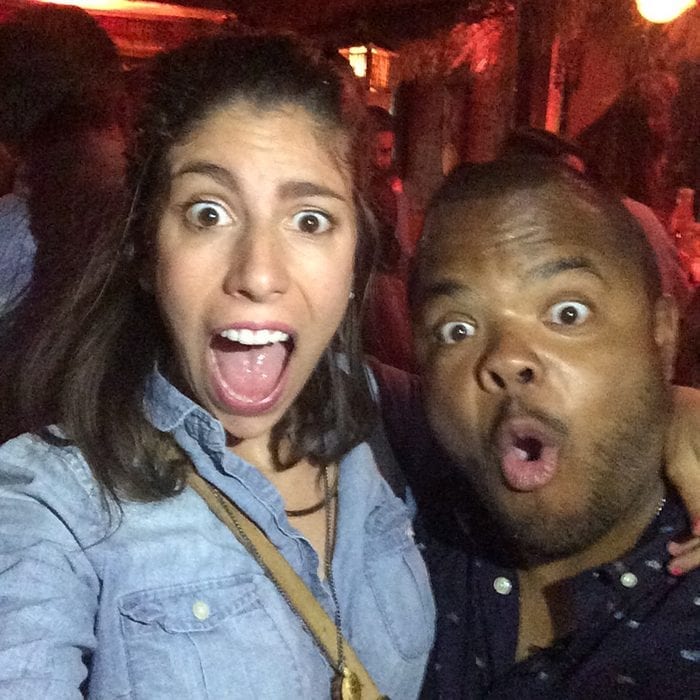 And then we were off again! C and I took a quick trip to New Mexico to hang with his family out there. One of those days we spent on the most incredible ranch. My dream is to have a ranch full of animals one day. Like straight-up Noah's Ark x 10. C caught this moment with a puppy and two beautiful poodles. SO.MUCH.HAPPINESS. (don't tell Rhett).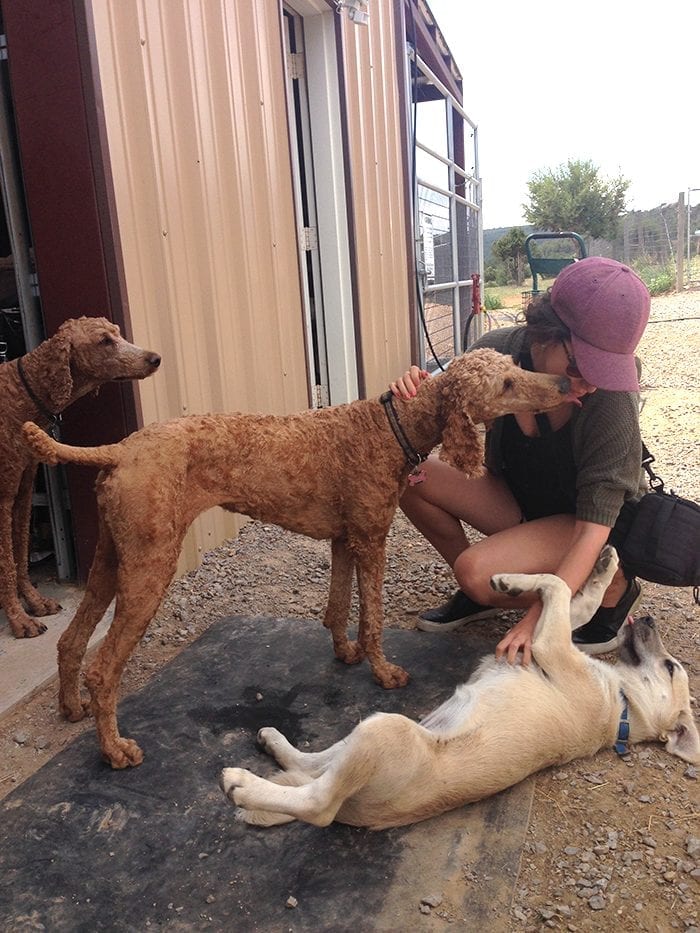 And then it was time to go back home again. As we boarded the plane, it started pouring rain, but then a beautiful rainbow emerged and it felt very allegorical for my life right now – kind of a shit-show but full of beautiful memories. It's important to always remember that sometimes even the worst storms bring the brightest rainbows. Deep thoughts with Davs.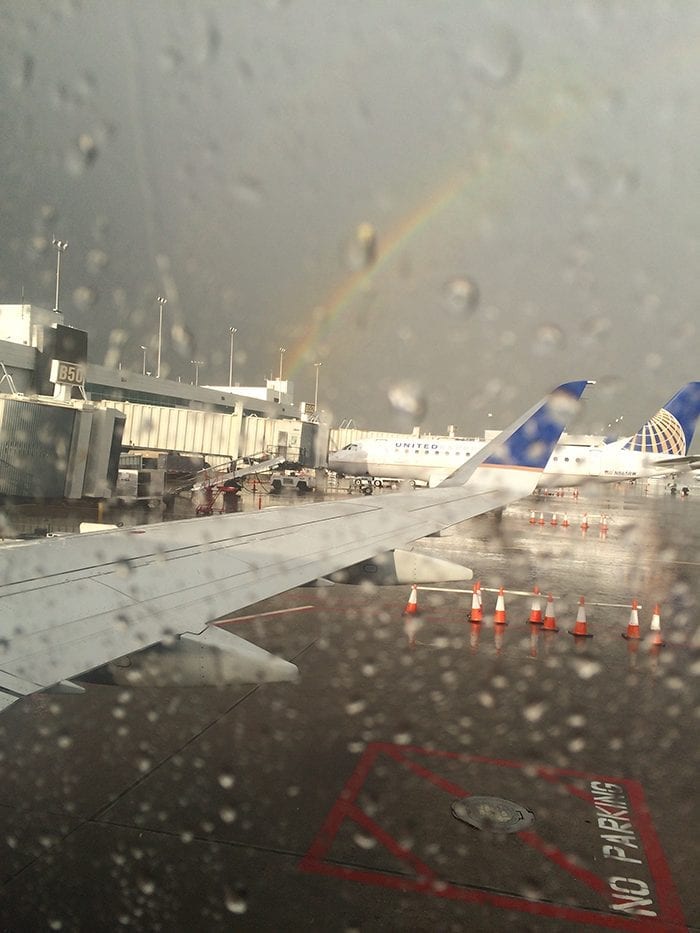 That's all I've got for you today! Be sure to follow me on Instagram and Snapchat to follow along on our adventure through Iceland! Speaking of which, we're about to land. eeeeeeeee so excited!
What story would your iPhone tell me? Do you like these posts? Should I do more of them???
DON'T WANT TO MISS A LIFE UPDATE? Join the THM Community!
Join 8000+ members of the THM Community to stay up to date on the latest life happenings and behind-the-scenes of The Healthy Maven!