I kid you not, this post has been half-written for 1.5 years now, but it wasn't until I got my friend Jordan's book, Breaking Vegan into my hands that I found the inspiration to finish it.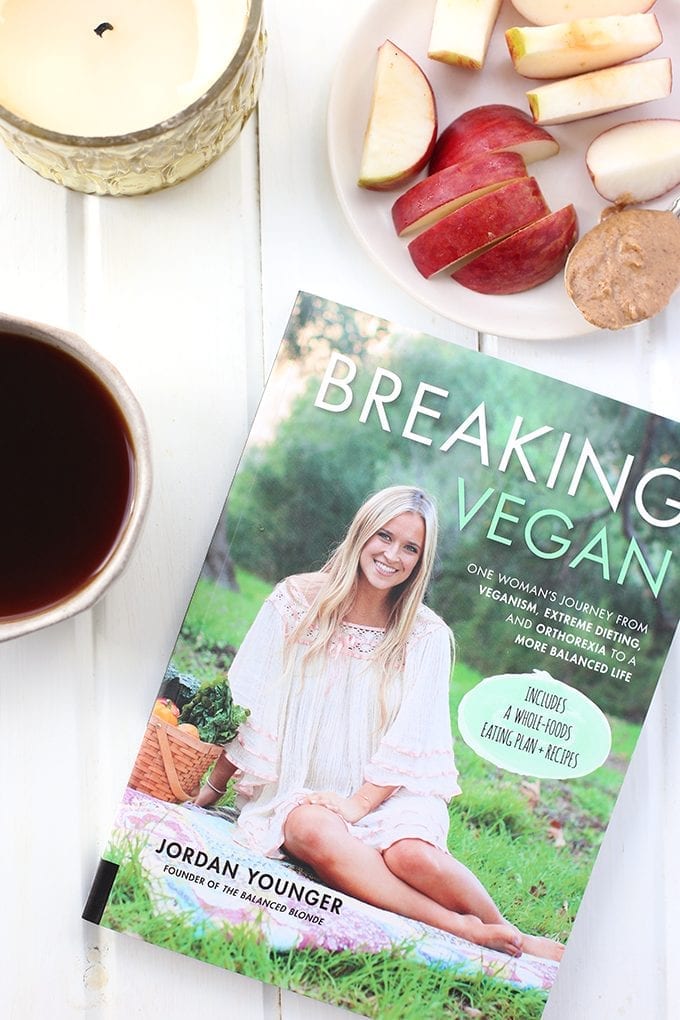 Her book chronicles her experience with veganism, orthorexia and her recovery to becoming a healthier, more balanced person. I've touched on some of these topics before, both generally and about my personal experiences but it was Jordan's courage in opening up about her journey that truly gave me the confidence to be more forthcoming about my own.
It's at this point that I'll admit that I am absolutely terrified to be publishing this post.
Here on THM I preach balance in every sense of the word. I make no secret of the fact that I don't eat "healthy" 100% of the time, enjoy a nice glass of wine and my workouts are sporadic and vary in intensity. At the same time, I also love to be active and really, truly enjoy eating plants.
However, reaching a state of balance between these two sides of myself has been a long road, and one that I continue to evaluate every single day.
I'm an all-or-nothing kind of person. C jokes that I see the world through black or white lenses but grey does not exist. All of this is true. I find peace in being able to categorize my life. Most of us are wired to do this (I promise not to go all psych-nerd on you) but some people, like myself, experience this at extremes. It makes us extremely good at playing roles, but it's virtually impossible to deviate from them.
When you apply this to healthy living and wellness, this rigidity can actually get pretty scary.
In Jordan's memoir she chats a lot about her tendency towards extremes and how this personality trait made her vulnerable to developing an eating disorder. Her story may as well have been my own because the words she shared rang all too true for me.
Hindsight is always 20/20 and when I look back now on my own journey towards a healthy-balanced lifestyle I can see where things got way out of control. I was never diagnosed with an eating disorder, for a variety of reasons but I think the fact that I continued to be a fully functioning member of society contributed to this.
Though it may have appeared from the outside that I had it all together, what was happening inside my head was far from together.
I was whole-heartedly obsessed with health. My life revolved around getting in my workouts and what my next meal would be. At one point I wasn't eating anything with gluten, eggs or dairy because I was convinced it was what was making me feel sick. I was also convinced that all my fitness goals would go out the window if I didn't workout and I spent hours dissecting menus to figure out where I could eat out with all of my so-called dietary restrictions. It never occurred to me that the stress I was putting myself under was counteracting any of my efforts.
The worst of it, I was overwhelmingly scared.
The health of so many people in life was compromised around this time and the only way I could figure out how to deal with it was to try to control one of the few areas of my life that I could, namely my own health. I was also in the lost post-grad state of mind where it's not out of the ordinary to have a complete identity crisis on the daily. Smacking a label (or a variety of labels) as someone who is "health-conscious" helped to distract me and comfort me instead of dealing with the anxiety of figuring out who I was and what I wanted in life.
I became "that healthy girl" or "that fit girl". I was a go-to for workout ideas and recipes. It's one of the leading reasons for starting this blog. But deviating from these titles (despite being the furthest thing from healthy) was an agonizing thought.
Hearing Jordan's eerily similar story brought up all of these memories for me. Of struggling with my own sense of identity, fear, control and health. The fact that her journey involved a life-changing move to NYC that to a degree was tainted by these struggles struck a cord with me.
Most of all, it reminded me why these days I choose to live label-free.
The labels were a shield; An opportunity for me to define myself without having to do the sometimes painful work of self-discovery. But like Jordan, it wasn't easy shedding myself of them.
As talked about in her book, Jordan shares the experience of telling the large and engaged audience that she had built on her vegan lifestyle, that she was choosing to no longer live as a vegan. I never had the experience of having to tell my audience (because it was virtually non-existent when I started to clear my world of labels), which I'll admit I am grateful for as Jordan dealt with an excessive and outrageous amount of flack.
Learning to accept that I could still value health and lead a healthy lifestyle without having to be "that health-obsessed girl" was painful enough so I can't imagine how agonizing it must have been to have people giving her death threats for it. The fact that she stayed true to her commitment to find better balance in her own life, despite the naysayers is a testament to her character and a reminder to all influencers that you cannot inspire others if you don't prioritize yourself.
I've lived in a world full of gluten-free, vegan, HIIT workout-obsessed, egg-free, dairy-free, runner extraordinaire and none of these labels made me feel healthy. I felt frail, and scared and void of life. Everything was planned into perfect little boxes that stressed me out as much, if not more than any of the dietary issues.
It got to a point that the comfort I felt in these labels was no longer protecting me from my demons. It required two other moves, a lot of therapy, medication (one day we'll talk about this..) and a priority of self-love to learn to live without them.
These days I still find myself trying to categorize everything but I know how to better deal with the grey areas. I love me some gluten-free bread and vegan muffins but I don't have to be 100% gluten-free and vegan in every aspect of my life to enjoy them. I can be inconsistent and hypocritical and still be a good, healthy person, worthy of love.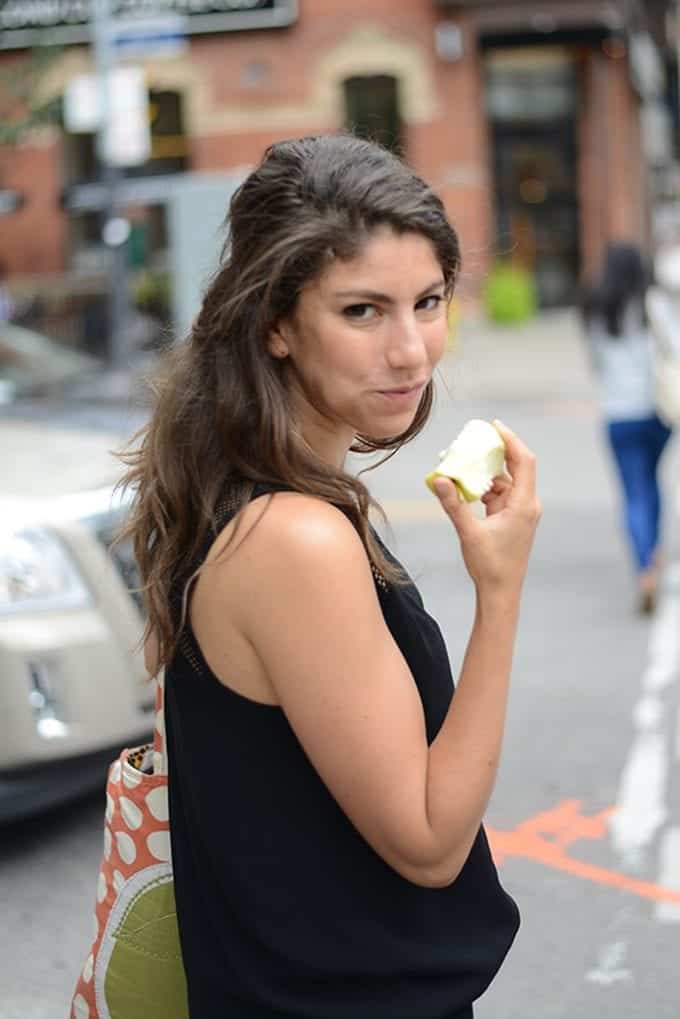 I eat more than I ever have, work out less than I ever have and have never felt better. I've learned to move because it's good for me and not because I want to look a certain way. I know that eating lots of fruits and veggies makes me feel awesome and that if I'm craving a cookie I don't need permission or punishment to eat it.
Even though my recipes are sometimes gluten-free or vegan or paleo or whatever label they fall under, I have actively chosen not to label THM under a specific diet. It goes against everything I preach about niche blogging, but I could never go around promoting a certain lifestyle that I knew didn't work for me. Balance is my approach.
Most importantly, I don't need a label to define who I am and how I should live. I've never been more grateful for the privilege of having learned this.
I'll admit that reading Breaking Vegan was hard. I was forced to relive a part of my life that feels very dark and opened up Pandora's box of emotions that I've tried very hard to conceal. But I knew it was time to start opening up about the darkness. I owe it to you and I owe it to myself.
I'm so proud of Jordan for having the courage to share her story and I hope that the young women out there struggling with their own eating disorders (diagnosed or not) can find solace in knowing that life CAN get better.
Before I check out of this insanely long post (and encourage you to buy Breaking Vegan!), I want to leave you with an email I sent to Jordan last year (June 2014) when she announced her struggles with Orthorexia on her blog:
"Just read your post from yesterday and wanted to tell you how unbelievably inspiring you are. It is all too prevalent in this community that people aren't honest with their readers and especially with themselves so it is refreshing to meet someone who is both. At the end of the day your blog is a reflection of you and making changes to improve yourself means you must be doing something right. Keep on being you."
I urge all of you to be honest with those around you and even more importantly, with yourselves. Because the only label you really need to live a healthy life, is truth.
Make sure you check out Jordan Younger aka The Balanced Blonde's open and honest memoir, Breaking Vegan. In addition to sharing her journey, she also has some great tips on leading a more balanced lifestyle with some delicious recipes to keep you on track!
Disclaimer: This post was written as a reflection on Jordan Younger's memoir, Breaking Vegan. I was given a free copy of the book but was not told what to say or write about. All opinions expressed are truthful and entirely my own.
No questions – just your thoughts.
WANT MORE HEALTHY LIVING TIPS? Join the THM Community!
Join 10,000+ members of the THM Community to get access to exclusive info about healthy living, products I'm loving and tips and tricks on making a healthy lifestyle easier and sustainable.