It's been wayyyy too long since I've updated you on the progress of the ecookbook. Despite talking about it incessitantly, I promised to give you some insight on the process so that you can see that you can do it too. I feel like a lot more of these behind-the-scenes posts will come after it is published because I will probably have more perspective once it is done, but for now I'll give you what I've got. Plus I'm feeling generous so I thought I would share another recipe from the book!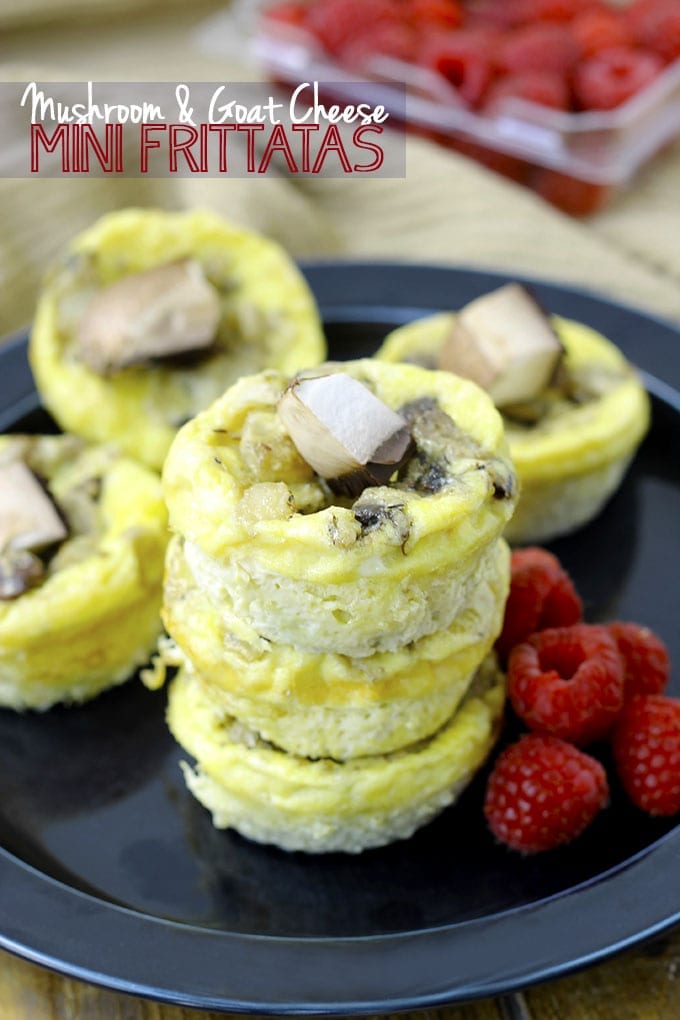 So I am officially finished 36 of 40 recipes and am hoping to shoot the next 4 this week (if the sun actually comes out to play!). So far I've only had to reshoot 1 recipe because the colours were all off. That was kind of a bummer, but I'm certainly not going to complain about having too many breakfast cookies on hand.
I also have only had one fail of a recipe, which I suppose was a long-time coming seeing as I made it through 35 without having a single fail. 3 tries later these Mushroom and Goat Cheese Mini Frittatas were born. Lessons I learned: Don't try to make fittatas with egg whites, don't overfill the cups and frittatas will deflate no matter how hard you try to stop them. Also I hate these pictures too, but I just have to let it go.
Once I am done with the final four recipes, I have to re-make a couple that need to be tested a second time and then put the whole book together. So far I have a very basic design in Adobe InDesign. I'm not totally sold on the program so I'll update you on what I end up using. Then it's just a matter of editing the pictures and adding in the recipes and nutrition info. One thing I am struggling with is whether or not I will include text in the book. I'm finding it difficult that I can't write an entire blog post for each recipe, but I also know that adding in commentary will likely make the process more complicated. This is where I need your advice, so I'm asking you whether you want me to include some short text with each recipe or if you'd rather just see the recipes on their own:
[yop_poll id="6″]
The last part which I am working on is ecommerce aka how I'm going to sell the book. This is still a work in progress, but I will fill you in on everything once it is finalized. I am also setting up an affiliate program so that if you guys want to promote the ebook on your site you will make a good chunk of the profits. I figure we can all win! So let me know if you would be interested in being an affiliate 🙂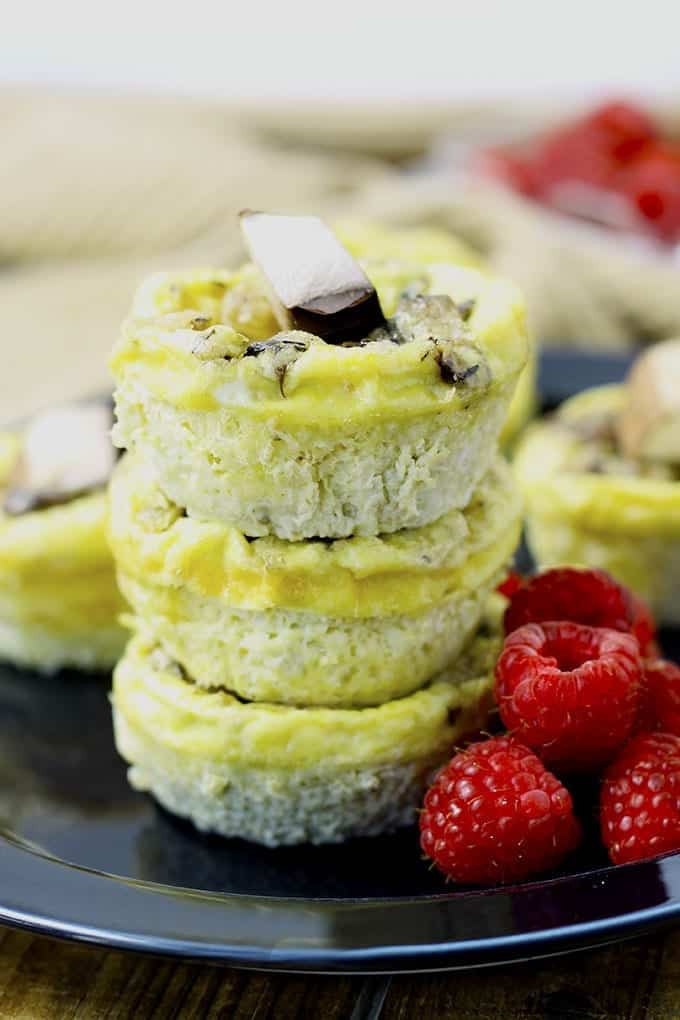 I know this post isn't entirely clear or helpful to those interested in writing their own ebook but I promise a better explanation of how I built the book and the process of selling it will come soon. The details are still up in the air at this point which a) gives me a panic attack on a daily basis and b) means that I don't have nearly all the answers I wish I had. What I can say is that this entire process has been both stressful and rewarding. Some days I have to make and shoot 3 recipes in a day in addition to what I eat for lunch and dinner. It can be overwhelming but I have also never felt so fulfilled. I wake up each day excited to get going and finish each day feeling accomplished. For this I am eternally grateful.
Have I mentioned how much I love you guys and appreciate your support?!
Print
Mushroom and Goat Cheese Mini Frittatas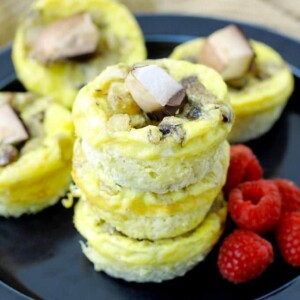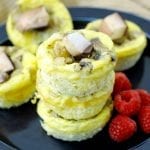 Total Time:

30 minutes

Yield:

12

mini frittatas

1

x
Scale
Ingredients
1 tsp

olive oil

1/2 cup

yellow onion, chopped

1 cup

mushrooms, chopped

1/2 tsp

dried thyme

¼ cup

goat cheese

9

large eggs

1/3 cup

unsweetened almond milk

1/2 tsp

sea salt
Freshly ground black pepper, to taste
Instructions
Preheat oven to 375 degrees F.
In a large pan heat olive oil over medium heat.
Add onions and sauté until translucent (about 3 minutes)
Add in mushrooms and saute for another 5 minutes or until mushroom are cooked.
Turn off heat and add in thyme and goat cheese and mix until well combined.
In a separate bowl whisk eggs and almond milk. Add in sea salt.
Grease a muffin tin VERY well and add a tablespoon of the onion-mushroom mixture to all 12 cups.
Top with egg-almond milk mixture until each cup is full.
Bake mini frittatas for 13-15 minutes (mine took 14) or until egg has set.
Remove from oven and let cool for 5 minutes.
Place a knife around the edges until the frittatas loosen up and are easy to remove.
Serve warm.
Will keep in fridge for several days.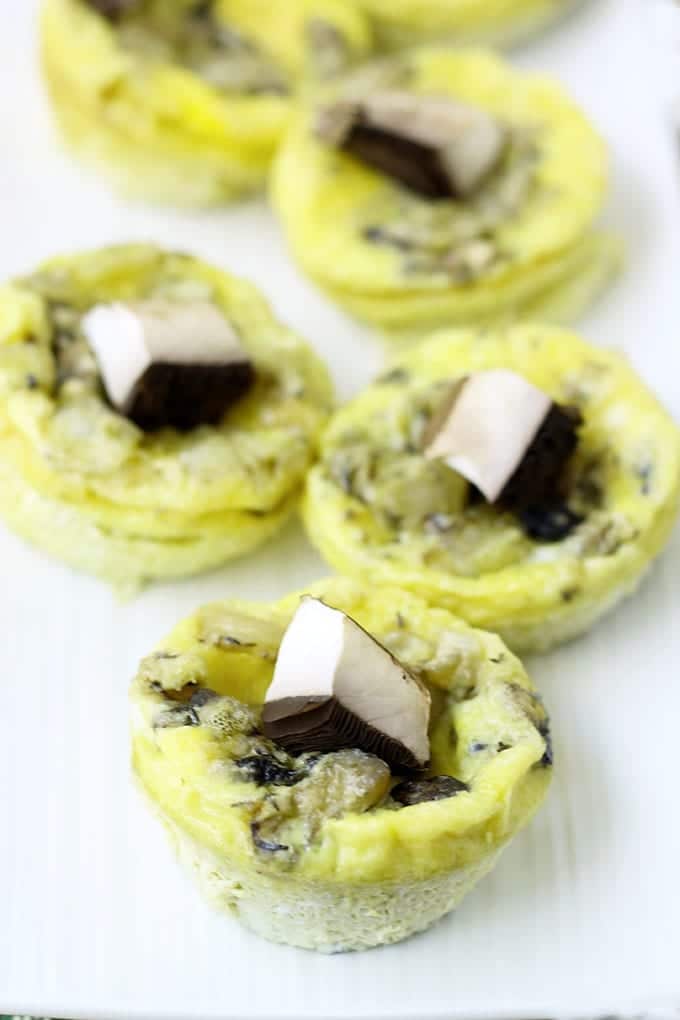 Would you ever consider writing an ebook? What would you like to know about the ebook process?
JOIN THE THM NEWSLETTER
Join 20,000+ members of the THM Community to get access to exclusive recipes, healthy lifestyle tips and behind-the-scenes news from our team!