These gooey blondies will hit your peanut butter and chocolate chip cravings but without all the guilt! They're gluten-free and vegan but not light on flavor.
I went through a phase where I was hopelessly addicted to Peanut Butter M&Ms. No, not Peanut M&Ms, but it's far superior counterpart Peanut BUTTER M&Ms. I am whole-heartedly convinced that these candies have been laced with crack, because once you start eating them you cannot stop.

You know those recipes you will never forget? This is one of them. Every once and a while C requests a baked good made of actual butter and sugar and not just air (#glutenfree of course ;)). I was more than happy to oblige, and since I was deep in the throws of my PB M&M/crack addiction there was no question that they would be involved. In fact I can remember the exact day this recipe was born, July 28th 2012.
I have to admit this date is also particularly memorable because I had the worst hangover I have ever experienced in my short life. Generally when I'm hungover I spend half the day talking about how I'm so nauseous and the other half eating ALL THE FRENCH FRIES. On this particular occasion the nausea just wouldn't go away and I couldn't stomach the idea of anything until I spotted these beauties from across the room. I promptly polished off 3/4 of the batch and then fell into a coma. When I woke up I was cured. I give full credit to the blondies for saving my life.
I'd like to believe that even without the butter and sugar these Peanut Butter Chocolate Chip Blondies still contain superpowers, or at the very least will cure your hangover.
Print
Peanut Butter Chocolate Chip Blondies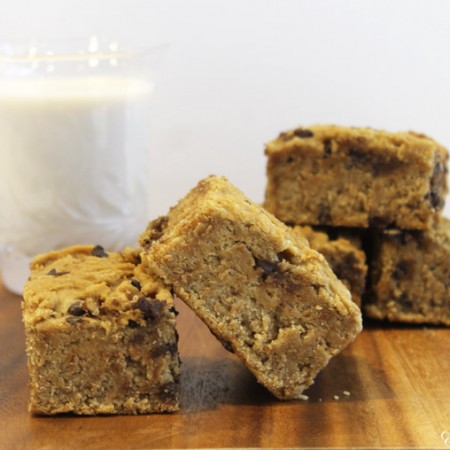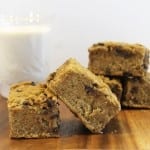 Prep Time:

10 mins

Cook Time:

30 mins

Total Time:

40 mins

Yield:

12

1

x
Scale
Ingredients
1 1/3 cup

brown rice flour*

1/2 cup

potato starch*

1/4 cup

tapioca starch*

1 tsp

xanthan gum**

1/2 cup

coconut palm sugar (or brown sugar)

1 tsp

baking soda

1/2 tsp

sea salt

1 tsp

vanilla extract

1/2 cup

all-natural smooth peanut butter

1 cup

unsweetened almond milk

1/2 cup

unsweetened applesauce

1/2 cup

dairy-free chocolate chips (I use enjoy life mini chips)
*Or use 2 cups + 2 T of gluten-free all-purpose flour OR regular flour
**if using regular flour omit xanthan gum.
Instructions
Preheat oven to 350 degrees F.
Spray a 9 x 9 inch baking pan with non-stick spray or coconut oil.
Combine all dry ingredients except chocolate chips.
In a separate bowl combine vanilla, peanut butter, almond milk, and applesauce. Whisk until smooth.
Stir wet mixture into dry and mix until well-combined.
Stir in chocolate chips.
Pour batter into pan and smooth out top.
Bake for 30 mins.
Remove from oven and let sit for at least 20 mins before cutting in 12 squares.
Remove squares and let cool on a wire rack.
Will keep for several days in an airtight container.
Do you remember your worst hangover? Just me? How about your favourite candy?
JOIN THE THM NEWSLETTER
Join 10,000+ members of the THM Community to get access to exclusive recipes, healthy lifestyle tips and behind-the-scenes news from our team!