I cannot believe the day is finally here! 2 months ago I set out to do something I had never done before, create an ecookbook. It has always been a dream of mine to publish a cookbook and I wasn't about to let a lack of a publishing deal stop me. Plus we can just consider this ecookbook as my attempt to save the world some trees, you're welcome.
It's been quite the journey up until this point and quite honestly, I wasn't sure if I would get it done. I'm about 90% through at this point, so unless something catastrophic happens in the next few days, I think it's safe to say it will get finished. I'll save my reflections on the writing for another post and instead talk about what you'll find in the book since it is now
OFFICIALLY ON SALE
! I just let out a squeal!
So, what the heck does it meal to pre-order?!  The book isn't quiteeee done, as I mentioned (mostly just editing some pictures and proof-reading left!) but I'm feeling generous so I thought I would reward those of you who are as eager as I am! This means that if you purchase the book from now until it's official release date on Sunday, you get a deal! Rather than being the full $12.99 it will be listed as on Sunday, you will pay a discounted price of $9.99. This will save you $3.00 which you can put towards the future ingredients you'll need to buy 😉
If you pre-order, you will then receive your copy directly to your inbox on Sunday morning. Your credit card will not be charged until Sunday either. So basically you save $$$ by being one of the first to order!
But I suspect you want to know what you'll get with that $9.99…
–40 drool-worthy gluten-free breakfast recipes with full ingredient lists and instructions.
-A bonus fool-proof gluten-free flour blend recipe so you can make your own gluten-free flour at home! It tastes wayyyy better and is cheaper than the store-bought stuff.
–Paleo and vegan options, including a delicious recipe for Paleo "Fauxtmeal" and vegan "eggs"!
-My priceless commentary from start-to-finish 😉
–Nutrition facts with each recipe including calories, carbs, protein, fat, fiber and sugar.
-The option to read it in PDF or EPub.
-My endless appreciation for supporting my dream!
Still not sold?! Well turns out I'm a major tease because I've already shared 3 of the recipes with you! Let's take a walk down memory lane…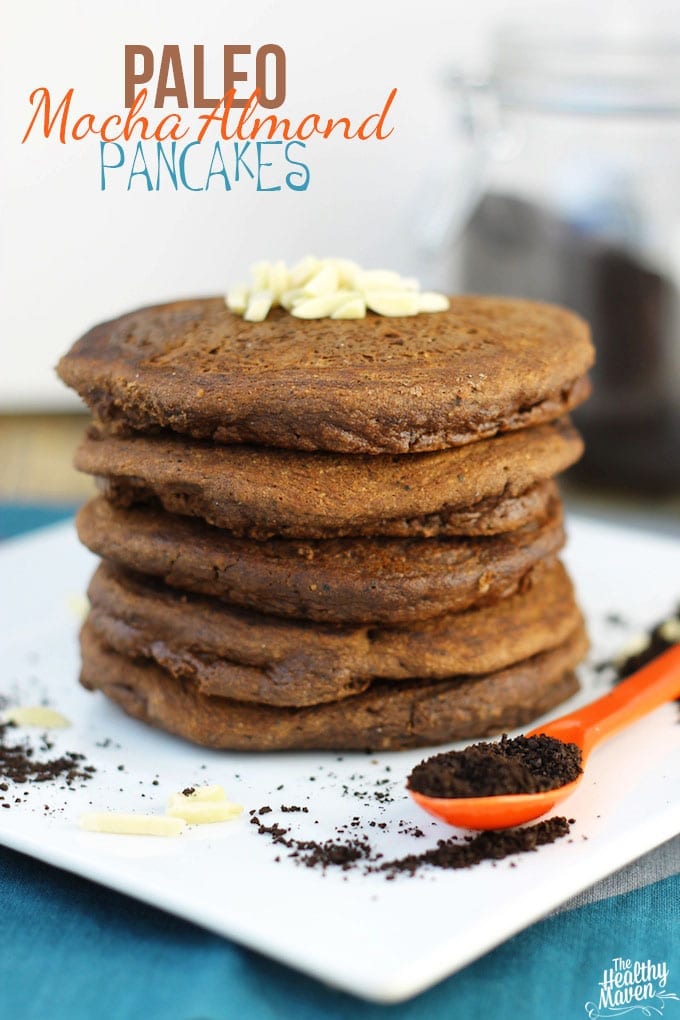 I can't reveal everything but I hope you've at least gotten a taste of the kind of deliciousness you can expect. And even if you aren't gluten-free, you can always substitute recipes using gluten-free flours with whole wheat flour!
Before I sign out, I just want to take a second to thank all of YOU who have supported me through this process. I could not be more grateful that you took the time to fill out my surveys, answer my questions on Facebook and even help me pick a cover. I hope you guys feel like you were a part of this journey with me because it is 100% reflected in the ecookbook. Some of you will recognize your suggestions and favourite recipe requests. This book would not be what it is without you!
So in case you forgot, as part of the pre-sale you can now purchase Gluten-Free Breakfasts E-Coobook for $9.99. While you won't actually receive the book until Sunday, you will save yourself $3.00. If you order it on Sunday or at a later date, it will be the full-price of $12.99. If you pre-order, you will receive an email with both the PDF and Epub version to your inbox on Sunday and your credit card will not be charged until then. You don't want to miss out on this one time offer!
Alright, so who's buying?!?! You'll make my day 🙂
JOIN THE THM NEWSLETTER
Join 10,000+ members of the THM Community to get access to exclusive recipes, healthy lifestyle tips and behind-the-scenes news from our team!