I am by nature a skeptic. I also run an online business that involves promotion of products and affiliate links. The combination of not trusting most things off the bat and seeing the dark side of influencer marketing means I pretty much dismiss any super popular trend I'm seeing people promoting on Instagram/blogs/Youtube. I understand marketing budgets, influencer marketing, direct sales and what drives people to promote things. It's also my job and how I make a living. What a fun conundrum, right?!
In some ways I feel like this is also a huge benefit. I have the opportunity to put products to the test and share the honest truth about their hype. I've heard from so many of you who appreciated my review of Beautycounter and why it is not the best thing since sliced bread (seriously guys there is so much better cleaner beauty than Beautycounter!) so in 2020 I'm going to take my skepticism seriously and share whether the products you're seeing influencers promoting all.the.time are actually worth it.
Today we're talking Primally Pure Deodorant because let me tell you guys, for the longest time I did not understand why every single person was talking about this product like it was made from God's tears or unicorn sweat. And as always I really want to be right. I want to believe that no product is really that good and every person promoting it is more concerned about their affiliate commission than about actually recommending a great and useful product. But let me tell you guys, I've never been happier to be wrong. Let's get into my Primally Pure Deodorant review…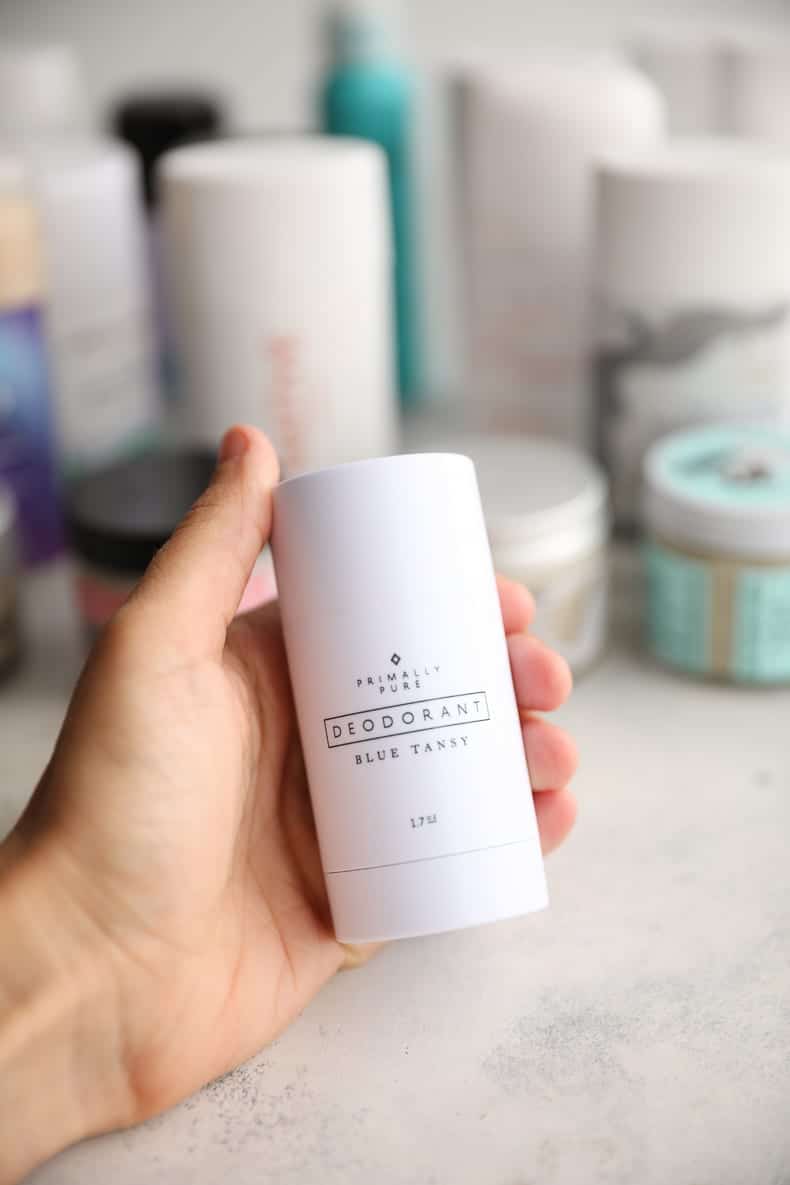 What is Primally Pure Skincare?
Primally Pure is a skincare, body care and hair care brand based out of Southern California founded in 2015. They brand emerged from founder Bethany McDaniel's passion for clean skincare and family history in organic farming. To learn more about their farming a livestock check out Primal Pastures.
I had come across them before but until trying their deodorant had never tried any of their products. Still to this day I have yet to try most of their other products but they do have an ever-growing collection. Their deodorants seem to be their bestsellers and definitely what I hear most people talking about.
Is Primally Pure Deodorant THAT Good?
If you read my natural deodorant review you know that I spent almost a year reviewing over 20 different natural deodorants. In that year I got to know the inner workings of my armpits (fun!) and basically discovered that 90% of natural deodorants are pretty much the same. There were only a couple that surprised me and also didn't give me a rash. These were the deodorants that used one or several ingredients that differed from everything else that's out there. This was 100% the case with Primally Pure which came as a relief after using the same deodorant made up of the same 4 ingredients (baking soda, starch, coconut oil, shea butter) but packaged differently. Primally Pure used a different set of ingredients which after trying turned out to be the most effective natural deodorant I tried.
So to spoil this post and answer your question: Is Primally Pure Deodorant that good? Yes, yes it is. Let's talk about why.
Primally Pure Deodorant Ingredients
The biggest difference between primally pure deodorant and other natural deodorants are the ingredients they use. So let's look at their primary ingredients:
organic arrowroot powder
extra virgin coconut oil
tallow from grass fed cows
organic beeswax
baking soda
non-nano zinc oxide
white kaolin clay
essential oils
*The Primally Pure Charcoal Deodorant (my favorite!) also has activated coconut charcoal which is an amazing deodorizer.
Looking at this list, most natural deodorants use a similar ingredient profile with the exception of a few important ones: tallow, zinc and kaolin clay.
I'm not gonna lie, at first I was a little freaked out about the tallow from cows but upon digging I discovered that beef tallow has been used for centuries as a moisturizing and antimicrobial skincare product. There is nothing new about using animal fats on our bodies. Of course, if you're vegan I understand why you might not want to use it but I have to say that this ingredient has made Primally Pure deodorant the most moisturizing and non-irritating deodorant I've used.
According to Primally Pure, zinc "has a long standing history of benefits along with its powerful anti-bacterial, antiseptic and astringent properties that combat bacteria, reduce odor and protect the skin barrier. It works similarly to an antiperspirant by minimizing moisture, but without being absorbed by the skin or having any negative health effects." and kaolin clay has "potent detoxifying properties to pull out toxins + purify the skin while leaving even sensitive skin types protected".
All the other ingredients are non-harmful for your body but pretty similar to what you'd find in other natural deodorants. I've found that without the moisturizing benefits of tallow, baking soda can be too irritating for me but without baking soda, most natural deodorants don't actually work. The zinc and clay (+charcoal in their charcoal version) are a nice added benefit that also makes it long lasting.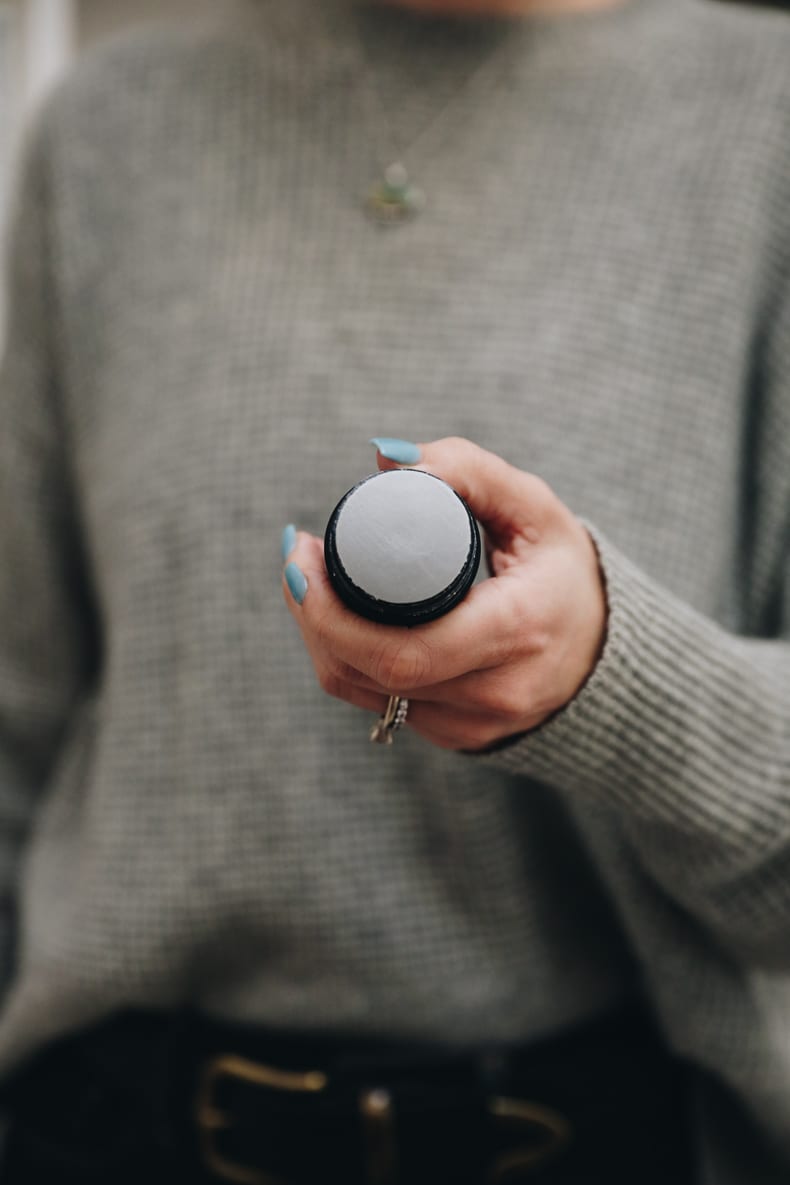 So What's the Deal with Their Salespeople?
Even though I promote affiliate links to products on the blog, I have and will only promote products that I love and know work. Part of the reason I dislike direct sales companies like Beautycounter is because there's too much incentive to promote products even if you don't like them. Many of their salespeople (i.e. Consultants) do this full-time or depend on it for income and I don't like the idea of people purchasing products that don't work for them or aren't that good because someone else feels the pressure to make a living. It's why you'll never see me sign-up for any MLM model. Primally Pure is NOT an MLM. They do not have consultants or a downline. They offer affiliate commissions to people who promote their products, which generally includes a discount code for their followers (win for everyone!)
For transparency, I receive 10% commission off a sale with a 10% off discount code for you guys. So let's look at what this means:
One deodorant costs $14. With 10% off for you this comes out to $12.60. For each sale I will make 10% of $11.34 which is $1.26 in affiliate commission. Clearly this is not a whole lot of money. No offence, but I can come up with a lot of other ways to make $100 rather than trying to convince 75 of you to purchase deodorant. So if I'm sharing this deodorant it's purely because I actually like the product and think you will too. the $1.26 I make per sale is icing on the cake (and reimburses me for buying the product?).
Besides the fact that their deodorant actually works, I am way more trustworthy of anyone promoting Primally Pure products because the incentive structure looks very different from an MLM.
*one thing I'll add is that the company itself does offer incentives to their salespeople to sell more through things like trips, discounts and gifts but like good luck beating Jenna Kutcher….
* * * * *
FINAL THOUGHTS
If you guys are looking for a great natural deodorant that works, I can't recommend Primally Pure deodorant enough. It is the only natural deodorant I don't have to reapply, even after a sweaty workout. I generally go for the charcoal one but I also love the Blue Tansy and Lavender scents. I really don't think you can go wrong with any of them though. If you want to save 10% be sure to use the promo code MAVEN. Yes, these are affiliate links but you're saving more money than I'll make so feel good about that lol.
Also, as a tip do NOT apply any natural deodorant directly after shaving. For more tips to avoid a rash with natural deodorant check out THIS POST.
Side note: A lot of you have asked about a natural deodorant for men. The charcoal deodorant from PP would be my suggestion! It has the most masculine scent and WORKS!
Question for you: Is there a brand or product that's being hyped that you want to see reviewed? I love diving deep into these reviews and would love hearing from you about which brands you want to see reviewed.