The normal thing to do would be to talk about Passover and how macaroons are my favourite Passover food to eat. By favourite I actually mean only, because Kosher for Passover food tastes like cardboard.
But we've already established that I am not normal and I've spent wayyyyy too long agonizing over the fonts for these pictures that I'm starting to think I may be delirious too.
No, instead we're going to talk about how today is the greatest day of the year.
Sunday April 6th? The greatest day of the year? Yes, my friends. Today is the day that WINTER IS COMING. For those of you who got this reference, we are clearly soulmates. For those of you who didn't, please stop reading this post, order HBO immediately and then attempt to watch 3 seasons of Game of Thrones before the 4th season premiere tonight. You can blame your lack of productivity entirely on me because I know secretly you will love me for discovering your reason for existence.
Despite the fact that I still have PTSD from "The Red Wedding" episode (don't worry, I won't give it away!) I am having a very hard time controlling my excitement. I think I've watched the 15 minute trailer at least 10 times and this clip like 50 times. I've also definitely googled "are dragons real, and how can I get one?".
I think it's important that I mention that watching a show like Game of Thrones is completely out of character for me. I've never seen a Harry Potter movie, any of the Star Wars Trilogy or even Pirates of the Caribbean. My friends joke that I have no imagination and I hate to admit that they might be right. BUT for some crazy reason I have found myself completely obsessed with this show. I'm 90% certain this has something to do with the hot, muscly men and the bad-ass queen with dragons. It really doesn't matter why though. The most important thing is to make sure you do not try to contact me between the hours of 10:00-11:00 PM tonight. I will officially be out of commission.
p.s. Passover starts in a week tomorrow so make these Raw Vanilla Macaroons. They are as hot as Jon Snow.
Print
Raw Vanilla Macaroons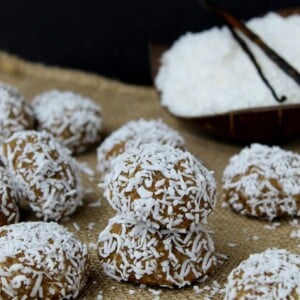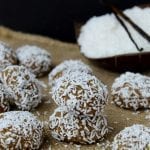 Scale
Ingredients
1 cup

pitted dates

2 cup

s unsweetened coconut (reserve

1/2 cup

for rolling)

1/2 cup

ground flaxseed

1

vanilla bean (or

2 tsp

vanilla extract)

1/4 tsp

sea salt
Instructions
Add 1 1/2 cups of coconut to a food processor and process until broken down into fine pieces.
Add in dates and ground flaxseed and process until it comes together in a ball.
Break up ball with hands and add in vanilla bean (or extract) and sea salt and process until it comes together in a ball again.
Divide "batter" into 10 balls and form into cone-shape.
Roll in remaining 1/2 cup of unsweetened coconut.
Store in refrigerator for up to one month.
Nutrition
Serving Size:

10 macaroons
Are you a Game of Thrones fan? Do you watch a lot of TV? I'm addicted!
JOIN THE THM NEWSLETTER
Join 10,000+ members of the THM Community to get access to exclusive recipes, healthy lifestyle tips and behind-the-scenes news from our team!