I am officially becoming my mother. This is not necessarily a bad thing, I just didn't expect it to happen so soon. I have always been a planner, which I most definitely get from my Mom. My Mom always plans for dinner parties weeks (if not months) in advance. Her hard work always pays off but I'll admit that I have scoffed at her eagerness at times. That was until I began contributing to dinners and was working full-time. Planning well in advance became key.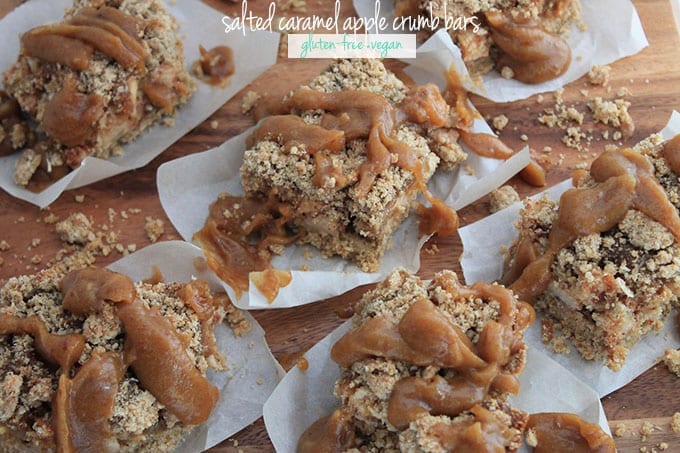 Things got taken to a whole new level on Sunday. The Jewish holidays are a big event for my family. Jews love their food and boy do we eat well. Rosh Hashanah usually falls sometime in September (it is early this year) which means naturally my Mom must begin preparing food in early August to then be frozen until the holidays. The menu is usually set in July. I have always thought this was kind of crazy but now I get it. Life is BUSY. I work all day everyday, I cook most of my own food, I blog, I exercise, I attempt to have a social life so finding time to prepare a feast for a room full of Jews requires a lot of time and effort, which I don't necessarily have.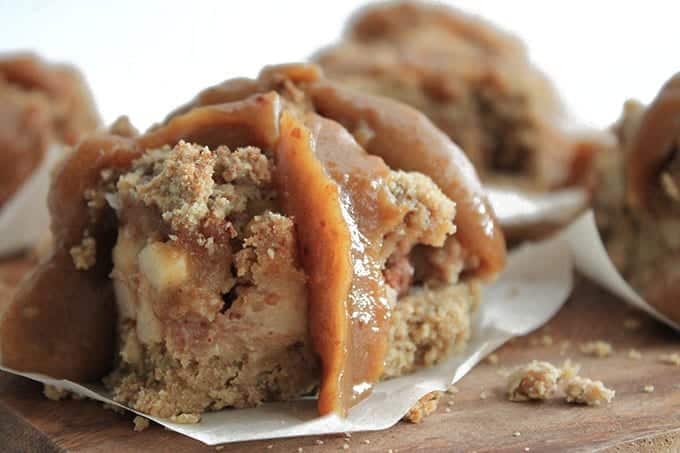 So when I happened to have a bit of time this past Sunday you better bet I started prepping my contribution. I should add that I happened to choose a recipe with a bagillion steps…homemade salted caramel takes time my friends! As decided in July, I am making Two Peas & Their Pod's recipe for
Salted Caramel Apple Crumb Bars
. I've made these a bunch of times and they are always a hit. Plus apples are a staple at the Rosh Hashanah table so it is fitting.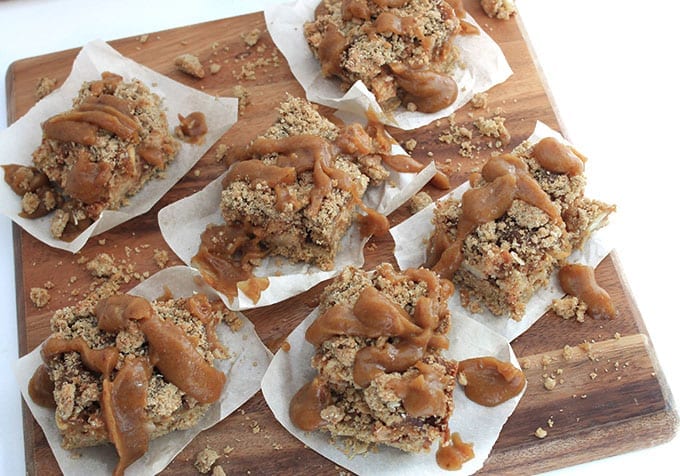 Here's the thing, for all of the hard work I put in, I can't even eat them! They are dairy-full, and gluten-full and are basically a nightmare for my stomach. Watching people enjoy my goodies definitely brings me some satisfaction but I would rather eat the bars. So after spending two hours making the original version I got to work on a gluten-free, vegan and somewhat healthified version that everyone can enjoy. I was overjoyed with the results. These taste decadent and delicious and my stomach loved every bite. So if you're also prepping for the holidays or just looking for a fantastic dessert recipe you should probably consider this treat! But don't worry family, you will be getting the unhealthy version 😉
Salted Caramel Apple Crumb Bars
Prep Time: 30 mins
Cook Time: 40 mins
Keywords: bake dessert dairy-free gluten-free vegan bars
Ingredients (Yields: 16 bars)
For Salted Caramel:
1 cup dates (soaked for at least 2 hours)
1/4 cup agave
1.5 tsp vanilla extract
2 T reserved date water
1/4 cup coconut oil, melted
1 tsp salt
For The Apple Layer:
5 cups peeled and diced apples
1 T fresh lemon juice
½ cup oat flour
1 tsp cornstarch
1 tsp dried stevia
1/4 tsp salt
1 tsp ground cinnamon
1/4 tsp ground nutmeg
1/4 tsp ground all-spice
For Crust/Crumb Layer:
½ cup coconut oil+ 2 T, cold
½ cup unsweetened applesauce
½ cup coconut palm sugar
2 cups Oat Flour
1 cup Brown Rice Flour
1 T Ground Flaxseed
1 tsp baking powder
1/2 tsp Salt
Instructions
1.Preheat oven to 375 degrees F.
For the salted caramel:
2. Combine all ingredients in a food processor and process until caramel consistency is reached. Set aside
For the apple layer:
3. Peel and chop apples and place in a bowl. Cover with lemon juice.
4. Combine oat flour, cornstarch, stevia and spices in a separate bowl. Stir until well combined.
5. Mix flour mixture with the apples until well coated.
For the crust and crumble:
6. Mix flours, baking powder, salt, flaxseed and palm sugar in a bowl.
7. Using a pastry cutter, cut in cold coconut oil until dough reaches pea-like consistency.
8. Stir in apple sauce. Mixture should be dry.
Assembly:
9. Spray a 9 x 13 inch baking dish with coconut oil or non-stick spray.
10. Take 2/3 of crust/crumble mixture and flatten along bottom of dish.
 11. Top with apple layer.
 12. Using half of the salted caramel to coat apples generously.
13. Sprinkle remaining crust/crumble mixture overtop.
14. Bake for 40 mins.
15. Allow to cool to room temperature. Do not try to cut before or they will fall apart, which is fine if you just want crumble but if you want to serve them as bars let cool.
Serving:
16. Cut into 16 bars and pour remainder of salted caramel over bars.
17. Keep in fridge if any leftovers exist! Store salted caramel at room temperature.
How early do you begin prepping for holidays and parties? Do you make a lot of food that you freeze?
JOIN THE THM NEWSLETTER
Join 20,000+ members of the THM Community to get access to exclusive recipes, healthy lifestyle tips and behind-the-scenes news from our team!