I'll be honest, this picture feels kind of deceiving since it's the furthest thing from winter here in San Francisco. The weather has been beautiful (70s and sunny) and I'm certainly not complaining about it. I feel like I paid my dues in my 27 years of living on the East Coast…but alas it's Seasonal Vibes so it felt much more fitting to include a picture of me in the snow, which was in fact an accurate depiction of what my January looked like. More on that in a bit…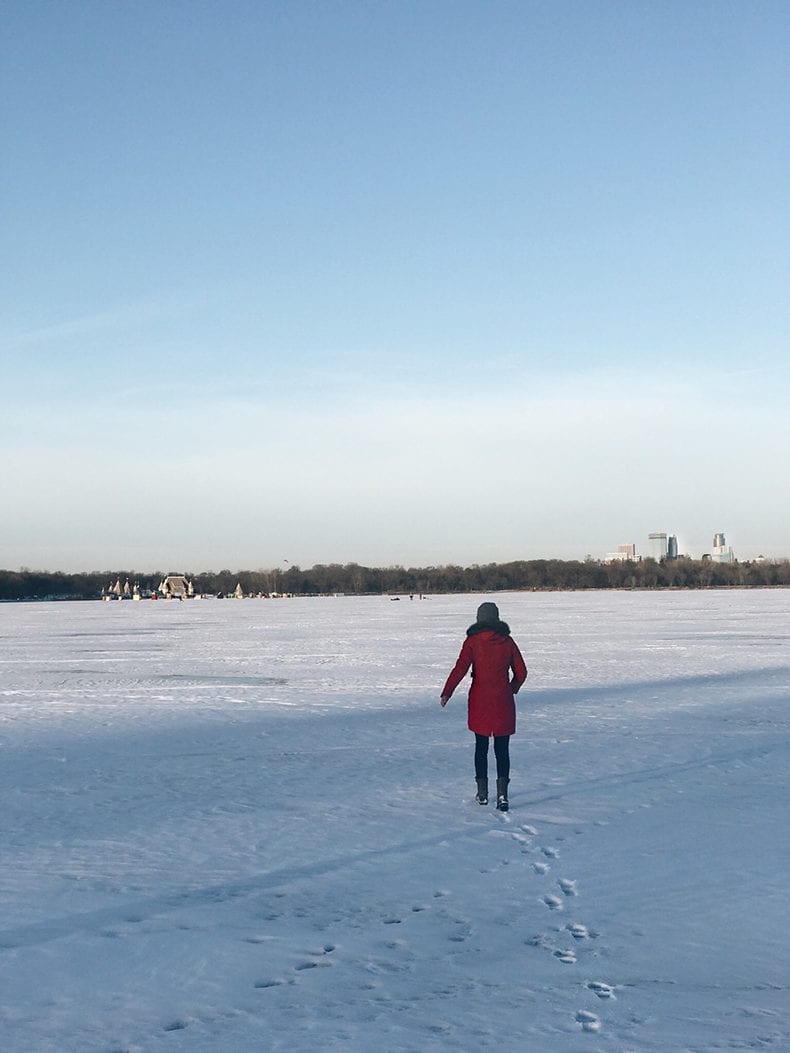 All of you seemed to really enjoy my last Seasonal Vibes post so here I am again for a little life update. It's funny because I think a lot of people feel that social media has allowed everyone to minute-by-minute stalk another person's life. While I certainly share elements of my life on social media (Instagram in particularly), there's actually a lot you don't see. Social media is a highlight reel and while I definitely don't shy away from sharing those uncurated moments, it's also just a small version of my reality. Most of the time I'm sitting in my PJs on the couch, writing or editing a podcast. Sometimes I've put on real clothes and I'm shooting a video or some photos. And even more realistically, I'm binge-watching a TV show with Curt or hanging in the park with Bodhi. Most of these moments don't get shared. Partially because they're not the most glamorous, but also because we all need a bit of privacy in our lives. It's been so nice to take the pressure off sharing everything and really just live in the moment. Ironically, I think it was the best decision I could have made for THM too. I feel so much more present and productive in my work because I'm so much more compassionate in my personal life.
Of course, I do kind of miss the days of weekend recaps and life lately posts. To me they're so much better than a quick Instagram image because there's such a story there. I'm a writer by nature and by now you know I don't like be limited in characters. As a result, blogging will always be at the heart of what I do. Social media platforms and algorithms may come and go, but THM is all mine. I can be 100% myself here and that is something I deeply value. So with that, here's what's been happening lately:
A trip (or two) to Minnesota 
A few days after returning home from Grand Cayman C and I got the call we had long dreaded. I haven't talked about it on here but C's dad was diagnosed with pancreatic cancer in April 2016. It was one of the motivating factors behind our two months of living in Minnesota in Fall 2016 and besides just general visits back to MN it also explains our frequent visits. In January Frank passed away and while it wasn't unexpected, it was still shocking in the moment.
There's so much more I want to say about this and the lessons Frank taught me but I just don't even know where to begin. What I know for certain is that I'm feeling so lucky to have both mine and C's families and our dear friends who provided so much support during this challenging time. I'm obviously deeply saddened by this loss and especially to not have him at our wedding in a couple months but knowing the support we have from our incredible community makes it so much easier.
We managed to get a warm spell (by Minnesota standards) and were able to spend more time outside than expected. Minneapolis really is so beautiful in the winter. I never thought I'd say this but it really does feel like a home away from home.
A Life-Altering Trip to Sonoma and Santa Cruz
Last week I had the privilege of attending a trip to Sonoma (and then a quick jaunt down to Santa Cruz) with Stonyfield. What was cool and unique about this trip was that its sole purpose was the educate us and share knowledge about organics and the sustainable food movement. I'm working on this post but it was a lot of information to take in so I'm needing a little more time to digest it all.
What I can say is that it completely opened my mind to how to food system is broken in North America, but also where our points of entry are for making change. Whether it be on the policy side, reducing food waste, improving our soil or voting with our wallet, there is an opportunity for so many improvements and I'm eager to be a part of this change. Stay tuned!
I Started Yoga Teacher Training!
This was a big one that I've actually been sitting on for months. I signed up for YTT in November and have been eagerly waiting for it to begin this month. So far it's been challenging, intense and inspiring. At first I was going to document the process but I'm now thinking I'll capture my feelings at the end (I wrote down my thoughts before starting it for comparison). In many ways, the conversations we're having in class feel very personal and private and I want to respect that. However, I also know a lot of people are curious about what the training is like so I'll share that once it's done. I'm only just beginning but I have a feeling this is going to be a life-changing experience that goes far beyond teaching yoga.
Let's Talk About The Wedding…
Ahhhhh the wedding. I feel like I get the most questions about this and I provide such vague and uninspiring answers! I'll put it to you this way: I am so looking forward to having all my favorite people in one room. I'm also so looking forward to it being over. Nothing about wedding planning has been particularly fun for me. Mainly because if I had it my way we'd all be drinking in the park in yoga clothes. When I went to go buy my dress, I went in by myself on my way to yoga. The sales associate didn't know what to do with herself. She tried to give me a bottle of champagne to celebrate but I thought it would be weird walking into yoga with a full bottle of champagne haha. I think I'm a major disappointment to anyone who works in the wedding industry!
So far we have a venue, a dress, a DJ, photographer, invites and some other random knick-knacks. Still working on a few other pieces. I'm confident it will all get done and I'm trying to have a positive attitude about everything since there's no point in being stressed. I'll keep you posted…though to be honest the next Seasonal Vibes post may come after the wedding!
Los Angeles Folks – Let's Hang!
Speaking of events, I'll be in LA on February 27th to host an event with my favorite clean beauty company, Credo Beauty. By now you all know my love for Credo and I'm so excited to be throwing this Green Beauty Happy Hour with them on Feb 27th from 5:00-7:00 and would love to see you there! P.S. It's totally free! SIGN-UP HERE.
If you want to stay up-to-date on future events that are coming to your city, make sure you sign-up HERE.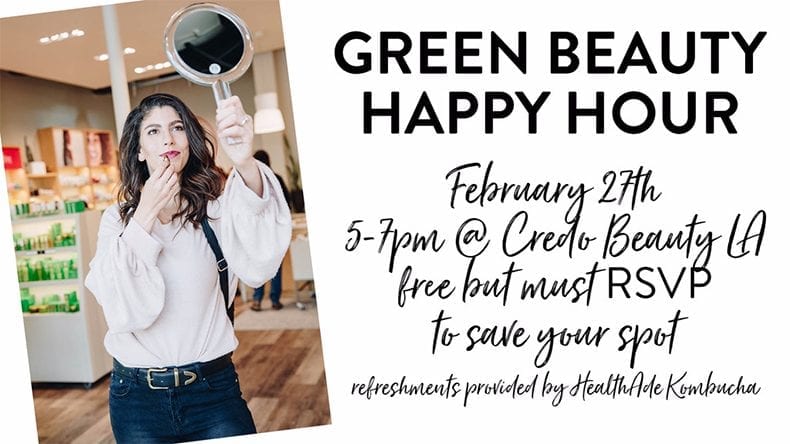 * * * * *
That's all I've got for you today but I hope this helped raise the veil (somewhat) on what life has been like around here. Alright, back to snuggling Bodhi…
What's new in your life? Fill me in!
JOIN THE THM NEWSLETTER
Join 10,000+ members of the THM Community to get access to exclusive recipes, healthy lifestyle tips and behind-the-scenes news from our team!