I really have to get better at posting the recipes for the delicious looking dishes I promise you on Instagram and Weekend Recaps. I really do try to post them in a timely manner but with so many recipes I want to share some inevitably get forgotten. I promise to either a) actually post them when I say I will or b) stop making promises (see what I did there?)
Today I am finally sharing one of these recipes! A few weeks ago I posted a picture of a fantastic, last-minute dinner I threw together for Warm Quinoa and Rice Salad. Not only was this a scrumptious and nutrition-packed meal but the leftovers I had for lunch the next day tasted even better.
What really made the dish was not just the burst of flavour from the pomegranate seeds, or the crunch of the pepitas but the base of the dish itself, TruRoots Rice & Quinoa Blend. I absolutely love this product. It has an earthy, nutty flavour unlike any rice or quinoa brands out there. I have basically replaced it for any recipe which calls for regular old rice. There are so many reasons why I love this grain blend, but here are just a few:
-You aren't just getting one type of grain, you're actually getting four! This blend is a mixture of
organic quinoa, sprouted brown and red rice and wild rice
.
-The process of sprouting rice involves placing rice in a warm, humid environment which essentially tricks the rice kernels into thinking it's time to grow a plant. When this occurs the rice kernels focus all of their energy on pumping vitamins, nutrients and amino acids into its body to prepare for growth. Once the maximum possible nutrition of the rice kernel is reached, it is cooled down which locks in all of the vitamins, nutrients and amino acids, which we then consume!
-There is 6 grams of protein in a single serving (1/2 cup cooked) compared with 3 grams in the same serving of rice. Plus 3 grams of fiber!
-It is certified organic, low in fat and gluten-free.
-This blend only takes 25 minutes to cook, and boy it is good!
Clearly there are many reasons why I love this stuff. And I know you will too! I usually pick up a big bag of it from Costco but I've seen it sold in health and specialty stores in the US and Canada. Have a look on their website to see where they're selling it closer to you. Also check out some of the other products they sell. I haven't tried any for myself but I have my eye on their Qookies which are cookies made from an exclusive gluten-free flour blend that includes some sprouted grains! Now that is something I need to get my hands on.
In the meantime try out my recipe for Warm Quinoa and Rice Salad. If you are unable to get access to any TruRoots products then this will most certainly work with plain quinoa or rice. This recipe tastes delicious served warm but I found it was even better the next day after sitting overnight in the fridge. So if need be you can always call it Cold Quinoa and Rice Salad 🙂
Print
Warm Quinoa and Rice Salad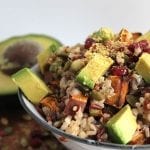 Scale
Ingredients
1/2 cup

TruRoots sprouted rice & quinoa blend

1

medium sweet potato
olive oil or coconut oil for roasting sweet potato

1/4 cup

of red onion, chopped small

1/2

avocado, diced

1/4 cup

pomegranate seeds

2

T pumpkin seeds

1/4 cup

orange juice

1

T apple cider vinegar

1 tsp

mustard

1/2 tsp

cumin

1

T nutritional yeast (optional)
Salt and Pepper, to taste
Instructions
Preheat oven to 420 degrees F.
Dice sweet potato into bite-sized cubes, coat lightly with olive or coconut oil and sprinkle with salt.
Roast in oven for 25-30 mins or until outside is crispy.
Cook TruRoots blend according to package instructions.
In a large bowl combine Tru Roots blend, sweet potatoes,onions, pomegranate seeds and pumpkin seeds.
Add in liquids and spices and stir to combine.
Top with avocado and a sprinkling of nutritional yeast if you desire.
Serve immediately warm or store in fridge. I find it tastes even better after it has sat in the fridge for several hours. If not serving immediately then reserve avocado for just before serving.
Have you ever tried any TruRoots products? How about sprouted grains? Have you every tried sprouting your own grains? If so, tell me how!
JOIN THE THM NEWSLETTER
Join 20,000+ members of the THM Community to get access to exclusive recipes, healthy lifestyle tips and behind-the-scenes news from our team!