Print
Fresh Corn Salsa with Baked Chili Lime Tortilla Chips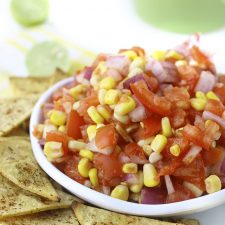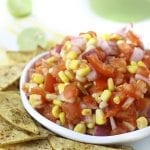 Scale
Ingredients
For the Fresh Corn Salsa:
5

large vine tomatoes

1 cup

fresh corn, cut off cob

1

garlic clove, minced

1 cup

red onion, diced

1/4 tsp

cayenne pepper

1/2

lime, juiced
salt and pepper, to taste
For the Baked Chili Lime Tortilla Chips:
4

corn tortillas
juice, 1 lime

1 tsp

chili powder
Instructions
For the Fresh Corn Salsa:
Take one tomato, chop into 4 pieces and place in a blender or food processor.
Pulse tomato several times. Tomato should break up and become liquidy with some chunks.
Remove inner seeds from remainder of tomatoes and chop into small chunks. Combine with pulsed tomato.
Add fresh corn, garlic, red onion, cayenne pepper and lime juice to tomatoes and stir.
Add in salt and pepper to desired taste.
Store in fridge.
For the Baked Chili Lime Tortilla Chips:
Preheat oven to 400 degrees F
Place 4 corn tortillas on top of each other and using scissors, cut into 8 pieces so that you have 32 triangular chips.
In a small bowl juice the lime.
Dip each chip in lime juice so both sides are coated.
Place on a baking sheet lined with parchment paper or a silicone mat. Do not overcrowd (use two sheets if necessary).
Shake half of chili powder over the tortilla chips and then flip and shake the other half over chips.
Bake for 12 minutes. Watch closely to ensure they do not burn.
Serve warm.*