Tahini Brownies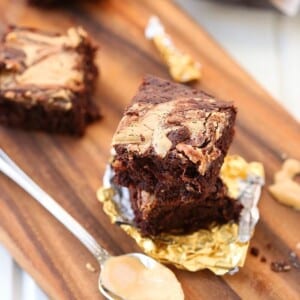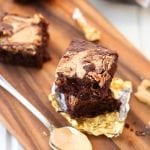 Prep Time:

20 minutes

Cook Time:

25 minutes

Total Time:

45 minutes

Yield:

16

brownies

1

x
Preheat oven to 350 degrees F.
Spray an 8 x 8 inch baking pan with coconut oil.
In a large bowl whisk together cocoa powder, oat flour baking powder, and salt and set aside.
In a large heatproof bowl, combine coconut oil, coconut sugar and chocolate.
Place bowl over (but not touching) simmering water to create a double-boiler.
Heat up over medium heat, stirring often, until melted and mixture is smooth.
Remove bowl from heat and whisk in tahini.
Whisk in eggs, banana and vanilla.
Mix in cocoa powder mixture.
Transfer batter to baking pan ensuring top is smooth.
Add 9 dollops of tahini over mixture.
Using a butter knife, create swirls to make pattern along the top. See video above for further instructions.
Bake for 25 minutes or until desired texture is reached. 25 minutes makes a fudgier brownie, leave for 5 more minutes for something more cakey.
Allow brownies to cool for at least 20 minutes before cutting into 16 squares and removing from pan.