Lately the podcast episodes have sparked a lot of questions about what are "essentials" when it comes to health. My belief is that eating your veggies, moving your body, hydrating and sleeping well make up the framework for a healthy life. Is there more to health? Absolutely. But these "add-ons" as I like to call them look so different on everyone.
Finding these add-ons is where things get confusing. There's so much information out there, and influencers (myself included), promoting products that are beneficial for your well-being. Are they the holy grail? Probably not, but that doesn't discount the fact that they can have a huge impact on your life. However, determining which products to invest in can be overwhelming. So I've decided to expand some of the conversations on the podcast to include interesting and innovative products that either I've found helpful or I'd like to learn more about.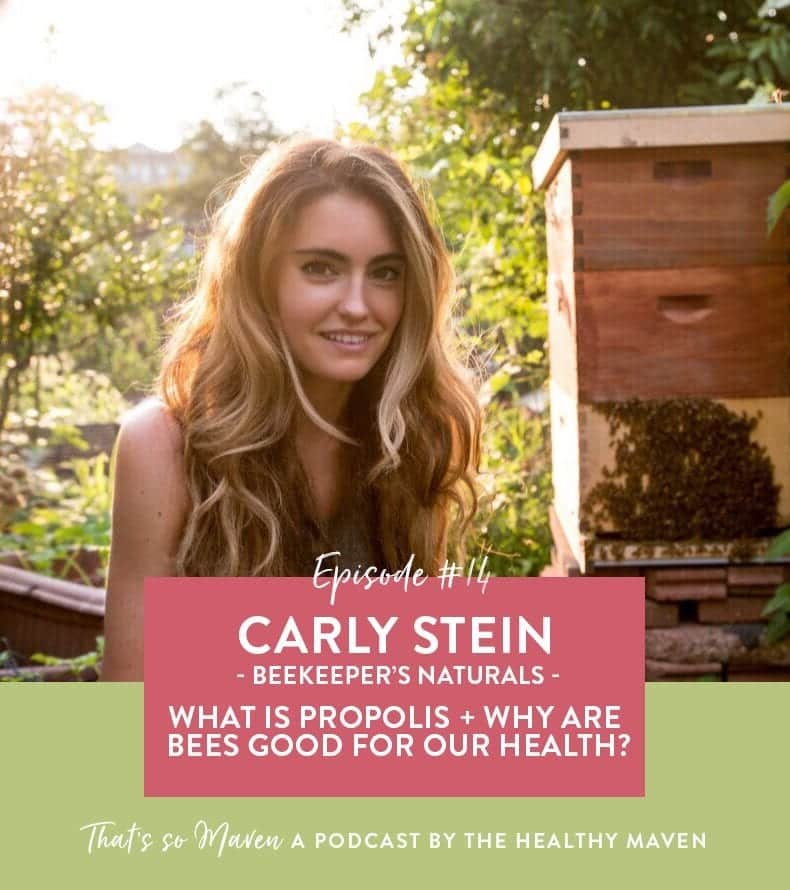 One of these products is propolis, which I started using when I met the founder of Beekeeper's Naturals, Carly Stein, a few years ago. I'd never heard of propolis before we met up, but that meeting would change everything for me. Propolis quickly became part of my health routine. You've seen me talk about it before on Instagram, I NEVER travel without it (I keep one in my carry-on) and it's one of the add-ons on swear by.
So today I have Carly on the show talking about what propolis is all about and helping you determine whether it's a product you might want to invest in.
Here are some topics we touch upon in today's episode:
Carly's own journey and how she accidentally started Beekeeper's Naturals
What the heck is propolis and how can it benefit your body?
Why are bees so important?
What's threatening bees and what kind of impact will it have on the environment?
What it means to be a company with a cause and how they've incorporated bee education and bee research 
Is there a difference between conventional honey and raw honey?
All about the other products they sell, including Bee Powered, Beelixir and Bee Pollen
The health habit Carly can't live without
Who she looks up to in business (btw she has the same answer as I do!)
LISTEN HERE:  iTunes | Stitcher | Google Play | Player.FM | Podbean
If you want to ask questions to future guests, make sure you join the THM Tribe to find out who's coming on the show before I interview them and get regular updates on the podcast.
And if you're enjoying the podcast, or have feedback for me be sure to leave a review on iTunes. It's much appreciated!
If there are products that you're loving or are confused about, I'd love to hear about them and bring experts onto the show to educate and dispel any myths. Like I said, I get how overwhelming the wellness industry can be and just simply want to help you guys figure out what works for you.
P.S. Follow Beekeeper's on Instagram. They have the coolest account!
What questions do you have for Carly? Did you know about propolis before listening to this episode?
JOIN THE THM NEWSLETTER
Join 20,000+ members of the THM Community to get access to exclusive recipes, healthy lifestyle tips and behind-the-scenes news from our team!