Have you ever wondered what it would be like if you dedicated a year of your life to your health? I know I certainly have. I've often wondered what would happen if I really committed myself to all aspects of health. If I stopped avoiding things like dry brushing and ACTUALLY drank enough water.
But with so many things out there, it gets incredibly confusing figuring out what is actually worthwhile vs. what isn't worth your time. Because unless you have unlimited time and funds, doing everything just isn't an option.
That's exactly the situation Phoebe Lapine found herself in. After a diagnosis of Hashimoto Thyroiditis, she had to figure out how to manage her disease holistically without having an endless to-do-list of things to do.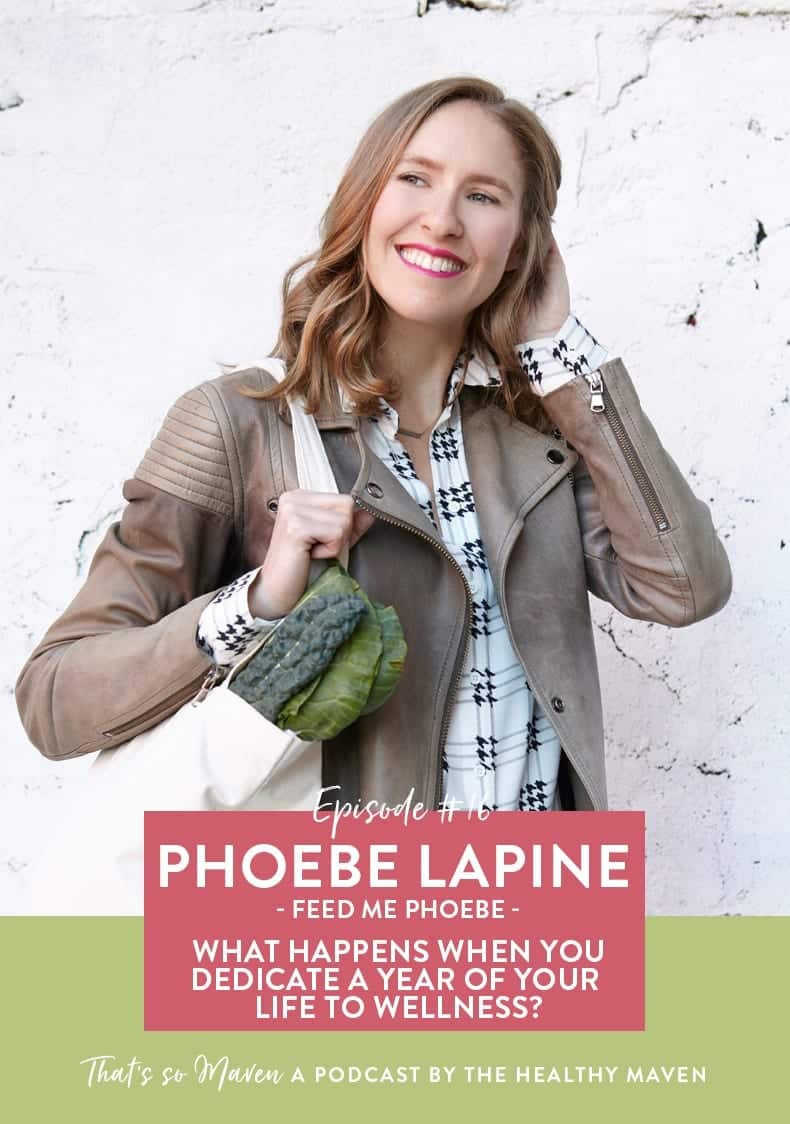 Phoebe wanted to figure out how to do right by her body without having to give up her life. If that doesn't scream HEALTHY MAVEN I don't know what does. I'm all about health, but not when it takes over your life. It's important to live healthfully, not live for your health.
So when Phoebe announced she was committing herself to a yearlong exploration of this topic and how she was learning to balance health and hedonism, I was pretty stoked. I followed along as she captured her journey on her blog and have been eagerly awaiting the release of her book, The Wellness Project that tracks her entire journey and lessons learned.
If you read The Happiness Project by Gretchen Rubin, the concept is similar. Phoebe spent a month dedicated to 12 different topics and explored health from all angles. From her experiences she also built out a curriculum to help you guys create your own wellness projects if you wanted to try it out for yourself.
Here are some topics we touch upon in today's episode:
Phoebe's journey before The Wellness Project and what led her to want to commit herself to this project
Her diagnosis of Hashimoto's Thyroiditis and how it became a wake-up call for her.
What led her to want to capture her journey and share it in a book
How she picked the 12 topics of the book
Her biggest takeaways from her experience and what lessons she learned
Which habits she's kept up since completing the project
Tips for how you can launch your own wellness project
The one health habit she can't live without
LISTEN HERE:  iTunes | Stitcher | Google Play | Player.FM | Podbean
If you want to ask questions to future guests, make sure you join the THM Tribe to find out who's coming on the show before I interview them and get regular updates on the podcast.
And if you're enjoying the podcast, or have feedback for me be sure to leave a review on iTunes. It's much appreciated!
P.S. You can pre-order Phoebe's new book HERE!
What questions do you have for Phoebe? Do you thing you'd ever do a Wellness Project?
WANT MORE HEALTHY LIVING TIPS? Join the THM Community!
Join 10,000+ members of the THM Community to get access to exclusive info about healthy living, products I'm loving and tips and tricks on making a healthy lifestyle easier and sustainable.