Crystals…oh mysterious crystals! Now you guys know me. I'm pretty open-minded to most things, and especially when it comes to health, but for a long time I always considered crystals in the "out there" category. I definitely wasn't hating on them though, because I'm also into some pretty unconventional things and knew that there was a descent chance I would probably get into them at some point. I just didn't expect it to be so soon!
My first encounter with crystals occurred in Banff when I experienced my first crystal bowl sound bath at a local crystal shop in downtown Banff. I can't fully explain to you what that experience was like except that in the span of a half an hour it felt like every emotion I had ever felt was suddenly about to pound out of my chest. I was told that crystal healing sometimes can bring out negative emotions that we need to face, and well, that's exactly what happened to me. I became a believer.
My next experience with them was at a crystal fair in San Francisco a few months ago, except this time it was more positive. Three times in a row I picked up the same exact crystal at three different booths, without seeing its name. Apparently this means it was calling to me. Nevertheless, seeing the hundreds of thousands of crystals available was completely overwhelming for me and I left there more confused than when I came.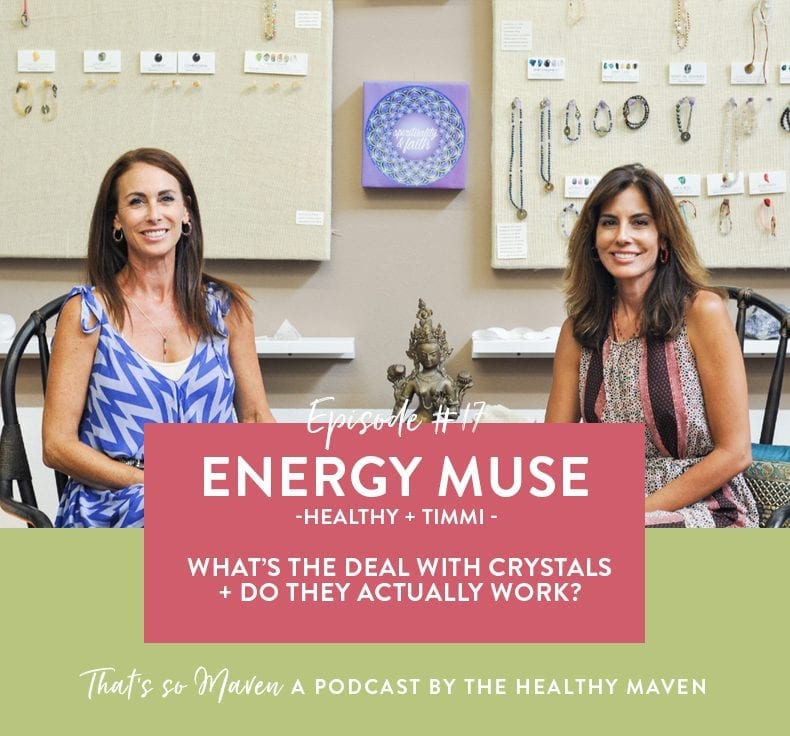 It was perfect timing that I was introduced to Timmi and Heather from Energy Muse and they offered their services to help clear up my and your misconceptions when it comes to crystals. These ladies are total crystal experts. They own a crystal shop in LA that's been open for 17 years. They also have a book coming out in October that's all about crystal healing for your various ailments and struggles. After chatting with them I know I'll be buying the book.
Here are some topics we discussed in today's episode
How they got into crystals and started Energy Muse
What crystal healing actually means and how it works
Activating your crystals and caring for them after use
Ways to incorporate crystals into your lives
Picking the right crystals and whether or not they "call to you"
Their new crystal recipe book and what crystal recipes entail
How they incorporate crystals into their own lives.
LISTEN HERE:  iTunes | Stitcher | Google Play | Player.FM | Podbean
If you want to ask questions to future guests, make sure you join the THM Tribe to find out who's coming on the show before I interview them and get regular updates on the podcast.
And if you're enjoying the podcast, or have feedback for me be sure to leave a review on iTunes. It's much appreciated!
P.S. Use the code "HEALTHYMAVEN" at checkout and you'll receive 20% your purchase from their online shop!
What questions do you have for the ladies of Energy Muse? Do you believe in crystal healing?
WANT MORE HEALTHY LIVING TIPS? Join the THM Community!
Join 10,000+ members of the THM Community to get access to exclusive info about healthy living, products I'm loving and tips and tricks on making a healthy lifestyle easier and sustainable.