It's HERE!!!! I'm so excited to finally announce the release of my new podcast, "That's So Maven".
*brownie points for anyone who picked up on the early 2000s TV show reference*
Having a podcast was something I dreamed about before I started The Healthy Maven. I actually started listening to podcasts before I started reading blogs. With long commutes to and from work, podcasts were my solace and the company I shared when the last thing I wanted to do was pack myself into the subway.
Over time my tastes in podcasts changed and new podcasts emerged that have become my go-to when I need inspiration or entertainment. And today I've decided to join the ranks.
So What's That's So Maven About?
Honestly? A whole lot of everything. Which is essentially what you've come to expect from the blog. I truly believe that health is about experiences and learning and trying out new ones. I don't believe there is one perfect version of "health", but rather a moving target where there is always room to be better or try something new.
The Healthy Maven has become a platform to share my journey, but there are so many stories out there that are worth being told. Maybe my path isn't inspirational or motivating to you, but perhaps I can introduce you to someone else's that may.
That's what That's So Maven is all about, experiences. But for clarity's sake, we'll focus on health, wellness and how to integrate both into your personal life and business endeavours.
How Does It Work?
Each week I'll introduce you to a new guest whose story I want to share. Some you'll recognize, some you won't. But all have an important message that I hope will be enlightening and inspiring.
Every Wednesday for the next 4 weeks you'll get a new interview. Because I want to make the show awesome for you, we're starting off small with a couple of guests I'm super excited to share. From there, I'll ask for your feedback on how to make the podcast better and which guests you want to see. Then we'll be back in the New Year with all of your feedback in place and guests lined up!
Join the THM TRIBE to get exclusive access to podcast interviews and early announcements on guests.
Where Do I Listen?
Good question! If you're familiar with podcasts, you can subscribe to That's So Maven on iTunes or Stitcher. If you're unfamiliar, you'll have to download the podcast app or stitcher app and then subscribe to That's So Maven within the app. If you guys use other podcasts apps let me know and I can definitely upload the file into the apps of your choice.
SUBSCRIBE on iTunes | Stitcher | Google Play
WHO'S THE FIRST GUEST?!
I'm SO excited to announce that the first guest on the pod is Andie Mitchell from AndieMitchell.com, Eating in the Middle (her cookbook) and It Was Me All Along (her memoir).
Andie is a New York Times Bestselling Author, blogger and recipe developer over on her blog. Her journey to lose 135lbs is what caught people's attention, but her infectious personality in sharing her journey through gaining, losing, gaining and maintaining is what has kept people coming back for years.
Andie and I talk about our addictive personalities and how it's translated on our blogs, our relationships with social media and how she finds balance in her day-to-day life.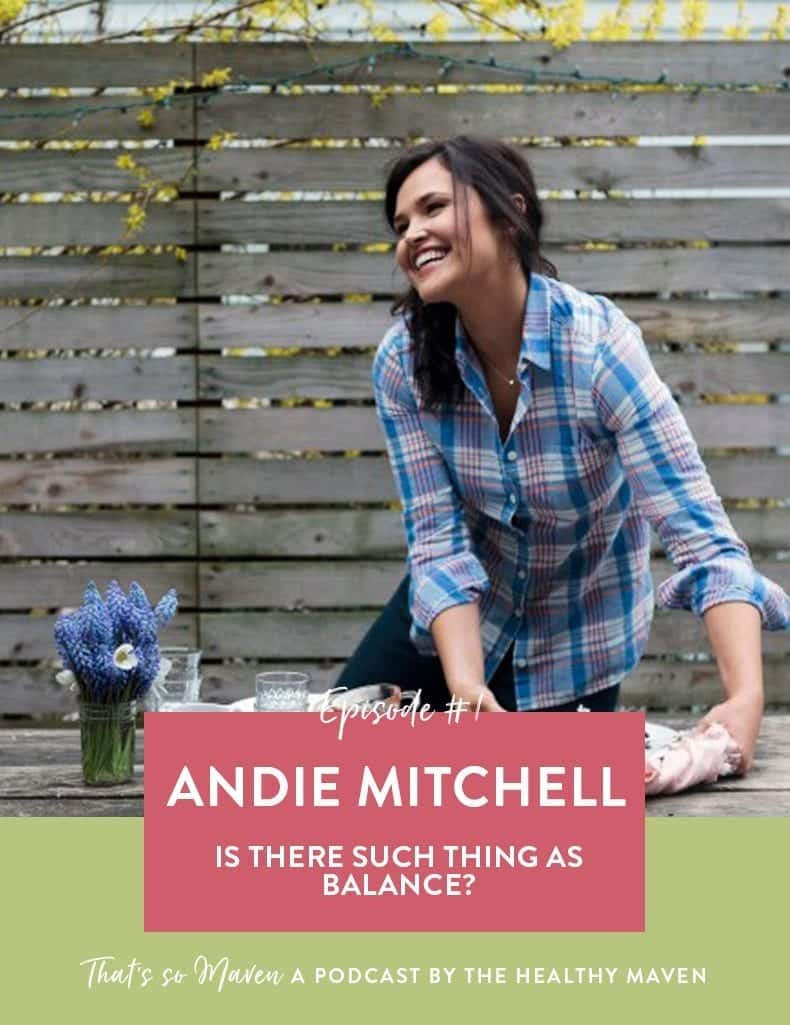 I couldn't think of a more awesome person to join me on the first show!
Stay tuned for more podcast updates and don't forget to SUBSCRIBE to That's So Maven. So excited to bring you along for the ride!
Would love to hear your suggestions for guests and what topics you want to learn more about on the show!
WANT MORE HEALTHY LIVING TIPS? Join the THM Community!
Join 10,000+ members of the THM Community to get access to exclusive info about healthy living, products I'm loving and tips and tricks on making a healthy lifestyle easier and sustainable.