I cannot even begin to explain my excitement when I heard a Barre3 studio was opening up in Toronto. My first experience with Barre was several years ago in Montreal and my Wednesday morning class became a staple in my routine.
For no reason, I didn't keep up with Barre when I moved to NYC and had almost completely forgotten about it by the time I moved back to Toronto. Then one day I woke up and decided I needed it in my life again. Cue Youtube, which is how I stumbled upon Sadie Lincoln and Barre3. For the past 6 months or so I've been doing the Barre3 online workouts to build strength for my injury-prone body.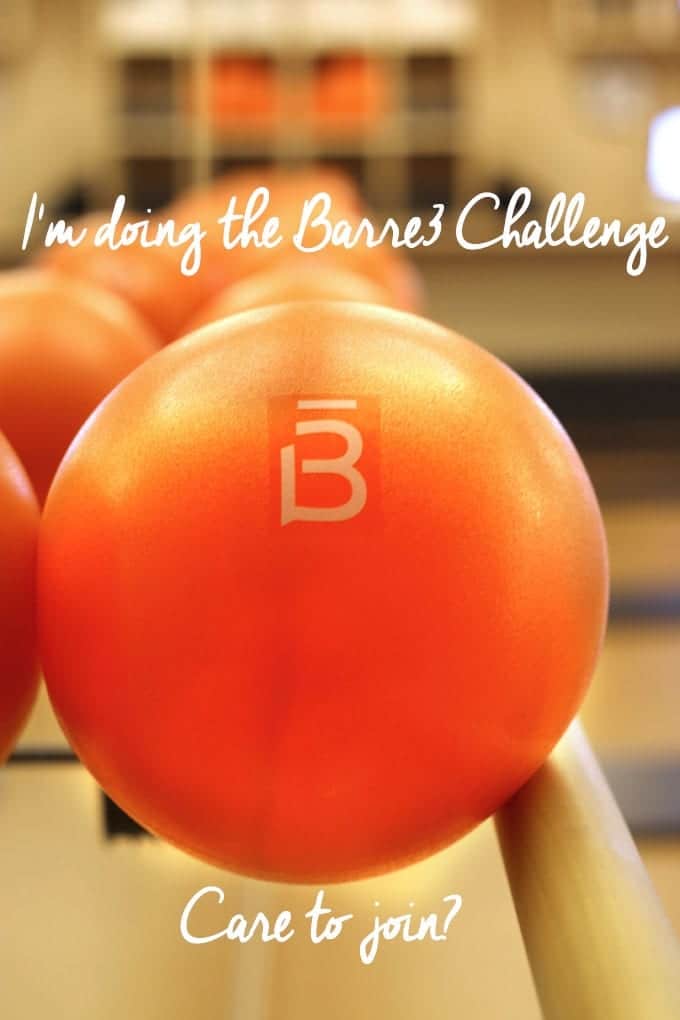 I should probably back up and explain to those who don't know what Barre is all about. Barre is a low-impact workout that incorporates elements of yoga and pilates mixed with ballet. Many of the moves are performed at a ballet barre to help with stability while you isolate smaller muscle groups. Other parts of the workout use small weights and a ball to really get those muscles firing. It may not sound tough, but I can assure you your legs and arms will be burning by the end.
Barre3 follows a 3 step formula (hence the "3") to ensure you get a full body and mind workout. And let me tell you, a workout you will get.
Barre3 has completely transformed the way I view exercise. I used to be a runner and weight-lifting junkie but I kept injuring myself. First my IT band, then my hip and then my back. Yoga has always helped to alleviate some of these symptoms, but because it doesn't focus on strengthening specific muscle groups it hasn't helped treat the problem at the core. A major issue for me was that I had developed an attitude where in my mind exercise required big moves and heavy weights.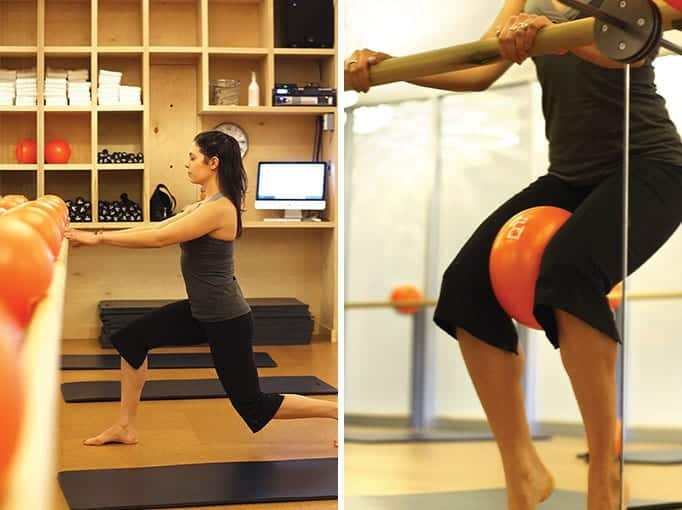 I know that some people think the opposite and especially that heavy weights will make them bulky. While I completely disagree with this notion, lifting large objects and doing endless burpees took a toll on my body to a point where it just didn't feel right anymore. I needed something that would help strengthen my core and glute muscles but was also low-impact and wouldn't exacerbate my back and leg issues.
Which is how I returned to the Barre. But of all the Barre classes I've taken, both in person and online none have compared to Barre3. Does this give you a better sense of my excitement when I heard Barre3 was opening in Toronto?
My expectations were blown out of the water after my first class at their King Street West location. The facilities are beautiful, the staff is so patient and encouraging and the workouts were not surprisingly, brutal and awesome.
They let me take in my camera one day so I could snap a few shots for you guys. Allow me to show you around…
This is the lobby where Aimee is manning the desk. She's the owner and is so sweet!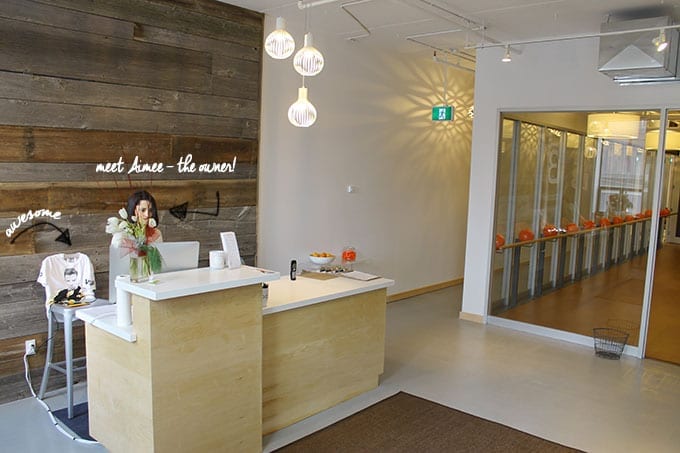 The studio can fit around 20 people which makes the classes feel more personal without stepping all over each other. All the equipment is there so you don't need to bring anything.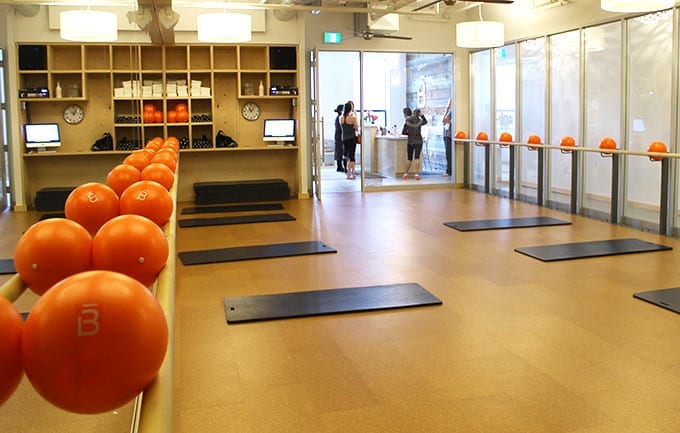 Selfie in the changeroom, which is equipped with all of the amenities you might need as well as a shower and personal changing rooms.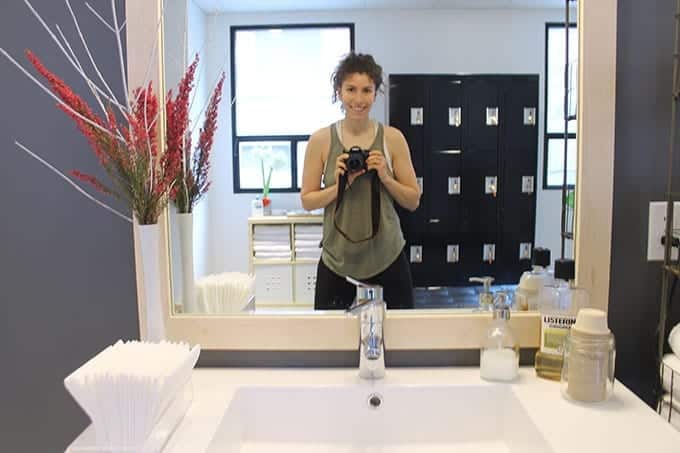 Now you guys know how I feel about going outside in the winter so my plan had been to keep up my online Barre workouts and yoga classes and go to the occasional in-studio Barre3 class, but I just couldn't turn down the opportunity to participate in the Barre3 challenge when I learned about it last week.
WHAT IS THE BARRE3 CHALLENGE?
The Barre3 challenge happens twice a year to reset and challenge your body to strengthen itself with Barre and healthy eating. Some people use it as an opportunity to lose weight, get a kickstart on their new years goals or just start off 2015 on the right foot. I'm not interested in losing weight but I've managed to find a workout that I really love and want to stick with it. They say it takes 21 days to form a habit so I'm golden if I keep up the Barre3 challenge for 28 days, right?
The Barre3 challenge is a 28 day commitment to exercise and nutrition. As part of the program, you make the promise to attend 4 in-studio classes, do one 10 minute online video and make 1 healthy recipe from the Barre3 nutrition guide each week. 5 workouts + a healthy meal? I got this.
The challenge kit comes with a tracking guide, a fab tote bag, a beautiful glass water bottle, access to the online workouts (which are awesome!), a meal-plan as well as a live Q&A with founder Sadie Lincoln.
So for the month of January I will be committing to the Barre3 challenge. Snow or shine I will be hitting the Barre and will hopefully come out the other side stronger and healthier than ever.
The Toronto location of Barre3 has been incredibly generous and offered to give 1 lucky THM reader a chance to win a Barre3 challenge kit of their own! In addition, they are gifting 5 free classes to my fellow Torontonians so they can hit the barre and try it for themselves.
All you need to do is enter below using the rafflecopter and I will announce the winner of the Barre3 challenge kit and five class passes on Friday January 2nd, just in time for the kickoff of the challenge on January 5th!
If you aren't in the Toronto area, I highly encourage you to see if there's a Barre3 location in your neck of the woods, and if not try out their online workouts. They are affordable, can be done anywhere and require very little equipment. They're also killer!
I'll keep you posted on how the challenge is going. I hope you'll join!
Disclaimer: I was gifted a free Barre3 Challenge kit however all opinions are entirely my own. I really love Barre3 and cannot wait to take on the challenge in January!
JOIN THE THM NEWSLETTER
Join 20,000+ members of the THM Community to get access to exclusive recipes, healthy lifestyle tips and behind-the-scenes news from our team!