Yoga mats can be a breeding ground for bacteria so keep yours clean with this DIY Yoga Mat Spray. Made from simple and natural ingredients like witch hazel, essential oils and water, this yoga mat cleaner is a no-brainer for any yogis looking to clean their mats regularly.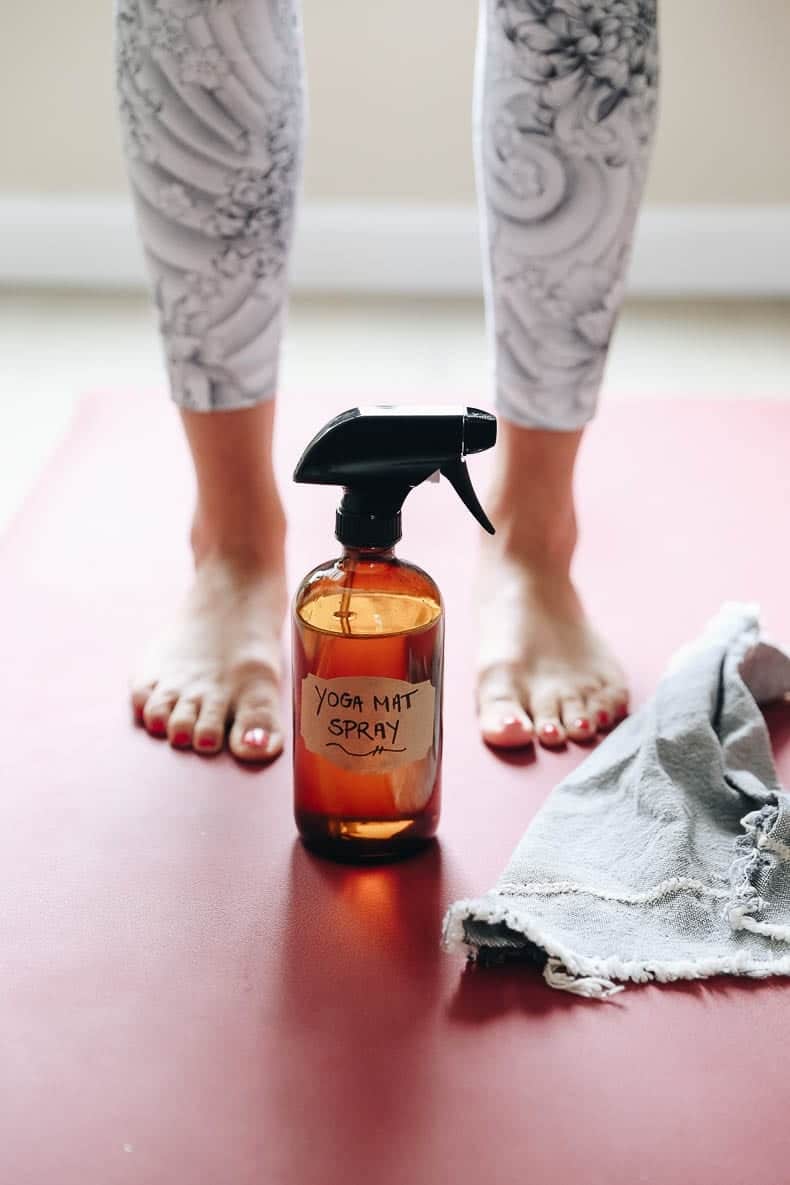 The other day as I was rolling out my yoga mat to do an at-home practice, C pointed out how dirty my yoga mat was looking. TBH I don't clean it at home nearly enough. When I'm in a studio, I almost always feel guilted when I see all the people around me being proactive and cleaning their mats, but at home not so much.
I also think it has to do with the availability of yoga mat cleaners. In a studio they're almost always readily available, but at home I end up resorted to my plant-based all-purpose cleaner which does the trick but doesn't get me particularly excited by cleaning it. I'm no Monica Geller so it takes a little motivation to get me excited about cleaning. It's kind of like new yoga clothes and working out. There's nothing like a new pair of workout pants to get you excited about a workout! The same applies for me and cleaning.
Why Use a Yoga Mat Spray
Think of your yoga mat like your exercise bike or your workout clothes… naturally as you workout, they get dirty! Some might start to stink, will look grimy or will just be covered in bacteria or germs that you can't see. This bacteria can build up in your mat so it's important to clean it regularly!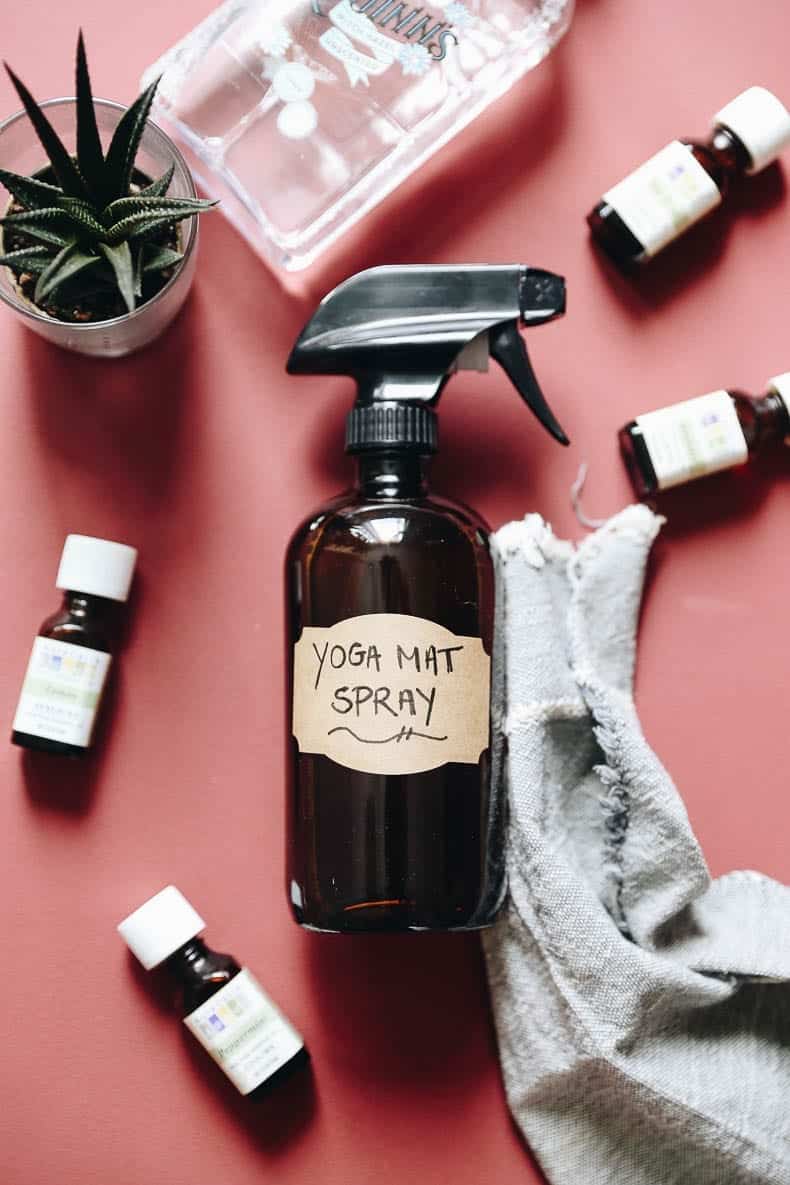 My favorite yoga studio in SF (The Pad Studios) has an incredible smelling yoga mat spray that I'm fairly certain they make themselves. It required me to do a little digging (aka I opened a bottle and put my nose in it) to figure out what combination went into their yoga mat spray and in the end I think I put together a similar result, with a Maven twist!
Homemade Yoga Mat Spray
Like most cleaning products, it was important to me that the combination be natural and made from plant-based ingredients. Especially since I'm putting my hands, my feet and sometimes my face directly onto it. My yoga mat and I have a pretty intimate relationship so just like my skincare products, I'd like for it to not be full of chemicals.
Making your own DIY yoga mat spray is actually easier than you think and only requires a few simple ingredients:
Witch Hazel – a special distilled herb that has antibacterial and antimicrobial properties (I like to use this alcohol-free version but it's totally up to you if you want alcohol-free)
Essential Oils –Peppermint, Lemon, Tea Tree and Lavender essential oils which help with both disinfecting and smell lovely!
Water – to dilute the witch hazel and essential oils and make the spray more long lasting
Spray bottle – I like these ones from Amazon. You just mix all your ingredients and shake. Then just spray on your mat as indicated below.
How to Use Your Yoga Mat Spray
Using a yoga mat spray is so simple! Just spray the mixture directly onto your yoga mat – I like to do a light even coating. You don't need to thoroughly coat or have puddles of cleaner! Use a clean towel to rub the spray in your yoga mat and wipe any excess away. Let your mat dry completely before using.
How Long Does it Last?
Because this is made with just witch hazel, essential oils and water, this yoga mat spray will last for years! If one batch is lasting you for years though, you're not using it enough!! Just saying…
Print
DIY Yoga Mat Spray
Author: Davida Lederle
Prep Time:

5 minutes

Cook Time:

0 minutes

Total Time:

5 minutes
Instructions
Add witch hazel to spray bottle and top with water until almost full.
Add in essential oils. If you prefer more fragrance, feel free to add more.
Shake and spray directly onto mat.
Wipe clean using a towel and leave out to dry completely.
Use after each yoga mat use or as desired.
Keywords: Yoga Mat Spray, Yoga Mat cleaner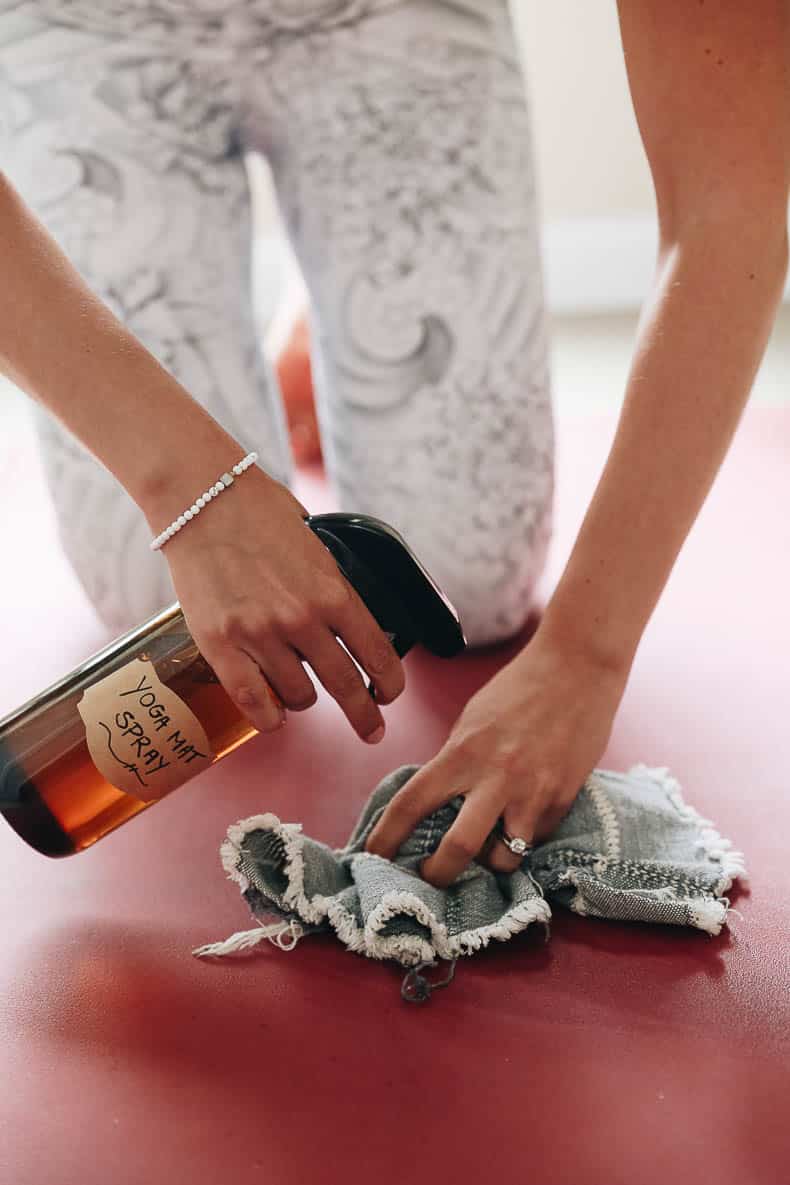 Interested in practicing more yoga? Check out these posts:
WANT MORE HEALTHY LIVING TIPS? Join the THM Community!
Join 10,000+ members of the THM Community to get access to exclusive info about healthy living, products I'm loving and tips and tricks on making a healthy lifestyle easier and sustainable.