Wondering how to make bath salts? This homemade bath salts recipe will help soothe sore muscles, moisturize skin and relax you into your next bath – with 4 different combinations to help you customize your bath salts blend to meet your needs.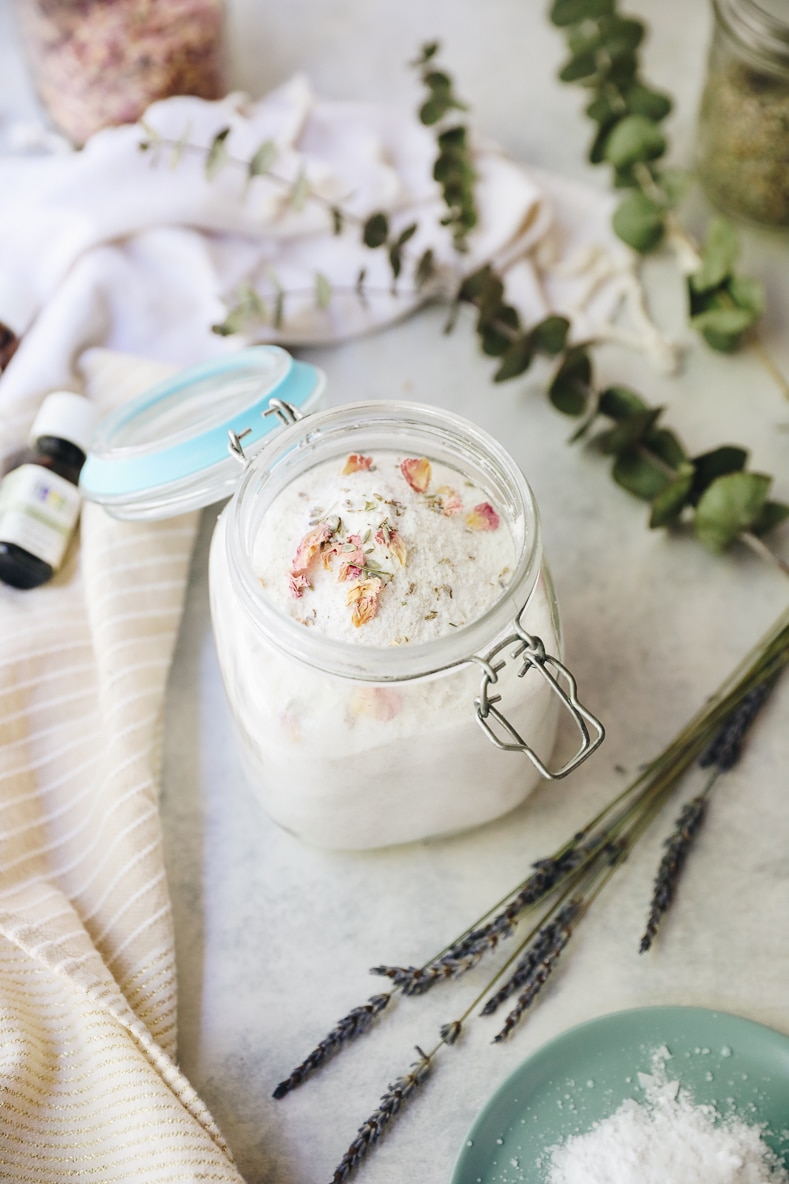 I have always been a bath person. Like most kids, my nights ended with a bath though unlike most kids, I LOVED it. I feel like most kids don't look forward to bath time but it was my favorite time of the day! This love affair has continued into adulthood where the highlight of most days for me is bath time. I know baths have kind of become the cliche for self-care but honestly, my nightly bath ritual is my self-care. I usually dump a bunch of bath salts into the bath, put on a face mask and read a book. It isn't fancy and it's never Instagrammable but it's relaxing, soothing and the perfect way to end my day. Baths are not for everyone, but for me they are everything.
If you're looking for a super easy and fun DIY project or hostess gift, homemade bath salts are the way to go. I'm even including a few different options so you can customize your own bath salts recipe. Trust me, you won't be going back to store-bought again.
What You Need To Make Bath Salts [Big Batch Recipe]
There are only 3 or 4 ingredients you need to make bath salts. I'm offering suggestions and variations below
4 cups epsom salts
40-60 drops of essential oils
optional (though recommended!): 4-6 tablespoons dried herbs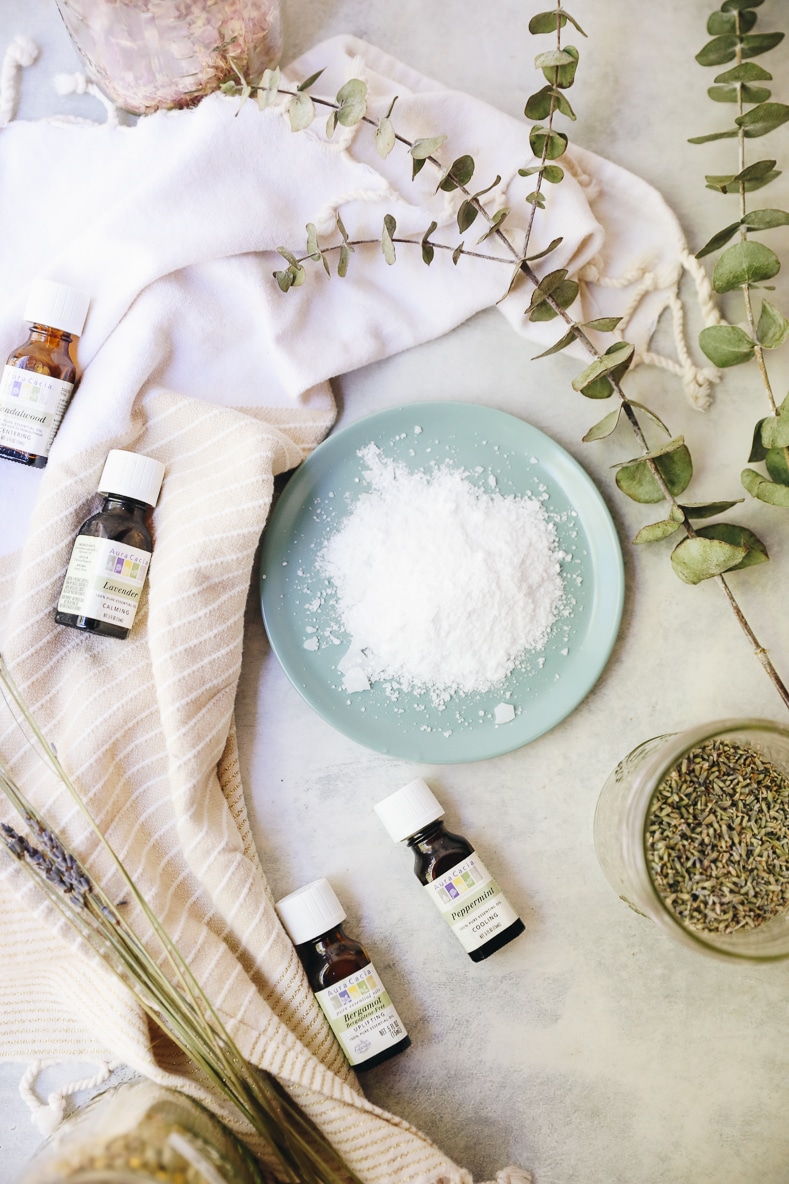 What are Epsom Salts?
Otherwise known as magnesium sulfate, epsom salts are probably the most famous aid in helping to relax sore muscles. Epsom salts work by releasing magnesium and sulfate into water (the warm water breaks it down) and helps to relieve muscle aches and pain. You can absolutely use epsom salts on their own, but combining them with sea salt and herbal remedies helps ramp up their effectiveness and make for a the ultimate calming bath experience.
Why Use Sea Salt in Bath Salts?
Believe it or not, there's no actual salt in epsom salts. As I mentioned epsom salts are actually a combination of magnesium and sulfate so for a double-whammy effect, this bath salts recipe uses both epsom salts and sea salt.
Sea salt's benefits depend on where the salt was sourced from. Dead Sea Salts, for example are believed to be some of the highest quality sea salt and are known to promote:
relaxation
sore muscle release
relief for certain skin conditions
Pink Himalayan Sea Salt is also known to help ease certain skin conditions and help the body detoxify.
I like a combination of both epsom salt and sea salt though you're welcome to sub one for the other.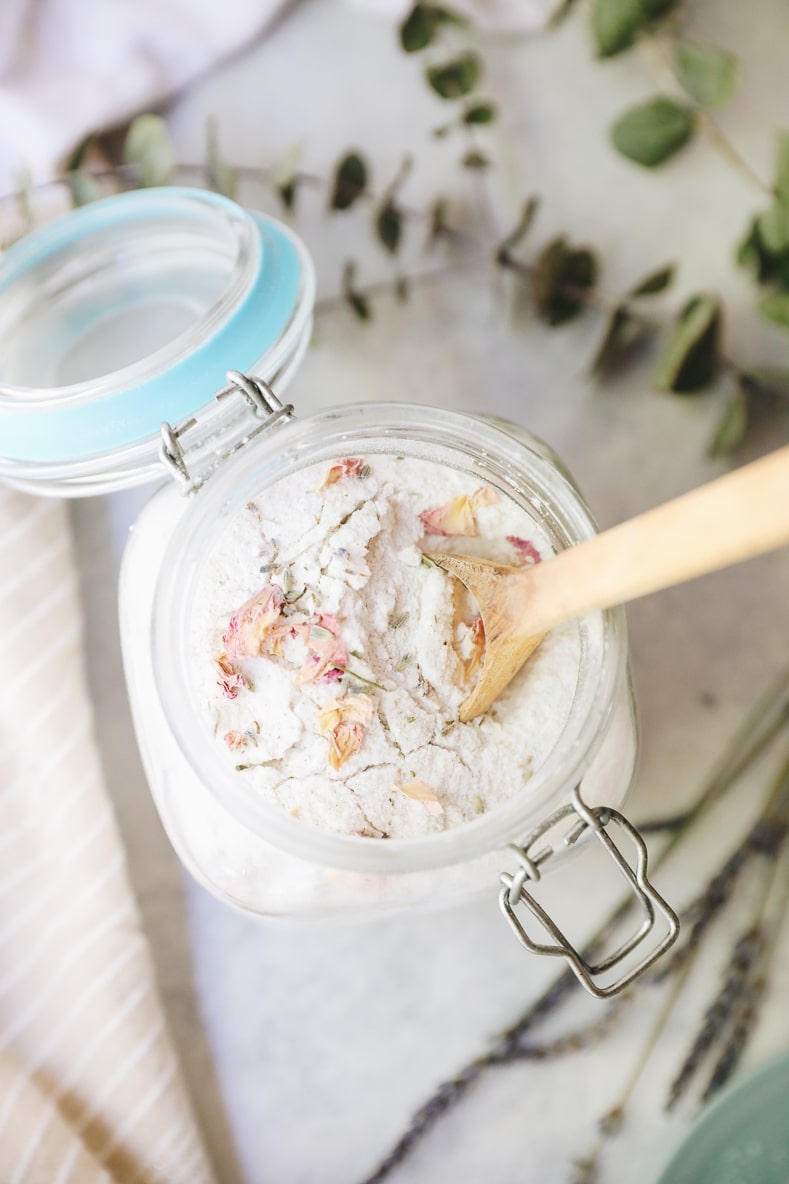 How to Make Bath Salts – 4 ways!
There are so many different versions of homemade bath salts that you can make but I thought I would share a few of my favorite versions. You'll notice I include both essential oils and dried herbs. After completing my herbalism certificate last year I am full force on the benefit of fresh and dried herbs. I know many of you only have access to essential oils, which you can totally use on their own but I'd encourage you to play around with herbs if you can. The potency is even more effective with dried herbs.
Sleepy Time Bath Salts Blend
Skin Food Bath Salts Blend
Relaxing Bath Salts Blend
Uplifting Bath Salts Blend
How Much Epsom Salt For Your Bath?
You'll want to add roughly 1/2-1 cup of bath salts to your bath to get the therapeutic effect. If you're just looking for the scent you can add less but to get the benefits of epsom salt and the essential oils, I'd recommend adding more. Soaking in the tub for at least 20 minutes will help you reap all of the bath salts benefits!
How Long Does Homemade Bath Salt Last?
If stored properly (I like storing in a glass jar with a tight fitting lid e.g. a mason jar), your diy bath salts will last indefinitely. Bath salts do not expire – just try to keep them from getting wet or exposed to too much sunlight. A cool, dark place (like a bathroom!) is a great place to store them.
I recommend using a spoon to scoop out your bath salts or pour directly from a mason jar to prevent getting any cross-contaminated fingers in there.
Quick Tip: Blend Your Herbs
One quick suggestion for you: for easy clean-up I highly recommend you pulse your herbs (I.e. lavender buds and rose petals) in your blender to break them down. Not only will this help release the essential oils from them, it will also make clean-up so much easier. While floating herbs may make your bath look pretty, they make cleaning your tub post-bath a total nightmare. Just give them a few pulses in your blender to break them down before mixing in with the rest of your ingredients. This will allow them to go down the drain with the rest of your bath salts.
If that's not your thing, I recommend keeping the herbs separate and creating little "tea bags" of herbs that you can throw in the bath and dispose of in your compost when your bath is done. I use these compostable tea bags.
Print
How To Make Bath Salts
Wondering how to make bath salts? This homemade bath salts recipe will help soothe sore muscles, moisturize skin and relax you into your next bath.
Author: Davida Lederle
Prep Time:

5 minutes

Cook Time:

0 minutes

Total Time:

5 minutes

Yield:

6

uses

1

x
4 cups

epsom salts

40

–

60

drops essential oil (to preference)

4

–

6

tbsp dried herbs (see suggestions above)*
Instructions
Combine all ingredients in a large bowl.
Be sure to break up any clumps that develop from essential oils.
Store in an airtight container, in a dark, cool place indefinitely.
For use: Add 1/2-1 cup of bath salts to your bath just before getting in.
*recommended to process or blend your dried herbs for easier bath clean-up.
Keywords: how to make bath salts, diy bath salts, bath salts, homemade bath salts, bath salts recipe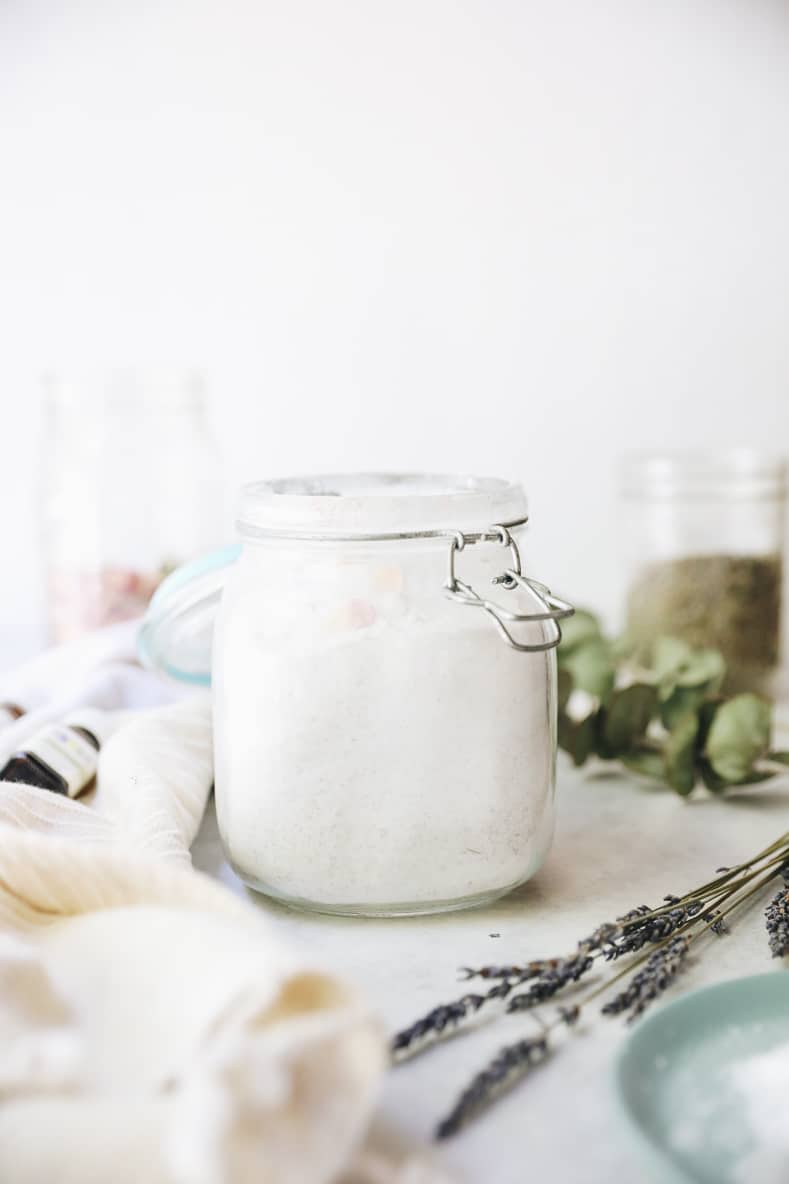 Like this post? Here are a few other DIYs you might enjoy: