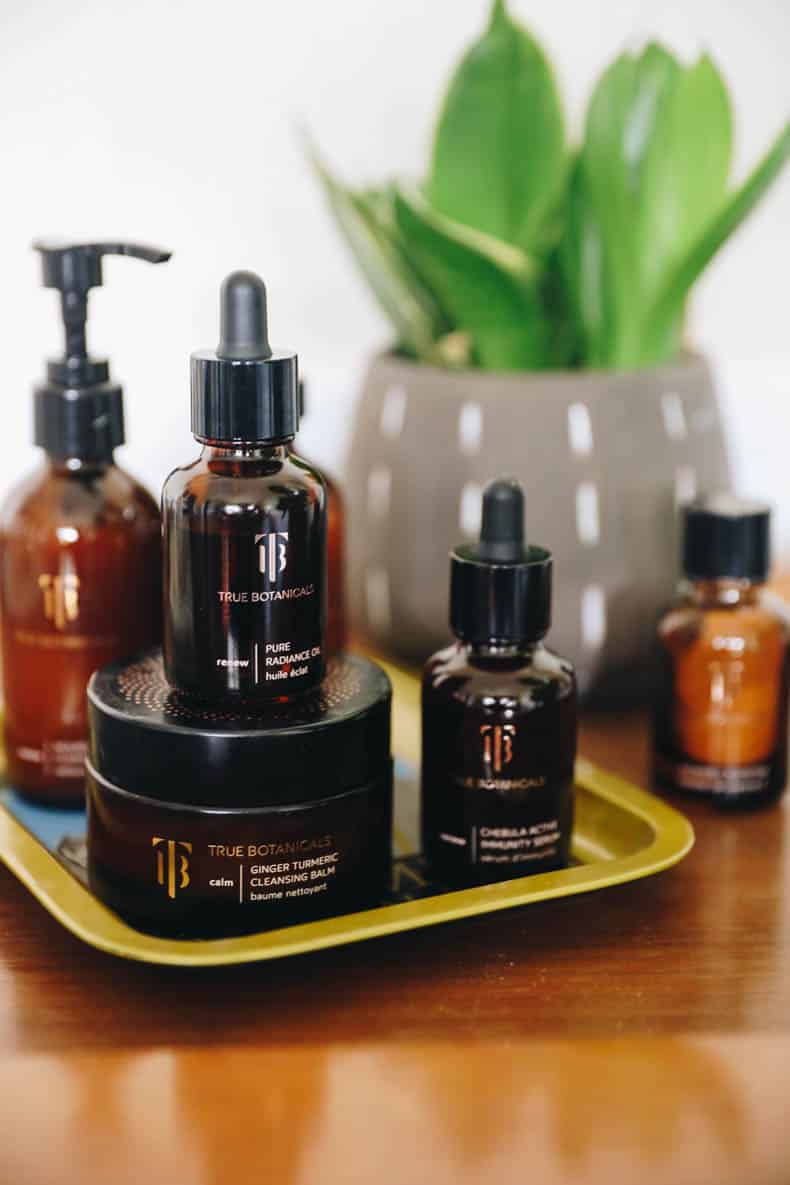 It's been a while since I've posted a clean beauty review. Between pregnancy and having a baby, skincare has taken a bit of a backseat so I haven't had much to update you on.
However, I recently saw that Credo started carrying True Botanicals and I knew I had to to give their products a try. True Botanicals has been on my radar for a while now but I just never got around to testing them out. Now that Credo is carrying them it felt like the sign I needed to do a skincare review.
In full discretion, I did reach out to Credo to send over some products of my choosing but I am not required or being paid to write this True Botanicals Review. Take that as you will but know that all opinions expressed are entirely my own.
With that, here's a breakdown of True Botanicals and my full True Botanical Review.
TLDR; I really enjoyed the True Botanicals line of products and would repurchase them again. As someone with an established skincare routine I wouldn't say it stood out against other high-end natural skincare lines but it definitely performed well and my skin looks great. Would recommend!
What is True Botanicals?
According to the True Botanicals website, "True Botanicals is a luxurious, consciously crafted skincare brand on a mission to deliver clean and sustainable products that are clinically proven to work at the highest standards.
True Botanicals is a luxurious, consciously crafted skincare brand on a mission to delivery clean and sustainable products that are clinically proven to work at the highest standards.
Their products are vegan, sustainably sourced and focused on plant extract ingredients that are both potent and effective for your skin.
True Botanicals was founded in 2014 after founder Hillary Peterson was diagnosed with thyroid cancer at the age of 32. A new mom to twins, Peterson began digging into the ingredients in her skincare products and was shocked to discover that many of them were full of toxins.
She sought out the best chemists and sustainability experts to create a line of clean skincare that was both safe and effective.
True Botanicals is also supported and financially backed by celebrities like Olivia Wilde and Laura Dern who have helped champion the brand and make it a household name.
The Ingredients
True Botanicals ingredients are focused on on plant-derived peptides and antioxidants that are both safe for our bodies as well as the environment.
All of their products carry the MADE SAFE® seal, the most comprehensive safety standard available, which certifies they are made without 6,500 toxic chemicals known to harm human and environmental health.
As a cruelty-free company, they are also Leaping Bunny and PETA certified, and their products are free of genetically modified organisms.
One of their primary ingredients is chebula, a fruit containing a broad spectrum of antioxidants and anti-inflammatory properties. See chebula serum and individual product reviews below.
Many of their products contain seed oils and essential fatty acids for hydration. They also use a range of vitamins like their vitamin c booster.
True Botanicals also strongly promotes research and clinical studies proving that their products are safe and effective. You can read more about it here.
Is True Botanicals Pregnancy + Nursing Safe?
Since I'm a nursing mom, it's important to me to know that my skincare products are safe for both pregnancy and breastfeeding.
Yes, all True Botanicals products are pregnancy-safe. To learn more check out this post on their pregnancy-safe product rituals, including their phyto-retinol vitamin A booster.
Before + After: True Botanicals Review
I tested out True Botanicals products for 6 weeks. I was originally going to post some before and after pictures but the truth is that you probably won't see any kind of difference.
I was already using effective, high-end skincare products so my before skin has been in pretty good shape for a while. That being said, I have found a real improvement in the texture of my skin and my skin is holding more moisture and just in general feels more hydrated.
Breakouts have been at a minimum but that could be because 1) my adult acne days seem to be behind me and 2) I'm still nursing so who knows what's going on with my hormones.
As for aging and wrinkles and fine lines, I personally don't notice a difference but that might be something that's better assessed in 10-15 years.
I opted to mainly try the Renew line since I'm more focused on anti-aging benefits than the Clear line designed for blemish-prone, sensitive skin.
With that, here are my individual product thoughts.
More Clean Beauty Reviews
True Botanicals Product Reviews