Looking to improve the texture of your skin, infuse essential fatty acids and generally take better care of your skin? Look no further than this list of the best body oils.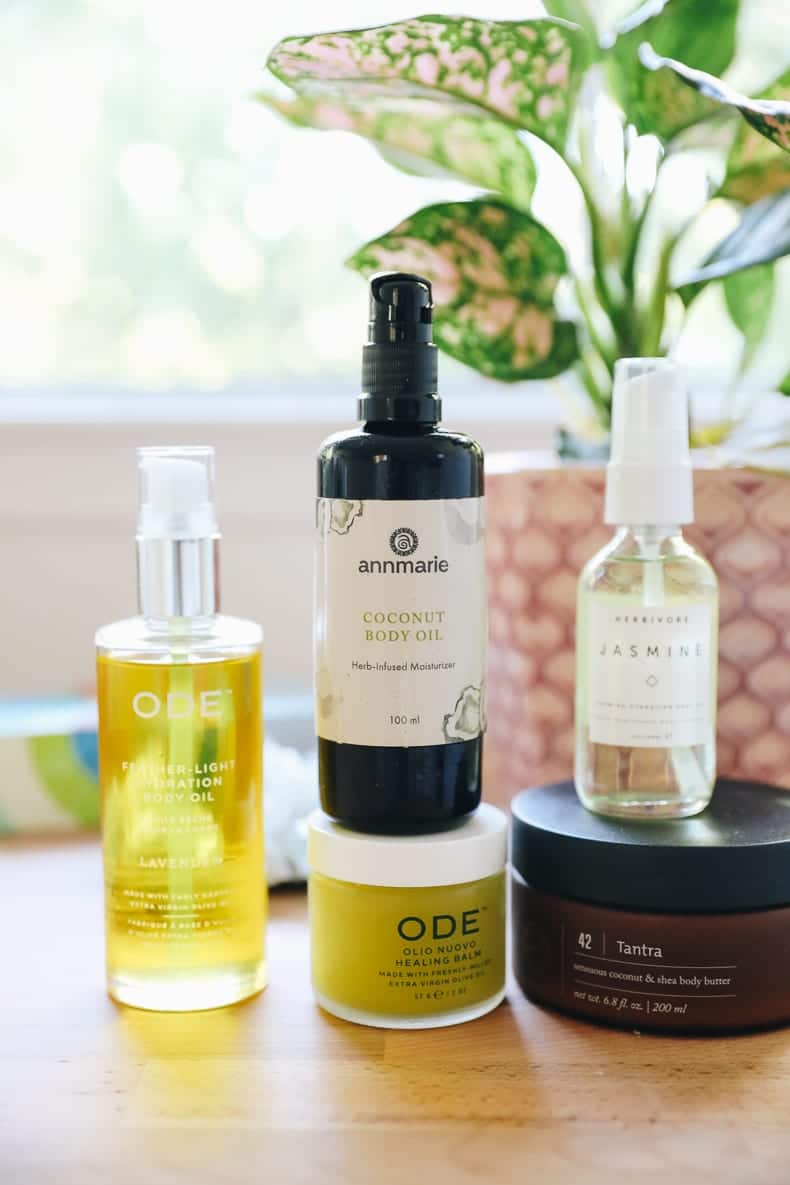 If you watch my empties videos on YouTube you know that one of the products I go through the fastest is natural body oils. That's because I use a ton of it every.single.day. during both my morning and nighttime routine.
If I don't use body oil after I shower I get super itchy and flakey. It's a life-long battle but thankfully body oil almost always does the trick! I asked you guys if you wanted to hear about my love of body oil and the best natural body oils and you guys gave me a resounding yes. So with that, my obsession with body oils is being put to good use…Let's chat!
Body Oil vs. Body Lotion
Let's break down the differences between body lotion and body oil… Lotion is made up of water, oil and an emollient to hold the mixture together. It's mostly water and because of that, it needs a preservative otherwise bacteria will grow in the water. Lotion penetrates the skin because of the water content.
Body oil on the other hand is just oil. No preservatives or emollients are needed so there are generally less ingredients in body oils. Body oil seals in the moisture already in your body rather than penetrating the skin. But not all body oils are created equal…a discussion on the best body oils below.
Looking for that shiny glow look? Body oil is probably your best bet!
Why use a body oil?
If you feel like you lather on lotion every night but you still have dry skin, it might be time to switch to a body oil. Like I said, lotion absorbs into the skin while body oil seals your skin and can help improve the natural barrier.
The best way to use a body oil is to apply it on damp/wet skin. The body oil will lock in the moisture layer that is already on your skin.
Ingredients to Look For
Not all body oils are created equal, however they're generally more effective than body lotions (as discussed above). Some oil formulas are better than others so we're listing some of the best body oil ingredients that provide nourishment and antioxidants for your pores:
Almond Oil – Almond oil is an amazing oil for the skin (and scalp!) It helps prevent water loss from the skin and is extremely hydrating. It's packed with vitamin E which can help protect the skin from sun damage, aging, and stretch marks. It is also sometimes called sweet almond oil. (Source)
Evening Primose Oil – Helps to balance fatty acids on your skin and is super moisturizing. More often than not, I see evening primose oil in face oils but it is a great ingredient for body oil as well. Some have reported mild irritation with this oil so it's recommended to spot test before coating your whole body! (Source)
Sunflower Oil – Sunflower oil is also packed with vitamin E. Studies have shown that it helps maintain the skin's barrier and can help heal wounds and scars. Look for organic, cold-pressed oil if you can! (Source)
Grapeseed Oil – The base of my current favorite body oil. Grapeseed oil can help improve your elasticity, even out skin tone and can protect your skin from sun damage. Again, packed with vitamin E (seeing a theme here?!) and vitamin C to protect your skin. It's also super lightweight. (Source)
Jojoba Oil – Jojoba oil is a super common oil used in both facial and body oils. It promotes wound healing and can help with different skin issues like dryness and itching. A great option for sensitive skin types. (Source)
You also can't go wrong with coconut oil! It can just be a tad greasy so try not to overdo it.
*****
Now onto the best body oils! Team Maven has tried and vetted all of these products – they are probably some of the best natural body oils on the market including many of the ingredients listed above. Here are our favorite scents and blends.
Like this post? Here are a few others you might enjoy: