It's that time of year again! The official Credo Beauty sale where the best clean beauty brands are 20% off!
So of course I had to stop in and share the best clean beauty brands and clean beauty products so you can stock up on the best of clean beauty this year. It ends this Monday October 23rd at midnight so now.is.the.time. Also FREE SHIPPING!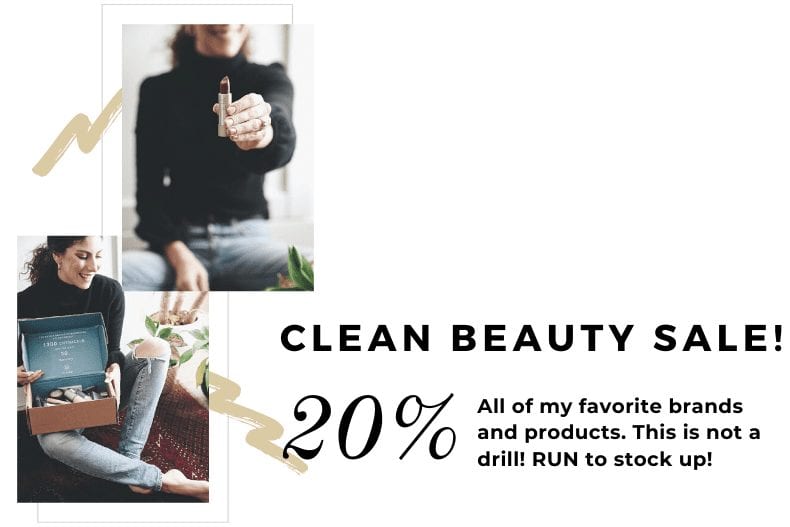 What is Credo Beauty?
Since living in San Francisco, I've been a Credo Beauty addict and I think I forget that not everyone knows what Credo Beauty is. Credo is a marketplace to buy clean beauty brands and products. Similar to Sephora except they ONLY carry clean beauty. That means that everything you buy there you can be certain is free of harmful ingredients.
They have several locations in the country (including San Francisco), however they also ship all across the US so don't worry if they don't have a location close to you.
Once a year they have an annual sale where EVERYTHING is 20% off! This is the only sale they have all year so I always take it as an opportunity to stock up on some of my clean beauty products and favorite brands. If you're looking to try out new products or switch to clean beauty this is THE time to buy.
Clean Beauty Products to Stock Up On
I am always looking for new clean beauty products to try and test (from Credo or not) but every year when Credo announces its annual sale I take it as an opportunity to stock up on my favorite products.
ILIA Super Serum Skin Tint – This stuff is liquid gold. The perfect tinted SPF that adds a nice moisture barrier during the cold winter months.
Kosas Airbrow – my makeup routine is pretty minimal these days thanks to the babe so combining a brow gel and tint in one has been critical. I use the shade Medium Brown.
Tower28 Make Waves Mascara – while I LOVE the ILIA Limitless Lash Mascara I recently have gotten into Tower28's Make Waves Mascara and honestly it's incredible. No flaking either!
Evolve Gentle Cleansing Melt – Of all the cleansing balms I use (and there's a lot!) this one is my favorite. I also find it's slightly more affordable than other brands.
Evolve Hyaluronic Serum – I had to replace my beloved Marie Veronique Retinol Serum when I found out I was pregnant (and then nursing) but I have been absolutely loving this hyaluronic serum and my skin does too!
Evolve Multi Peptide 360 Moisture Cream – I got hooked on this brand last winter when the harsh Minnesota weather dried out my skin. I cannot live without this stuff now.
Evolve Bio-Retinol Gold Mask – Clearly I'm having a love affair with Evolve Skincare. This is pretty much the only face mask I'm using these days.
Goop G.Tox Scalp Scrub – I wanted to hate this stuff (because goop…and expensive) but man is it good! If you tend to get a lot of product build-up in your hair this scalp scrub is a godsend.
Lolavie Intensive Repair Hair Mask – My go-to hair mask as of late. I find it deeply restorative and keeps my hair soft – especially after the harshness of winter!
OSEA Undaria Body Oil – my go-to body oil these days. I apply each night after my bath.
Bloomeffects Royal Tulip Vitamin C Facial Oil – Okay I know this one is kind of expensive, but hear me out, it's SO good! I find you could even get away with not using a serum because this facial oil is so potent!
New Clean Beauty Products I Ordered
I normally use the Credo Sale to stock up on my favorites but I also try to order a couple new products that I've been hearing about or are curious to try. Not too many this year but who knows, maybe they'll end up on my yearly favorites round-up in a few months!
Youthforia BYO Blush Oil – I'm a sucker for a cream blush and this one looks really interesting to me!
OSEA Vagus Nerve Bath Oil – Am I getting suckered in by the branding? Possibly. But as a nightly bath taker who also loves OSEA products I am curious to see if this bath oil actually helps me to relax.
Kosas Brow Pop Nano Ultra-Fine Detailing Pencil – I love the Kosas airbrow, which makes for easy brow fill-in on busy workdays. But for fancier events where I want something more detailed I'm excited to try this!
I think that's it! Not too many new-to-me products to try but mainly because I'm stocking up on my favorites that I know are great.

The Best Clean Beauty Brands
"What are the best clean beauty brands on the market?" I get this question all the time and I wish I had a solid answer for all of you. Like conventional beauty there are SO many clean beauty brands out there each with its own ethos, product range and benefits. Every single day this number increases.
This list is by no means exhaustive but hopefully it's a start as you look for the best clean beauty brands to try.
Makeup Brands:
Tower28 -Their lip glosses are incredible and their cream blushes and bronzer are hard to beat!
Kosas – They make both makeup and body/skincare. I personally am a fan of their makeup, their brow gel, lip balm, and setting powder are fantastic.
Han Skincare + Cosmetics – Han Skincare and Cosmetics makes great pressed products at an affordable price point. They have fewer products in their range but what they do have is great. I particularly love their bronzer and blush.
ILIA – I have a love-hate relationship with ILIA (mostly love!). The products they do well are some of the best on the market (lipstick, mascara, blush) and then they have others that just aren't my favorite. Luckily they're awesome with product feedback and usually come back with an even better formulation.
RMS – an OG in the makeup space, RMS has been around for a while and has definitely made their mark. I would consider this more of the Glossier of clean beauty. If you're looking for that effortless, no-makeup makeup look, you will love RMS.
W3ll People – what makes W3ll People great is their affordability and accessibility (they're available at everyone from Credo to Target). Admittedly not the cleanest on the market but they're reliable and I love their concealer so much.
Skincare Brands:
True Botanicals – exclusive to Credo! I recently did a skincare review and really enjoyed a lot of their products.
Evolve Organic Beauty – Clearly I'm a lover of all things Evolve because I have four products on my repurchase list. I find this brand to be effective and not break-the-bank crazy! Definitely a good place to start if you're looking to get into Clean Beauty.
Indie Lee – I truly believe Indie Lee is one the best bangs for your buck. Their products are high quality but don't break the bank. Their squalane oil is a great starter oil for anyone looking to moisturize with oils.
Marie Veronique – expensive but worth every penny. Marie Veronique's products combine natural and synthetic ingredients that are safe for your body and exceptionally effective. I'm particularly impressed with their serums that are astoundingly good and especially their gentle retinol.
Herbivore Botanicals – I'm obsessed with their Blue Tansy mask and their bath and bodycare products are SO good and luxurious. Admittedly I'm not as into their facial oils but overall a great brand.
Josh Rosebrook – It's hard to beat the ingredients in Josh Rosebrook products. I've yet to be disappointed by anything they carry but am particularly obsessed with their nutrient day cream.
Juice Beauty – their line of products is so comprehensive that there is pretty much something for everyone. From oil-free to organic facial oils there is something for everyone to enjoy. They also have makeup too though I tend to prefer their skincare products.
Tata Harper – The clean beauty OG, Tata Harper has been around for a long time and its customers are loyal. Full transparency: I don't really use their products because even for me I think they're insanely expensive. I'd love to try out more of their product line but even a 20% discount makes it hard to justify though the people who love, LOVE IT.
*note: this list only includes the clean beauty brands sold at Credo since it's their 20% off sale. For a full look at the products I love check out the Green Beauty Shop where I curate all my favorite products.
HAPPY SHOPPING!