Looking to learn how to make bar soap? It's easier than you think! In this step-by-step guide I'll show you how to make homemade bar soap using simple melt and pour soap and ingredients that benefit all skin types but especially sensitive skin!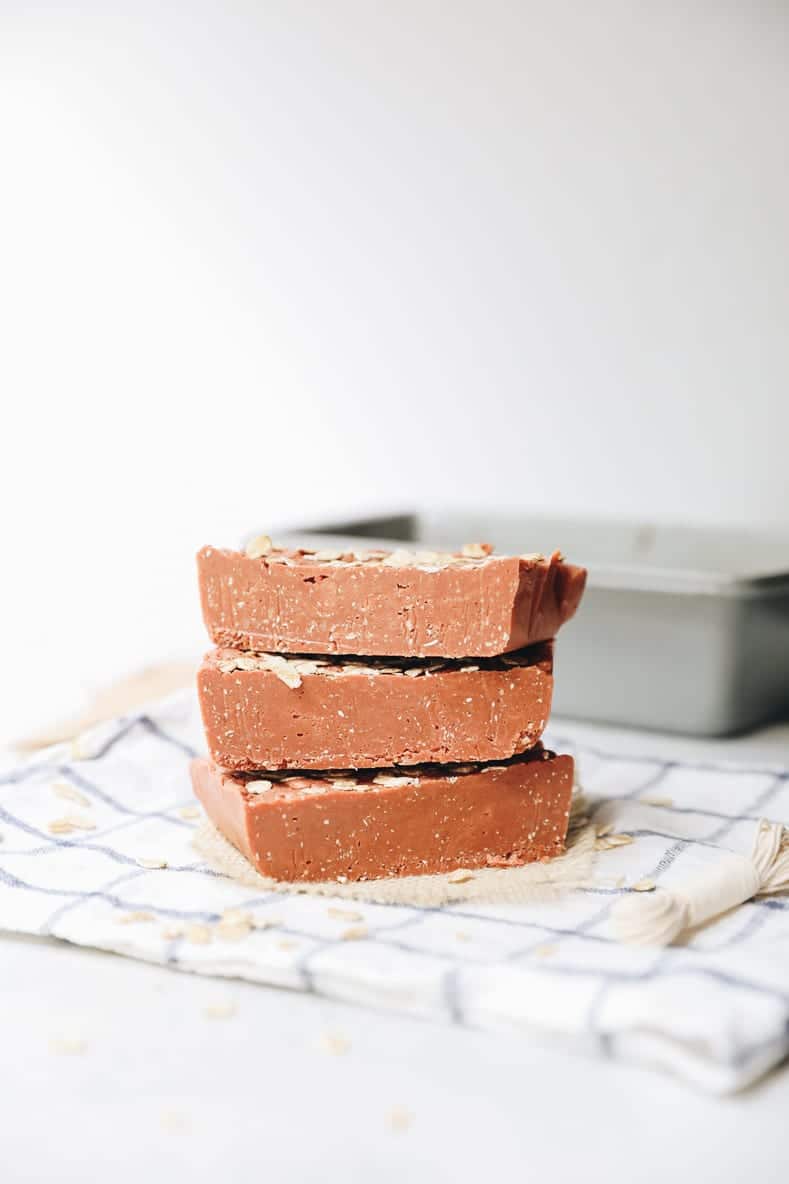 Now I'm not gonna lie, for most of my life I used a liquid body wash, but as you guys know I've spent the last several years trying (emphasis on trying!) to make more sustainable choices and one of those simple swaps was to switch from liquid body wash to bar soap.
I actually got into soapmaking a few years ago as a budget saving activity and creative outlet. Some of you may remember that Lee and I used to run a DIY blog called SHEuncovered (RIP!) and I shared many a bar soap recipes over there. Because despite common beliefs, homemade soap is actually VERY easy! That's because of one key ingredient: melt and pour soap.
Easy Hack= Melt + Pour Soap
While I love the idea of soap-making from scratch, I'm also completely intimidated by it. From what I understand, to make soap from scratch it requires a chemical reaction using lye. Now I don't believe it's actually all that hard, anything requiring me to wear safety goggles and rubber gloves is just not my jam. I prefer to use the easier option of melt and pour soap as my soap base.
What is melt + pour soap? It's basically soap that has already been premixed and hardened into a block. Of course, you can use it as is but it can also be melted back down and ingredients added to it to make the soap mix you desire. In this case we added ingredients that are nourishing and moisturizing for a sensitive skin..
There are MANY types of melt + pour soap. Some things to look out for:
Make sure it is free of parabens, preservatives, and PEG
SLS free IF you have sensitive skin (it's a known skin irritant)
NO added coloring
Added fragrance oil (essential oils CAN be fine but some people with sensitive skin may still react to their scents).
For sensitive skin look for products with:
shea butter
goat's milk
cocoa butter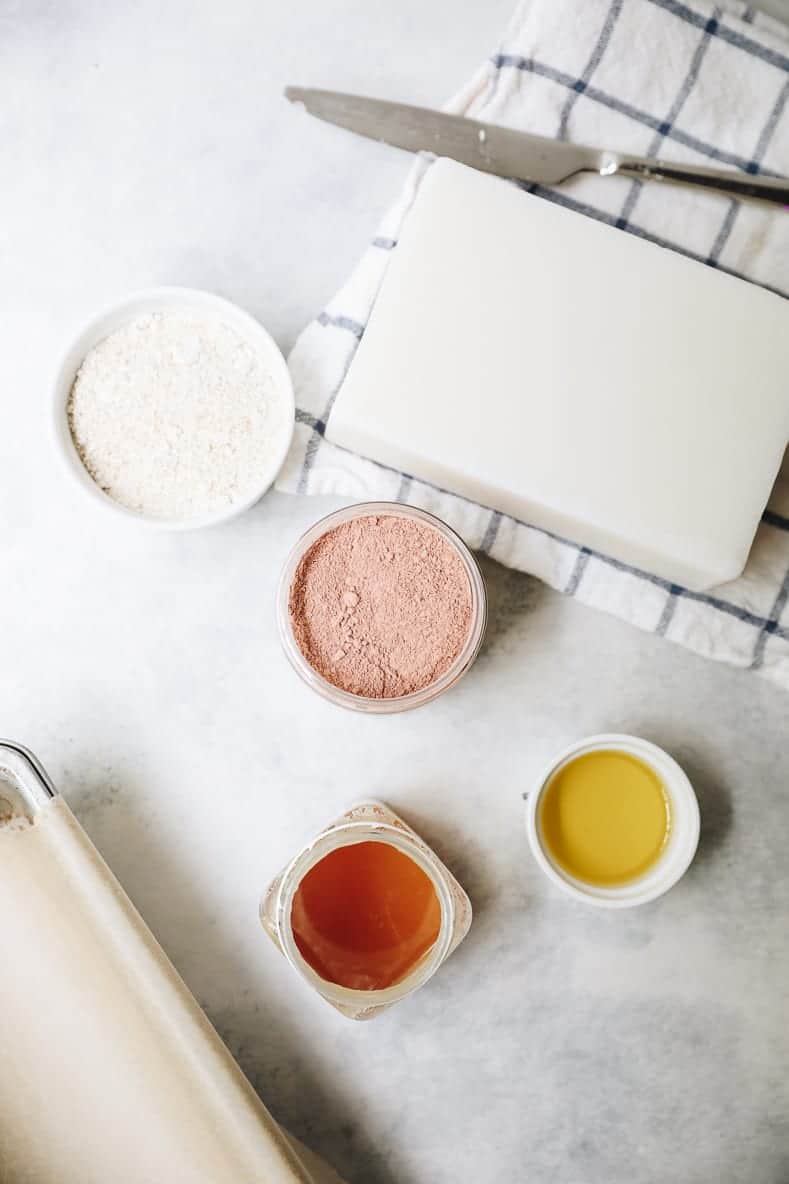 What You Need to Make Bar Soap
So let's chat about what you need to make this homemade bar soap:
The process is slightly easier with a soap mold (typically a silicone mold), but I lost mine somewhere in the move and a loaf pan will do just fine. Line it with parchment paper to prevent sticking.
How to Make Bar Soap [Step-By-Step]
For those of you who have never made your own soap before, I am going to walk you through the process. I promise it is easier than you think!
STEP 1: PREP INGREDIENTS
Gather and measure out all of your ingredients. Cut your melt + pour soap into small cubes (recipe calls for 1 lb which is half of a traditional 2 lb block). No need to measure, just estimate half. If you don't have a silicone soap mold, line a loaf pan with parchment paper.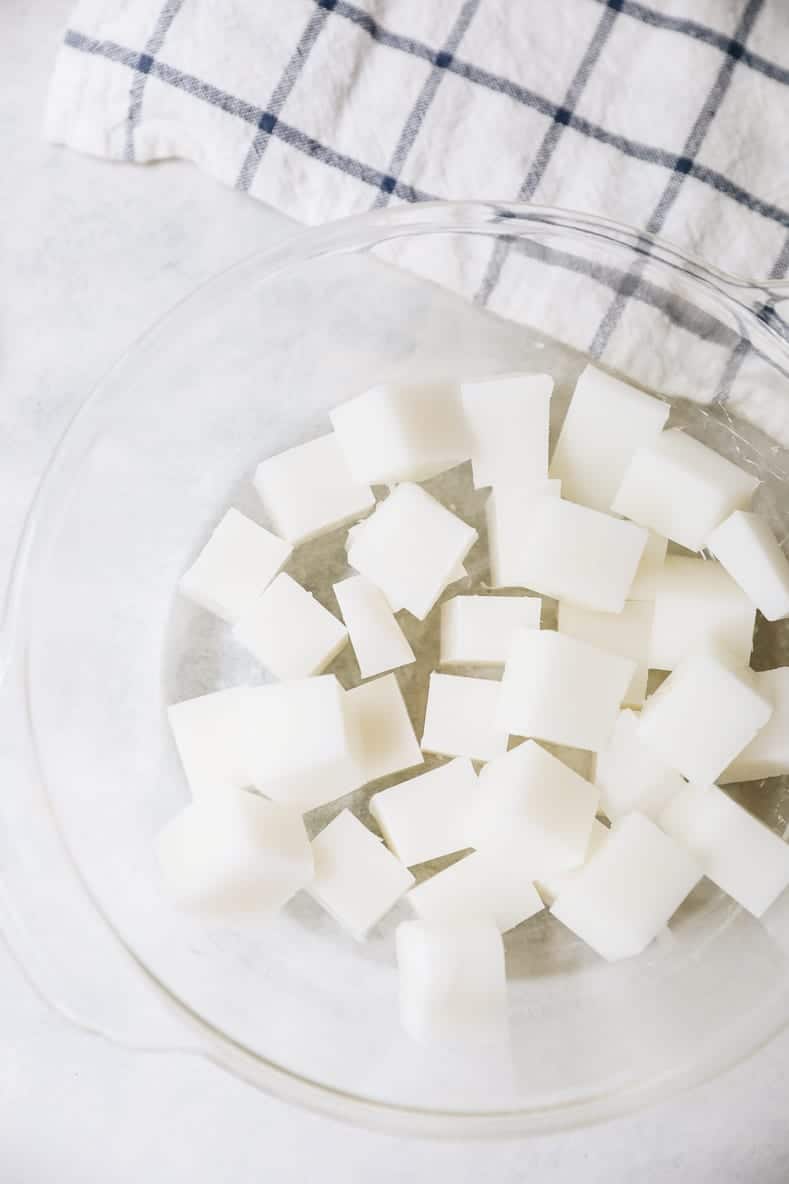 STEP 2: MELT SOAP
Melt your soap in the microwave in 30 second intervals, stirring in between OR make a double boiler in a pot on the stove top. I use the double boiler method and it will take about 10 minutes for your soap to melt. It is much faster in the microwave but make sure you don't burn it.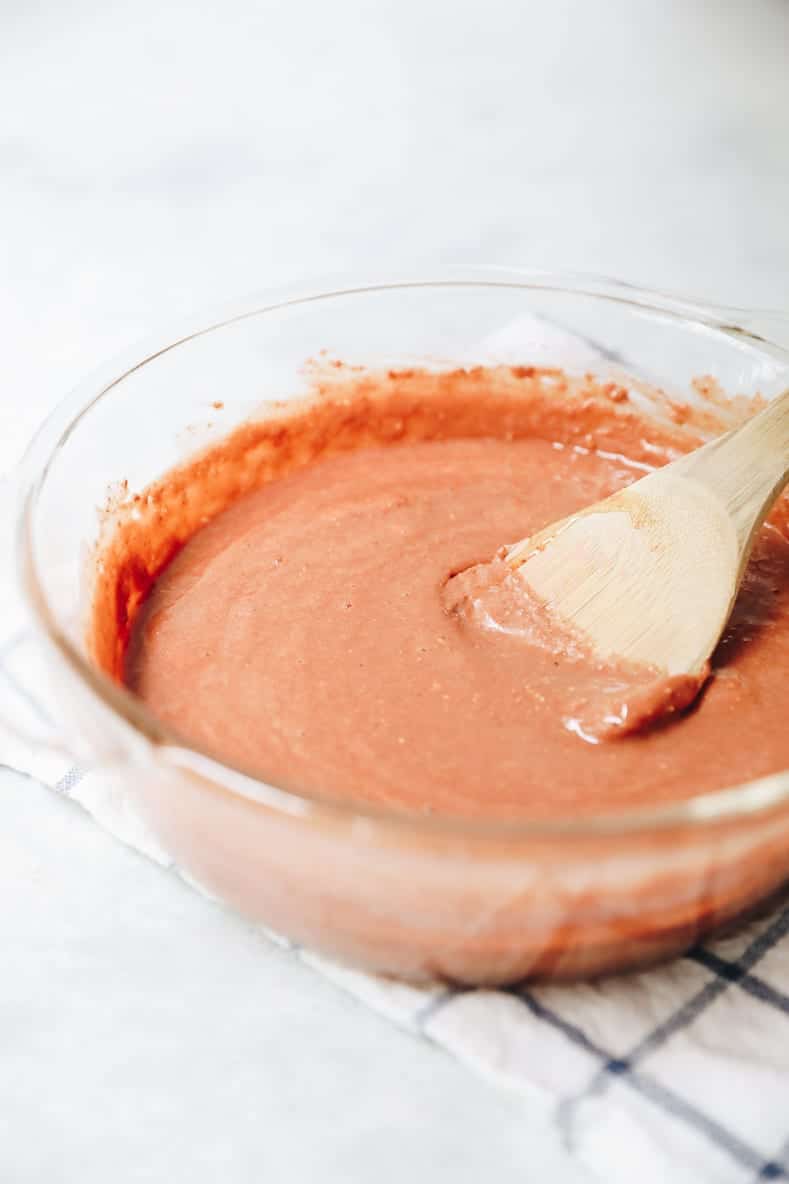 STEP 3: STIR IN ALL INGREDIENTS
Once soap is fully melted, stir in all of the ingredients (oats, clay, honey and jojoba oil) and mix with a spoon or spatula until soap mixture is well combined.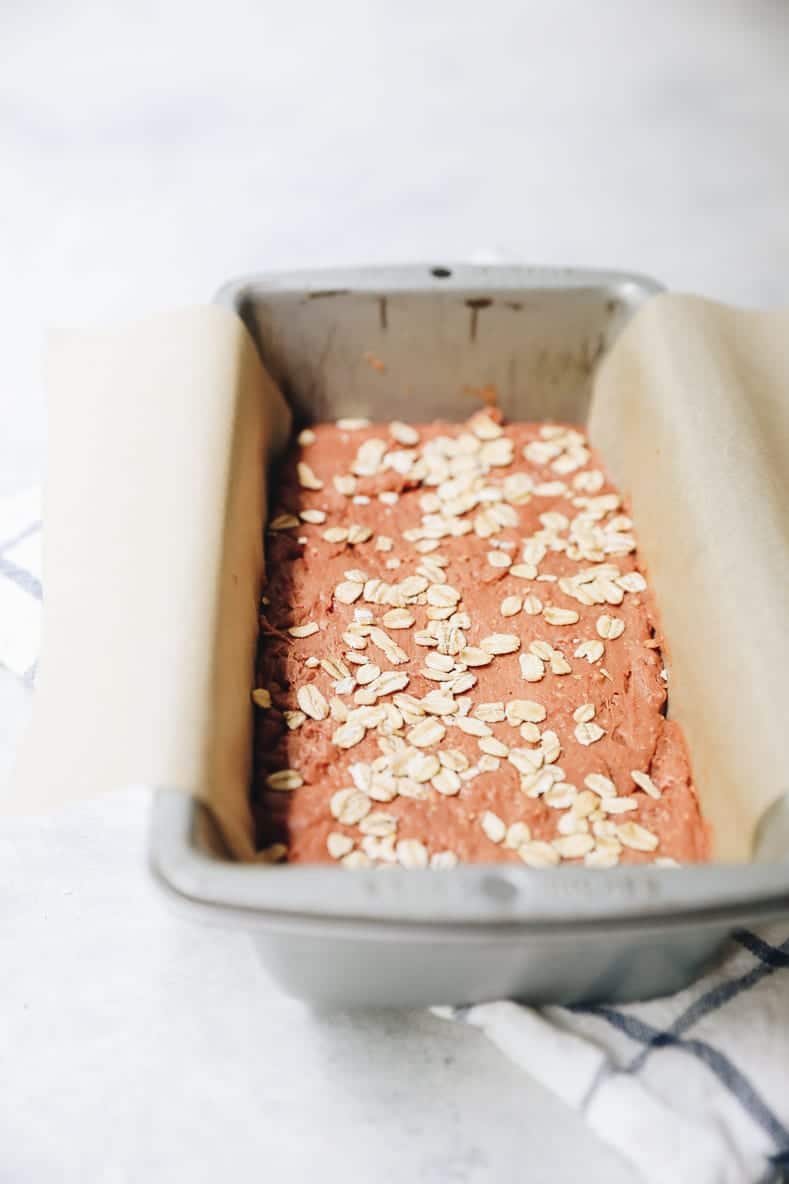 STEP 4: POUR INTO MOLD
Pour your soap batter into your mold and smack against the counter a couple times to release any air bubbles. Top with rolled oats, if personal preference. Allow to sit for a few hours to harden (or place in the refrigerator for 1 hour if in a rush).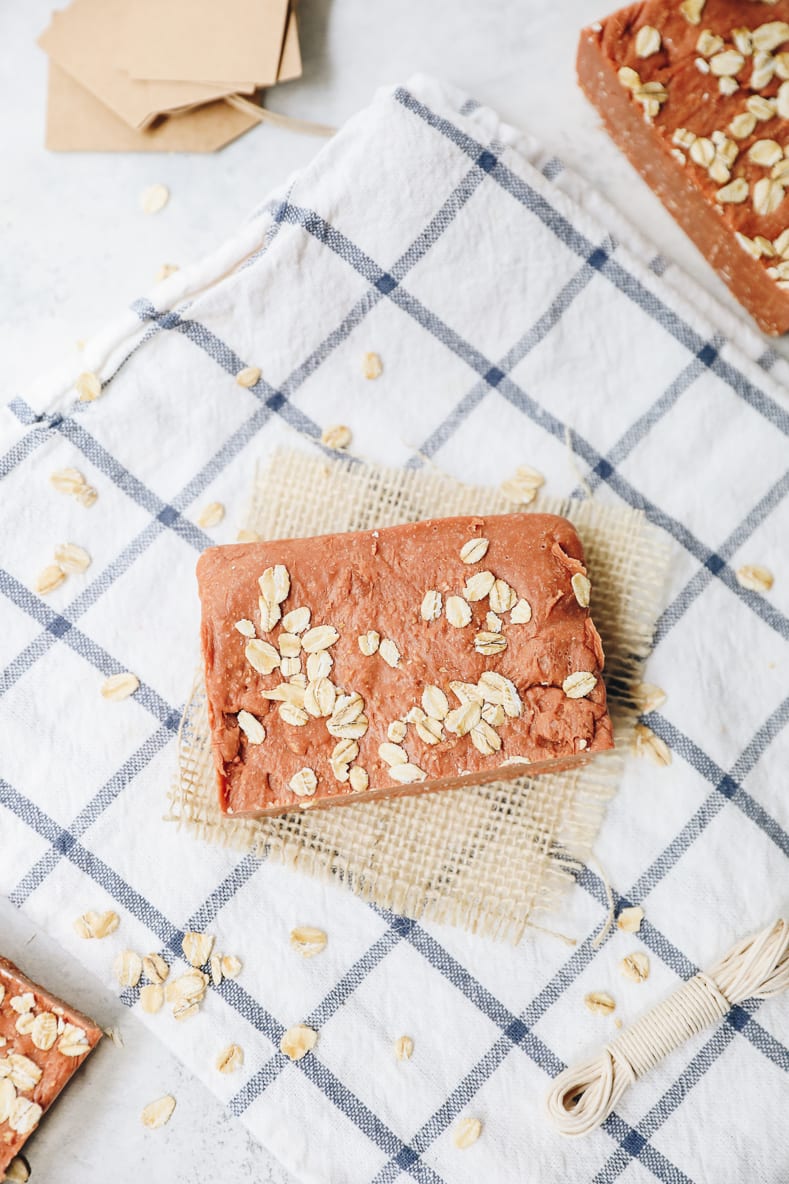 STEP 5: CUT INTO PIECES
Cut your soap into desired pieces. A soap mold can usually do about 6-8 small pieces or in a loaf pan you can usually get about 3-4 bigger pieces. Store your soap in a paper bag in a dark place indefinitely. They will not go bad.
How Long Does This Bar Soap Last?
1 bar of soap will usually last several months for us (for 2 people in the shower) so this recipe can honestly make enough bar soap for at least a year.
Is This Soap Antibacterial?
Yes, this soap is antibacterial (if using the recommended melt and pour soap) though the CDC is still recommending liquid pump soap for washing your hands. Keep this bar soap in the shower and lather your body in place of liquid body wash.
Hopefully this can show you that making homemade bar soap is not that hard and can be both customizable and economical! Let me know when your make your first batch!
More Homemade DIYs You Might Enjoy:
Print
How To Make Bar Soap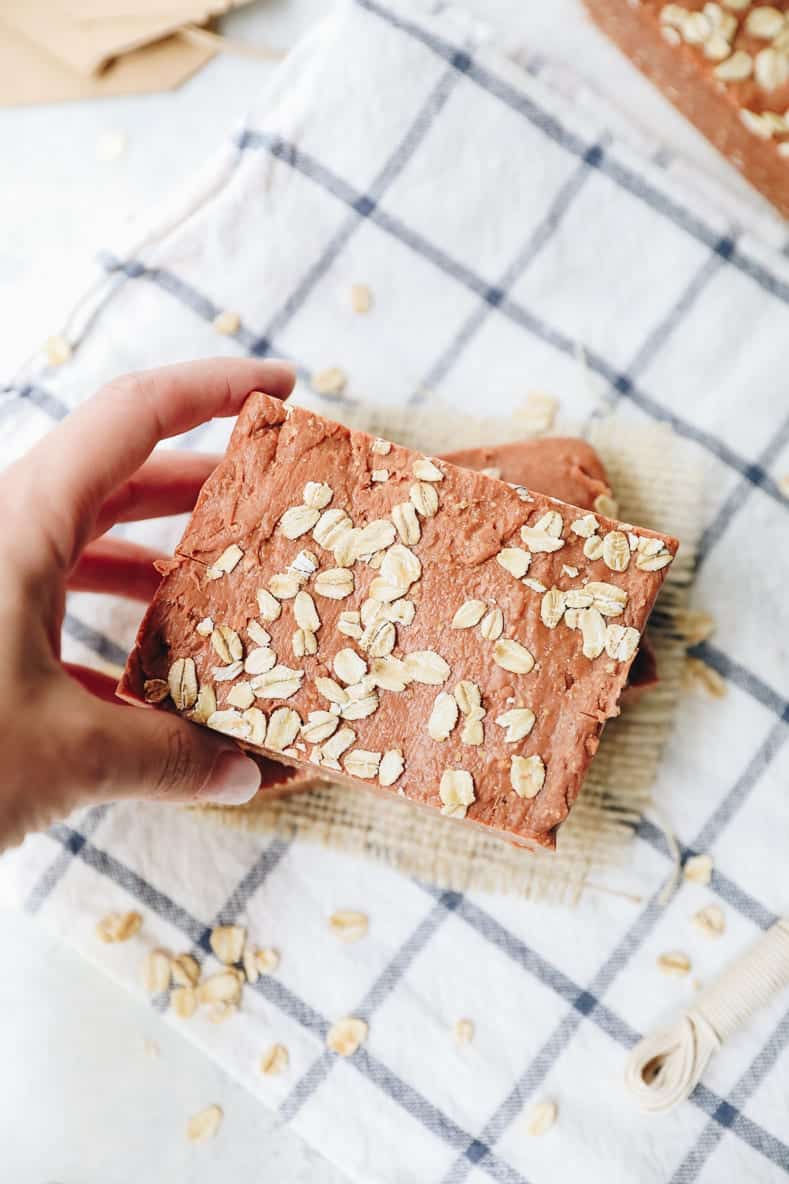 JOIN THE THM NEWSLETTER
Join 20,000+ members of the THM Community to get access to exclusive recipes, healthy lifestyle tips and behind-the-scenes news from our team!