Who doesn't love candles? These Homemade Aromatherapy Candles make the ultimate relaxation gift and the perfect use for all of those old mason jars. You just need wax, wicks and essential oils. That's right! essential oils are what help you make homemade scented candles meaning you can customize them yourselves!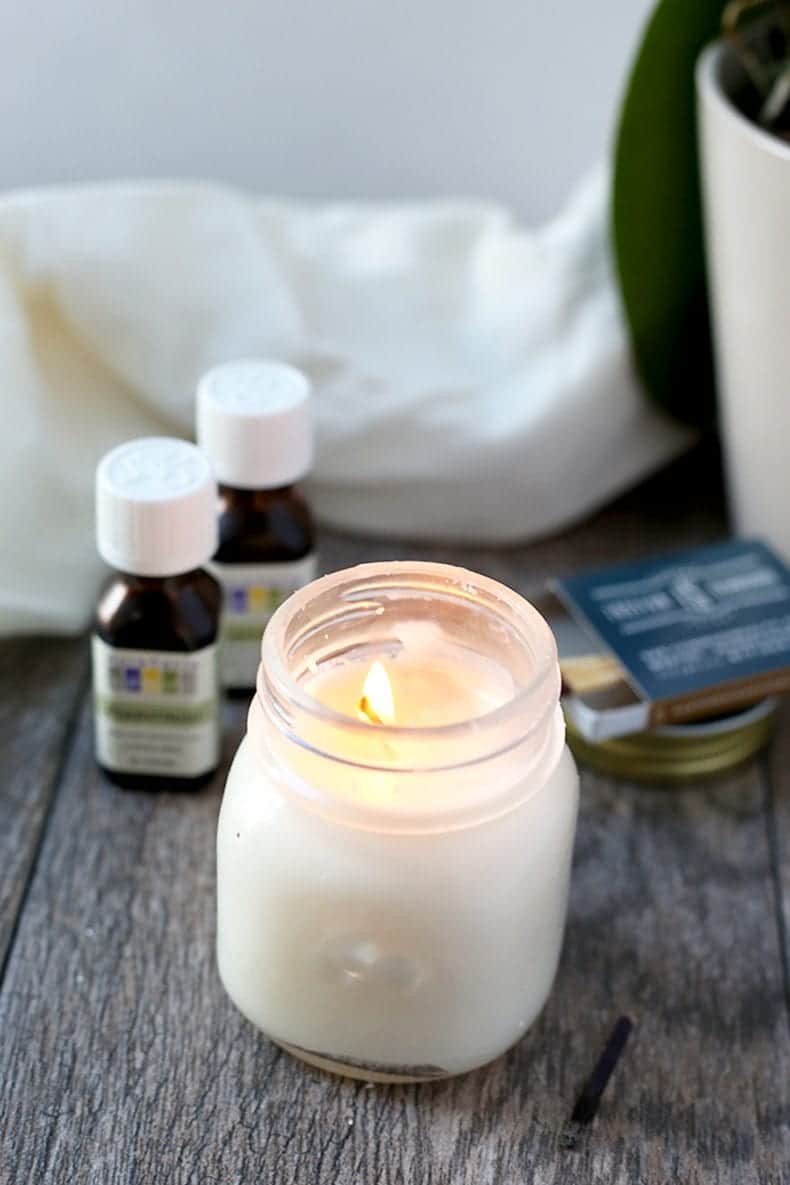 Just about the first thing that every person comments on when they walk into our apartment is our excessive collection of candles. C and I collect candles and spend an exorbitant amount on candles each month. Watching us in West Elm is like watching a kid in a candy store. I'm not going to tell you how much we spent on candles last month because it actually makes me want to shed a tear…but we just can't resist!
In an effort to get our budget under control, I've been trying to make candles every couple of months to offset our spending. Once you've invested in the ingredients (just wax flakes, essential oils and wicks), it's insane how much money you can save. Although, if I'm being totally honest candles are one of those things that I let myself indulge in because the process of making homemade candles isn't always the easiest!
I don't know if there's some secret trick to candle making that I've yet to discover, but for some reason every time I make them something goes terribly wrong. Which is generally my fault because I'm known to rush the process or skip steps but in the end they always have a way of working out, which is why I keep on making them.
Today I'm sharing my best tips for making homemade aromatherapy candles (or essential oil candles because that's pretty much what they are!) as well as ways you can avoid making the same mistakes I have the habit of making every single time.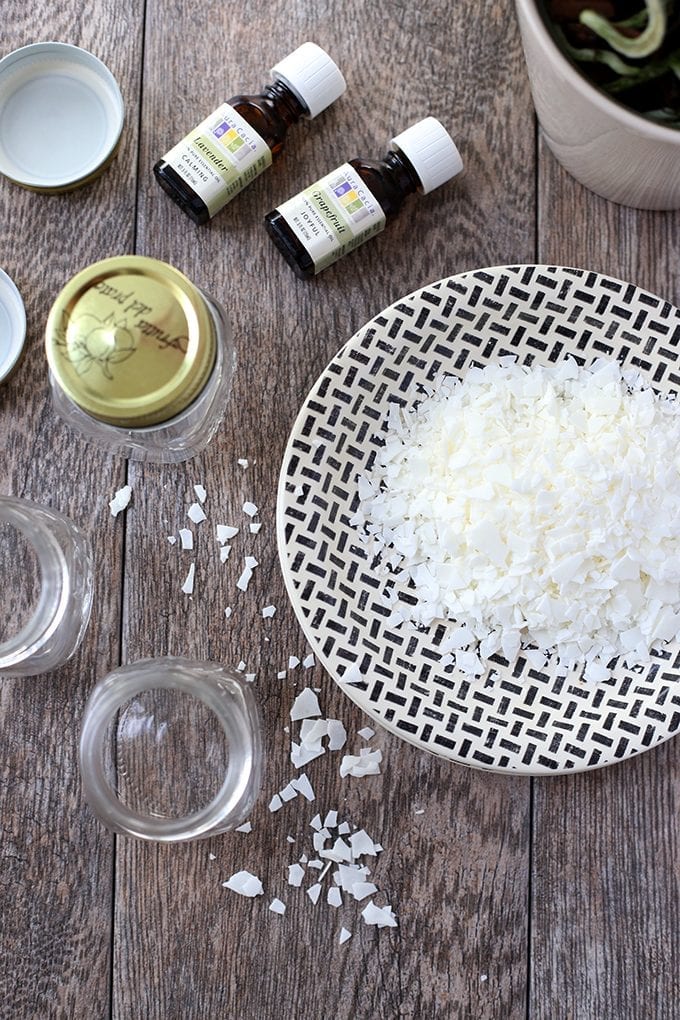 STEP 1: Let's Talk Soy Wax
In terms of ingredients, these scented candles are fairly easy to make. All you need are soy wax flakes and essential oils (plus your tools). Why soy wax? Candles made from soy wax burn cleaner with little soot released as the candle burns. They're also non-toxic so they won't release toxins as they burn.
Soy wax will melt fairly quickly and is easy to manage, however you will want to use some kind of disposable device for stirring as it sticks to everything and is difficult to remove once it's set. I use a wooden chopstick that I can toss once I'm done the candle making process.
STEP 2: Add your Essential Oils
Aromatherapy candles are effectively essential oil candles. If you're curious to learn more about aromatherapy check out this post on Essential Oils 101. You'll need to add about 80-120 drops of essential oil. Yes, this seems like a lot but it's divided across 4 candles. The amount will depend based on which essential oils you choose. Again, refer to this post for more information about the benefits of different essential oils. Feel free to mix-and-match too! Just add the oils directly to the melted soy wax.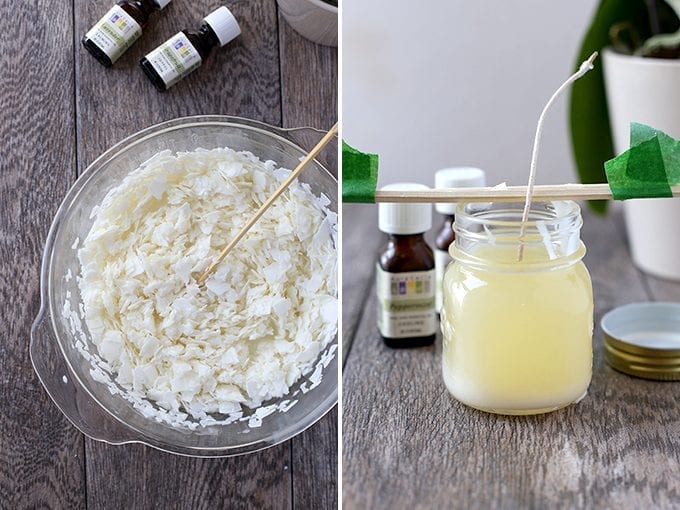 STEP 3: How To Make Scented Candles
This is where mistakes happen so pay attention to these final steps in making your aromatherapy candles:
-Cut your wicks so they are longer in length than the vertical height of your jar. You can cut them down after they have set.
-Secure your wicks with "anchors" by placing a bit of wax at the bottom of your empty jar and then pressing it into place using a chopstick.
-Use a chopstick (a pen works too) and place it horizontally along the top of the jar. Tape your wick to it so that it's upright, ensuring that it's completely straight. If it's not straight it will burn all funky.
-Pour your wax directly into the jar so that it fills to just below the lip and surrounds the wick. ALWAYS pour your candles into your jars over newspaper. Otherwise you will get wax everywhere. And cleaning wax off your stovetop is not fun at all (trust me!)
-Very important: DO NOT pour leftover wax down your drain <– this was not a fun lesson to learn
-You can leave your candles to set in a cool location and it will take about an hour. Cut the wicks down before burning.
Now that you've got all your tips, let's make some homemade aromatherapy candles!
Print
Homemade Aromatherapy Candles
Author: Davida Lederle
Prep Time:

15 minutes

Total Time:

3 hours

Yield:

4

small candles

1

x
Other supplies:
8 ounce

mason jars (or jars of choice)
wood stirring device
pens or chopsticks for securing wicks.
Instructions
Melt soy wax in a pot over low-medium heat. They should melt fairly easily but turn up heat slightly if taking more than a few minutes. Stir using wood stirring device (I used a chopstick)
Once melted, add 80-102 drops of your favorite essential oils. Amount depends on type of essential oils and how potent they are.
Anchor wicks to bottom of mason jars using a bit of wax.
Tape wick upright to a horizontal chopstick or pen (see picture above).
Pour wax into mason jar and then repeat until all jars are full. Depending on size of mason jars you may have some wax leftover.
Let stand until solid (about 1 hour).
Cut wick to desired length.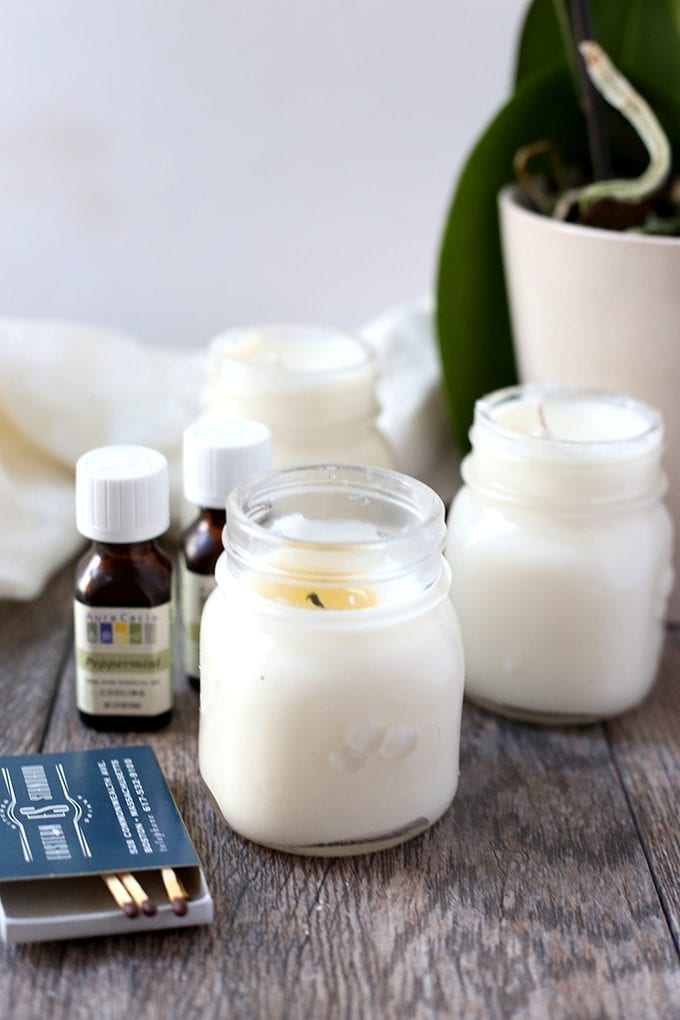 Like this post? Here are a few other homemade DIY projects you might enjoy:
WANT MORE HEALTHY LIVING TIPS? Join the THM Community!
Join 10,000+ members of the THM Community to get access to exclusive info about healthy living, products I'm loving and tips and tricks on making a healthy lifestyle easier and sustainable.