No one needs to know there's black beans hidden in these delicious Peppermint Black Bean Brownies. They're also grain-free, sweetened with maple syrup and lightened-up with applesauce with the refreshing taste of peppermint to top them off!
I mentioned in my Best of October post that I've recently become a pseudo-hippie. This actually isn't a totally new thing but lately I've found myself evolving from an au-natural hair mask sporting hippie to an OMG must use apple cider vinegar on everything hippie. ACV obsessives unite!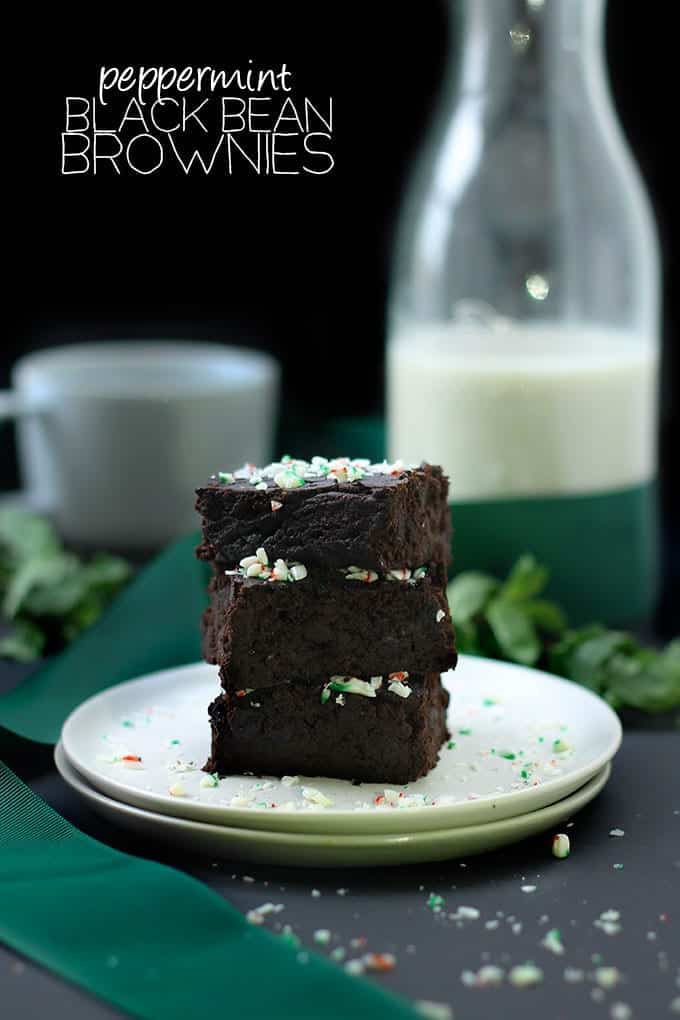 Since I don't need my entire body and apartment to smell like vinegar I've been making friends with my latest discovery, essential oils. I've always resisted buying them because I thought they were to pricey (lame excuse) but it seems that now I am making up for my years of restraint. In particular, the peppermint essential oil is EVERYWHERE.
In my shampoo, in my all-purpose cleaner, in my moisturizer, when I say that I've been using it everywhere I am not kidding. If you find yourself getting a whiff of peppermint on the streets of downtown Toronto, that's me. I'm okay with it.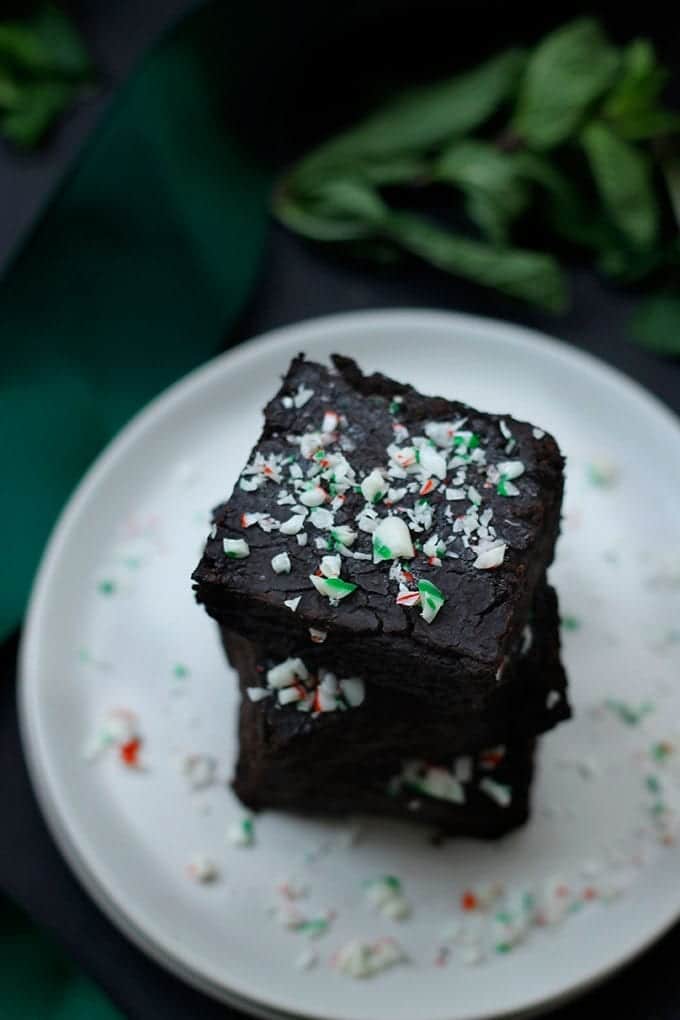 Needless-to-say, I kind of love the smell of peppermint. It's refreshing, it's light and it masks the smell of vinegar. What more could you ask for? Maybe a way to eat it? Oh wait…
Each time I publish a brownie recipe on THM I declare that they are THE BEST BROWNIES EVER. But this time it's for real. These Peppermint Black Bean Brownies are next level. Not too cakey, not too fudgy and they go perfectly with what has become my life scent, peppermint.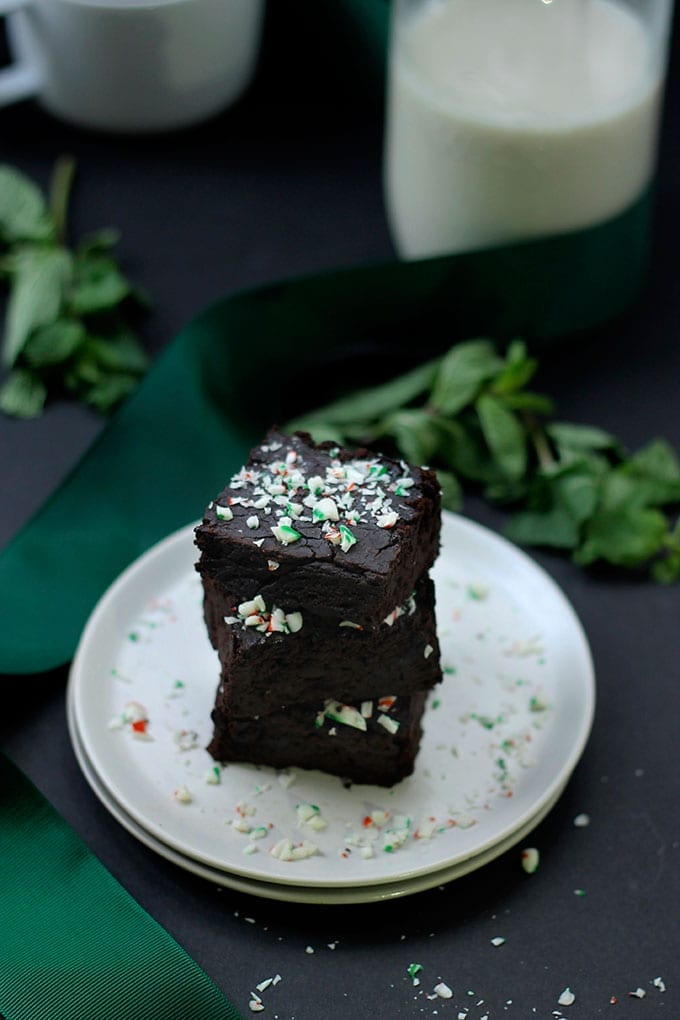 And no, you absolutely cannot taste the black beans. The ultimate taste-taster aka my 4 year old nephew couldn't taste them so that means you really can't.
These Peppermint Black Bean Brownies are the official snack of oil pulling and mud masks. Actually, don't attempt to eat these while oil pulling. That sounds messy…
Ingredients
1 19

oz can black beans (about 1 3/4 cup), well rinsed and drained

1/4

cup unsweetened almond milk

1/3

cup maple syrup

2

eggs

2

T unsweetened applesauce

1

tsp vanilla extract

1

tsp peppermint extract

3/4

cup cocoa powder

1/4

cup almond meal*

1 1/2

tsp baking powder

1/4

tsp sea salt

1/3

cup dairy-free chocolate chips**

Optional: 1/4 cup crushed candy cane for a seasonal topping
Instructions
Preheat oven to 350 degrees F.
In a blender or food processor, combine black beans and almond milk until smooth.
Once smooth add in maple syrup, eggs, applesauce, vanilla extract, and peppermint extract and process for 30 seconds until well combined.
In a separate bowl combine cocoa powder, almond meal, baking powder, and sea salt.
Slowly incorporate dry ingredients into food processor until well combined.
Add in chocolate chips by hand.
Grease an 8 x 8 (or 9 x 9) inch baking pan with coconut oil or non-stick spray.
Add batter to pan and smooth out top.
Bake for 30 minutes.
Remove from oven and let cool for at least 20 minutes before cutting and removing from pan.
Top with crushed candy cane if desired.
Store in refrigerator for several days.
Notes
Feel free to sub in any flour if you don't want them grain-free. *I use enjoy-life brand but feel free to sub in any kind or mint chocolate chips if you prefer!
Would you consider yourself a hippie? Do you love the smell (and taste!) of peppermint as much as I do?
JOIN THE THM NEWSLETTER
Join 5000+ members of the THM Community to get access to exclusive recipes, healthy lifestyle tips and behind-the-scenes news from our team!