Welcome friends, to the greatest week of the year! Avocado Week is officially here and Nikky from HealthNut Nutrition and I could not be more excited to bring you our version of Avocado Christmas!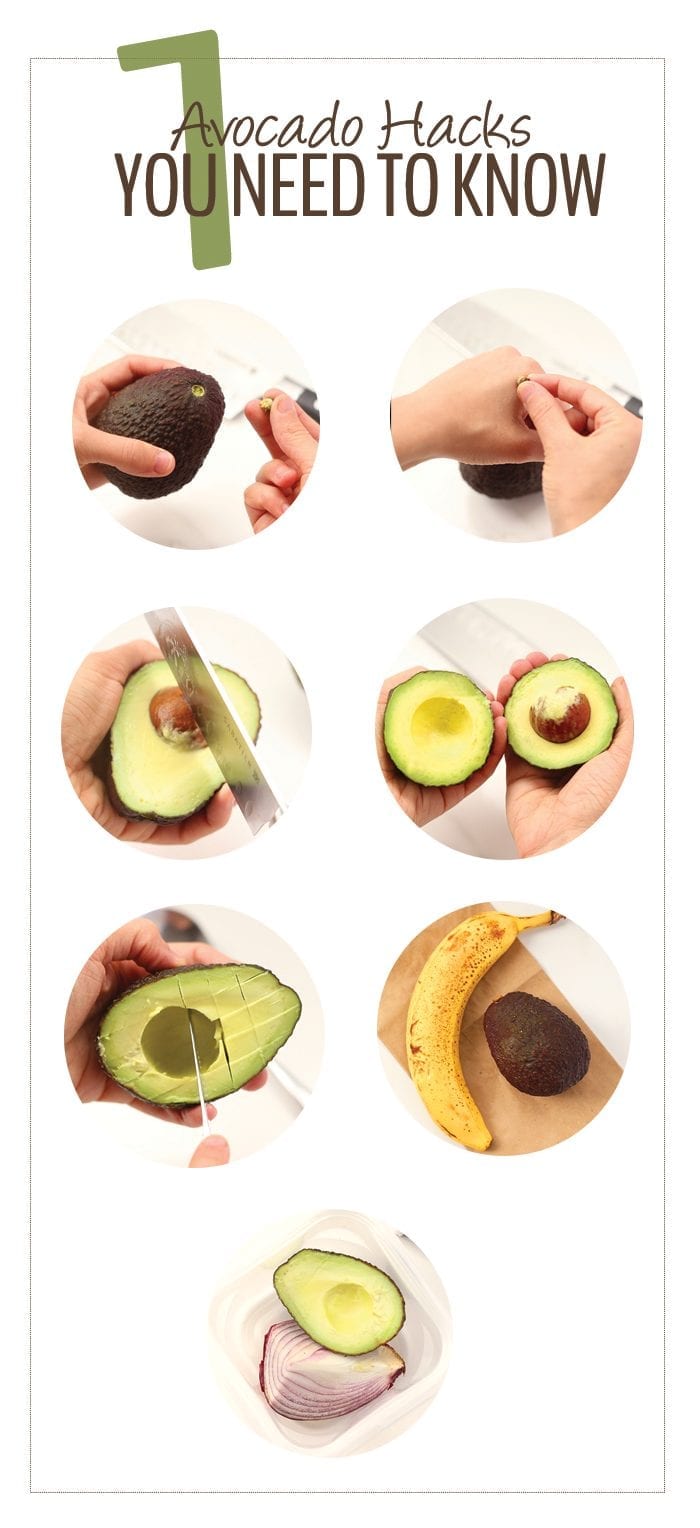 March is National Nutrition Month here in Canada so we couldn't think of a better way to celebrate than by bringing you a whole week of avocado goodness.
You guys know I am whole-heartedly obsessed with avocados, so Nikky and I teamed up with Avocados from Mexico – Canada to highlight exactly why we both love this nutrition-packed fruit so much.
We have lots of epic recipes and videos coming your way this week, but first we wanted to kick things off with some Avocado Hacks and Tips to show you just how amazing this green gold fruit really is. But first…
Watch me and my friend Nikky from HealthNut Nutrition share some of our favourite avocado hacks!
Before sharing some of my favourite avocado tips and tricks, I wanted to highlight why avocados are such a great source of nutrition:
-Avocados are high in monounsaturated oleic acid, a "heart healthy" fatty acid that is believed to actually help lower bad "LDL" cholesterol and increase good "HDL" cholesterol.
-They are a great source of lutein, a carotenoid antioxidant that helps with eye-health and preventing eye diseases.
-Half an avocado contains 3.4 grams of fiber, which helps improve digestion. Fiber also slows the breakdown of carbohydrates in your body, helping you feel full for longer.
-Avocados are low in saturated fat and contain no cholesterol or sodium.
-They contain more potassium than bananas!
And now onto the tips! If you want a video explanation, I've included the time during the video so you can see a visual example.
HOW TO RIPEN AN AVOCADO (1:45)
Have you ever gotten to the store and all of the avocados haven't quite ripened? Here's a trick to get them to ripen faster! Grab and banana and a paper bag and place the banana and the avocado inside the bag. Roll the top of the bag to seal shut. The banana releases a gas that helps to ripen the avocado! Check back in a day and you should have a ripe avocado waiting for you.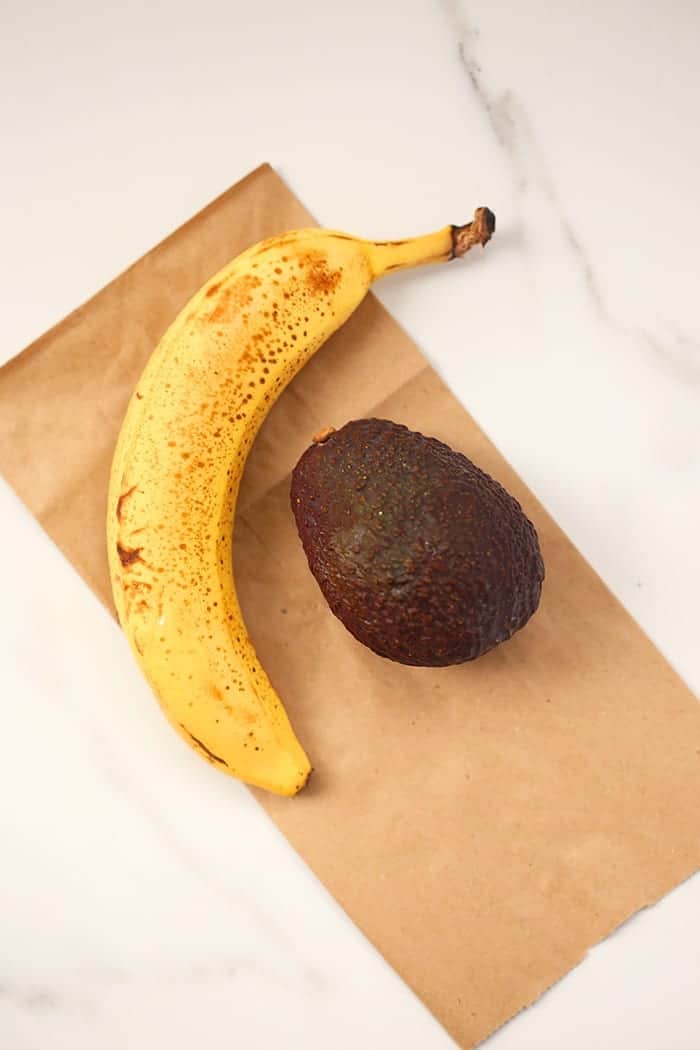 HOW TO CHECK IF AN AVOCADO IS RIPE (1:07)
It's such a misnomer that the best way to check to see if an avocado is ripe is by look or touch. Unfortunately, neither the outer skin, nor the touch can tell you if an avocado is ripe. The best way to check is to pop off the little nub at the top of the fruit and check it's colour. If it's bright green, you're good to go. If it's yellow, place the nub back on and let it ripen for a day or two. If it's brown, it may be time to part ways…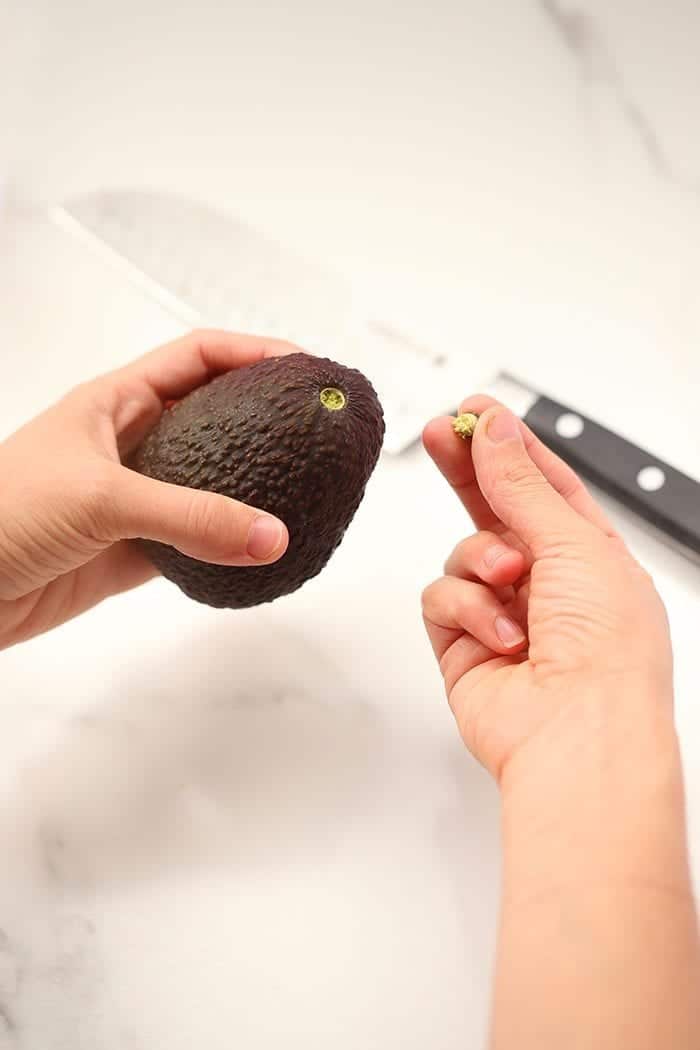 BONUS POINTS!
Want to check to see how fresh the avocado is? Rub the little nub on your hand and if it's wet, it's still full of moisture and fresh as ever! (1:34)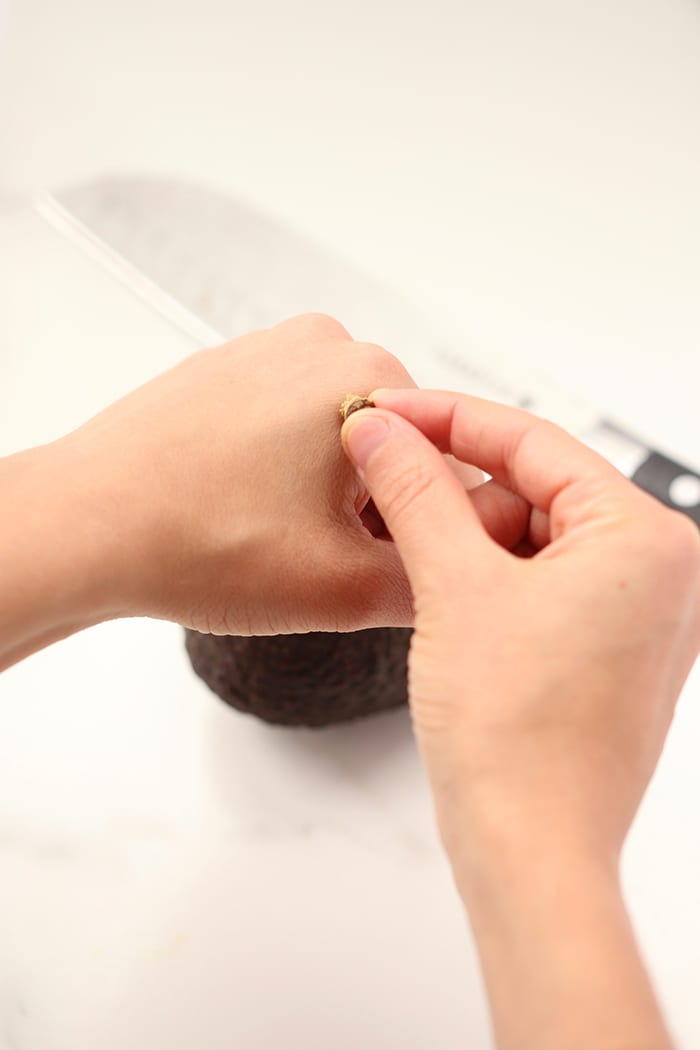 HOW TO CUT AN AVOCADO -Version 1 (2:12)
This is the conventional way to cut avocados. Slice around the horizontal center of the avocado, score pit with a knife and twist to remove the pit. You'll need to use a bit of force to get the knife into the pit.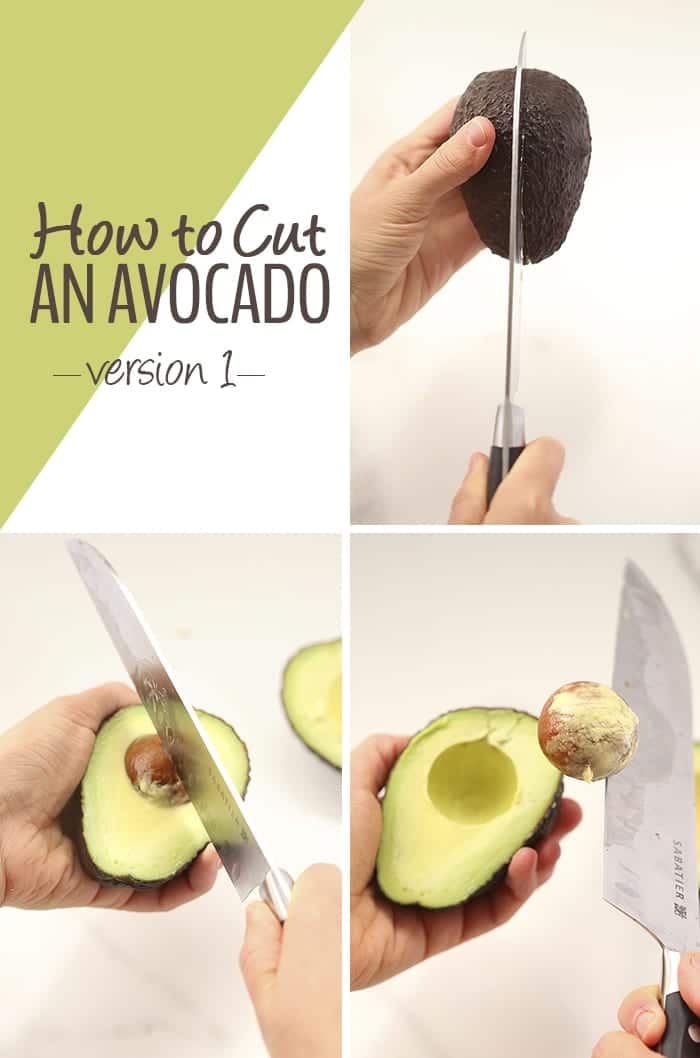 HOW TO CUT AN AVOCADO – Version 2 (2:24)
After visiting Mexico this has become my go-to way to cut avocados. Cut along the circumference of the avocado and then squeeze the side with the pit. If the avocado is super ripe, the pit comes right out!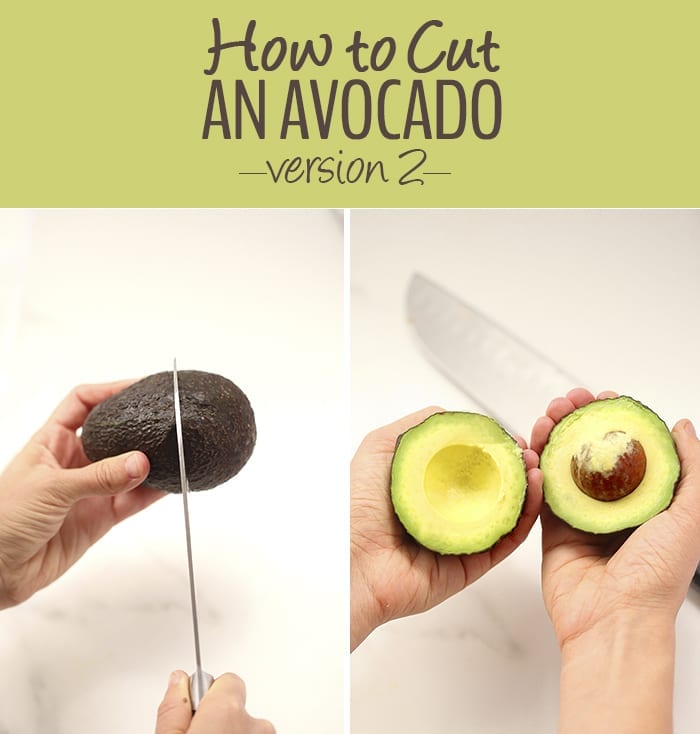 HOW TO CUBE AN AVOCADO (2:40)
Using a butter knife, slice avocado horizontally. Then slice avocado vertically to create cubes. Score as small or as large as you want. Use a spoon to scoop out the cubes, and discard the skin. This trick is great for adding avocado chunks to salad or toast.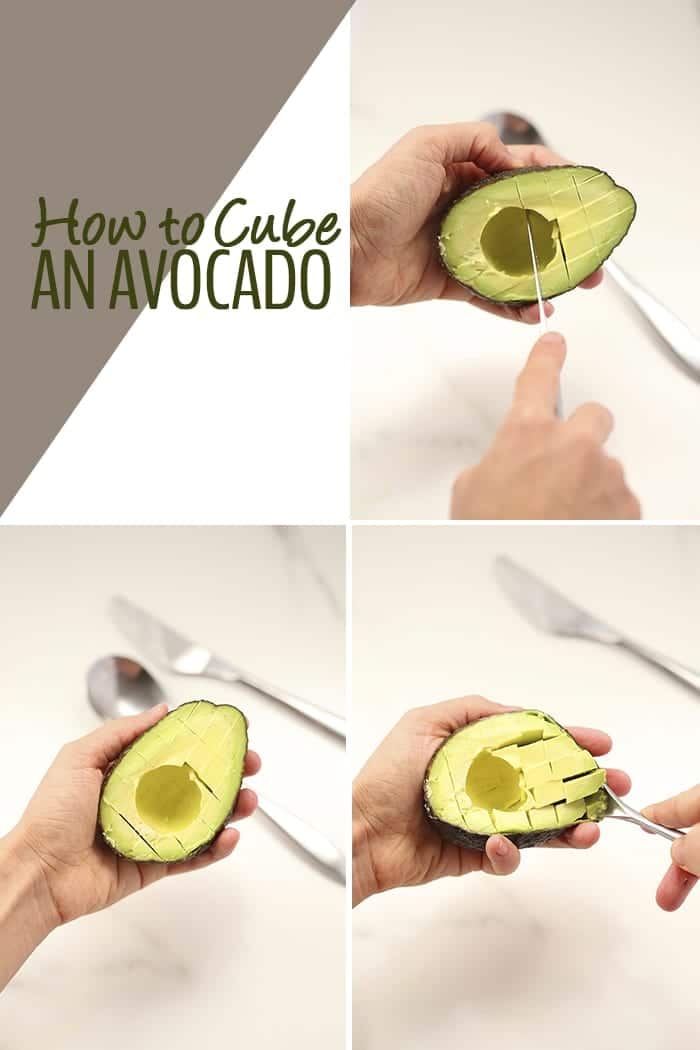 HOW TO STORE AN AVOCADO (3:10)
On the rare occasion you have leftover avocado, use this trick for storage! Just place the open avocado with the pit into a container and add a piece of onion. The onion helps to prevent oxidization of the avocado so it doesn't brown. For extra protection, squeeze a bit of lemon or lime juice on top of the avocado as well.
Make sure you check out Nikky's blog and subscribe to her YouTube channel to stay up-to-date on her latest posts! Lots more avocado goodness coming your way this week.
---

Disclaimer: This post is sponsored by Avocados from Mexico – Canada. Thanks for supporting the brands that help make THM possible and bring more delicious recipes your way!
---
What are your best avocado hacks? Who's excited for Avocado Week?!
JOIN THE THM NEWSLETTER
Join 20,000+ members of the THM Community to get access to exclusive recipes, healthy lifestyle tips and behind-the-scenes news from our team!