Ditch the cream and replace it with cashews! This cashew creamed spinach, made from blended cashews and baby spinach makes a delicious and nutritious dinner side and is ready in under 5 minutes!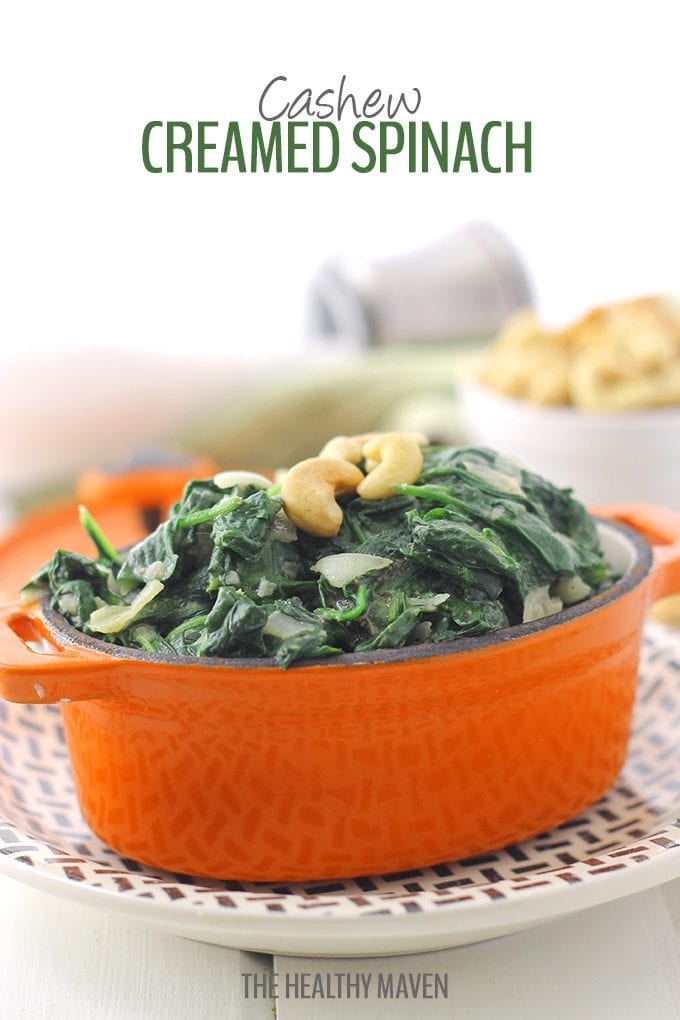 People don't trust you when you write a blog. They think that everything they share with you will somehow end up on the internet. I find this hilarious for 2 reasons:
1) I do in fact understand and believe in the concept of privacy. Despite the fact that my entire life is on the internet doesn't mean that I'm about to go sharing yours.
2) 90% of the time whatever you shared with me is neither interesting nor relevant #truth.
There are only a few people who get mentioned on here without permission. C makes a frequent appearance, my parents (who are good sports!) and the occasional friend, who I more often than not disguise under a pseudonym…or they just have weird nick names.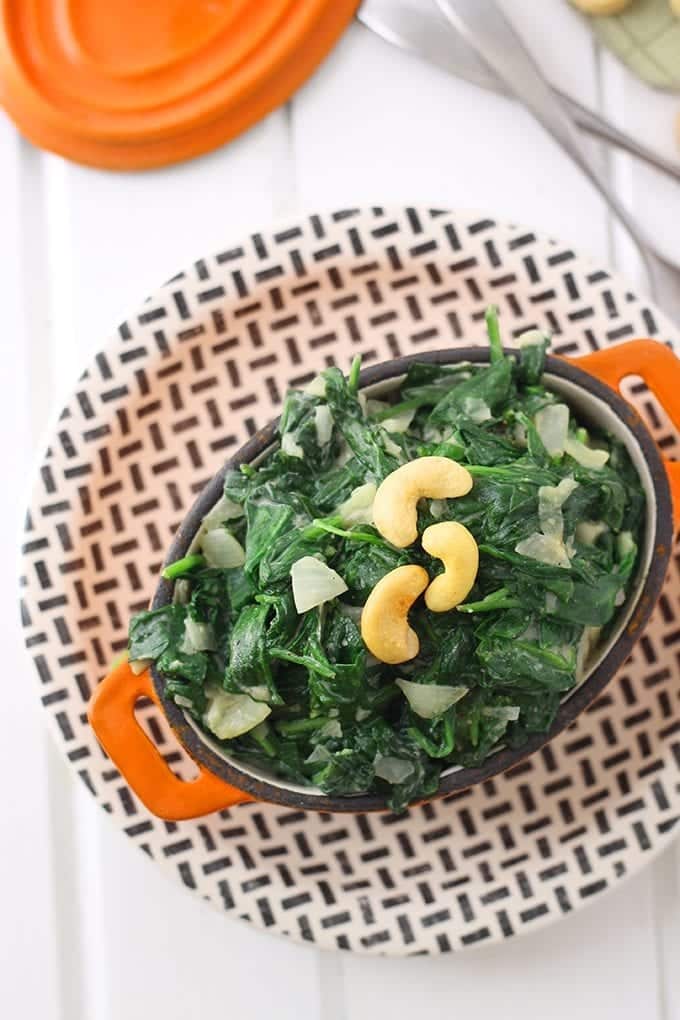 People also ask A LOT of questions when they discover you're a full-time blogger. Most of the time people interpret "food blogger" as "restaurant critic" and are surprised when my answer to "so you must eat out a lot?" is usually no.
Or the always classic and #1 question I get. "how do you make money blogging?". My favourite part about this one is how scared people are when they ask me. Without fail, every single person will apologize before asking this question. Then again, I live in Canada and we basically apologize for everything.
Some other popular questions include: "do you make all of your recipes up?" yes. "how do you come up with recipes?" they literally just come to me….usually in my sleep…by a man with long hair in a white cloak. Kidding! And the always classic, "what do you do with all of the food?"
C and I share it. Except this Cashew Creamed Spinach, which I purposely made when he was on a work trip so I could eat it all by myself.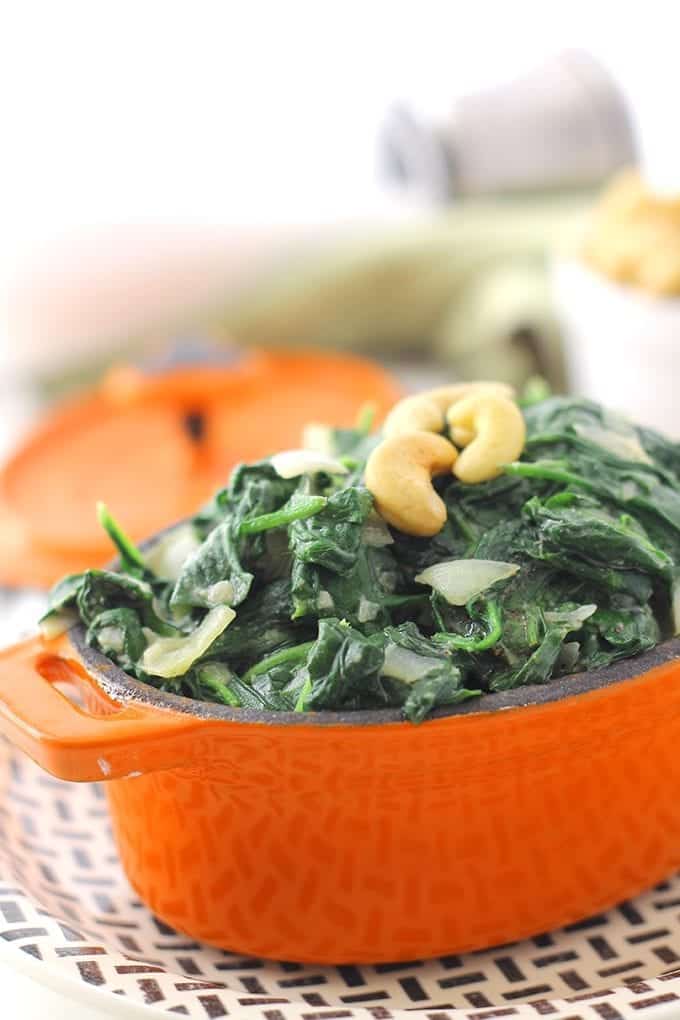 That last one is my favourite to explain. People think I have an abundance of food on hand at all times and are surprised when I tell them that I a) currently have no food in the house (yes this happens to food bloggers too) or b) am not morbidly obese from all of the food I supposedly have laying around.
When you think about it, I post 3 recipes a week, but there are 21 meals in a week + snacks. So yes, just like you I have to figure out what to eat for those 18 other meals and then some. And for those of you who think I eat perfectly "clean" all of the time, I have a surprise for you…I most definitely don't.
I do eat a very healthy diet but I indulge in tacos and wine and the occasional scoop of ice cream. Want proof? Follow me on Snapchat (profile is @thehealthymaven) where I'm sharing some behind-the-scenes of my life and can hopefully answer all of your questions in under 10 seconds. And then will forever be lost into cyberspace. Fun!
Print
Cashew Creamed Spinach
Prep Time:

2 hours

Cook Time:

5 minutes

Total Time:

2 hours and 5 minutes

Yield:

4

servings

1

x
Category:

Side

Method:

Cook

Diet:

Vegan
1 tbsp

olive oil

20 cups

of baby spinach (

2

large boxes)*

1/2 cup

raw cashews, soaked for

2

hours

1/2 cup

vegetable stock
pinch nutmeg

1

small onion, chopped finely

3

garlic cloves, minced

3/4 tsp

sea salt
pepper, to taste
Instructions
Pulse cashews and vegetable stock in a food processor or blender until well combined. Add in pinch of nutmeg.
Add olive oil to a large pan. Add in onions and sauté until translucent.
Add in garlic and sauté for 1 more minute
Add in spinach and sauté until wilted. You may need to add the spinach in waves depending on the size of your pot. It should wilt very quickly though.
Stir in cashew-stock mixture until creaminess level desired is reached (you may not use all of it) and top with salt and pepper.
Serve warm.
*This seems like a lot but it wilts A LOT. I can easily eat half a batch in one sitting.

JOIN THE THM NEWSLETTER
Join 20,000+ members of the THM Community to get access to exclusive recipes, healthy lifestyle tips and behind-the-scenes news from our team!