No dough? No problem. This easy, fool-proof pizza dough recipe is made for beginners so no matter where you're at in your pizza journey you can guarantee the perfect pizza crust! Plus simple instructions for a basic margherita pizza recipe that you can build on and get creative with. P.S. You can knead this by hand or in a stand-mixer – directions are included for both!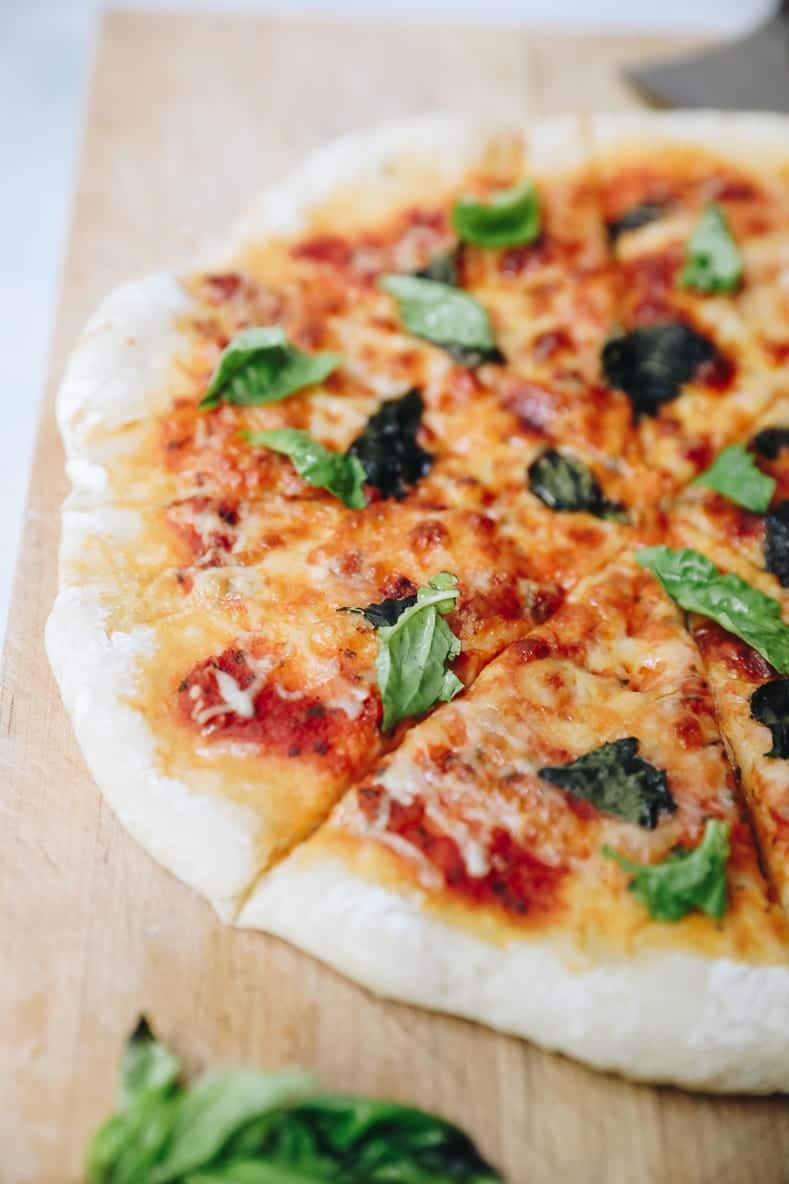 I saw a meme the other day that felt oh so poignant to our current situation. It was something along the lines of "I love that when things are falling apart globally our initial instinct is to bake bread". This is OH SO TRUE. The number of people who either a) don't consider themselves to be bakers and/or b) have never baked anything in their lives that have basically become homesteaders is pretty incredible! So much so that flour and yeast can occasionally be hard to come by and certain places are even sold out of chicks for chicken coops! We're basically going back to an agrarian society. I don't hate it.
Some of you may remember my adventures in sourdough baking a couple of years ago upon which I discovered I will never judge the cost of a loaf of bread ever again. Sourdough baking ain't easy. Your starter is basically a child and don't even get me started on how many steps I had to take to master the loaf. Wasn't worth it. I will happily pay my local baker for their time and effort.
That being said, certain types of bread actually are very simple to make at home and with a little elbow grease can actually be quite satisfying to complete. Pizza dough tops that list for me because it doesn't get any easier or more basic than that.
So for those of you who have never dabbled in bread making and/or pizza dough making, I've got you covered. This recipe is fool-proof and forgiving and let's be real, once you top it with cheese the rest of it doesn't really matter.
Ingredients You Need
all-purpose flour – no fancy flour needed! This dough is absolutely delicious using regular ol' all-purpose flour.
1 packet of dry active yeast (or 2 1/4 tsp) – if you're intimidated by yeast, don't be! The warm water activates the yeast and  makes the dough rise.
salt – seasons the dough.
warm water – activates the yeast and is the main liquid component.
olive oil – the fat component of the dough!
That's it! Seriously, it doesn't get more basic than that. This pizza dough recipe makes enough for 3 pizza doughs. Feel free to refrigerate or freeze leftover dough. Instructions for both below.
How To Make Easy Pizza Crust
Some people will tell you that you need a fancy flour or yeast but we're not here to become professional pizza chefs. This crust tastes absolutely delicious but it's not fussy and it works. Also let's be real, most of us don't have pizza stones let alone a pizza oven in our house. No reason to overcomplicate things for this pizza recipe.
Do you need a stand mixer to make pizza dough? No! You absolutely do not. However it is MUCH easier and hands-off if you happen to have one. Just be sure to use the dough hook attachment. Now I always use my stand mixer because I'm lazy and it requires less effort, however I am including instructions if you're making the pizza dough by hand.
STEP 1: Combine dry ingredients – pretty straightforward. Combine your dry ingredients in a bowl or the bowl of our stand-mixer.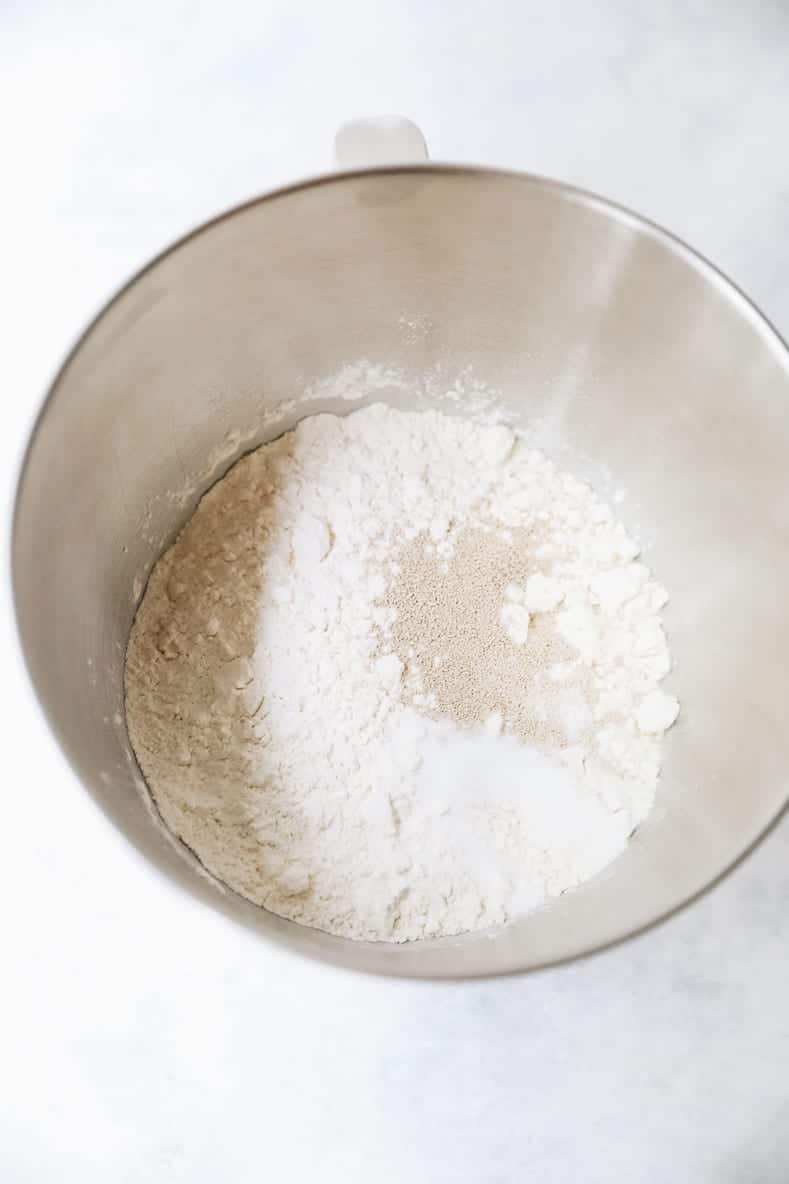 STEP 2: Add the olive oil to the warm water and slowly pour into the bowl while stirring until it comes together or turning the stand mixer on to the lowest setting. If using a stand mixer leave the dough to mix for 8 minutes. It will come together into a big sticky ball.
If kneading by hand, flour a clean surface (clean hands too!) and lightly flour the surface and your hands. Press into the dough with the base of your palms and then fold it back over into a ball. Repeat this for 8 minutes.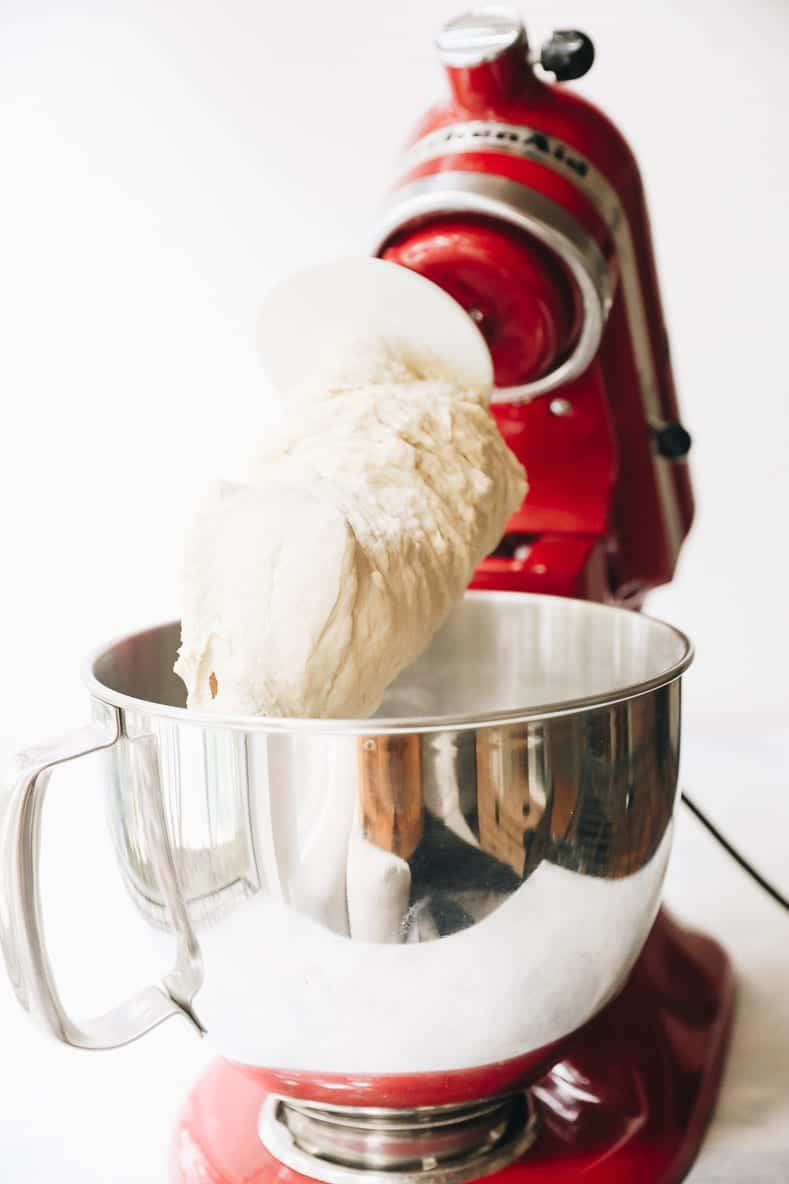 STEP 3: Cut dough into 3 equal sized pieces and fold the dough over itself to form 3 balls. Place balls on a baking sheet leaving space between each and drizzle with a little olive oil. Cover with a towel and let rise for 1 hour. It will double in size.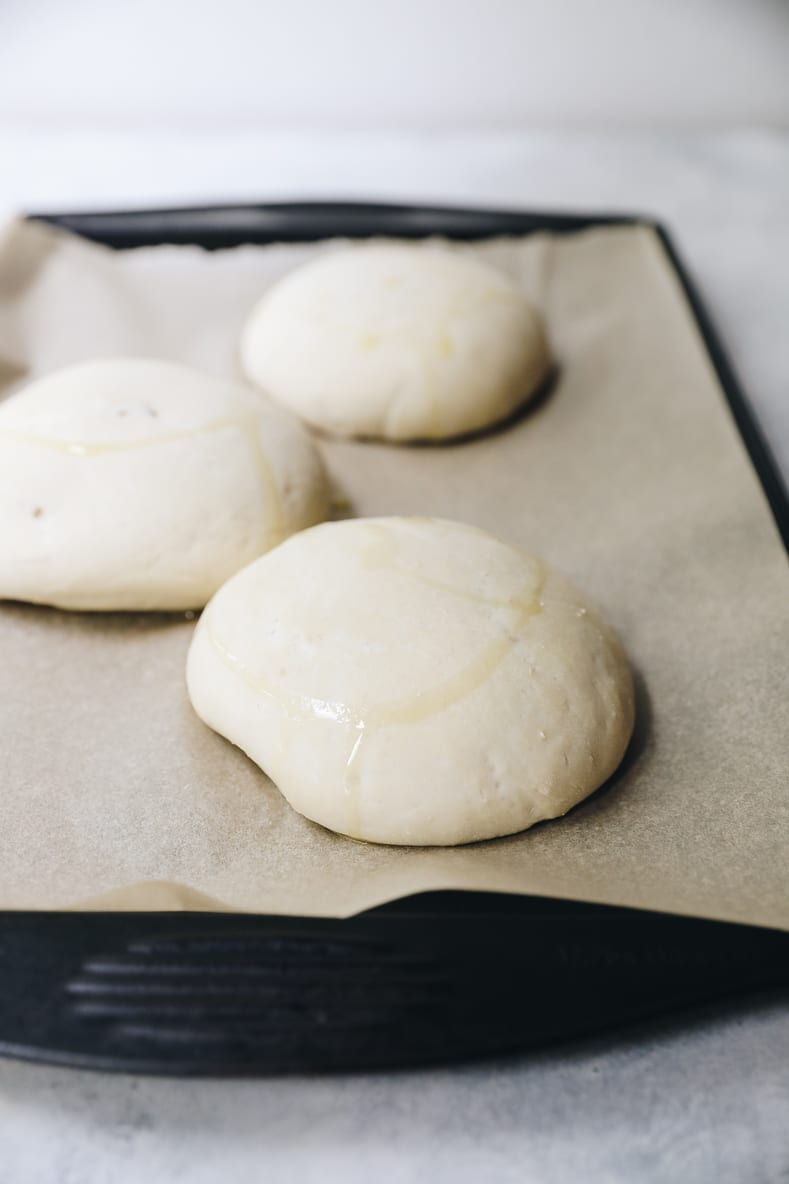 STEP 4: Before stretching the dough preheat your oven to 500 degrees F if you're making pizza right then and there (recipe below). To stretch the dough, lightly flour a surface and place the ball down on top. Lightly flour your hands and press them into the dough to help flatten it. Place the dough over top of your knuckles and lightly knead your knuckles into the dough turning it as you go to stretch the dough to size. The ideal size is 11 inches but use your judgment. If it gets too thin in the center be sure to stop then.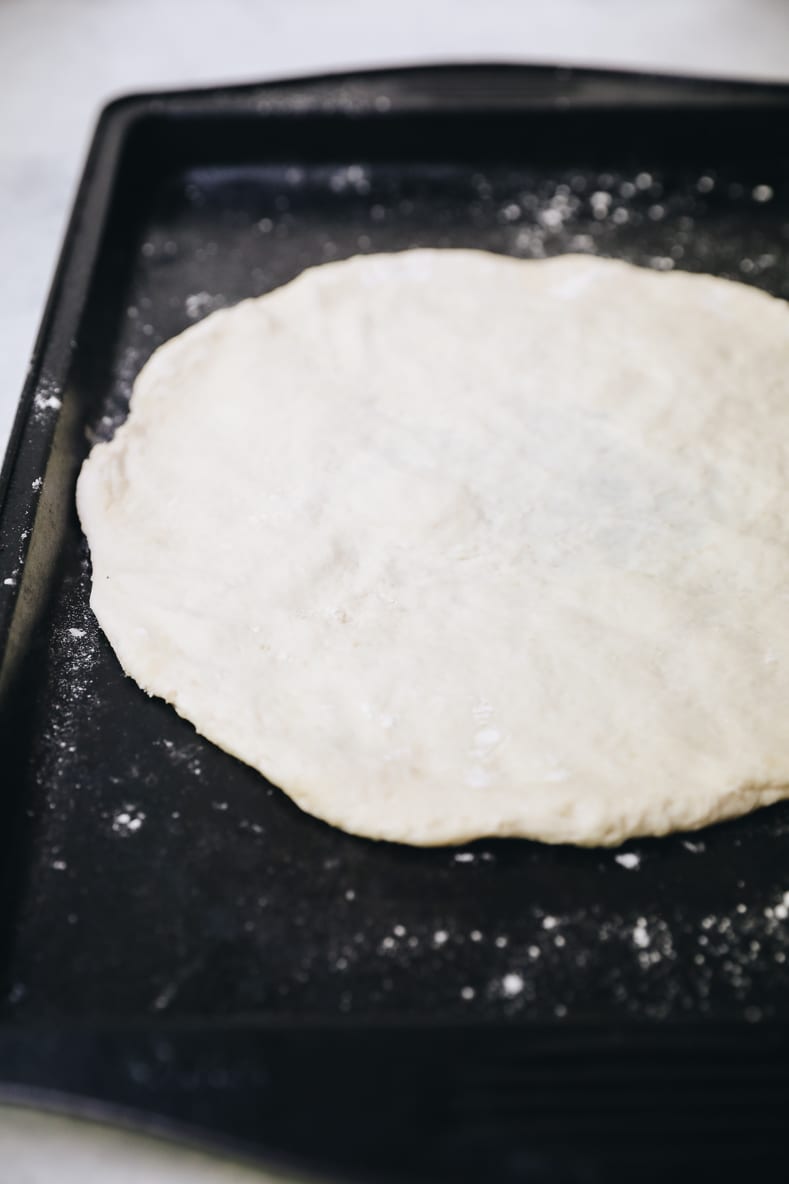 STEP 5: Your pizza dough is ready for toppings! I'm including an easy margherita pizza recipe below but feel free to top with whatever toppings you desire. I highly recommend my zucchini and ricotta white pizza recipe if you want to change things up.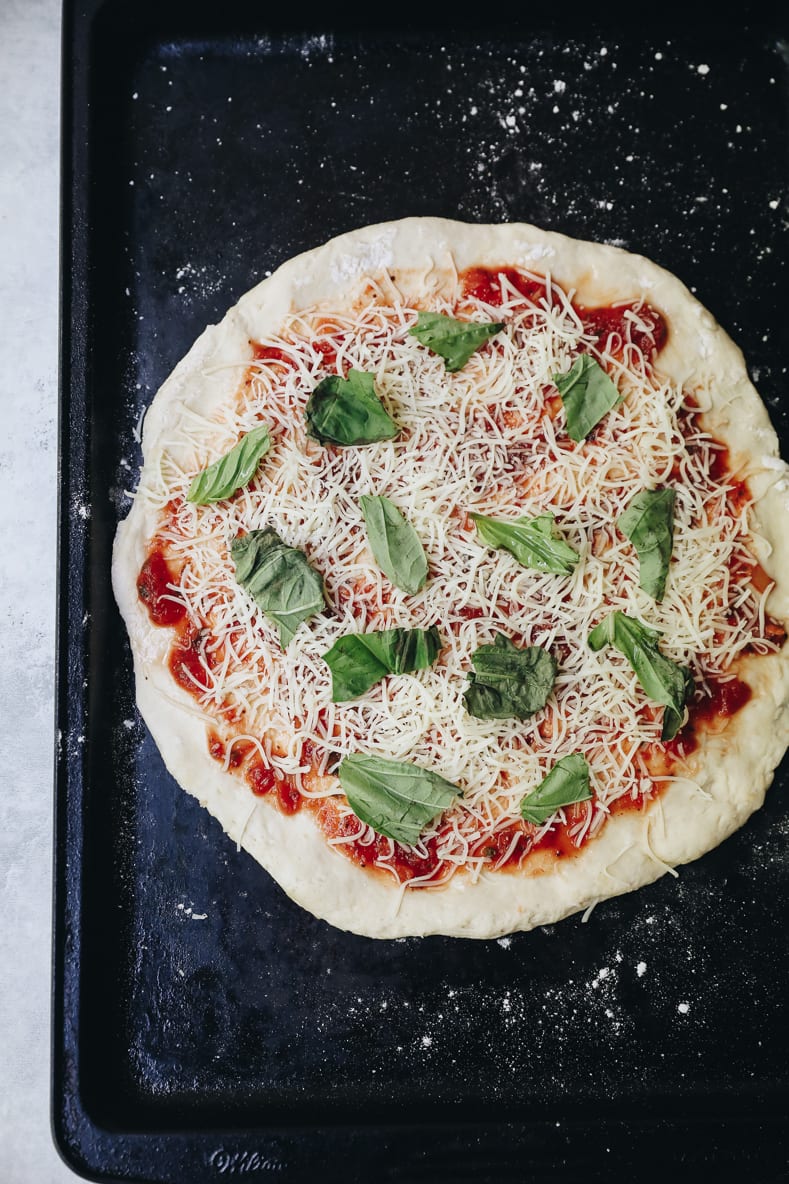 Can you refrigerate or freeze this pizza dough?
Yes! In fact this pizza dough recipe tastes even better if you let it sit in the fridge for 1-3 days. If you are storing it in the fridge, place each pizza dough in an individual container or bowl and cover it with a towel. Before baking remove dough from vessel and place back on a baking sheet and cover allowing it to come to room temperature (30-60 mins).
If storing in the freezer, place dough in a plastic bag and seal it shut with a twist tie. To bake, remove from freezer and allow to thaw on counter. Once thawed remove dough from bag and place on a baking sheet. Cover it with a towel and allow to come to room temperature (30-60 mins). Dough will keep in the freezer for 4-6 months.
Easy Margherita Pizza Recipe
If you're looking for a super easy pizza recipe, I've got you covered. Here is the recipe:
3-4 tbsp tomato sauce (don't overdo this as it will make the pizza soggy)
4-6 oz mozzarella cheese (can be pre-grated or whole + chopped)
fresh basil
olive oil
salt and pepper
Preheat oven to 500 degrees F. Ideal to do this up to an hour before baking to make sure the oven is really hot. On your stretched pizza dough spread your tomato sauce all over leaving 1/2 an inch along the edges for the crust. Drizzle with a little olive oil. Scatter the cheese all over pizza and top with fresh basil torn into pieces. Salt and pepper to taste.
Bake your margherita pizza for 4-10 minutes depending on how hot your oven runs and how long the oven has been on. Watch closely so it doesn't burn. Remove from oven and cut into 8 slices. Enjoy!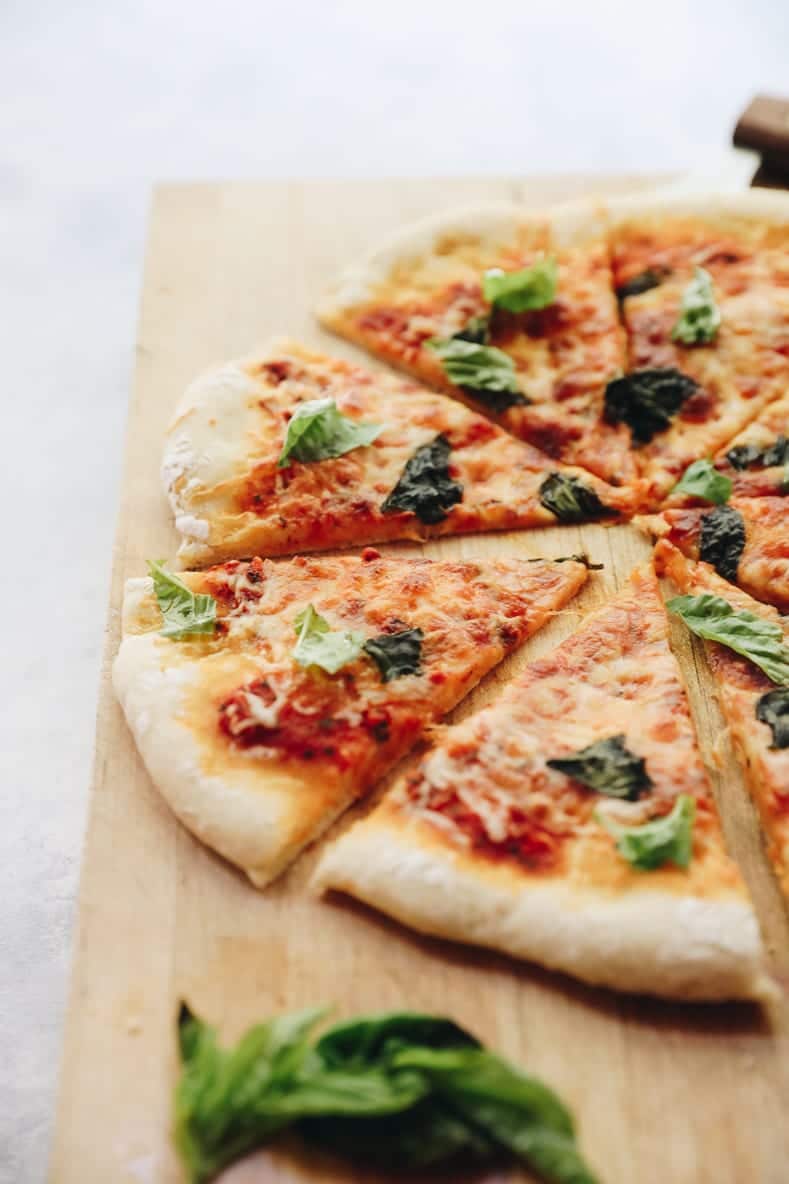 Print
Easy Pizza Dough Recipe
Author: Davida Lederle
Prep Time:

70 minutes

Cook Time:

10 minutes

Total Time:

80 minutes

Yield:

3

pizza crusts

1

x
3 1/2 cups

all purpose flour

1

packet of dry active yeast (

2 1/4 tsp

)

1 tsp

sea salt

1 1/2 cups

warm water

1 tbsp

olive oil + more for drizzling
Instructions
In a large bowl or the bowl of your stand mixer combine flour, yeast and sea salt.*
Add olive oil to warm water.
On the low setting or while stirring dry mix slowly add your water-oil mix to dry ingredients.
If using a stand mixer allow to continue mixing for 8 minutes.
If kneading by hand lightly flour a clean surface and place your sticky dough on top. Lightly flour your hands and begin kneading by pressing the base of the palms of your hands into the dough and the folding the dough over itself. Repeat this for 8 minutes. Dough should be ready when it feels pillowy and is a smooth outer texture.
Cut dough into 3 equal slices and then roll the dough over itself to form a ball.
Place balls on a baking sheet and lightly drizzle with olive oil before covering with a clean dish towel. Let dough sit out for 1 hour to double in size.
At this point you can place the dough in the fridge or freezer if saving for another day (see instructions above).
If using dough immediately place it back down on a clean and lightly floured surface and flatten dough with the palms of your hands.
Place dough over top of your knuckles on both hands and lightly press knuckles into dough while turning in a circle. Continue doing this until dough is roughly 11 inches in size.
Place dough on a baking sheet and continue by adding toppings of choice.
See above for easy margherita pizza recipe.
*If using stand mixer be sure to use the dough hook attachment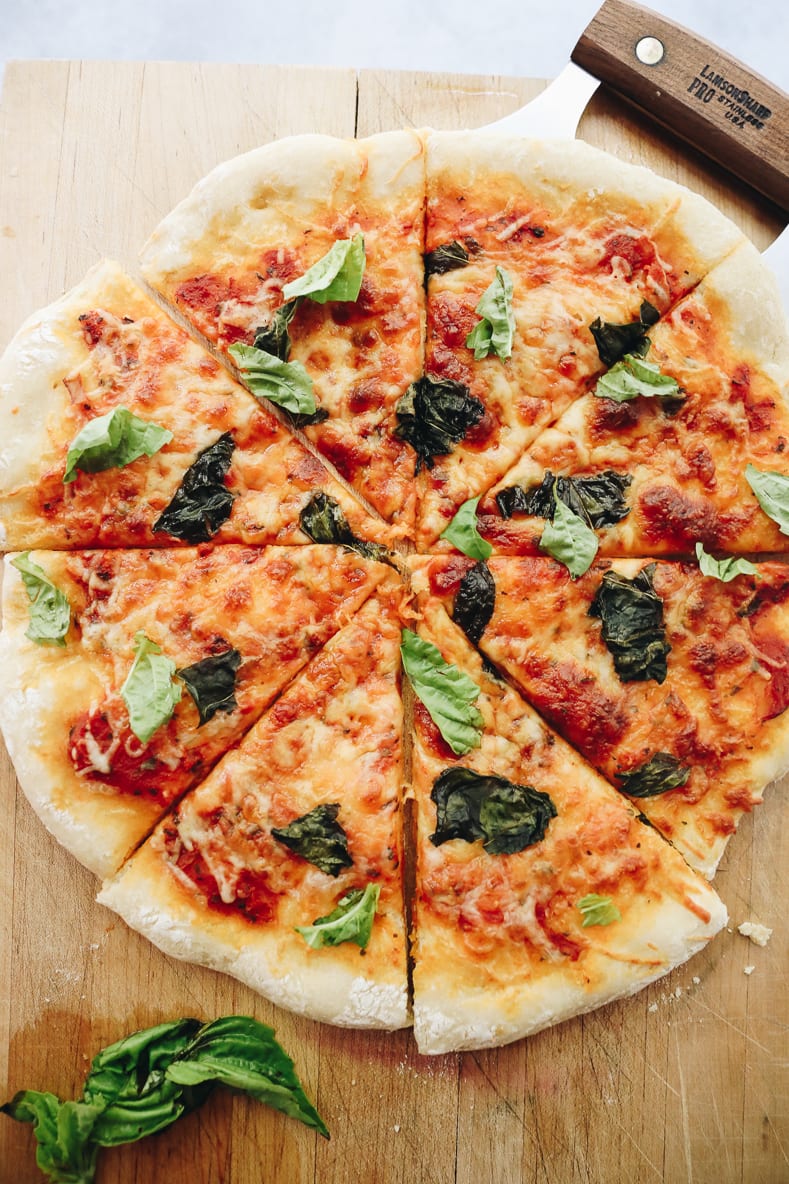 Like this recipe? Here are a few others you might enjoy: