Homemade Vietnamese Pho soup that's been healthified with zucchini noodles and packed-full of veggies. Don't be intimidated, this Healthy Chicken Pho with Zucchini Noodles is a lot easier than you think!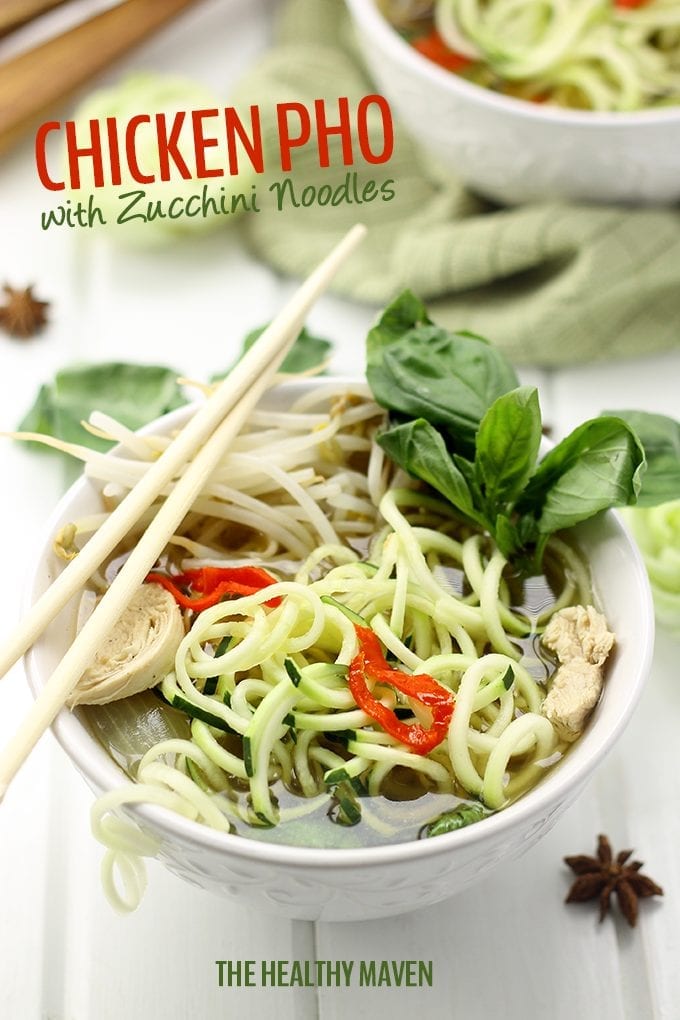 Another month, another round-up! We are so excited to be back this month with another healthy round-up series, this time featuring everyone's favourite new gadget, the spiralizer.
Not surprisingly, all 6 of us own the same spiralizer and are all completely obsessed with it. I find myself using it mainly to make my Baked Curly Fries but the possibilities truly are endless.
With a spiralizer, you're able to turn almost any vegetable into vegetable noodles! It's an awesome tool if you're keeping things low carb, or in my case just looking to up your vegetable game!

Still not convinced? I'm willing to bet these 6 Healthy Spiralizer Recipes will have you running out to buy your spiralizer ASAP.
Lexi replaced standard refined wheat pasta with delicious and healthy zucchini noodles in a dairy-free creamy vodka sauce loaded with crispy proscuitto, shallots, basil, and garlic. It's the perfect pasta alternative of your favorite classic dish; guilt-free!
Get the recipe –> HERE
Brittany made Jerk Shrimp with Crispy Plantain Noodles! This dish will take your tastebuds on a trip to the Caribbean with sweet and spicy jerk shrimp served over a crispy bed of spiralized plantains sautéed in coconut oil. Yes. Please.
Get the recipe –> HERE
You guys know I eat eggs for all meals of the day, so with Lee's baked eggs tutorial and recipe for garlic sriracha hash browns (a sprialized yam!) I've got a healthy and filling breakfast, lunch AND dinner ready to go.
Get the recipe –> HERE
Who needs takeout when you can have Taylor's Kale and Orange Beef with Sweet Potato Noodles?  It's paleo-friendly, quick and easy making it a perfect weeknight dinner!
Get the recipe –> HERE
Kelly did the impossible, Paleo Pad Thai! It's completely grain-free (using spiralized carrots and sweet potatoes), completely nut-free (using sunflower butter), and completely over-the-top delish!
Get the recipe –> HERE
Now for my recipe for Healthy Chicken Pho with Zucchini Noodles!
Chicken Pho will forever remind me of Pho Bang New York (yes that's its real name…) which naturally is located in Montreal (wtf?). When C was living there post-grad his loft was in The Old Port, which if you have any experience with MTL know that it's barren when it comes to restaurants. Sure, there's tons of rip-off touristy places or fancy-shmancy restos but for a good ole' casual dinner there is nothing. The closest grocery store is a half hour away…my greatest nightmare.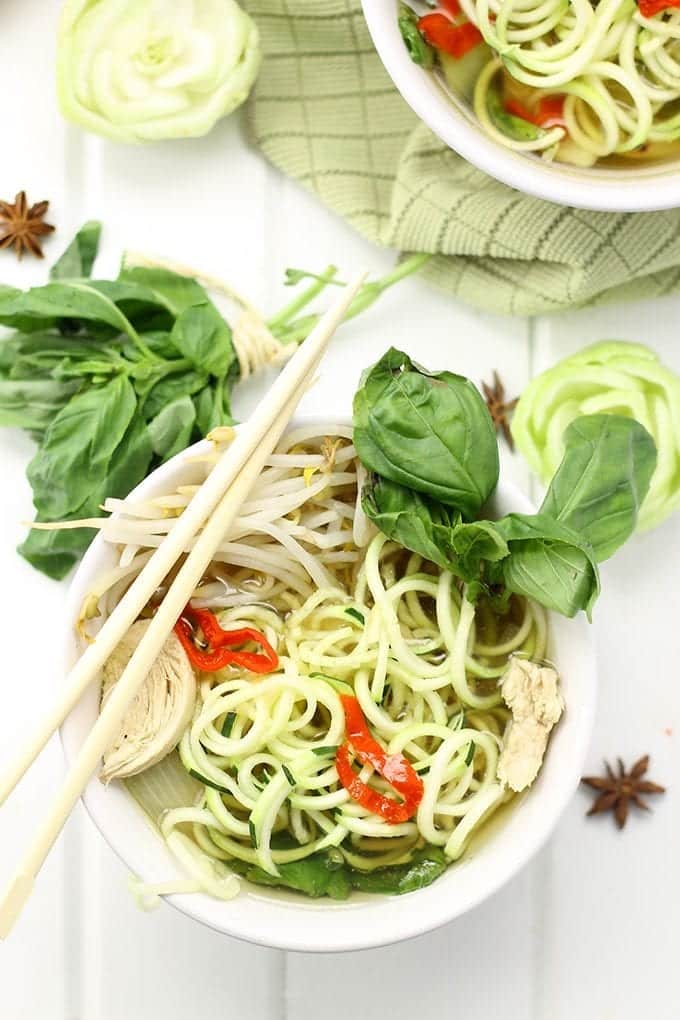 As a result, C and I ate Pho from one of the few options (still a 20 minute walk away) almost everyday. It helps that it's AMAZING but it's a little low on the veggie-count so I'm pretty sure I developed scurvy everytime I visited.
Since moving back to Toronto, I've made it my mission to master pho at home. I've learned two lessons, you MUST roast the onion and ginger and the deliciousness is all in the quality of the broth. I've tried making cheaters broth with just chicken stock, and I've done the whole simmering bones stock for hours on end, which is delicious but takes forever. Fortunately, I managed to find a happy place in between which requires only an hour of simmering but is still completely delicious.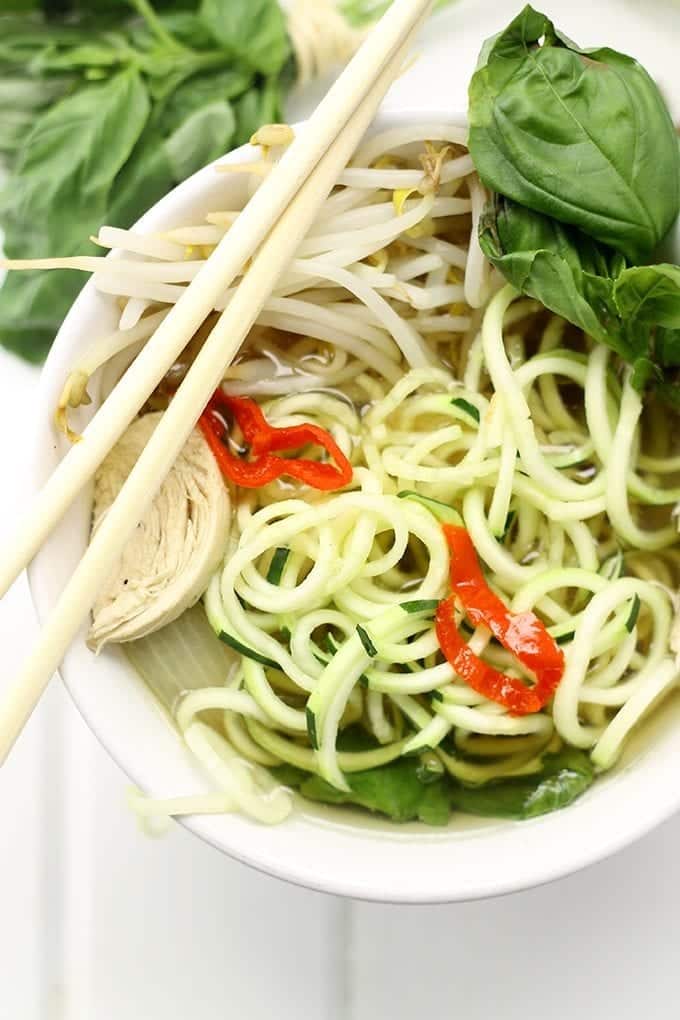 I think people get intimidated when a recipe is outside of their day-to-day culture. I don't have a Vietnamese bone in my body, but this Vietnamese chicken soup certainly doesn't show it. It really is just standard chicken soup with a few extra spices. I promise you can handle it.
Not that pho is inherently unhealthy, but this version is way healthier! With a ton of added veggies from the bok choy, bean sprouts and zucchini noodles, I'm thinking I could relive my Montreal days and eat this soup every single day. Looks like my spiralizer is going to get a serious workout!
Print
Healthy Chicken Pho with Zucchini Noodles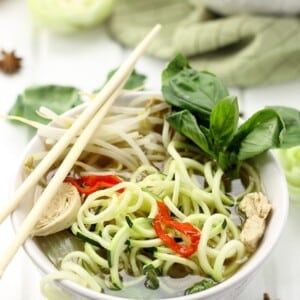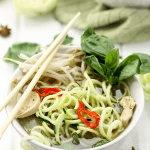 Author:
Total Time:

1 hour

Yield:

4

large bowls

1

x
Scale
Ingredients
2

large chicken breasts, bone in (I buy mine from The Healthy Butcher)

10 cup

s of chicken stock

1

large onion

3

inch knob of ginger

2

star anise

4

whole cloves

2 tbsp

fish sauce

1 tbsp

coconut sugar

1 tsp

sea salt

1/2 tsp

black pepper
optional: 1/2 hot pepper, sliced

2

heads of bok choy

4

handfuls of bean sprouts

3

large zucchinis, spiralized on the smallest blade.
fresh basil

1

lime, cut into wedges
Instructions
Preheat oven to 475 degrees F.
Peel onion and chop in half.
Peel ginger and slice into 3 small chunks.
Place on a baking sheet and bake on top rack for 25 minutes.
Flip onion and ginger halfway through.
Add in star anise and whole cloves in last 5 minutes of baking to toast slightly.
Place stock in a large pot and bring to a boil.
Once boiling add in chicken breasts and cook for 5 minutes.
Skim off the "scum" that floats to the top and discard.
Remove chicken from pot and set aside to cool slightly.
When oven is done, chop up ginger and onions and add to stock.
Chop chicken off the bone and add to stock.
I like to add the chicken bones back into the stock to give it more depth of flavor but this is optional.
Add toasted star anise and cloves, fish sauce, coconut sugar, salt, black pepper and hot pepper if using to stock.
Bring stock a boil and then lower heat and let simmer for 1 hour.
Remove chicken bones if using.
Add in bok choy and allow to wilt.
Divide bean sprouts and zucchini noodles into 4 bowls and stop with soup.
Place basil and lime wedge on top and serve.
If storing for several days, keep stock separate from bean sprouts and zucchini noodles so they don't get mushy.
P.S. This is the spiralizer I use!
Like this recipe? Here are a few others you might enjoy:
Thai Curry Carrot Lentil Soup
Detox Vegetable Soup
Healthy Vegetarian Pho
JOIN THE THM NEWSLETTER
Join 10,000+ members of the THM Community to get access to exclusive recipes, healthy lifestyle tips and behind-the-scenes news from our team!