Save that leftover turkey carcass and enjoy every last scrap from Thanksgiving with this delicious turkey carcass soup. Paired with hearty grains, beans and veggies, this turkey soup is the perfect day-after Thanksgiving meal the whole family can enjoy!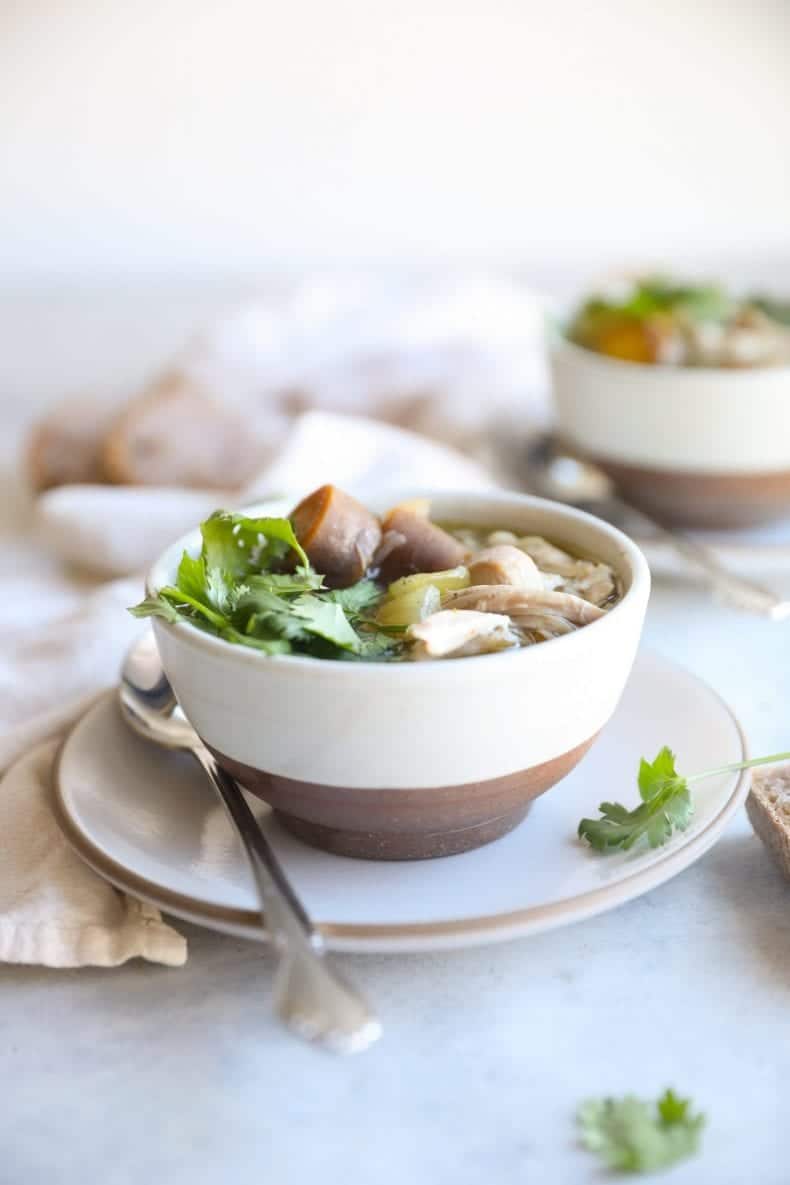 How's that for a title? Seeing the word "carcass" in your recipe probably isn't the most appetizing but I swear this turkey carcass soup is straight delicious and the perfect use for your leftover Thanksgiving turkey. Speaking of Thanksgiving, you may have noticed a lot of Thanksgiving leftovers around here lately – and for good reason! US Thanksgiving is just around the corner so I know menu prep is happening big time but what you may not know is that I am certifiably obsessed with Thanksgiving.
Now I should add that I am most definitely Canadian (to be fair I also have US citizenship) and I first and foremost identify as being Canadian. This has made me a bit of an outsider when it comes to US Thanksgiving (the fact that I call it US Thanksgiving is definitely a sign) and particularly enthralled by the traditions I didn't grow up with. For the record, I also feel the same way about Christmas #JewwholovesChristmas. There's something about the fact that the entire country shuts down and gathers together that I find so endearing and special. Not that Canadians don't have this…it's just that Canadians can't quite figure out if you're supposed to celebrate on Sunday or Monday and well, not everyone celebrates in the same way Americans do.
So this is why you've seen so many Thanksgiving recipes around here…I'm trying to prolong the celebration! And yes that means extending it after its done by leaving no scrap behind. So please please please don't ditch that turkey carcass and instead throw it in a pot to make this delicious turkey carcass soup!
Why cook your turkey carcass?
Okay so let's chat about saving your turkey carcass. There's a couple reasons why you'll want to reuse it:
There's still plenty of meat on those bones! Don't let it go to waste.
Turkey bones make a delicious and nutritious bone broth that contains amazing benefits including collagen and immune-boosting properties. Your grandmother was onto something with her chicken soup <– same goes for turkey!
You can of course just pick your turkey clean, but I find that cooking it into soup helps release some of the meat that gets stuck on the bones. Plus turkey carcass soup is delicious!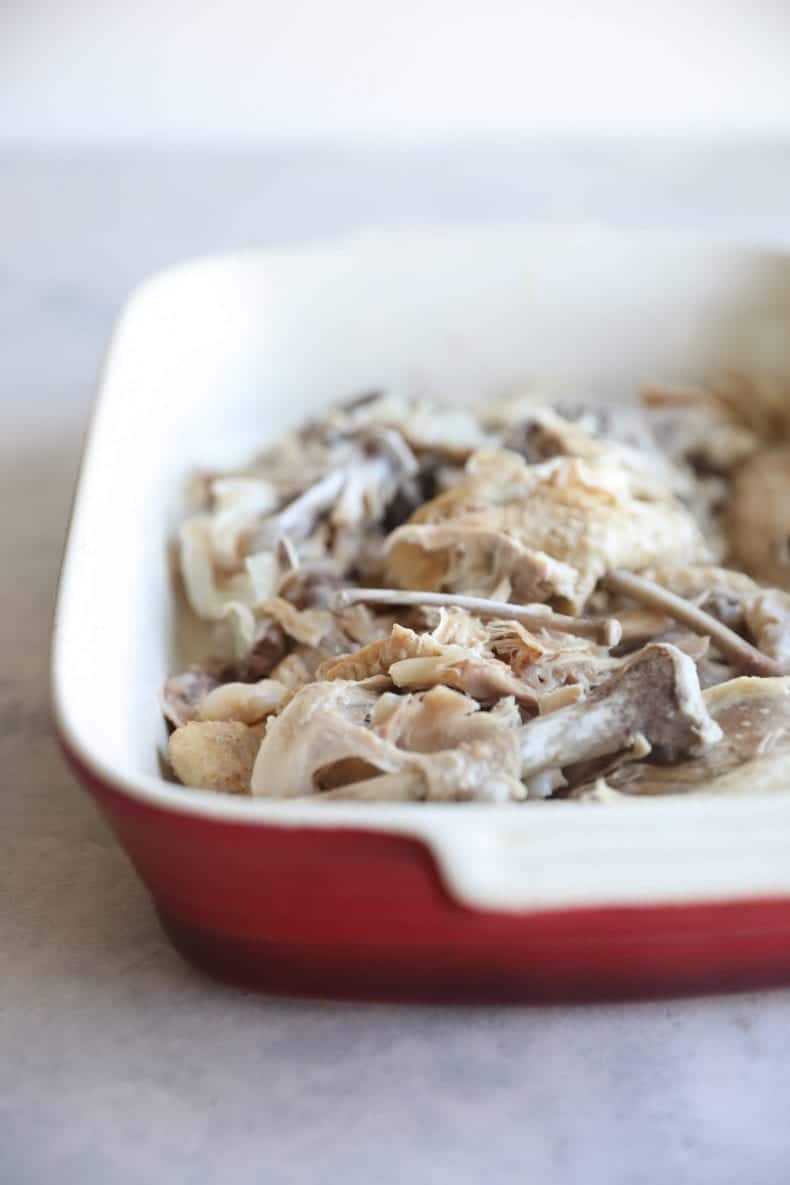 How to make turkey carcass soup
This turkey soup requires two main steps but otherwise is super simple! The first step involves cooking the turkey carcass in water to release the meat from the bones and infuse your water with all of turkey's benefits for a delicious turkey bone broth. You can of course, stop here or you can move onto the second step in which you add veggies, grains and beans to make a hearty meal in one. Here's the full ingredient list:
Turkey carcass (any size is fine!)
Water, for making stock
Apple cider vinegar (this helps the bones release their collagen into the stock)
Onion
Carrots
Celery
Grains (I like farro, barley or wild rice) – hearty grains work best or it will get too mushy!
Beans (optional but white beans or lima taste best!)
Spices – I like sage and poultry seasoning but this is where you can play around and make this turkey soup your own
*For full instructions scroll down to the recipe.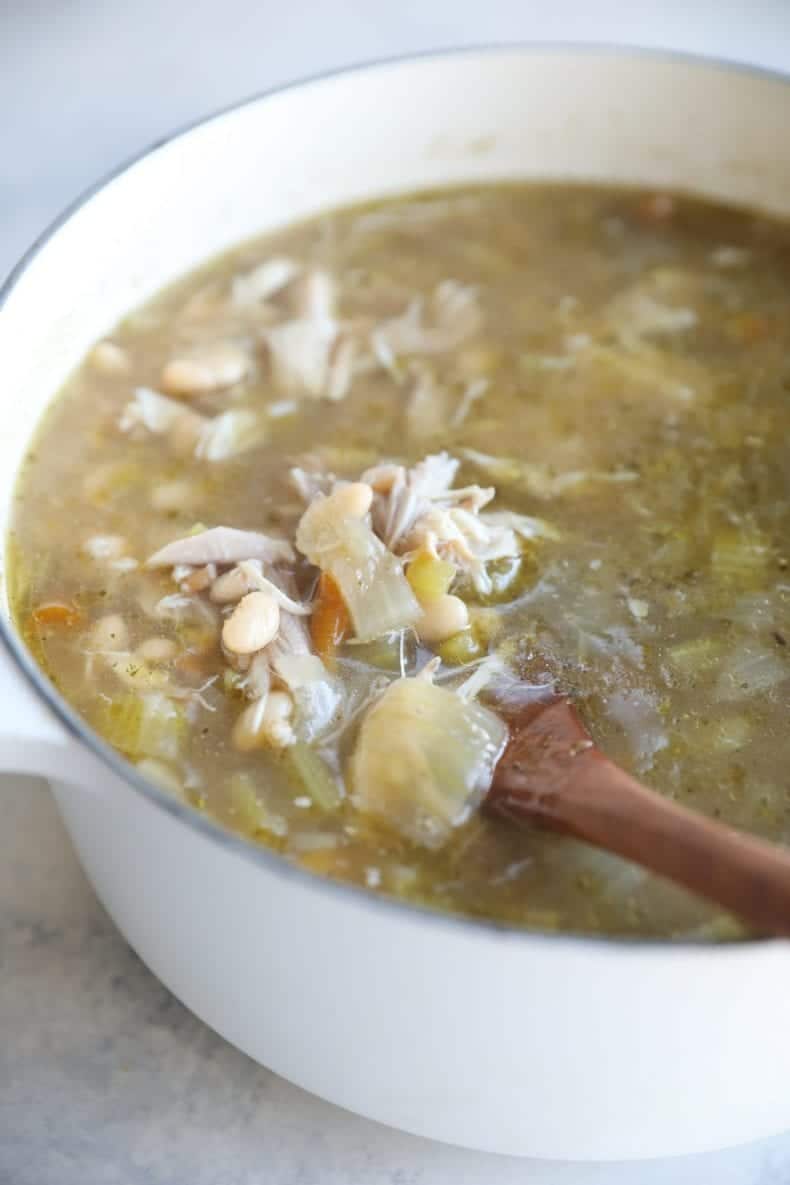 I wanted to answer a couple questions that I know will come up with this turkey soup:
Can you freeze your turkey carcass?
Yes! If you don't have time after Thanksgiving (or any other occasion that calls for turkey!) you can place your turkey carcass in a bag and tie shut before placing in the freezer. You can freeze your turkey carcass for up to 6 months. When you're ready to make your turkey soup just place frozen turkey carcass directly into the pot. No need to defrost!
Can you make this turkey carcass soup in the Instant Pot?
Yes! I've tested this recipe on both the stove top and Instant Pot. The only problem with the instant pot is space, but if you cooked up a smaller turkey this year you can absolutely make this recipe in the Instant Pot. Here are the instructions:
Place the turkey carcass in the instant pot and top with water until fully covered. Set Instant Pot to "soup" setting and adjust time to 25 minutes. Allow for slow release for roughly 20 minutes and then quick release the remaining time. Remove and strain carcass and once cool separate turkey meat from bones.
Put stock back in Instant Pot and add veggies, turkey meat, grains and beans. Set to "soup" setting and cook for 10 minutes before doing a quick release. Your turkey carcass soup will be good-to-go!
Can you use chicken carcass instead of turkey?
Yes! You most definitely can. Be sure to save your chicken carcasses after roasting a full chicken to make delicious chicken carcass soup. Just sub chicken for turkey and keep everything else the same. Alternatively, I recommend making bone broth which you can freeze and use in place of stock or sip on daily to keep your immune system healthy.
Let's get into the recipe!
Print
Turkey Carcass Soup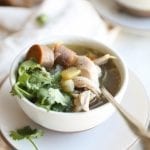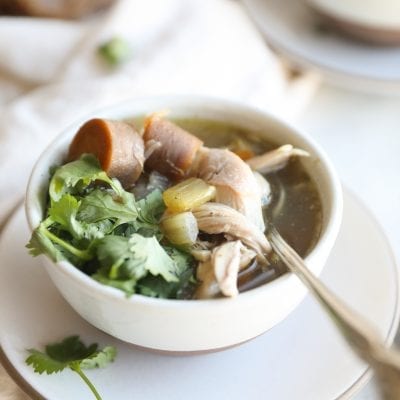 Author: Davida Lederle
Prep Time:

10 minutes

Total Time:

2 hours

Yield:

12

servings (at least!)

1

x
Scale
Ingredients
1

turkey carcass (any size will work)

1 tbsp

apple cider vinegar

1

large yellow onion, diced

4

carrots, chopped

4

celery stalks, chopped

1 cup

of grains (I prefer barley, farro or wild rice)

1

can of beans, rinsed and drained (white or lima work great)

1 tbsp

dried sage

1 tbsp

poultry seasoning

1 tbsp

dried thyme

1 1/2 tbsp

sea salt

1/2 tsp

pepper
optional: 1 can of green chiles for added kick
*spices will need to be adjusted based on soup
Instructions
Place turkey carcass in a large stock pot and cover with water. Amount of water will depend on the size of the carcass
Add apple cider vinegar and bring to a boil.
Once boiling lower heat to a simmer and let cook for 1 hour.
Turn off stove and carefully remove turkey carcass from pot and place in a large shallow dish.
Once turkey carcass has cooled, remove meat from bones and set meat aside.
Add onion, carrots, celery, grains and beans (and chiles if using) to stock and once again bring mixture to a boil before setting to simmer for 30-45 minutes or until grains are cooked through.
Add turkey meat to soup and stir in spices. Adjust spices to taste.
Cook on low for another 10 minutes before serving.
Will keep for up to one week in the fridge or several months in the freezer.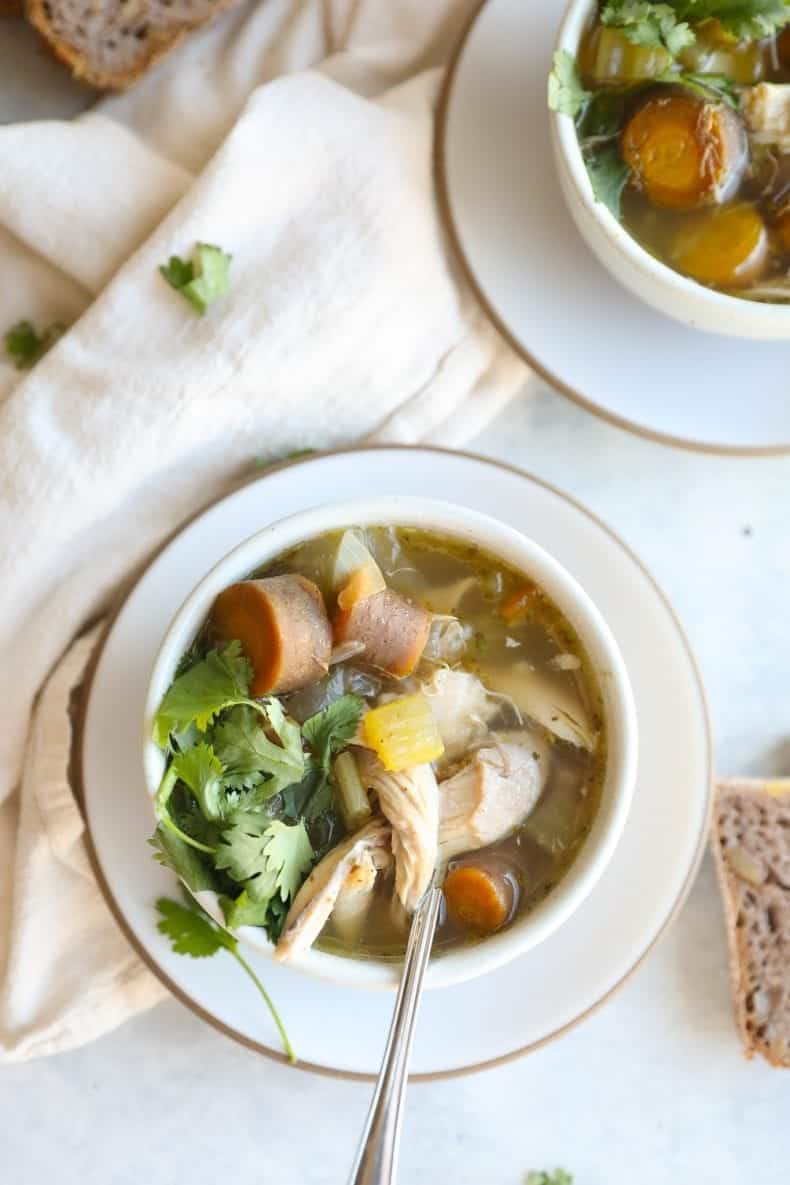 Like this recipe? Here are a few others you might enjoy:
Leftover turkey and cranberry sauce salad
Detox Vegetable Soup
The Ultimate Immune-Boosting Soup
JOIN THE THM NEWSLETTER
Join 20,000+ members of the THM Community to get access to exclusive recipes, healthy lifestyle tips and behind-the-scenes news from our team!