Learn how to make bone broth in your slow cooker, the hottest trend in the food world! It requires minimal ingredients and steps but a whole lot of patience as your house fills with the delicious scent of homemade broth.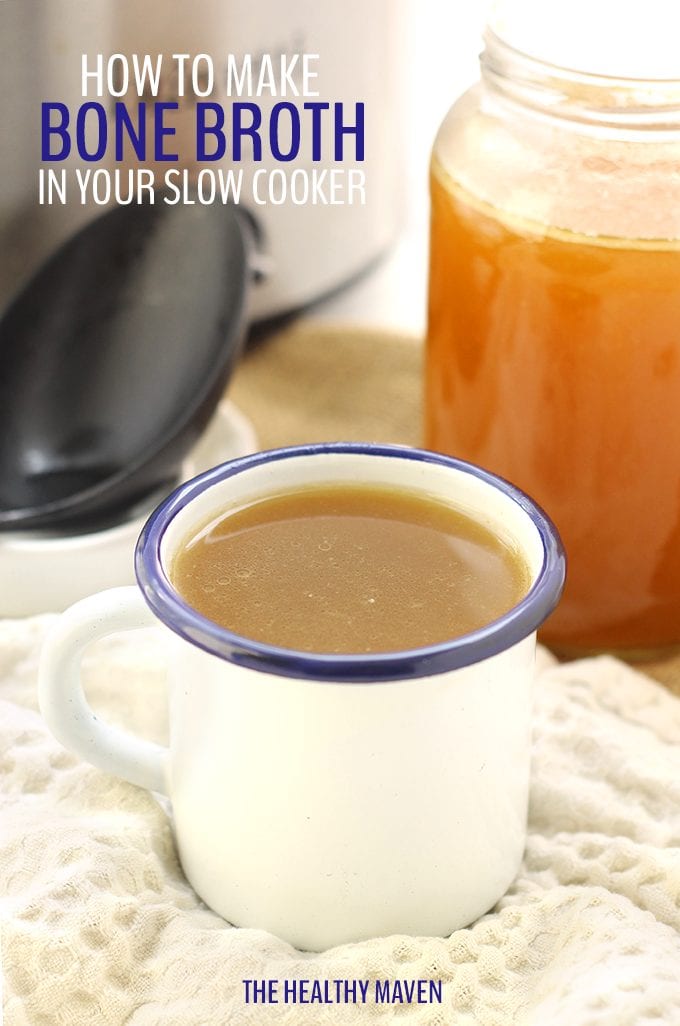 Yes, I am that girl posting about bone broth. No, I am not ashamed of this.
If you haven't heard of bone broth by now, you probably should catch up on what's been dubbed one of the top "food trends" of 2019. What's hilarious about this latest trend is that it's actually been around for hundreds of years. People just may not have been aware of how good bone broth actually was for you back in the shtetl.
While my Bubby may not have known that her chicken soup was great for decreasing inflammation, hair and nail health and boosting your immune system, she certainly knew it helped cure the soul. A man did she make a good chicken soup.
WHAT IS BONE BROTH?
In essence, bone broth is when the bones from animals (chicken, beef, duck etc…) are simmered in water to release their amazing benefits for our bodies.
Now I know what you're wondering, what the heck is the difference between broth and stock? Truth-be-told, nothing. Broth is essentially stock that has simmered for quite a bit longer, which means that all of the vitamins and nutrients are released from the bones and all of these go right into your tummy! You can totally use bone broth in place of stock, though I wouldn't suggest sipping on stock rather than broth. Do you still follow?
Let's chat about the benefits of bone broth…
THE BENEFITS OF BONE BROTH
There are many benefits to drinking bone broth but here are a few I want to highlight. Most of its benefits come from the bone's protein (mainly collagen which becomes gelatin when cooked) which promotes:
-strong bones i.e. helps prevent osteoporosis and arthritis
-muscle repair and growth
-strong hair and nails
-clear, healthy skin (collagen creams anyone?!)
-improved digestion
-immune health aka your grandmother's soup wasn't just a hoax

WHY MAKE YOUR OWN BONE BROTH?
Because I am a chronic ingredient-reader, I started looking into what was actually in the chicken stock I was buying from the grocery store. Not surprisingly, I found ingredients that definitely should NOT be in stock. I'm looking at you artificial coloring…You would be surprised the kind of stuff brands are adding to their broths and stocks that are completely unnecessary. Given how easy it is to make bone broth, not to mention more affordable, there's pretty much every reason to make your own bone broth.
Side note: There is one brand of store-bought bone broth that I trust. Kettle & Fire uses organic chicken bones and grass-fed beef to make their bone broths and all flavoring comes from veggies and spices. So if you aren't down for making your own bone broth, I highly recommend them.
CAN YOU MAKE BONE BROTH IN THE SLOW COOKER?
Absolutely! I actually started making bone broth from scratch when I discovered I could make chicken soup in my slow cooker. And then when the bone broth movement kicked off, I started to leave the stock in the slow cooker for longer and BAM before I knew it I was basically running my own bone broth store.
I've now started to make mass quantities of bone broth where I leave some out to sip on daily and freeze the rest to use as stock in soups and other recipes. The best part about it is that the only real ingredient you need are animal bones. So whenever I'm cooking chicken or beef I always keep the bones and FREEZE THEM. Then when I'm ready to make broth, I throw them in the slow cooker with water and 24 hours later I have pure, healthy deliciousness.
Sometimes I get fancy and throw in some veggies for flavor, but that so isn't necessary if you don't have them on hand or if you plan to just use it in other recipes.
So what do you need to make bone broth?
Animal bones (I prefer chicken or beef) – just ask your butcher or save them when you cook meat
Water
Vinegar (to extract collagen from bones)
Optional: veggies for added flavor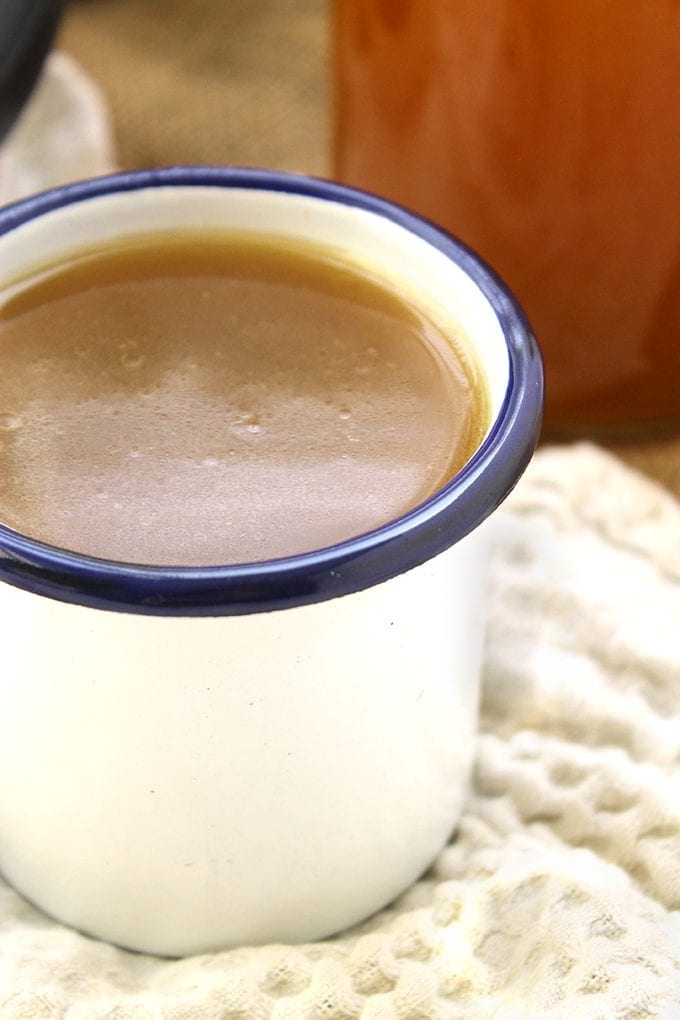 Now that I've sufficiently convinced you, let's learn how to make bone broth in your slow cooker.
Print
How To Make Bone Broth In Your Slow Cooker
1

–

2

lbs organic animal bones (I used chicken in this recipe but beef, duck, bison etc will work. Ask your local butcher for some bones if you don't have any leftover)

2

organic celery stalks, chopped in half

1

large organic carrot, chopped into chunks

1

medium onion, peeled and chopped in half

9

–

10

cups filtered water (or enough to cover bones)
salt and pepper, to taste

1 tsp

apple cider vinegar (helps to extract collagen from bones)
Supplies: Cheesecloth + Cooking twine , Mesh Strainer and a 4-6 quart slow cooker*
Instructions
Place vegetables in a double layer of cheese cloth and secure in a bundle with the cooking twine (see image below)
Put bones and vegetables into the slow cooker and top with water and apple cider vinegar until covered.
Cook in LOW for 24 hours (you can leave for slightly longer or less).
After an hour or so, skim any "gunk" that is floating on the top. Organic/cleaner meat will yield much less of this.
Remove top and let cool slightly.
Place strainer over a bowl and ladle broth into strainer to separate bones and vegetable bundle from the liquid.
Season with salt and pepper as desired.
*To store: I like to freeze half and keep the other half for my daily cup. It keeps in the fridge for about a week and in the freezer for several months. If freezing, remove from freezer several hours before using to thaw. If storing in fridge, feel free to remove the layer of fat that will develop on top or leave it on and stir it in (it's good fat!) before heating up in the microwave.
**I use and like this slow cooker, however if you want one on a timer I've heard great things about this one.

Like this recipe? Here are a few others you might enjoy:
How To Make Homemade Kombucha
How To Make Green Juice In Your Blender
Turkey Sweet Potato Chili
How to Make Veggie Stock from Veggie Scraps
JOIN THE THM NEWSLETTER
Join 20,000+ members of the THM Community to get access to exclusive recipes, healthy lifestyle tips and behind-the-scenes news from our team!